How to play bingo
Learn the bingo ropes
If you want to know how to play bingo in just a few minutes, you've hit the jackpot! Over the next few minutes we'll explain basic bingo rules, how to play OJO's games, why this numbers game is so much fun and most importantly – how to win!
HOW DOES BINGO WORK?
What is bingo and how does bingo work? Well, it's only the most popular numbers game on the planet, and playing the game could not be simpler.
Bingo is a game of random numbers similar to the lotto, except it's played using a multiplayer format. Players buy tickets with a unique combination of numbered squares. Numbered balls are then drawn every few seconds. If a ball matches the same number on a player's ticket, they mark it, dab it or daub it (whatever verb floats your boat), though with the introduction of the online version of the game, players no longer need to know how to play bingo games to win.
There are various types of bingo game, each with their own sequence of numbers or patterns needed to win. The first player to complete a line, pattern or mark all of the numbers on their ticket wins a prize. There are often multiple prizes, so the game continues until all of the prizes have been won.
THE HISTORY OF BINGO
Bingo is said to have been invented in Italy in the 16th century, though it's undergone a few changes on its journey to OJO's World of Play! Until the dawn of the internet, bingo was played in bingo halls. Now that online gaming's gone mainstream, online bingo is one of the fastest growing forms of real-money entertainment on the web.
If you're a regular in the bingo hall who wants to know how to play online bingo, you might like our OJO's comparison of the 2 forms of the game in his Guide to Online Bingo v Offline Bingo.
WHAT DIFFERENT TYPES OF BINGO DOES OJO HAVE?
At PlayOJO you'll find a number of bingo rooms offering 90 ball bingo, 80 ball bingo ,75 ball bingo and 30 ball bingo. They might all look similar but each game has unique rules. New players often ask how many numbers in bingo are there? Well the clue's in their name, champ!
90 BALL BINGO
The world's most popular bingo game, 90 ball bingo is the definitive bingo format played in our Amigo, Micro, Equaliser and Bingo Blast Rooms. In this classic format there are usually 3 prizes up for grabs, 1 Line, 2 Lines and Full House.
80 BALL BINGO
Although it's often played between games in bingo halls, 80 ball ain't just filler. No ma'am! It's more like Janet Jackson's Superbowl half-time show. Just like the 1980's themselves, our Disco Room games are fast, fun and fabulous, darling! Complete a pattern to win the whole pot. Do it quick and you might scoop the odd progressive jackpot too.
75 BALL BINGO
The 75 ball version of bingo is big business in the US where it's the most popular game. Completing patterns is the name of the game in our Rodeo Room, where you race other players to win the entire prize pot. *edge of the seat!*
HOW TO PLAY WITH BINGO CARDS
There are 2 things you simply cannot do without when you're playing bingo – numbers and cards! Why do we need cards?
Firstly, each player needs their own set of numbers, so we can decide who wins! That means we need an almost limitless supply of unique bingo cards for you to buy. Second, you need a way to match the numbers as they come out, as you can't do it in your head.
Bingo cards all have a selection of numbers laid out in rows and columns, but the number of numbers and the layout differs from game to game.
Here are the main types of bingo game card. If a number is called, you mark it off the card. If you're the first player to mark off a full line or column, you win!
90 BALL BINGO CARDS
These rectangular cards come in vertical strips and include 3 lines with 5 numbers one each.

80 BALL BINGO CARDS
A 4x4 grid of numbers makes for some seriously fast and fun pattern bingo!

75 BALL BINGO CARDS
The definitive pattern bingo card, with a 5x5 grid of numbers and a free square in the centre.

HOW TO PLAY ONLINE BINGO
Now it's time to play. Let's assume you've already created your PlayOJO account, made your first deposit and claimed your Bingo Welcome Package (that's 50 Free Bingo Tickets and 10 Free Spins!). If you haven't completed all of that yet, get crackin', or check out our Getting Started guide if you need a hand.
Choosing a bingo chat name
Your bingo chat name appears when you type in the chat room, in the player list and when you win a prize. You can choose your chat name when you open a bingo room for the first time. Choose wisely, amigo-san - it's your OJO name for life!
Buying tickets
Once you've chosen a game to play, open the room and you'll see available bingo game cards or tickets for the next game starting soon. You can click on the tickets themselves or click the BUY TICKETS button to choose a random selection using the Quick Pick buttons, slider or manual entry box.
Choosing which game to play and how many tickets to buy are the most important decisions you'll make when it comes to deciding how to play bingo.
Every bingo ticket is unique, and each has the same chance of winning. Some players like to pick tickets themselves because they have lucky numbers. Others go for the lucky dip approach and buy a specific number of tickets.
Once you've bought your tickets, you can't unbuy them, though you can add more tickets before the game begins.
PLAYING THE GAME
Once you've bought your tickets and the game has started, your work is done! But how does the game of bingo work?
You don't really need to know much more about the bingo rules or how to play bingo games at this point. Simply cross your fingers, toes and other body parts, have a natter with your fellow roomies and wait for the winners to be revealed.
The great thing about online bingo is that we do most of the hard work for ya. Even if you don't learn everything you need to know about how to play bingo, you've got the same chance to win. Our bingo software will automatically follow the specific bingo game rules and dab off your numbers, though you can also choose to manually dab them off by de-selecting Auto-Daub in the Settings menu. Dabbing by mouse or touch is just for fun though. We'll make sure your numbers are marked so you won't ever miss a prize.
You can see which numbers have been called, as well as how close other players are to winning, in this section of the bingo room.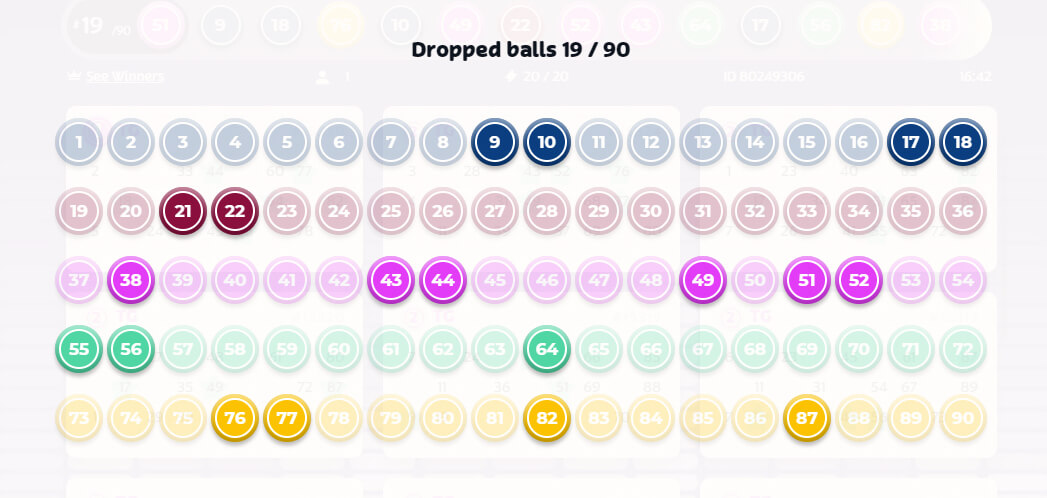 As the balls are called, your tickets or strips will automatically be ordered by those that are closest to winning a prize. You'll see when a ticket or strip has 1 number to go when the "1TG" label appears. The same goes for 2TG and 3TG.
Multi-room bingo
If you fancy taking bingo to the max, try playing games in up to 3 rooms at the same time! Once you've opened 1 room, simply click the + symbol in the bar at the top of your screen to open another. You can switch between rooms by clicking the room icons.
Winning a prize
You can always check how to win bingo prizes for your specific game by tapping the game info box or the "i" icon, which also shows any jackpot info too. Each time a player wins, you'll see a win message announcing their name and their prize. Give 'em a shout out in the chat room!
HOW TO WIN AT 90 BALL BINGO
Ready for the UK bingo rules for 90 ball, chief? You can play our 90 ball bingo games with just 1 ticket, although in most games you can buy up to 100 tickets. A 90 ball bingo ticket is divided into 3 lines, each containing 5 numbers between 1 and 90.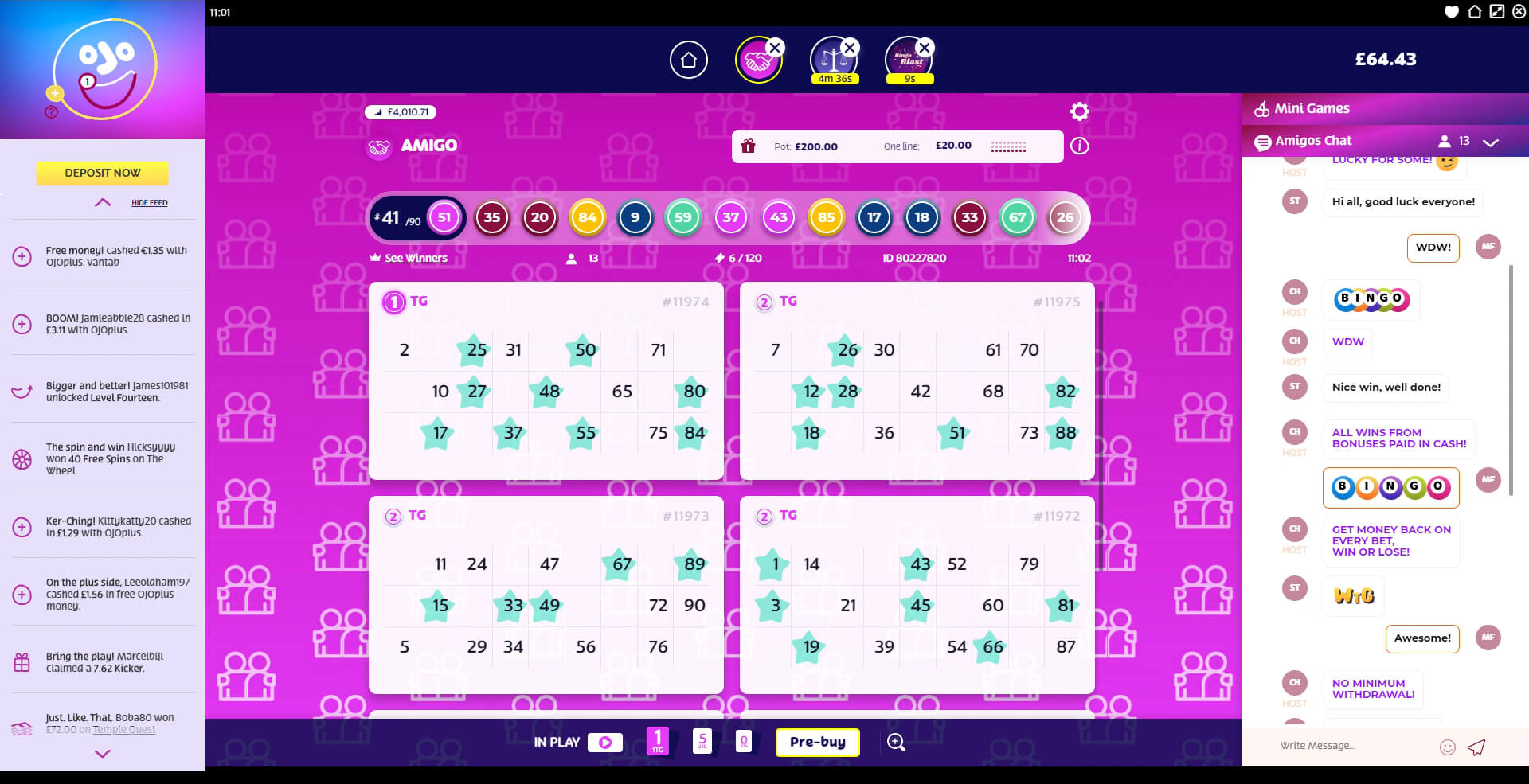 In 90 ball bingo there are usually 3 prizes; 1 Line, 2 Lines and Full House. Complete all 5 numbers on a line before any other player and you'll win a prize. Even if you miss the 1 Line prize, you could still win the 2 Line prize by marking off all numbers on 2 of your 3 lines. To win the Full House prize, you'll need to mark off all of the numbers on your ticket.
Here's an example prize breakdown of a £200 prize pot split into 3 prizes.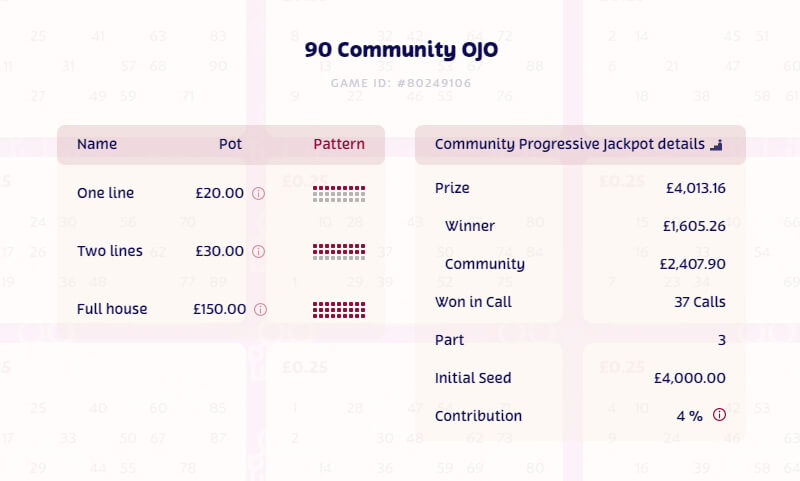 WINNING 75 BALL BINGO PRIZES
The rules of bingo for our 75 ball pattern games are different from 90 ball and you'll see why immediately. Once again you buy individual tickets, but now you get a 5x5 grid with 24 numbers and a free square in the middle. The pattern you're hoping to complete is shown on the tickets themselves as white numbers. The numbers you don't need are greyed out.
You can also check other 75 ball bingo rules such as the pattern and prize details in the game info box. Our Rodeo Room games use a rotation of 22 different patterns with names like Butterfly, Coffee Mug and Crazy Airplane.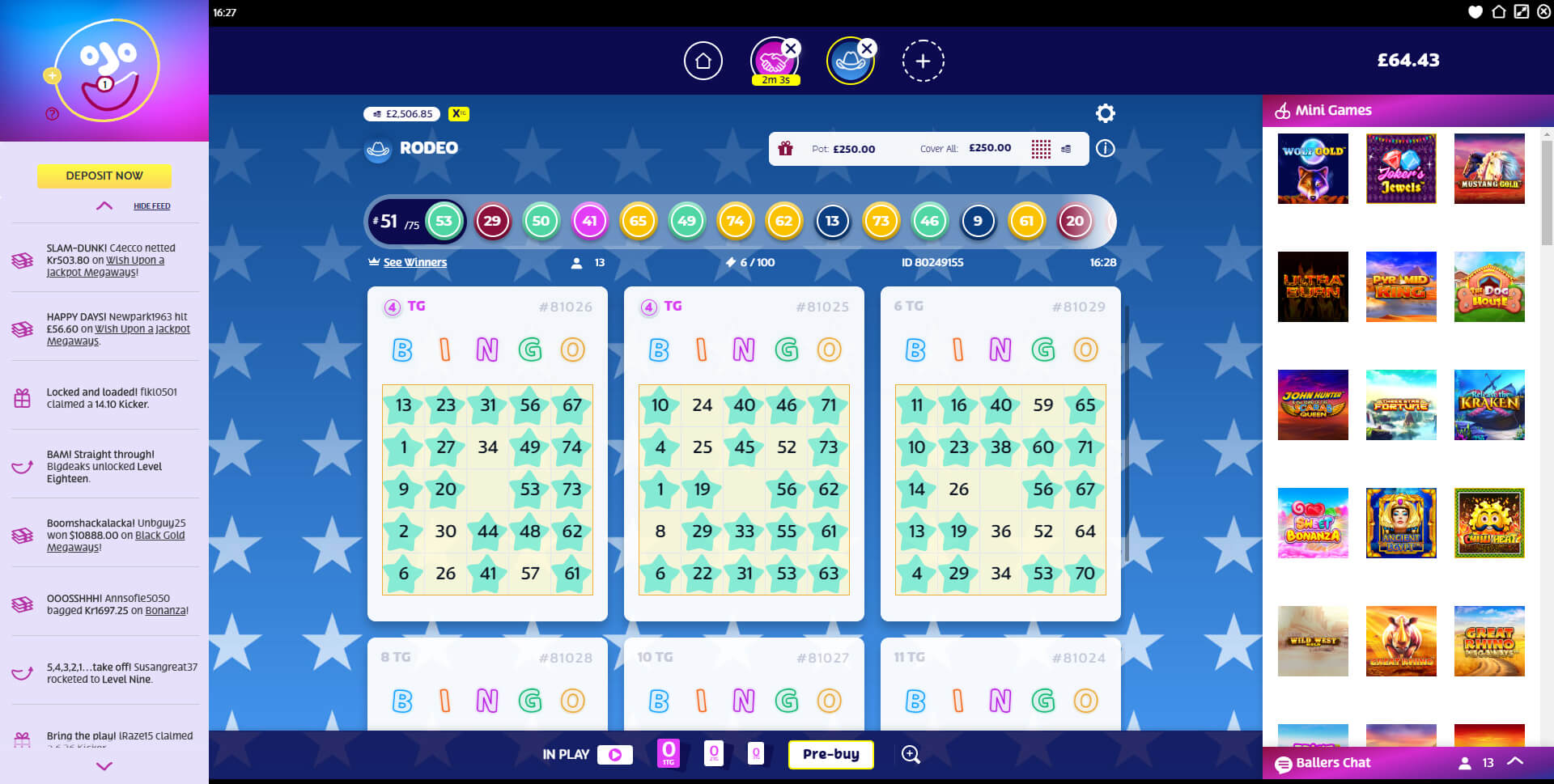 People learning how to play bingo online often ask the same question; why do the letters B-I-N-G-O appear above each column? In offline bingo where players dab their own tickets, callers announce the number along with the letter of the column to help players quickly mark their tickets. Although we dab your tickets automatically at PlayOJO Bingo, we still announce the numbers in this way because some players still like to use our manual dab option (and we respect bingo heritage!).
Most pattern games have 1 prize though some games include a jackpot prize too. Be the first player to complete the pattern and you'll win the main game prize. To win the bingo jackpot as well, you'll need to complete the pattern within the stated number of balls or 'Won in Call'.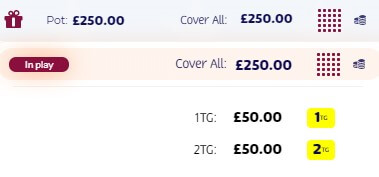 WINNING AT 80 BALL BINGO
Like 75 ball bingo in our Rodeo Room, our 80 ball games are also pattern bingo which means it's winner-take-all scenario. You can buy any number of tickets from 1 up to 100 for just 5p each, and you get a 4x4 grid of 16 numbers.
So the patterns are the key to knowing how to win bingo games in our Disco room. Games cycle through a variety of patterns, including Any 2 Lines, Any 3 Lines, Any 2 Columns, Any 3 Columns and Full House. With fewer balls and prizes and faster calls, 80 ball games are the fastest games at PlayOJO.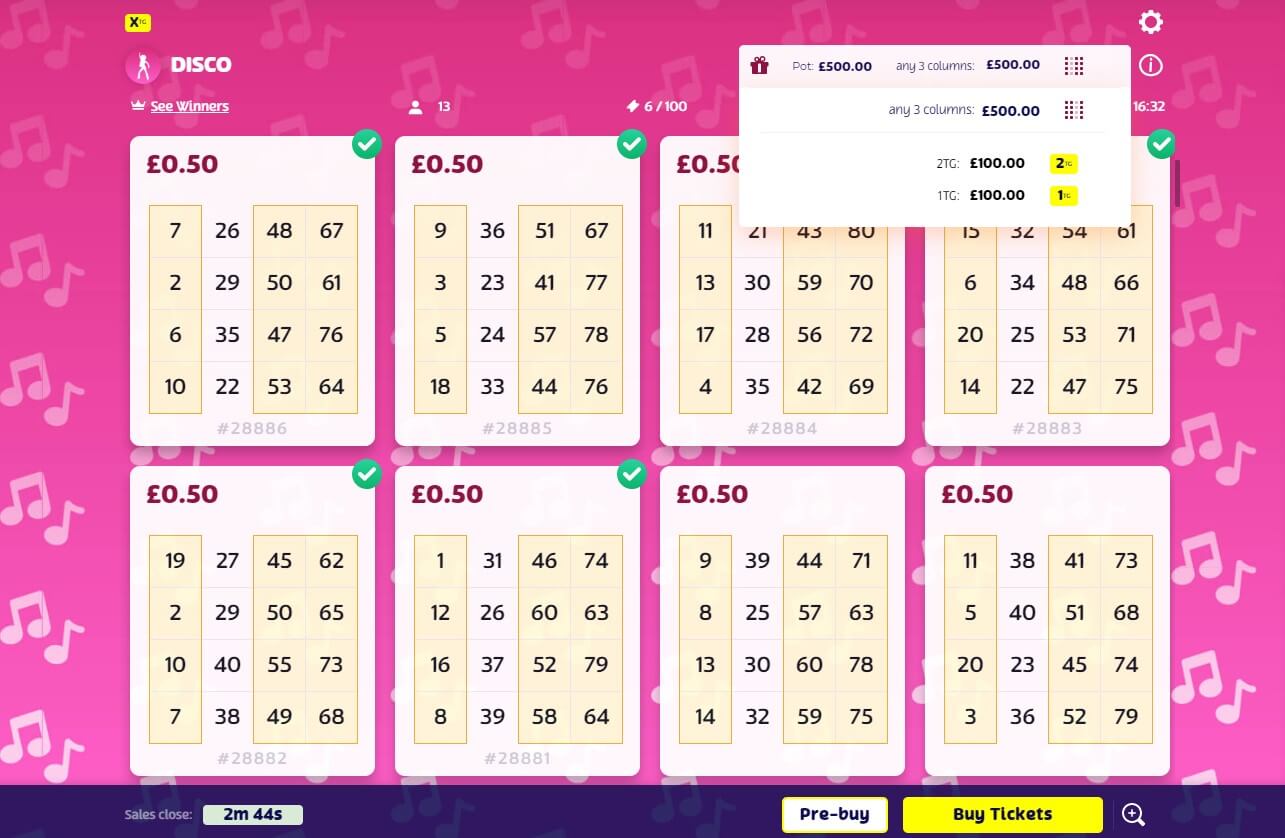 HOW TO PLAY JACKPOT BINGO GAMES
Jackpots are additional prizes added to bingo games that you can win if you complete a specific condition (for example a Full House or a pattern) before a certain number of balls have been called. Check the game info box for the specific rules of bingo for your game, or learn more about UK bingo jackpot rules and how to play jackpot bingo games in our guide to how jackpots work.
PLAYING BINGO ON MOBILE
With games that take just a few minutes, online bingo and smartphones are made for each other! Give it a go at PlayOJO and you'll find all of the main game features work just as well on your phone.
The UK bingo rules are exactly the same when you're playing bingo on mobile, though you might not be able to see all of your tickets without scrolling down. However the most important stuff you need when you're learning how to play bingo on your phone – the latest ball to be called and your most promising tickets – is always easy to see.
To chat with other players, click Chat in the menu bar at the bottom of your screen and the chat room will pop up.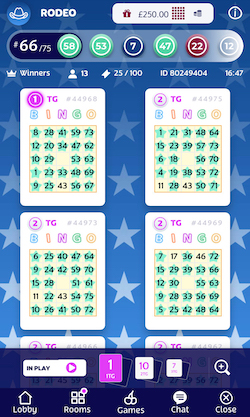 OJO'S TOP TIPS FOR BINGO SUCCESS
Now you know how our software works and how to play bingo in each of our rooms, you're ready to go for gold. But what is the trick to winning bingo? Before you head off, here's OJO with the secret sauce for how to win at bingo!
#1: Always play chat games
Our Hosts give stuff away in chat games that run during every other bingo game. They're free to enter and easy to follow while you play. Those free bingo tickets you could win might be your road to jackpot heaven! Miss out on the extra value and you're literally burning the cashola! (well not literally, but ya know).
#2: Manage your money
You probably budget in the rest of your life, so it makes sense to budget when you gamble too. But how do you play bingo safely and keep track of what you spend?
Sensible bankroll management is an important part of any real-money gaming hobby, and it's also a big part of responsible gaming. Know how much you're willing to spend on your bingo entertainment in a month, understand how that translates to your spend per game, and stick to it.
#3: Harness the power of ClubOJO
At PlayOJO, we show you how to play bingo online for realz! With OJOplus you get 1.5% back on every game you play in cold, hard cash. Over the year, that cashback plus all of your other bingo loyalty perks, kickers and bingo promos make a massive difference to how much bingo you can play with your bankroll. Keep an eye on your OJOplus balance and be sure to use it once you've stacked enough for some free bingo.
#4: Play at quieter times
If winning a prize is more important than how big it is, you're best off playing bingo online outside the busiest periods. Enter a bingo game with fewer players and you're more likely to win a prize.
HOW TO PLAY BINGO FAQs
Let's recap the most important stuff on this page and answer a few of the most popular FAQS!
What are the rules to play bingo?
Bingo is a game of random numbers with zero skills, but maximum thrills! Pick a game, buy a bingo card and watch the numbers get dabbed off as they're called out. Once someone has completed a line or a pattern first, they win a prize. Simples!
How do you play bingo step by step?
OK, let's walk you through the steps to playing bingo online:
Pick a site which offers fair bingo
Register and deposit
Pick a game that's starting soon
Buy 1 or more tickets
Watch the game, cross your fingers and hope for the best!
What is a line in bingo?
Might sound like the queue for the ladies' or the payout desk, but it's actually the horizontal rows of numbers on your bingo card. In 90 ball bingo, a line is usually 5 numbers.
How do you win at bingo?
That's the spirit! Playing and getting involved in the social side is great fun, but who isn't here to win? There are different ways to win at bingo depending on the game. If it's line bingo you're playing, match a row of numbers against the balls that are called before anyone else. Once someone has won that prize, we move onto the next until all of the bingo game prizes have been won. If you're playing pattern bingo, complete the pattern first.
How do you play bingo at home?
This one's easy. Fire up your PC, Mac or mobile, head to OJO's and try your luck! You can play bingo 24/7 from the comfort of your sofa, safe in the knowledge you're getting the fairest deal around.
That's pretty much all there is to it! Now you're as expert as anyone out there, it's time to saddle up and play. But if you're on a roll with learning how to play, head back to the Guide section and pick another!