Bingo jackpots
How to win OJO's juiciest prizes
Online bingo jackpots come in all shapes and sizes, from easy meat to lucky game-changers. You'll be playing for a jackpot in most games at PlayOJO Bingo. Although you can win a bingo jackpot without knowing how you did it, you'll have more fun if you know what you're doin, amigo!
On this page we'll tell you what jackpots we offer, how to find a jackpot game, what all the icons and numbers mean and the most important part – how to win!
The jackpots we offer
Loads of our online bingo games feature a community or progressive jackpot prize. Here's what they are in a nutshell:
Progressive jackpot: A prize that increases with every ticket purchased. 'PJPs' keep getting bigger until someone wins 'em.
Community jackpot: All players win a share of the jackpot when it's won, though the winner gets more. Come in fixed or progressive flavours.
Fixed jackpot: A fixed prize amount that does not change regardless of how many players enter.
Want more info on the jackpots we offer, when they run and how much you can win? No problemo!
How to find a jackpot game
Your first stop is checking out the details of the upcoming games in our active bingo rooms. You can tell if there's a jackpot up for grabs as the details will be shown below the ticket price.
Now it's time to find out more about the jackpot and get in the game. Once you've fired up the room's lobby, you'll see more information on the jackpot game in the top left corner. The progressive jackpot is £2,506.85 in the upcoming 75 ball bingo game below.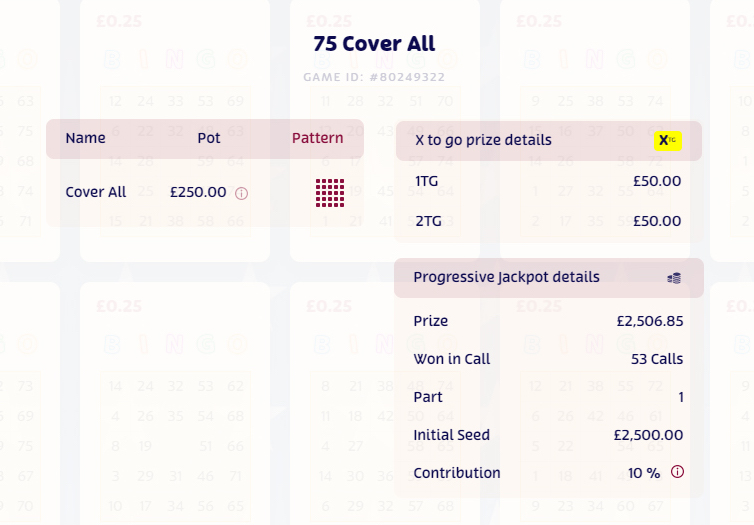 Jackpot details
Click the "i" symbol to see the breakdown of prizes contains prize breakdown. If it's a 75 ball game in our Rodeo Room, you'll also see the pattern you need make in order to win the jackpot. Here's what you have to do to win the jackpot in the types of bingo we offer:
90 ball: Complete a Full House within the ball call number
80 ball: Complete a pattern, line, column or Full House (it depends!) within the ball call number
75 ball: Complete the pattern within the ball call number
Don't forget the 'winning ball call' condition, displayed as a number in a ball. You need to complete the jackpot requirement by the time that number of balls have been called. For example, in the game below, you need to complete the pattern within 38 balls to qualify for the £1,000 community jackpot prize.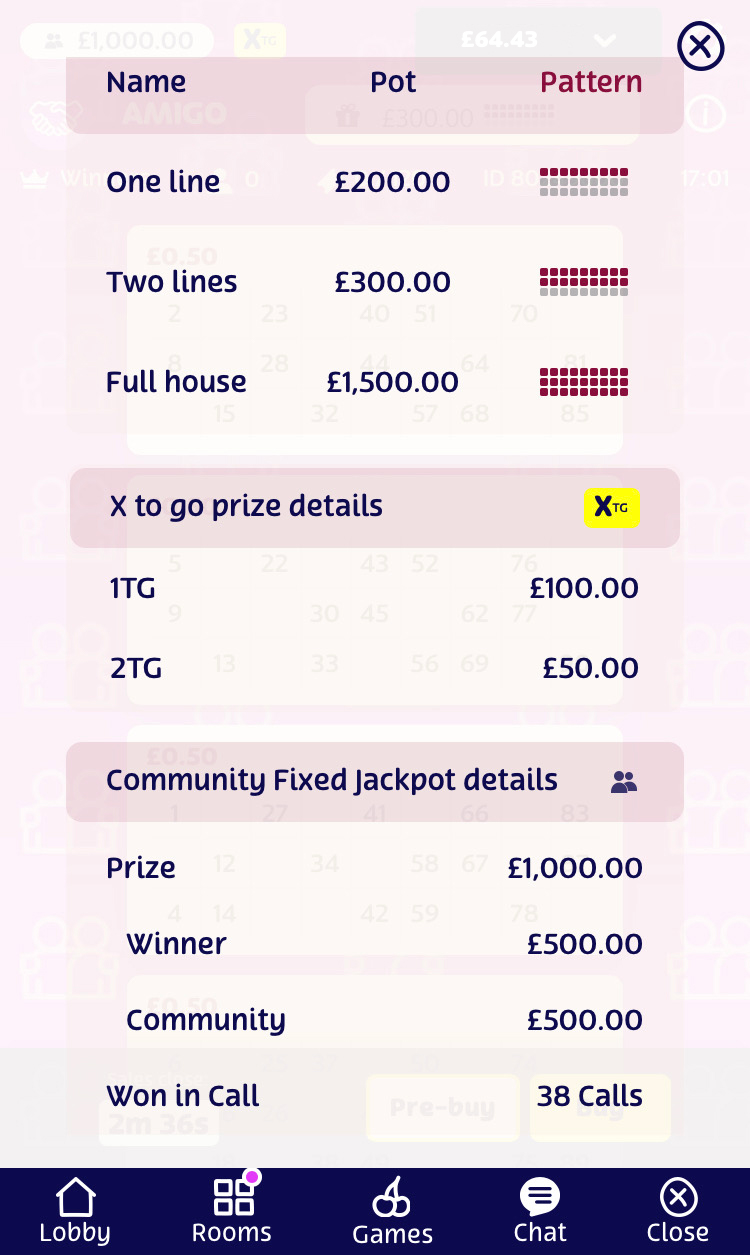 Pre-buying tickets for jackpot games
If you've got your sights set on taking down a jackpot but don't have the time, you can always pre-buy tickets to upcoming games using the pre-buy page in our room lobbies.
Click 'PRE-BUY' button at the top of the PlayOJO bingo lobby.
Click the Jackpot column header to order the list by jackpot games.
Buy tickets for 1 or more games. If you win while you're offline, you can always check your Play History next time you log in.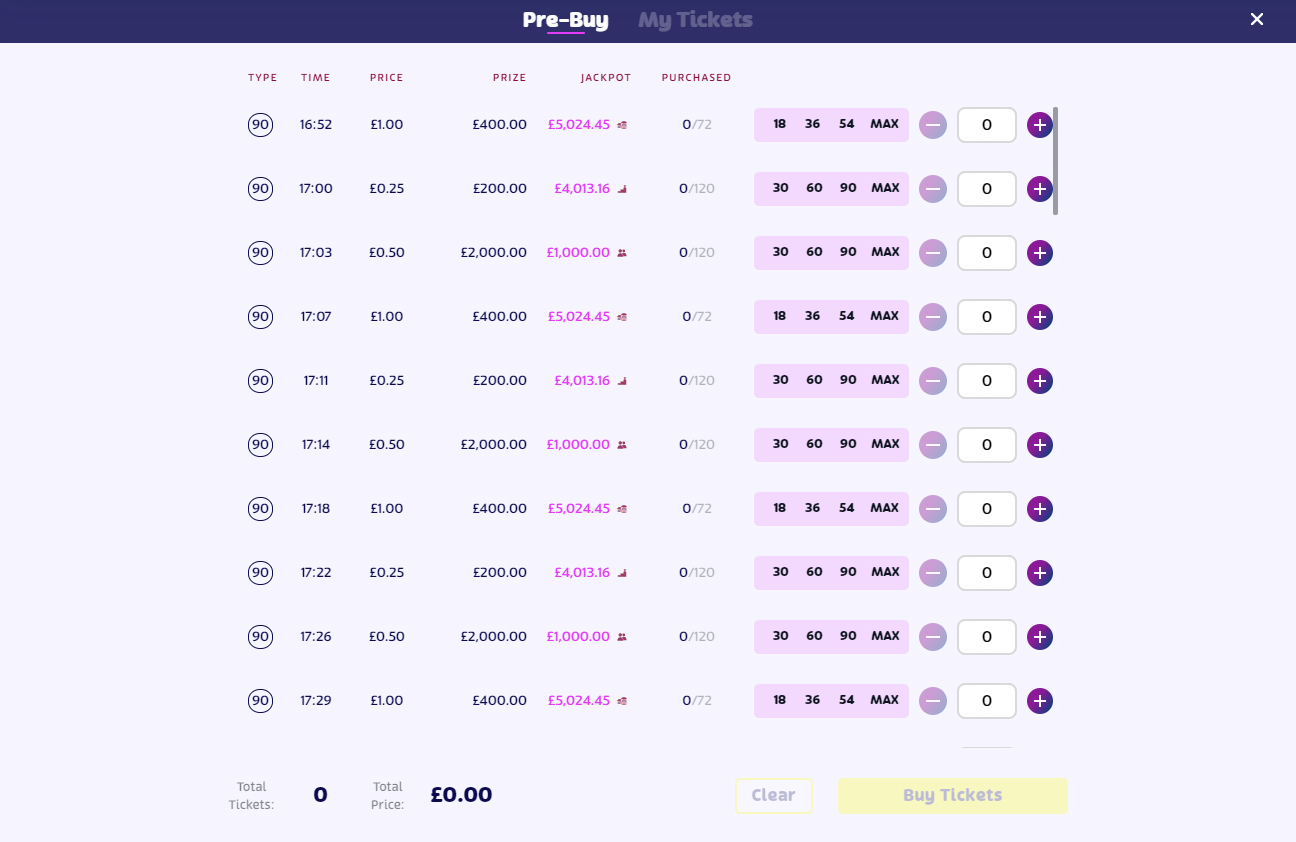 You can pre-buy tickets for all jackpot games for the next month, so there's no excuse for missing out!
Why you should play jackpot bingo games
So that's how to play, but OJO's not done yet. Here are his top reasons to put bingo jackpots on your hit list!
Big money: Progressive jackpots are OJO's way of piling up the prize money until some lucky roomie hits the big time!
Feel the love: Win a community jackpot and your chat room buddies will be ecstatic too, coz they'll get a piece of the action.
Drama: Bingo is pretty exciting anyway, but knowing you need to complete the jackpot condition in, say, 52 balls, can make things pretty spicy!