What is Slingo?
Slingo is an online slot with a difference. Start with a grid-shaped bingo card, add a single row of reels at the bottom and a ladder of ever-increasing prizes to the side.
Spin the reels around 10 or 11 times and match the numbers on the reels with the numbers in the columns above. The name of the game is completing lines or 'Slingos'. The more you complete, the bigger your prize.
That's the basic rules of Slingo, but there's much more to Slingo than matching numbers. Features like Jokers, Wilds, Super Wilds, Extra Spins and bonus games help you rise even higher up the prize board.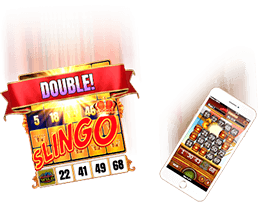 And those geniuses at Slingo Originals aren't content with inventing a game-changing format. The Slingo format is still evolving. At PlayOJO casino, new slots are launched every month, including new Slingo online casino games with features like jackpots, bonus wheels and more.
Why play online Slingo? Firstly, it's a low volatility casino game format, so there's a steady stream of fun. You also get 10 or more spins for your money, and there's a bit of skill involved too. How you use your Jokers and Wilds is up to you.
A good move can bring more lines into play, but a wrong move is an opportunity wasted! Slingo also gives you the chance to play classic slots like Rainbow Riches, but with a fun twist.
Slingo features
Although each Slingo slot has its own special bonuses, here are the core features you'll find in every game:
Joker or wild
Choose a square to mark off in the column above the symbol. Some games award instant cash prizes for 2 or more Jokers on the same spin.
Super wild
Choose any square on the Slingo grid, not just those above the Super Wild symbol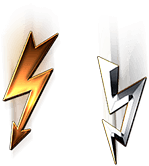 Devil or red cross
You've shot a blank! These blocking symbols mean no numbers can be marked off the column above.
Coins
Awards an instant cash prize!
Free spin
A Free spin symbol on any reel will add an extra spin to your spin counter.
Extra spins
Buy an extra spin at the end of the game. There's usually a limit on how many you can buy.