Online v offline bingo
We love bingo. Period. Give OJO a ticket and some balls and he's happy! We have a great time when we go to our local bingo hall, and we have a different kind of fun when we play online. It might be the tech that lets us play the game whenever we want, but there's more to OJO's bingo than computer code and convenience.
How offline bingo works
To play bingo in bingo halls (often called offline bingo or land-based bingo) you need physical tickets, electronic equipment and quite a few actual human beings. The bingo caller starts the game and calls the ball numbers as they're produced by the computer. The game is stopped when a player thinks they've won and restarted once their ticket has been checked. All of that takes time, which is why you only get a limited number of games per night.
How our bingo works
Internet bingo is run using computer software, from the tickets to the random numbers and the payouts. There's less time between games and it takes less effort to play. To keep that all-important social element, our bingo also uses a chat room, but the differences don't end there.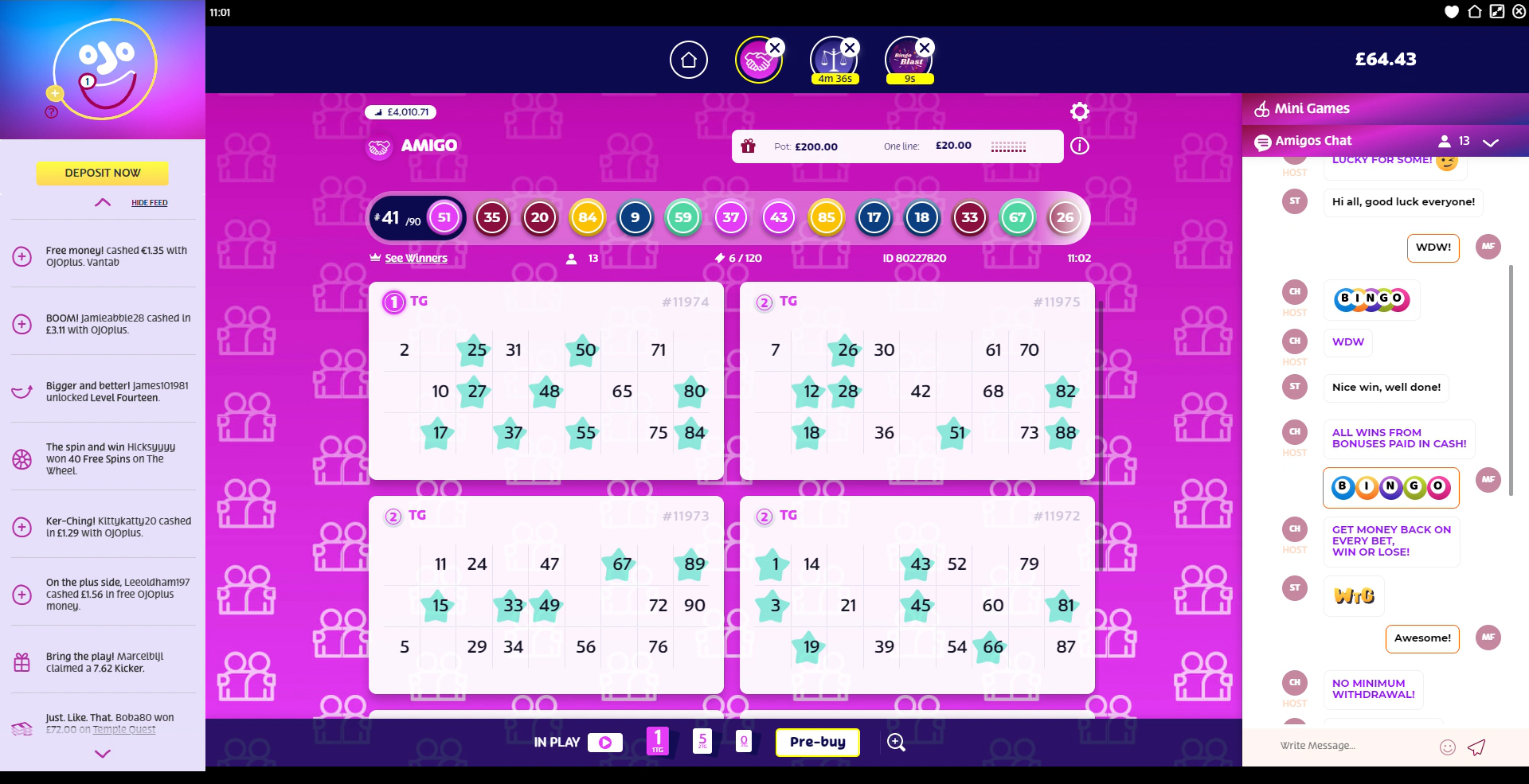 Online and offline bingo compared
Get your bell out, it's time to put online and offline bingo in the ring and see who emerges victorious!
Convenience
Whereas the bingo hall is only open at certain times, OJO's bingo rooms are open 24/7 with over 700 games a day. You can play online bingo on PC or Mac of course, but because you can play mobile bingo through your browser or in the PlayOJO app, you can enjoy PlayOJO Bingo anytime, anywhere
OJO bingo requires far less effort
In bingo halls, you need to buy your tickets and find your seat. Complete OJO's quick signup form, deposit using one of our many safe, secure payment methods and you're ready to go. You won't ever need to do most of that again either.
Offline, you have need to mark your own ticket when the numbers come out in order to win a prize and when it comes to paying out, you don't need to walk to the cashier's desk to get your ticket verified. Our software does it all for you in a flash and credits your winnings instantly.
As you don't have to mark your own tickets and keep track of several tickets, you can play more tickets and improve your chances to win.
Faster prize payouts
To win a prize in the bingo hall, you need to mark your numbers correctly and claim your prize – usually by shouting out - before the next ball is called. Miss your chance and someone else may get there before you.
At PlayOJO Bingo we mark your tickets automatically and tell you immediately if you've won. We also rearrange your tickets in real-time, sorting them by which tickets are closer to winning. That way you always know when you've got 3 numbers to go, 2 numbers to go and 1 number to go. Just wait until we've figured out how to make your tea as well.
Bigger choice of bingo games
With bingo run entirely by computer software, you get to enjoy many more bingo games per hour. If there's a game you want to play but it clashes with an episode of your favourite TV show, worry not amigo! Our pre-buy feature lets you buy tickets to upcoming games even though you know you won't be online when they run. You can also play games in multiple rooms simultaneously. Can't do any of that down the bingo hall!
Don't let the bingo hall dictate what you play either. Have a squizz at the PlayOJO Bingo schedule – over 700 games a day - and choose what you like, when you like.
Linked jackpot games in bingo halls do exist in the form of national games that run at a specific time, usually on the busiest night of the week. But digital bingo takes jackpots to the next level with hundreds of progressive and community jackpots running every day.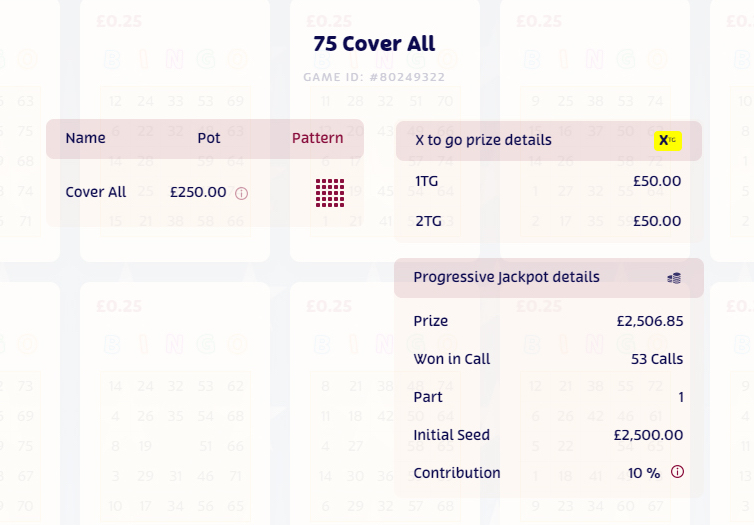 More prize money
With only a few games per night, offline bingo is more about the experience than the prizes. But why not have both? At PlayOJO Bingo, you're playing for over £300,000 in guaranteed prize pots every month, plus jackpots, chat game prizes and regular rewards.
Better value for money
A typical session in your local bingo hall will set you back between £5 and £20, plus your food, drink and cab ride home. Bingo games at PlayOJO start from just 1p. Yep, a penny. Nuts ain't it?
Play all night for just a few quid and you might even win some prize money too. And that's before you factor in the constant stream of perks, goodies, free tickets and stuff OJO gives you just for being an OJOer.
Better bingo rewards
You might get a free drink on your first visit to a bingo hall but the technology powering our games lets us give you much more, and in real time too. Every time you play, we give you 3% back in hard cash, courtesy of OJOplus. You'll also get free spins on the OJO Wheel, personalised perks and access to regular monthly promos with big time goodies up for grabs. Learn about our bingo rewards on our bingo loyalty page.
Better banter
Sure, you can high five your roomies in a real bingo hall when they win, but you can't really chat to everyone and definitely not at the same time.
Thanks to our online chat rooms, you'll meet more people every time you play and build up a bigger group of bingo buddies. They won't just be from your local area either, they come from all over the UK and even across the world. Bingo's gone global!
Having a chat room also means chat games, where you can win free bingo tickets, free spins and more just by answering quiz questions, picking lucky numbers and solving brainteasers.
And the winner is….
OK, so we basically listed all the reasons why you should play bingo at OJO's place, but – and don't hate on OJO here - he's gonna sit on the fence and say "BOTH!"
Bingo halls are great fun and OJO's not here to kill 'em off, partly as he'd have to find somewhere else to go on a Monday night. But let's be honest, internet bingo is the best choice if you fancy a quick game in front of the telly!