Evolution Gaming Live
OJO's guide to Evolution Gaming Live Casino
SEE ALL
Billion-dollar software developer Evolution Gaming does one thing, but they do it to perfection!
Part software developer, part broadcaster, Evolution Gaming are arguably the world's leading provider of online live casino games to the gaming industry. This means OJOers all over the UK can enjoy the best live-streamed, real-time card and casino games in glorious high definition from a top-secret studio location! (OK, they're in Latvia).
What's propelled Evolution to the top of the live casino tree? Well, it's a combination of factors that we'll explore in this Evolution Gaming software review. But in short, you're getting the highest quality live casino experience around thanks to Hollywood production values, chatty but super professional dealers and fast, seamless gaming with all the stats, bells and whistles you'd expect from its virtual cousin.
To be a live casino supremo, you need a ton of strings to your bow; Reliable hardware, cutting-edge software, digital gaming tech experts, live studio broadcasting bods and an elite team of dedicated dealers. As you're about to discover, Evolution Gaming has it all!

Evolution Gaming is a provider of live casino services to the online gaming sector, in fact the biggest and most successful in the field. Founded in just 2006, Evolution has gone from zero to hero with over 4,000 staff in Latvia, Malta, London and Italy. Its parent company is headquartered in Sweden, listed on the Stockholm Nasdaq stock exchange and worth over $2 billion. So they're a big fish!
Evolution Gaming are specialists in the delivery of video streamed live casino gaming tables, using a combination of broadcast studios dressed to resemble swanky casinos, and the latest technology to enable online gamers to place bets remotely and interact with the croupiers in real time. The main Evolution Gaming Group studios are in Riga, Latvia where they have over 100 tables broadcast 24/7 to 60 countries worldwide.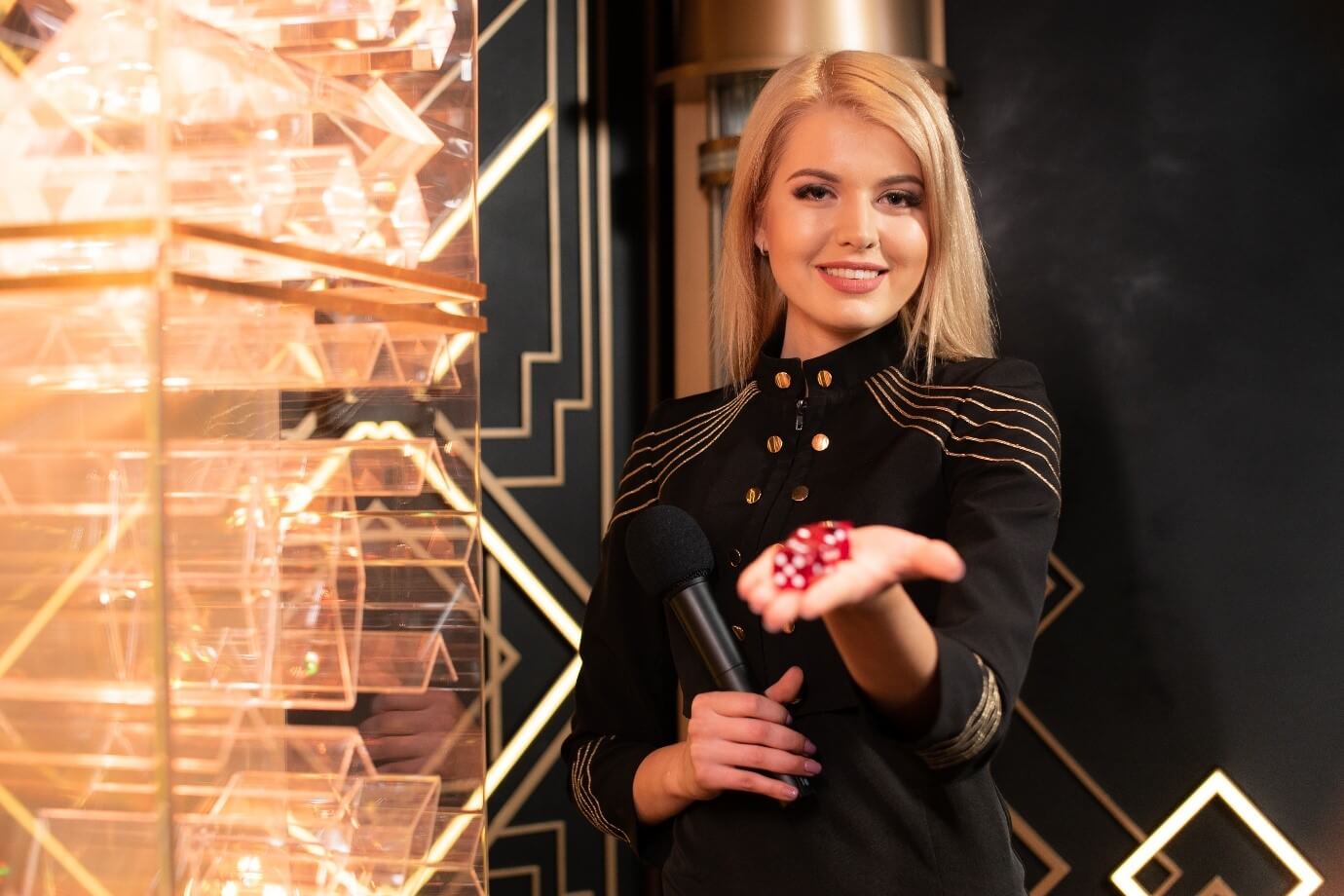 OJOers can play with confidence whenever they choose an Evolution Live Casino game, as Evolution is licenced or certified by 9 different regulators including those in the UK, Alderney, Malta and Canada. Like all of the providers that OJO hand picks, Evolution Gaming are committed safe, fair gaming. All of their games work with our Responsible Gaming tools, so OJOers can always be in control of their play.
Evolution also became the first regulated live casino product in New Jersey, and that's just the beginning of its likely expansion into the lucrative US market.
As you'd expect for a software supplier at the top of its profession, Evolution Gaming has won a boatload of awards. They've farmed the E Gaming Review awards in recent years, collecting Live Casino Supplier of the Year 7 times in a row!
Most Popular Evolution Gaming Slots
How Evolution Gaming live casino works
In Live Casino, a human dealer runs the game in real time from a studio. The table action is broadcast via live streamed video, and while the tables, cards and dealers are real, everything else is done using computer software and TV screens. Players get to place bets, watch the action, get paid and chat with dealers, all with the click of a mouse from the comfort of your sofa!
But why play live roulette instead of regular online roulette? For one, you get all the sights and sounds that make up that genuine night-at-the-casino vibe, but without any of the germ-laden chips, pricey drinks or taxis home! Some OJOers prefer a dealer to a computer algorithm too. It helps them feel they're getting a fair game, though as a fully licenced gaming site regulated by the UK Gambling Commission, we guarantee every game is fair when you play casino online at OJO's place.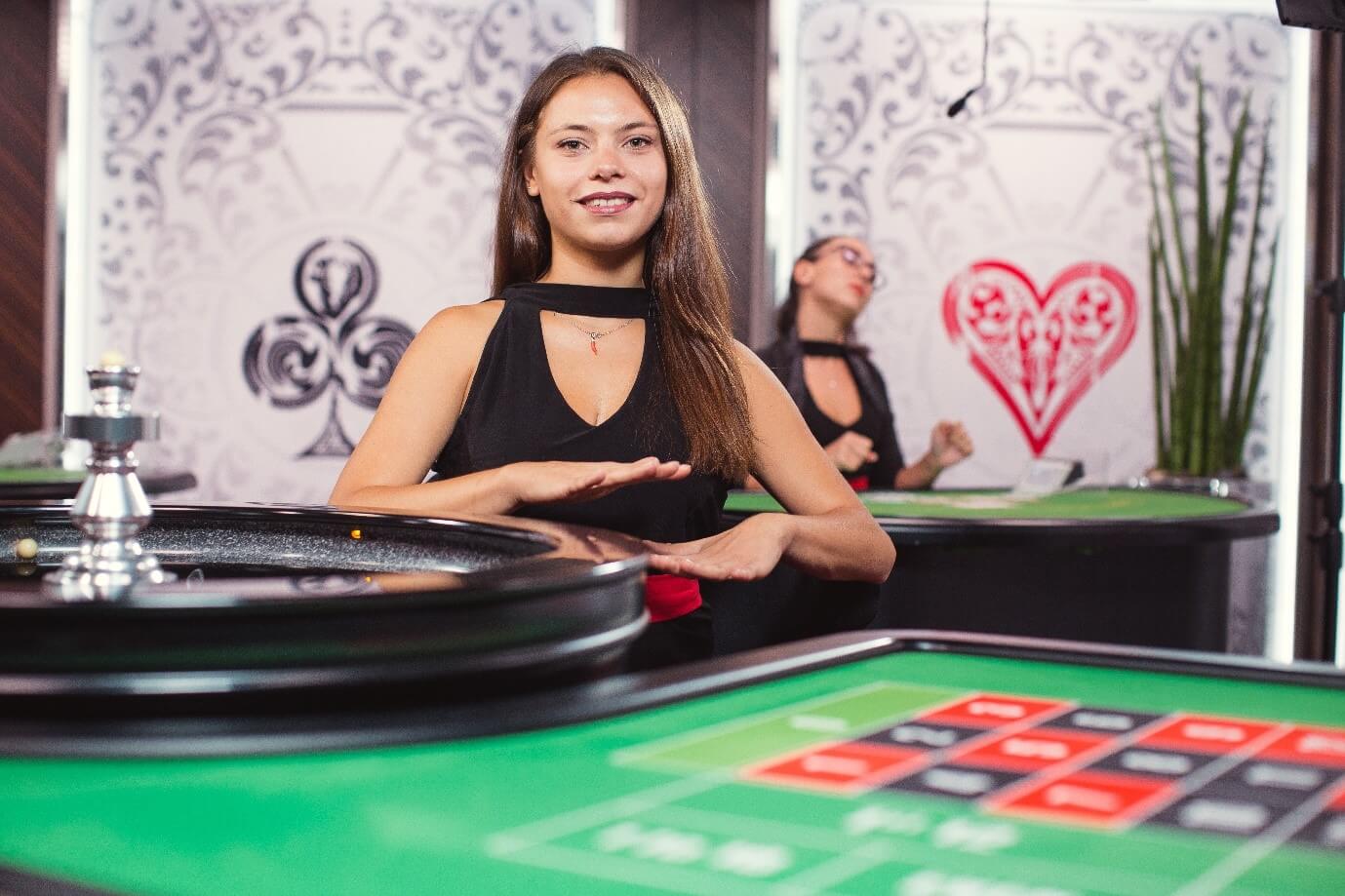 Evolution Gaming games choice
Since the first brick was laid on the Vegas Strip, Blackjack and Roulette have been the undisputed kings of the felt. It's no different when you play Evolution Gaming table games, where Live Blackjack and Live Roulette are far the most popular games for the OJO crew.
In fact we've got over 50 Evolution Games for UK players with a dizzying number of variations, but it all comes down to the Big Four: BlackJack, Roulette, Baccarat and Casino Hold'em.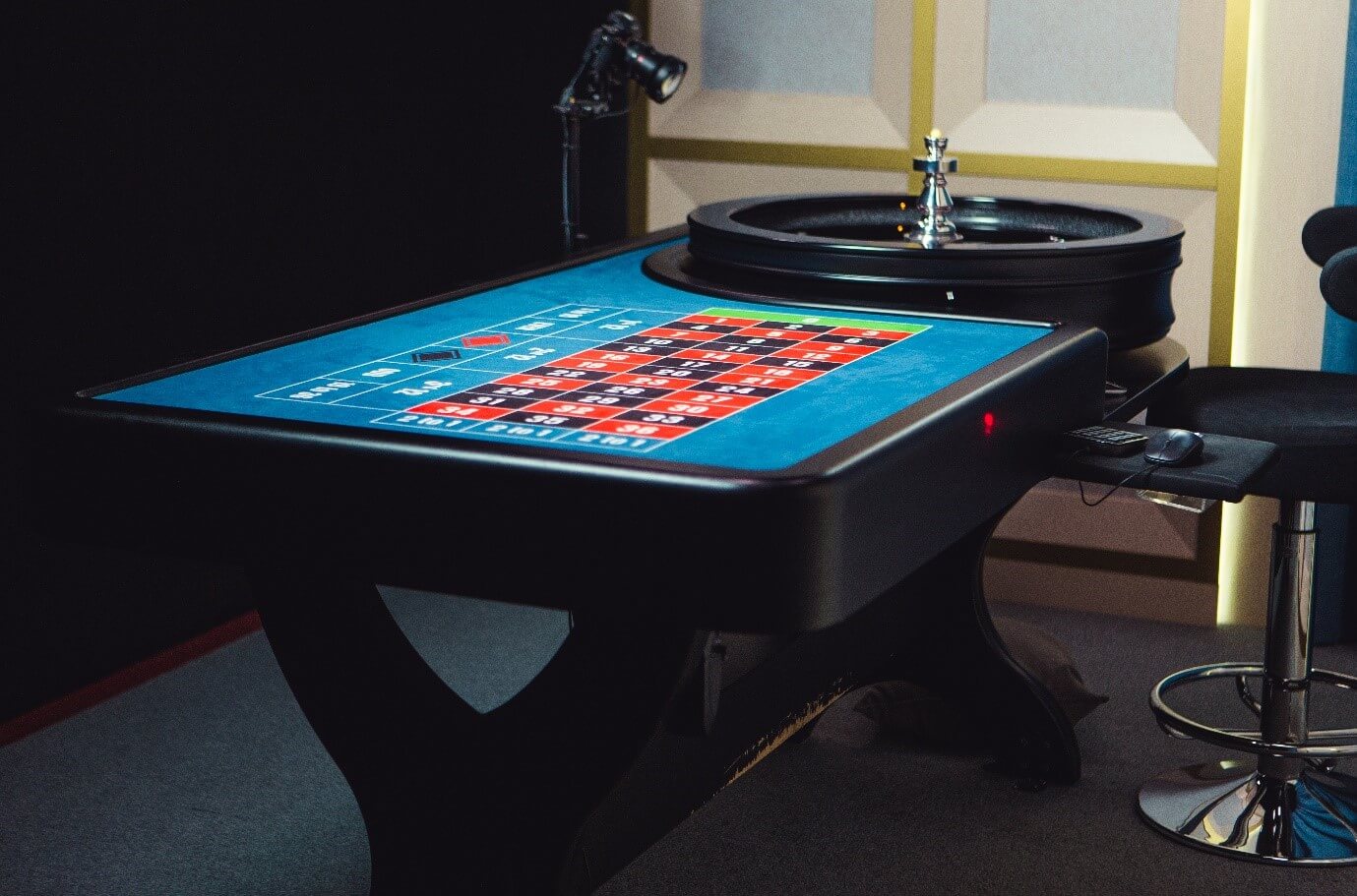 How does Evolution Live Roulette work?
Your typical Evolution Live Roulette table includes a real wheel, a lovely human croupier, a betting table. That's where reality ends and the virtual world kicks in.
Just like with rival developer NetEnt's live casino products, Evolution's software adds virtual chips as a graphical overlay, a chat box for you to communicate with croupiers and other players, a list of recent winners and stats on the latest numbers that have come out. As well as all the usual classic bets like single numbers and black-or-red, you've got special bets like Neighbours, a quick way to bet on a number plus the 2 numbers either side.
Want a fancy graph showing where the ball has landed on the wheel recently, or a list of hot numbers? No problem! Hit the Statistics icon in the bottom right of the screen. The sounds you hear are a mixture of real and artificial too. The ball bouncing around the wheel is genuine, while the chips are pre-recorded audio. So with its ingenious fusion of the real and the virtual, there's more to Evolution Live Casino than you think.
As Roulette rules the roost, we've got every type imaginable; A regal-flavoured London table, European language versions, auto roulette with real wheels but no croupiers for faster action, French roulette where you get half your stake on even money bets when zero hits – the list goes on!
We've even got the award-winning Immersive Roulette, an elite broadcast version with multiple camera angles, 200 frames per second HD and slow-mo replays. Go deep!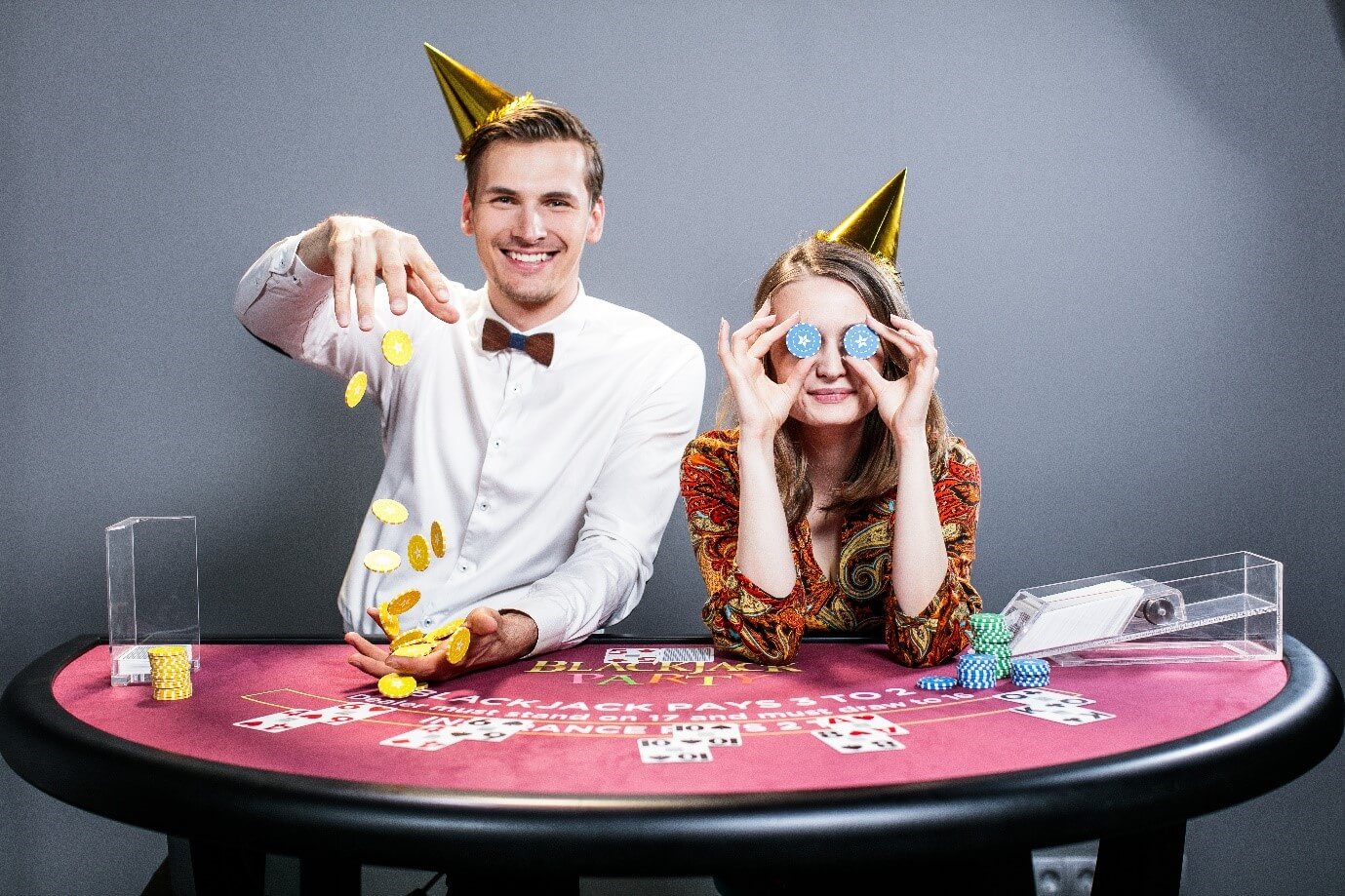 Most Evolution Gaming Live Blackjack tables at PlayOJO have the usual 7 seats, which means you get to play alongside other players at the virtual casino. The table, background, decks of cards and dealers are real, while the usernames, chips, real-time hand scores, chat box and playing tools are powered by Evolution's software.
At any time, night or day, you'll usually find over 30 Live Blackjack tables running at PlayOJO, so you shouldn't ever have to wait for a seat. None free? We've read your mind, so a new one is probably opening! Don't forget, you can also bet behind other players, giving you an almost limitless number of opportunities as well as betting your own box.
Live Blackjack has all the usual bells and whistles you'd expect – insurance against a dealer's Ace turning into a Blackjack, splitting hands, doubling down plus extra features like Perfect Pair and 12+3 side bets
At OJO you get a massive choice of dealers and tables to suit every bankroll, but if you're ever yearning for something a little different, Blackjack Party is it. From its music and 2-person dealer team to the madcap chat and crazy background setting, this low-stakes free for all brings the party to your phone 24/7.
Evolution Gaming's best of the rest
If you're feeling a bit adventurous or you're a Vegas veteran, OJO's got 6 other Evolution live games to try.
Baccarat is the legendary Macau high rollers' game of choice, a card game where you bet on player or banker hands. Evolution's version offers the typical array of special bets and game stats ppular with Baccarat players. But they also tip their hat to a ritual loved by virtually all land-based Baccarat players, the squeeze. Unlike Blackjack, you can touch the cards in Baccarat and most players choose to slowly reveal the hand by peeling or squeezing the edge of the cards, instead of just flipping them over. Try Evolution Gaming Live Baccarat Squeeze at PlayOJO and the dealer will squeeze the cards for you, adding that extra bit of spice! They've also added a social element too, as the graphical interface shows you what other players are betting on.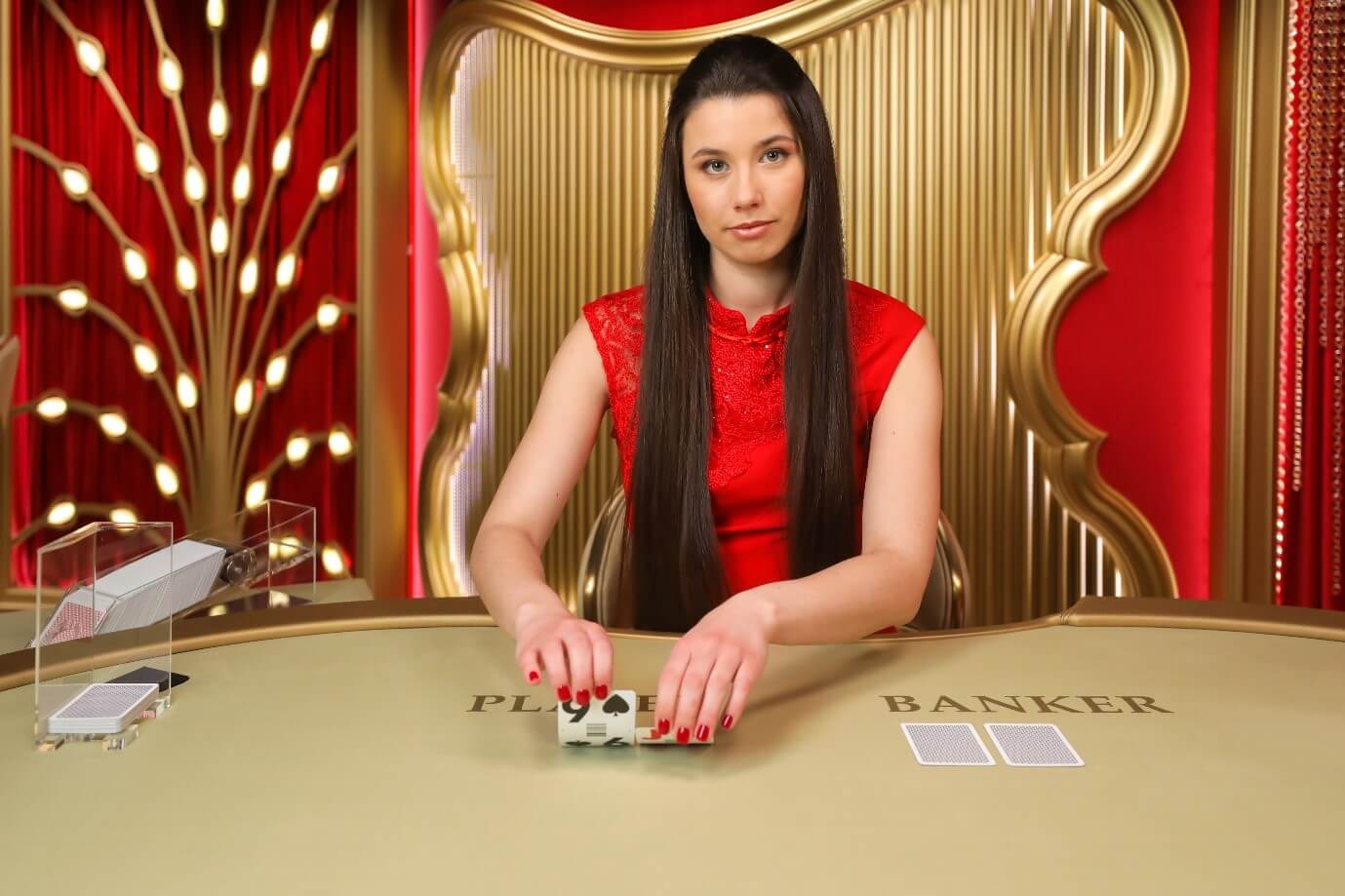 Casino Hold'em has only been around since the turn of the millennium but it's fast become an established game both offline and online. A straight contest between your hand and the dealer – who has to qualify for you to get paid out on a better hand – Live Casino Hold'em lets you bet on your hand, then bet again or fold after the flop. The turn and river are revealed, plus the dealer's hand, and the winner is announced. You can also play the Evolution Gaming Bonus sidebet, which pays additional prizes up to 100/1 if you hit at least a pair of Aces.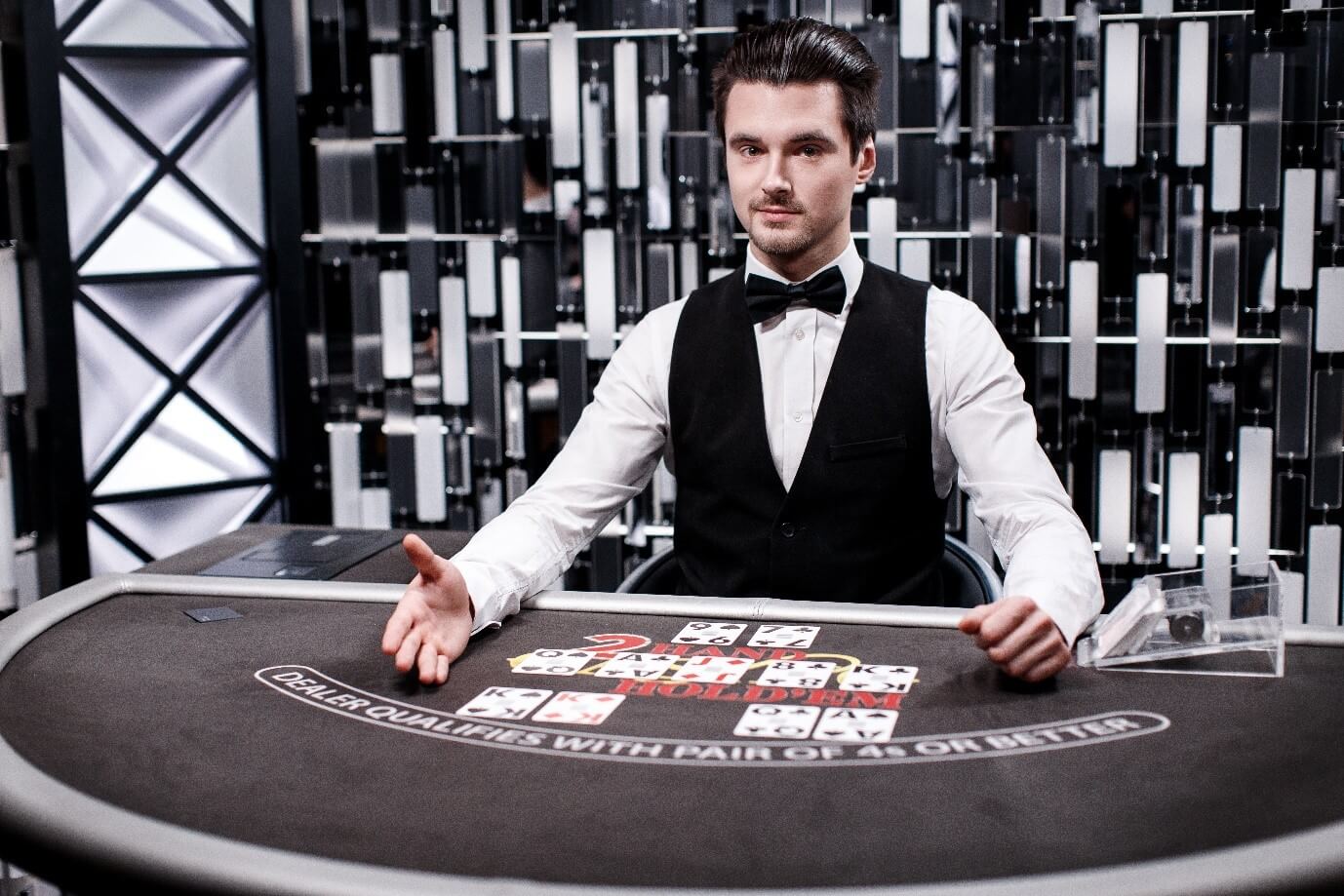 Evolution offers even more games through the bespoke Evolution lobby. Find the game tile called Platinum Live Casino in the OJO Games list and you'll enter the entire Evolution Gaming universe through their lobby tool. From here you can also find games like Super Sic Bo, Dragon Tiger, Side Bet City and Evolution Gaming new games like Lightning Dice and Football Studio.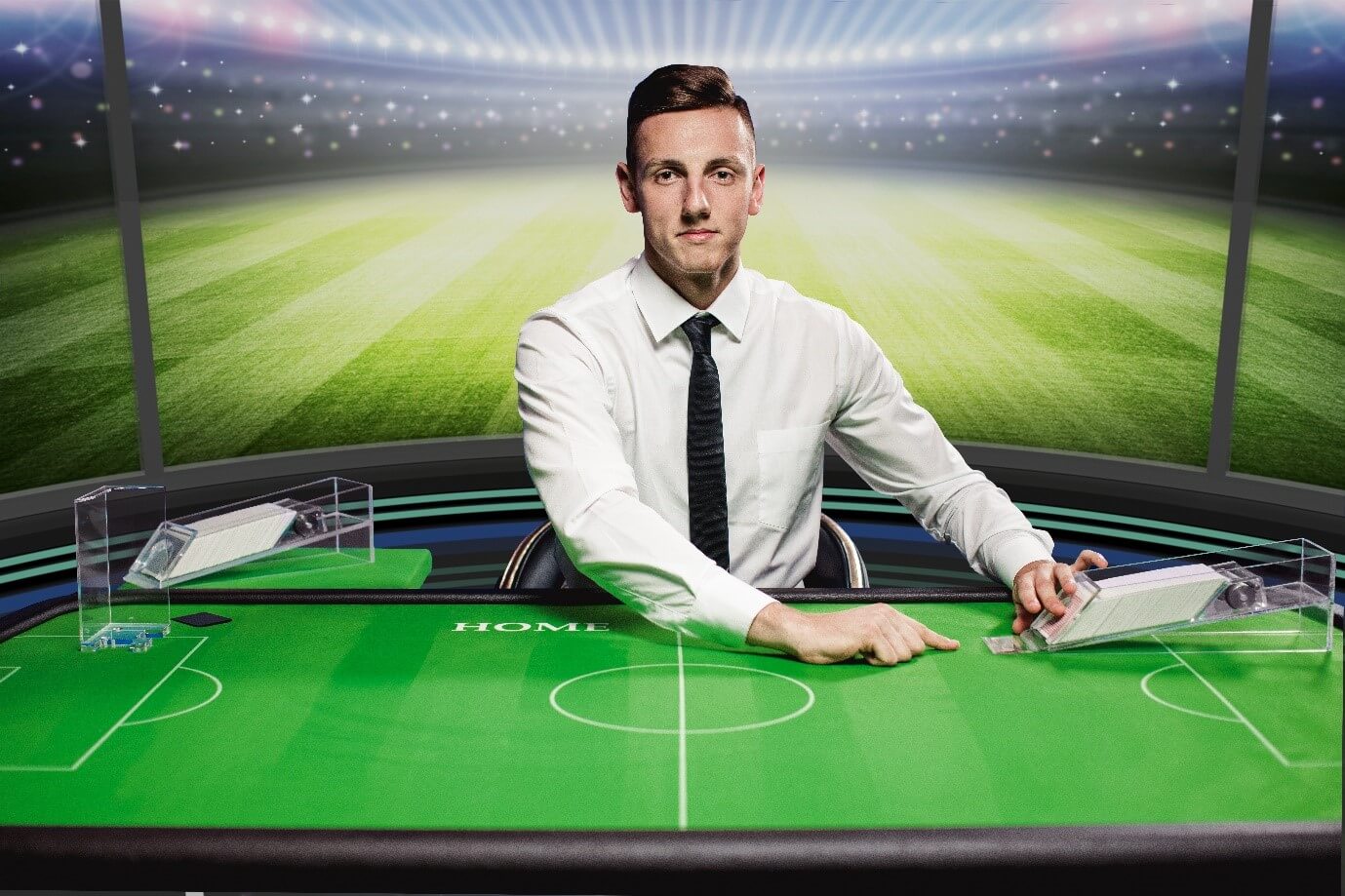 Evolution Gaming live casino features
Evolution's Live Casino games come in all shapes and sizes then, from Swedish and German dealers to a large choice of VIP tables. But it's the Evolution Gaming live dealers that make Live Casino what is it, and you'll encounter a rotating group of fun, friendly and nicely turned out staff waiting to put a smile on your face.
Betting is easy and accessible too, with a minimum bet of just 50p or £1 on most tables, while maximums can reach £1,000 or more if you're a high rolling VIP. And if one table isn't enough for you, the Evolution Gaming software's multi game option allows you play up to 4 games simultaneously, all visible within the same window.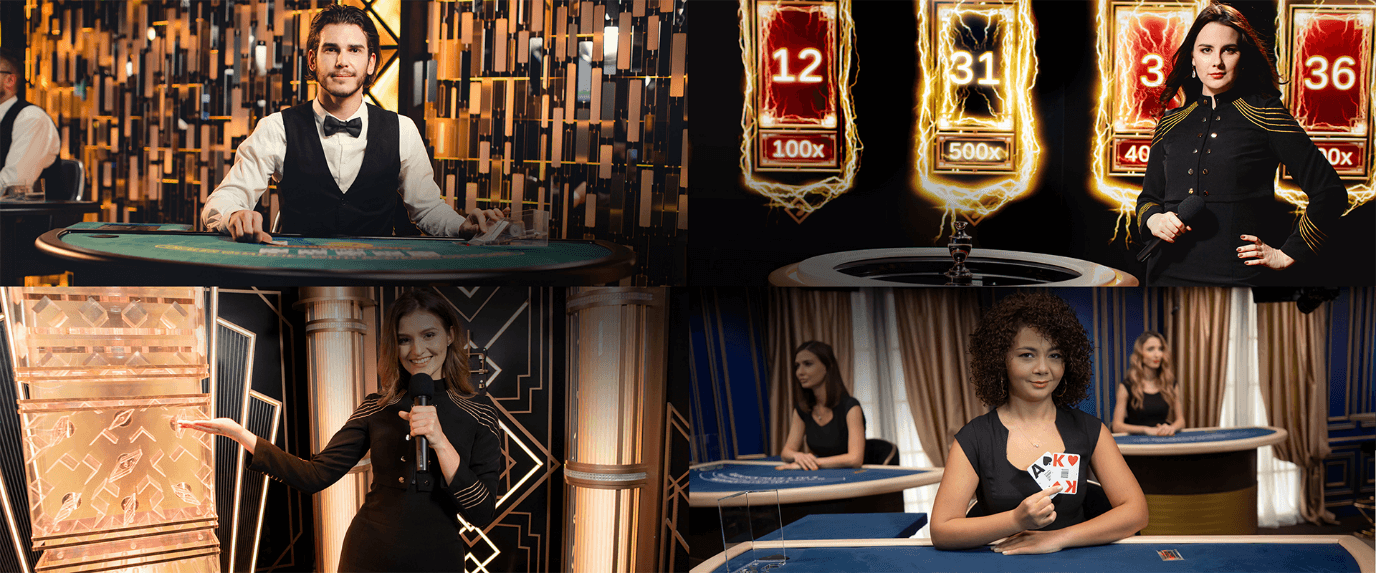 Speed is an important part of the online casino live experience too. Although you're not seeing as many games per minute as a fully virtual online casino game, you'll still be dealt more hand of Blackjack than in a land-based casino thanks to the seamless software, where features like pre-decision allow players to select their action ahead of their turn.
If we were talking slots, this would be the time we mention Return to Player (RTP), the average payout a game hard-coded into a game's rules. The Evolution Gaming house edge is typically the same as you'd find in the equivalent land-based casino table. Play optimal Blackjack and you'll be playing with less than a 1% house edge, while Evolution Gaming Live Roulette comes in at around 95-95% depending the variant you choose. With money back on every bet you place through our OJOplus loyalty rewards, you're getting the fairest deal around.
You'd think with all this high performance technology, Evolution Gaming Live Casino games are best played on desktop, but you'd be wrong! Thanks to recent advancements in live streaming, you can enjoy Evolution Gaming live casino for mobile in HD without burning through a month's data!
OJO's Favourite Evolution Gaming games
Top reasons to play Evolution Gaming live games
Quality: With their potent mix of purpose-built studios, slick broadcasting and perfectly integrated software, it's easy to see why Evolution are #1.
Dealers: OJO hates grumpy dealers, so he's well chuffed with the happy, helpful Evolution crew!
Speed: You'll get more games per minute than any real casino with Evolution Live Casino. No delays, no boredom, just a gaming evolution!

OJO's final word on Evolution Gaming
Want to play live roulette in your pants? That's the kind of Evolution Darwin would be proud of, amigo! We don't know how Evolution Gaming could better their stunning live streams and easy-to-use software, but we're sure they will. Stay tuned, OJOers…