Game Review
Strike gold when you play Thor's Lightning slot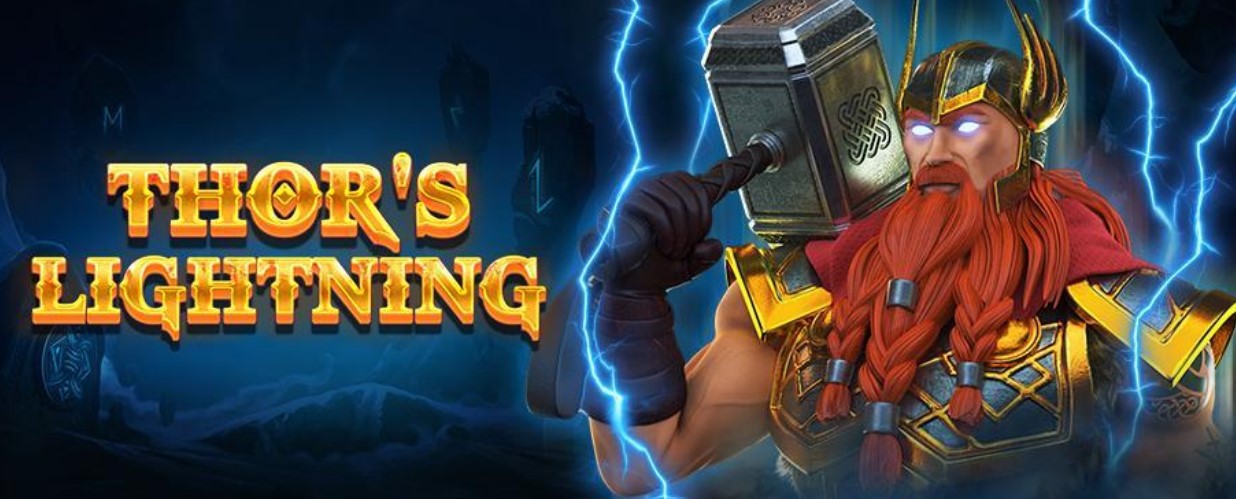 Play Thor's Lightning slot and it'll only take you seconds to realize it's one of the world's most innovative, theatrical and exciting casino games
Launched in 2019 by Red Tiger Gaming, Thor's Lightning online slot is a must-play for anyone who loves cascading symbols, Free Spins or epic fantasy adventures.
Thor's Lightning comes in a golden era for the award-winning Malta outfit which continues its inevitable climb to the pinnacle of slots development. Other 2019 releases like Pirates Plenty Battle for Gold and Mystery Reels Megaways™ are just two examples of why Red Tiger was aquired by gaming giant NetEnt.
Thor's Lightning slot is the definition of modern UK video slots. Incredible graphics, unforgettable bonus features and innovative maths under the hood. And all of that without compromising on speed and quality, whatever device you're using.
In this Thor's Lightning review we'll cover the design, payouts, features and explain how to play Red Tiger's Thor's Lightning slot game.
Or you could just save yourself 15 minutes, hit PLAY and figure it out for yourself! As always with PlayOJO, you're in charge.

Slot graphics
Casino game design and graphical quality don't come slicker than Thor's Lightning slot which uses Red Tiger's RTG Core technology to ensure smooth, fast gameplay.
As soon you as fire up the game, it's obvious you're dealing with cutting edge gaming tech that's borrowed heavily from comic book cinema and video games. From animated intro screens with glowing eyes to crackling lightning and explosive sound effects, Thor's Lightning slot has it all.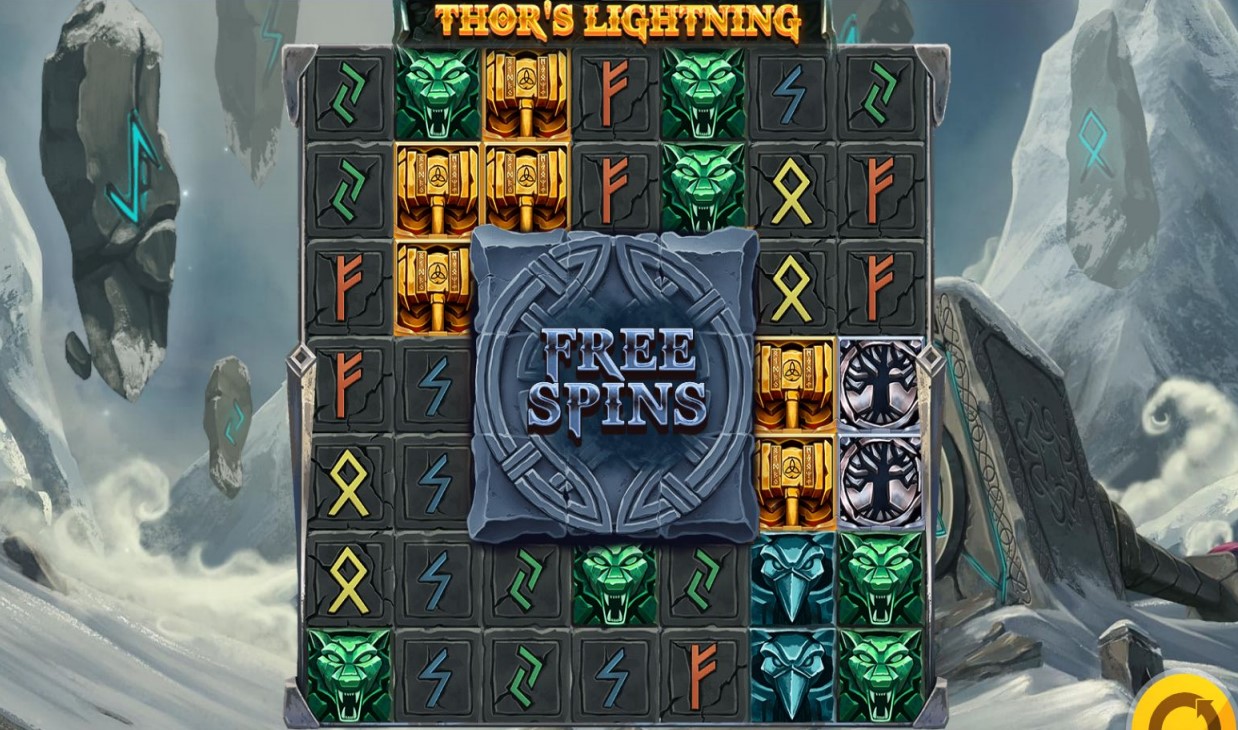 Theme
As you've figured from the central character, Thor's Lighting is rooted in Nordic mythology, a popular genre with slots fans after the runaway success of games like Games Global's Thunderstruck 2 and NetEnt's Asgardian Stones.
The game's background features a frozen tundra of the Viking north, though the combination of floating monoliths and glowing symbols give the game a strangely futuristic feel. Look closely and you'll spot falling snow animations, the type of small detail you'll find in many Red Tiger slots.
Going with the mix of ancient and ultra-modern, the game's hero, Thor, has a classic superhero vibe, yet updated for the 21st century gamer. With movie-level environment and a star to match, Red Tiger have really made the most of a perfectly chosen theme.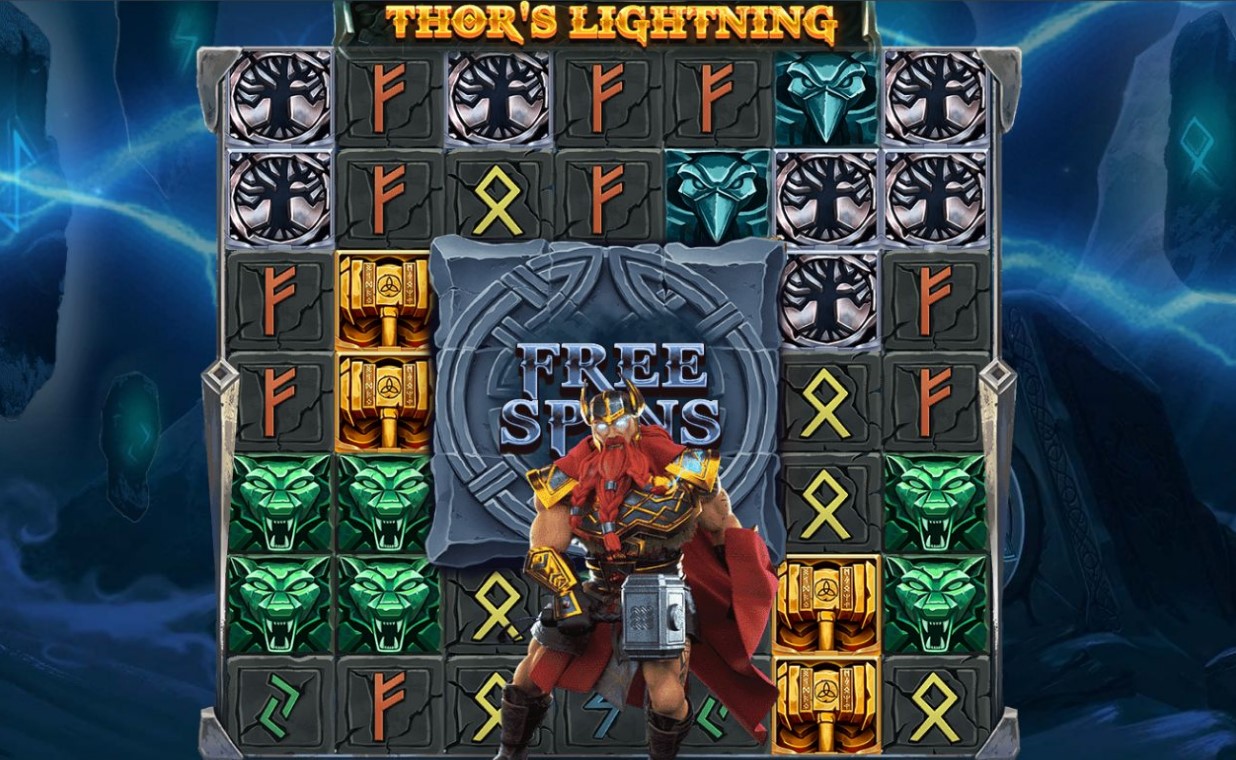 Game grid
No reels here. Instead you get a 7x7 grid with a 3x3 Free Spins section in the centre. Hit SPIN and 40 symbols drop down to fill the empty grid. The symbols are engraved onto stone slabs, while the grid itself is set into a simple but original stone frame.
The Free Spins area in the centre of the grid is something we've not seen before, and it plays a massive role in your gameplay. Beneath the stone façade lies a stunning golden ring engraved with the same mysterious symbols you see in the paytable. Uncover the entire ring and you'll trigger one of the game's 2 Free Spins features.
Symbols
Lord knows what the various symbols mean, but they certainly add to the overall sense of ancient Marvel-style mythology. Lower value symbols are in the style of Old Norse runes, with the yellow symbol actually used for the letter "o" in the ancient 'Elder Futhark' alphabet.
Higher value symbols use popular icons of Nordic mythology including Thor's Hammer, while the Wild symbol is a dramatic totem based on Thor himself.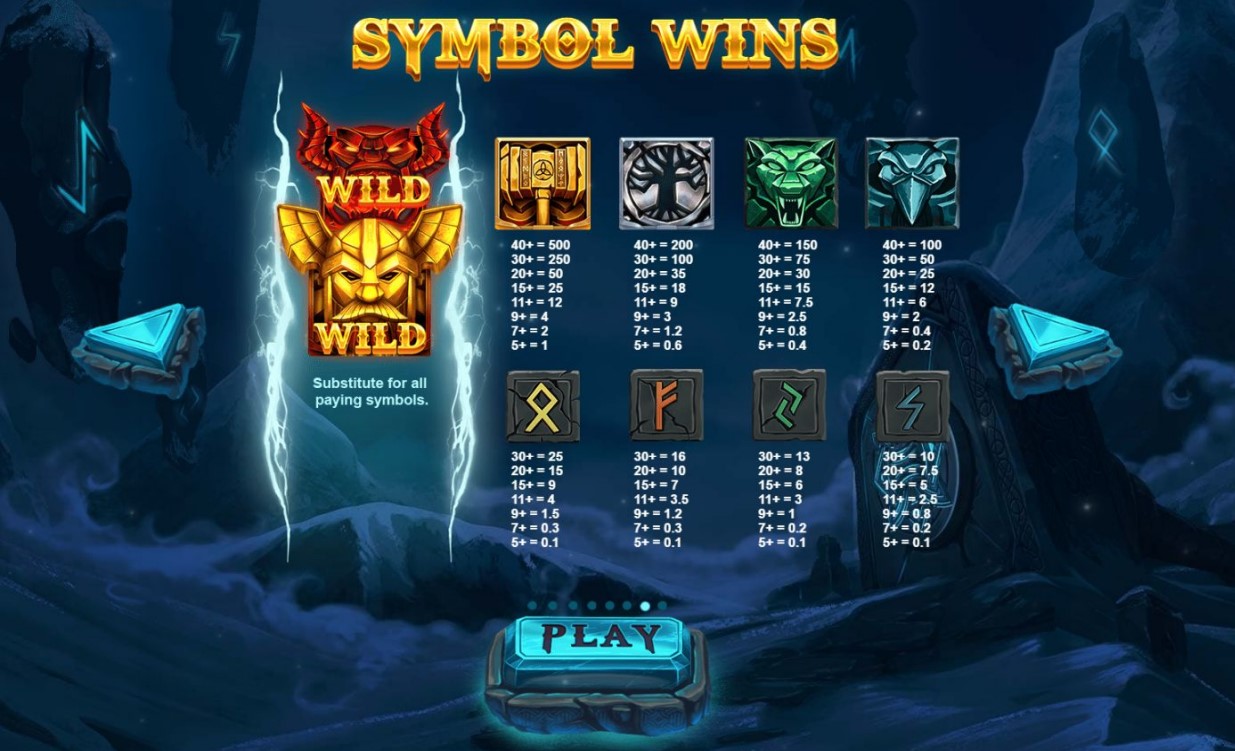 Sound
As you'd expect, the backing track has a dramatic movie-finale vibe. Reveal a portion of the Free Spins ring and you'll hear throbbing energy as it glows invitingly. Get a Big Win and the Thor's Lightning game unleashes a hit of anthemic rock.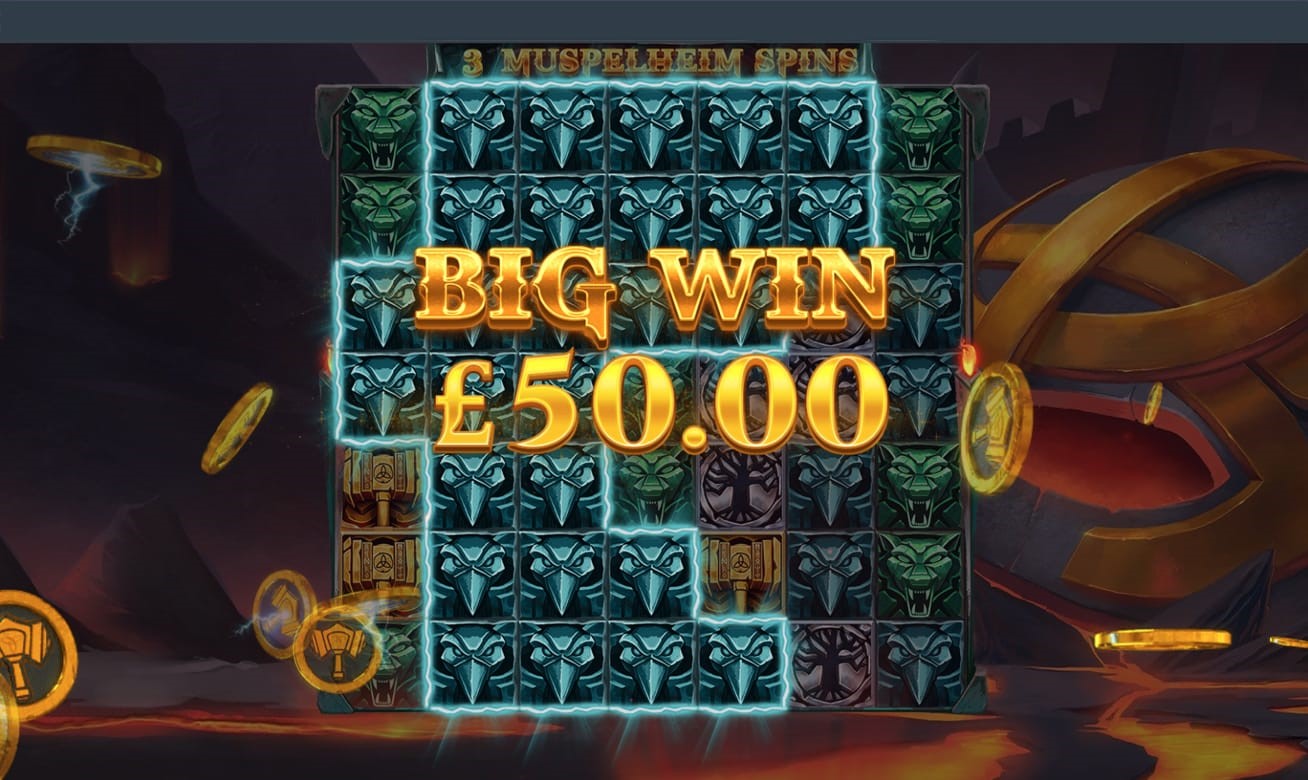 How to play Thor's Lightning slot
Thor's Lightning is a 7-reel 7-row slot with no paylines to speak of, nor any traditional Ways To Win. So you'll have to trust us when we say that when you play slots online with grids, there are an almost limitless number of ways to complete a cluster. But before you meet the god himself, there's the small matter of choices, choices!
Choose your device
Thor's Lightning was made to run perfectly on PC and Mac, iPhones and Android phones and all screen sizes in between. The grid layout of the reels is perfect for mobile phones, so OJO says you should install his app and give it a spin!
Choose your stake
There's no Thor's Lightning demo game but you can play for real from just 10p per spin, though high rollers can play up to £40 a game. If you haven't deposited yet, OJO'll throw in 50 Free Spins when you do. Sound good? Play slots like Thor's Lightning with no wagering requirements, no max win and you keep whatever you win. BOOM!
If you're looking for free slot games in the Norse mythology category, log in first and search out Viking Runecraft by Play'n GO. It's another incredible slot that uses a grid format instead of reels.

Go Turbo
Doesn't need much explanation. Spin faster, get more games in, jack up the action!
Engage Autopilot
The auto play feature lets you set a number of spins – say 100 – so you don't have to click each time. You can even set win, loss or bonus trigger rules for when it should stop.
Gamble
Like all Red Tiger slots, you can gamble up any winnings over a certain amount using their dial-arrow mini game. Choose how much you want to try and win, then hope the arrow lands in the right section of the dial.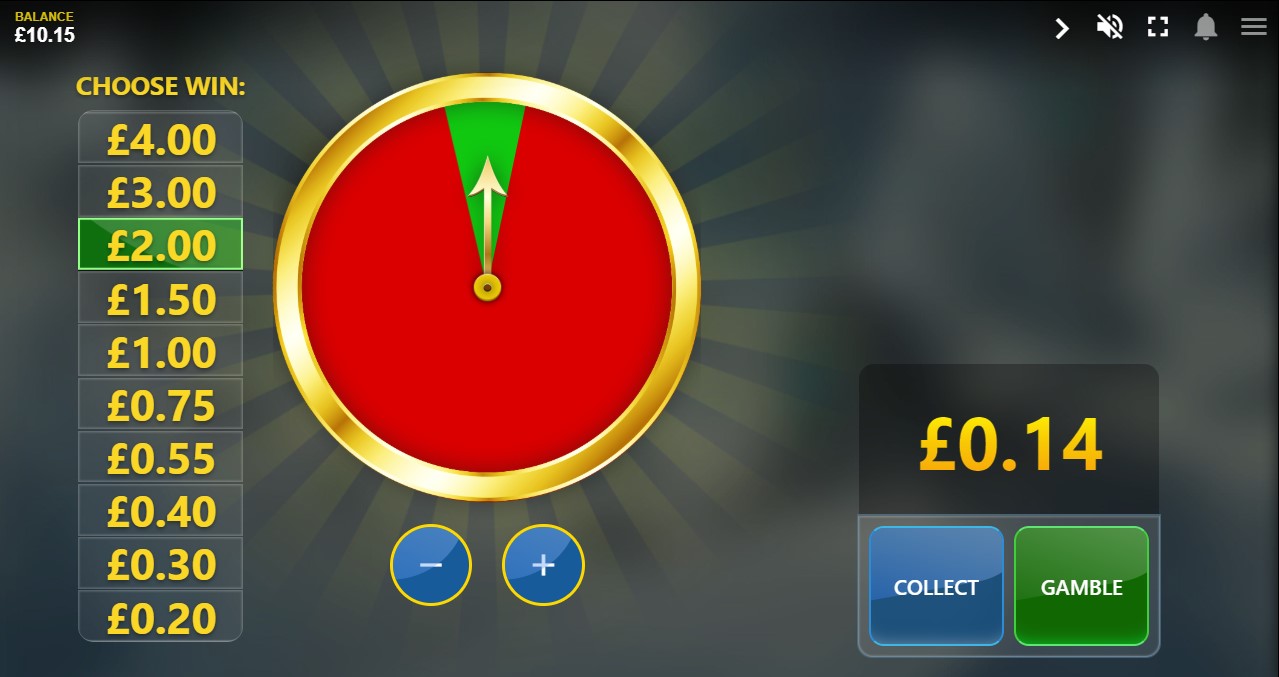 Thor's Lightning slot rules
That's the basics of literally how to play Thor's Lightning. Now here's the good stuff – wins and bonuses!
Payouts
The maximum win on Thor's Lightning slot is 1,848 coins which, if you're playing the £40 max bet, is a cool £73,000 and change. One look at the paytable and you'll see how the almost infinite number of cluster wins affects the payout combinations. Match 5 symbols in a cluster and you'll win just 0.1 coins. Doesn't sound much, but a cluster of 5 symbols on a large grid is far easier than a standard payline win on a 5-reel slot.
Match 40 or more symbols in a cluster and you can win up to 500 coins, though you should bear in mind that with winning clusters exploding to make way for the symbols above, you can actually trigger a whole string of wins on the same spin.
RTP
The Thor's Lightning RTP is around 95.10% while the Gamble Wheel pays precisely 95.00%. Let's hear it for 2 decimal places. OJO cranks up his Thor's Lightning RTP with real-time cashback on every spin. Learn more about this special, fair casino reward on our OJOplus page.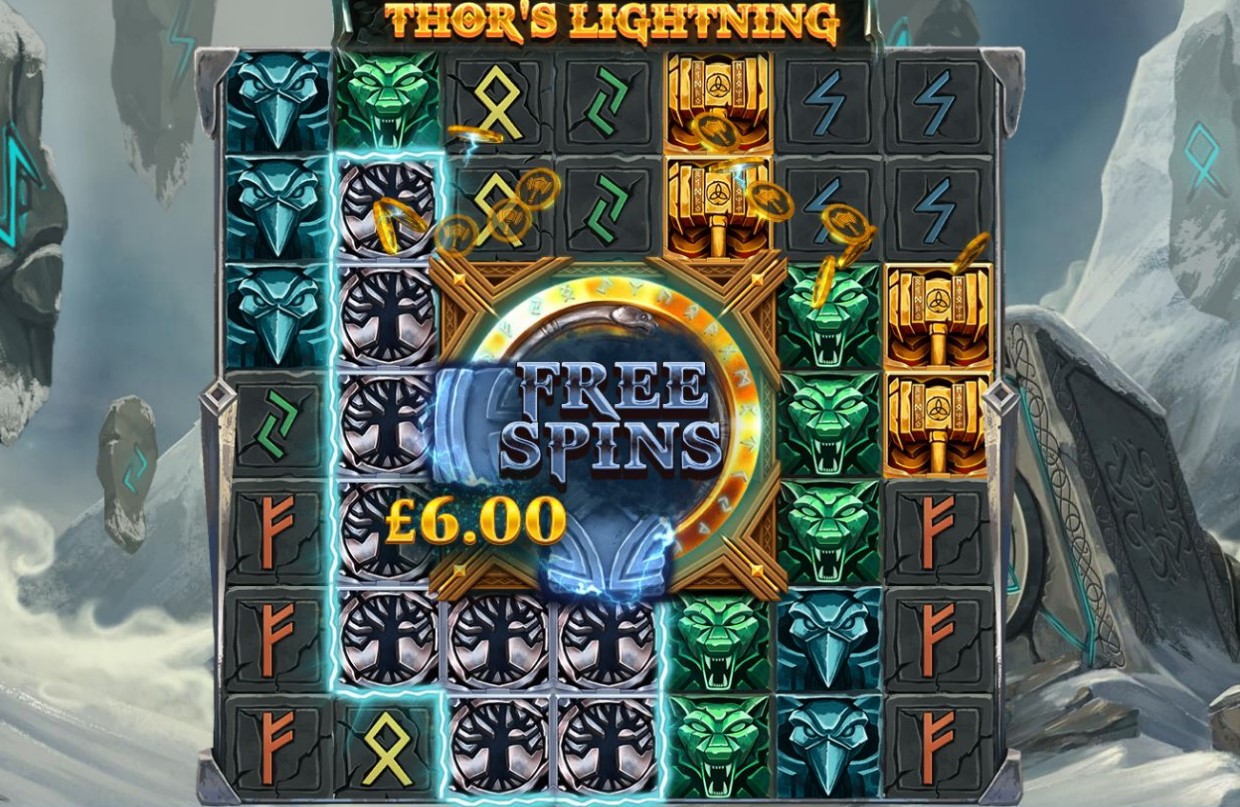 Cascading reels
Most of OJO's slots have 5 or more reels, anywhere from 20 paylines to thousands, and the name of the game is spinning matching symbols on a payline. You will play Thor's Lightning slot on a 7x7 grid and match symbols in clusters. They then vanish and the symbols above drop down, giving you more chances to win on the same spin.
Clusters not paylines
Instead of matched symbols on a payline, Thor's Lightning slot uses clusters, a group of 5 or more matching symbols connected vertically or horizontally. This gives the slot a great mobile-app-game feel.
Free Spins
Instead of hitting 3 or more scatters to trigger Free Spins, you have to smash the stone tiles of the central Free Spins section by making winning clusters next to them. Once you've unlocked the Free Spins sector, the gold ring will randomly award you one of the 2 available Thor's Lightning Free Spins bonuses.
Bonus Features
Not 1 but 2 Free Spins plus a couple of random Thor bonuses? Yes please! Mastering the bonuses and features is crucial if you want to know how to play Thor's Lightning slot, but which one is the best? Only you can decide!
Wild
Appearing on regular base game spins, Wilds substitute for all paying symbols. They come in pretty handy, but there's way more to our Thor's Lightning game than just these symbols.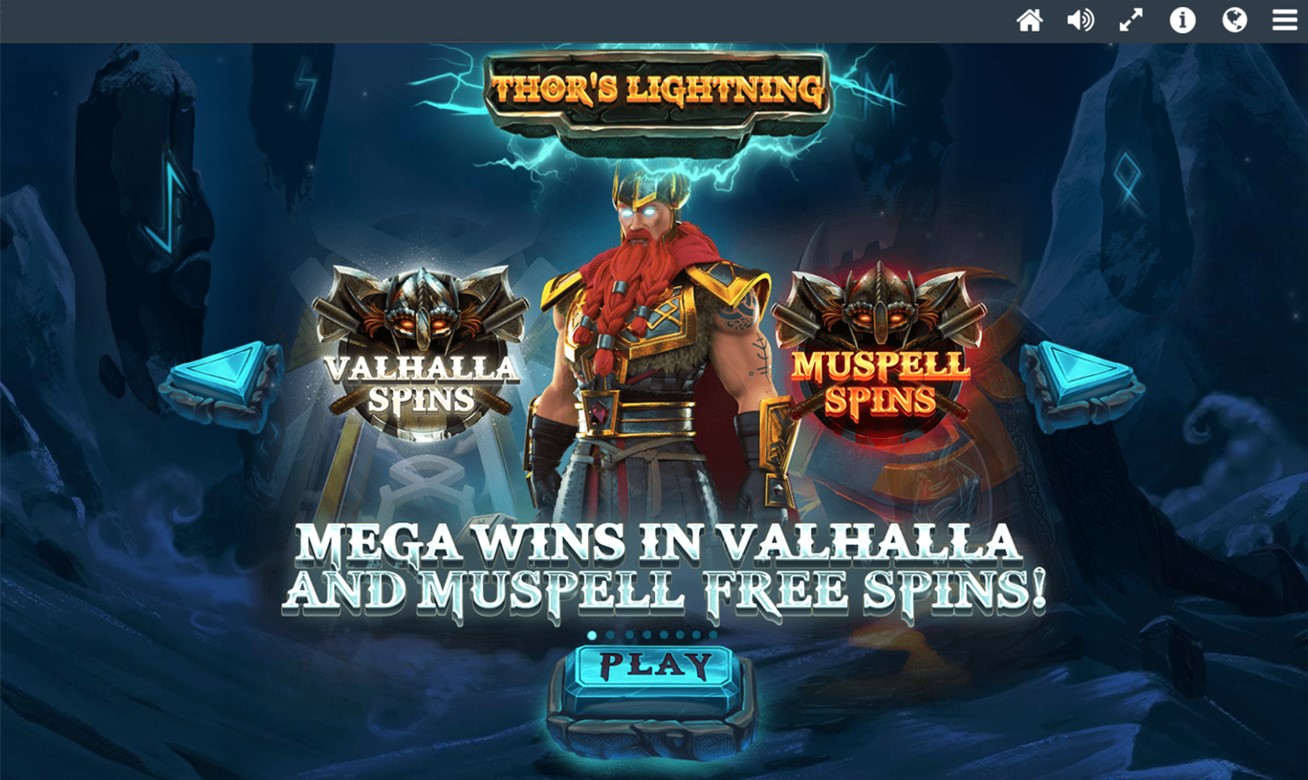 Valhalla Spins: This type of Free Spins happens on special reels without any normal symbols, only golden shields. Some of them lock in place and once your spins have completed, your shields will rotate to reveal multipliers which are then added up to create your total prize.
Muspell Spins: These Free Spins take place on the regular grid with high value symbols only. You might also get a Lava Flow or Lava Shower which can destroy symbols, add matching symbols or add Wilds. Both types of Free Spins have their advantages but for OJO, the Muspell Spins get his vote for pure theatre!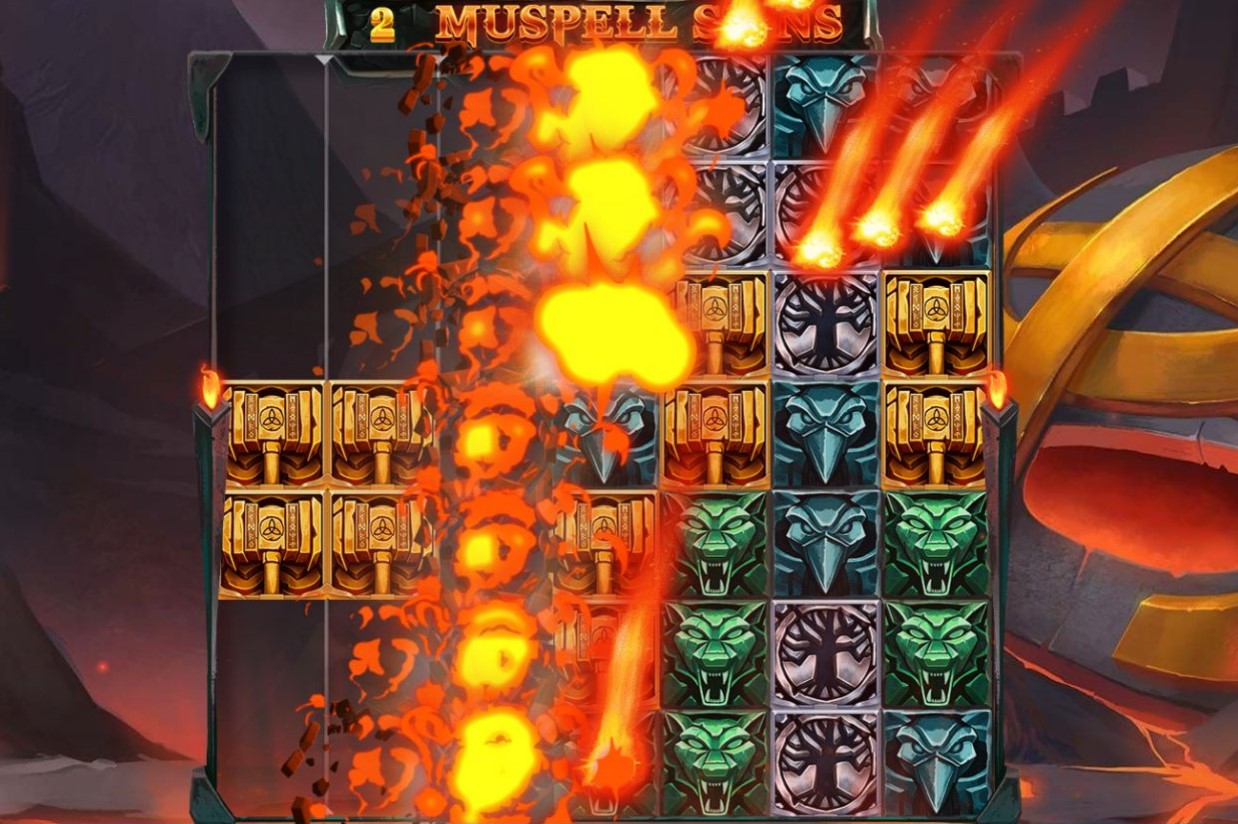 Thor Activator
Thor can randomly appear during any base game spin and he did so often during the session we played. Sometimes he'll summon lightning, sometimes he'll throw his hammer, and either can produce big wins.
Thor's iconic Hammer, Mjolnir, makes symbols disappear to trigger a cascade from above, or nudges reels to produce more wins.
Thor's Lightning explodes down into the reels, removing all low value symbols, duplicating symbols or turning them Wild.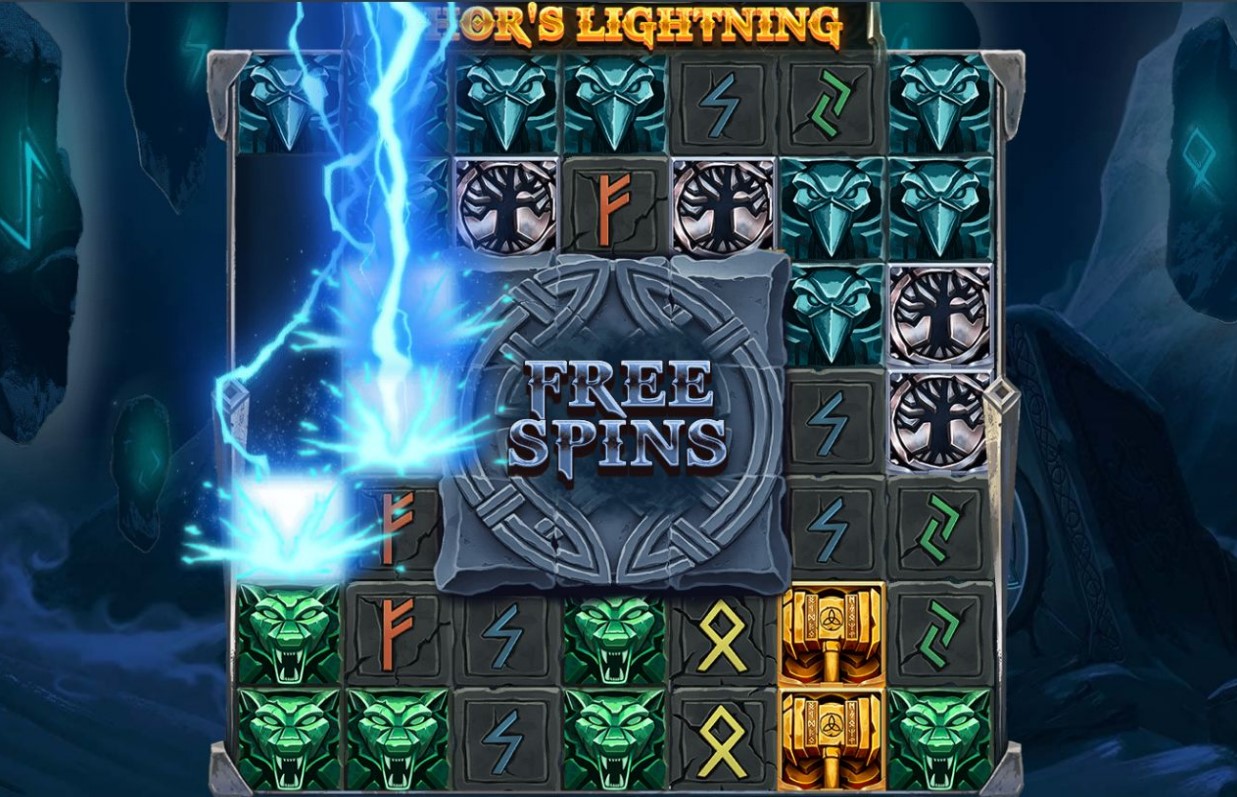 OJO says…
Thanks to the Avengers films and Chris Hemsworth, Thor is as a big pop culture icon as any superhero, and Red Tiger have done the mythical god proud with their Thor's Lightning game. An inspired grid format with integrated Free Spins bonuses plus high hit-rate maths and a solid Thor's Lightning RTP make this one of OJO's most popular casino games.

Like this? Then try….
Thunderstruck II! Arguably Games Global's most accomplished slot, the Thunderstruck sequel packs more Norse punch with a supporting cast of characters alongside their version of Thor. Their game has 243 paylines and a max win of 2.4 million coins. Deffo one for your favourites list.