Game Review
Win 2.4 million coins on Thunderstruck II slot | PlayOJO

Who says sequels are never as good as the original? They've not met Thor!
Unveiled in 2010 by Games Global, Thunderstruck II is the sequel to their 2003 smash hit Thunderstruck. And thanks to some high quality graphics and innovative game play, you'll be amazed how far this game has come – it's just light years ahead of the competition.
Oh yea, and you could plunder up to 2.4 MILLION coins!
PlayOJO's Thunderstruck II video slot is based around Norse mythology and stars everyone's favourite hot-tempered, hard-drinking Norse beefcake, Thor. Endless potential for thrills and spills.
The no.1 supplier of software to online casinos with real money play, Games Global are known as much for their feature innovations as for their designs, and this slot has 2 of their ground-breaking ideas. Firstly, this is one of their 243 Ways wonder slots.
That's a crazy amount of paylines which gives you more ways to win. We also have a collection of unforgettable features inside the Great Hall of Spins to unlock. Together, they make Thunderstruck the undisputed god of fantasy-themed slots online.
Time to launch the longboat and go uncover Thunderstruck II's hidden treasures!
Can any slot match Thunderstruck II's looks?
Thunderstruck II is among the best online slots in the fantasy genre and one which focuses on a period in Norse folklore.
Thor and other gods are supported by elements from Norse and Viking mythology including Celtic-style knot borders and custom fonts. Look out for the small touches like Viking crosses in place of the occasional 't' or + sign.
This game is set in Asgard, a realm which was home to the Aesir Norse gods, ruled by Odin and Frigg, Thor's parents. We're dealing with Vikings here, so expect plenty of ancient stone, blues and greys, iconography associated with Norse religion and of course – lightning!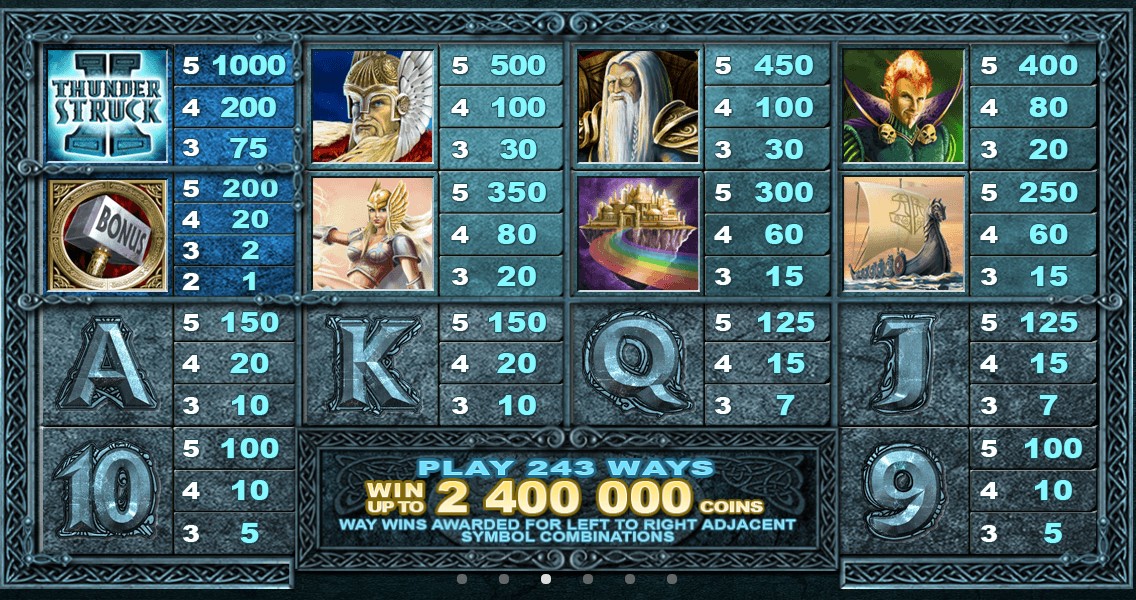 Reel symbols include the Thor himself, Loki, Odin and Valkyrie. We also get Asgard - Thor's legendary rainbow city - plus a Longboat, a Bonus symbol (a nod to Thor's hammer 'Mjollnir') and the Thunderstruck II logo as the Wild.
Within the Great Hall of Spins, each character gets their own themed bonus game. Start with Valkyrie's light, mellow world then play your way into impish Loki's darkly green kingdom. Then it's Odin's majestic cosmos before finally you reach the electric celestial cool of Thor. Stunning stuff!
This slot doesn't sit on its graphical laurels either, with plenty of movement to keep you on your toes in the form of reel animations during payline wins.
As soundtracks go, Thunderstruck II's audio hits the mark. The looping background track has a majestic, Lord of the Rings elvish vibe. It's good triumphing over evil with the odd crack of thunder thrown in.
There's a satisfying clunk when you spin the reels and an even nicer one when the Bonus hammer symbol appears. All payline wins are accompanied by the warm, noble sounds of horns which ensures the whole playing experience feels epic and magical. Thank god for John Williams eh!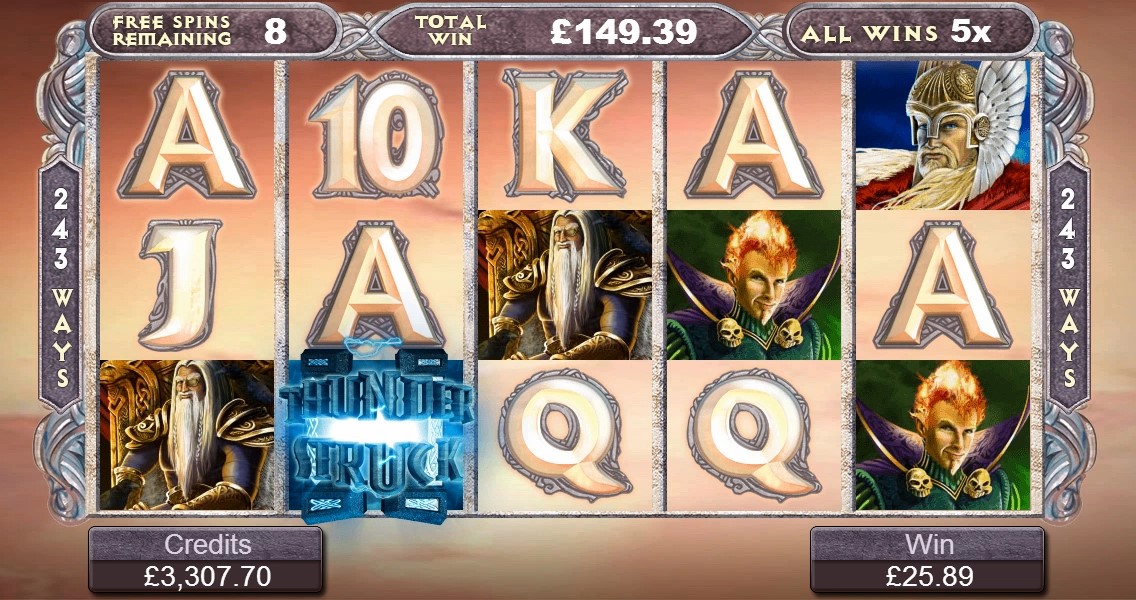 The important stuff
Thunderstruck slot machine is a 5-reel, 243 Ways slot where symbols can appear in any position on adjacent reels to create winning combinations.
As we said at the top of this Thunderstruck slot review, you can win up to 2.4 million coins in one game, a potential payout which gives our Mega Moolah casino slot a run for its money. Seeing as you can spin up to 5p per coin, that's a cool £120000 top prize.
How it is done? Choose the maximum coin value and number of coins per spin and that'll give you the maximum wager per spin of £15.
The maximum prize possible on any 1 spin is actually £121500 and it's awarded if you hit Thunderstruck logo symbols in every reel position within the Wildstorm feature or Odin's Hall of Spins bonus game.
Yep, doesn't sound that easy does it! But nothing good ever came easy to the Vikings, and you're hangin' with them now!
Thunderstruck II slot RTP is 96.65%. OJO needs the 3.35% to pay the bills but he gives you money back on every spin of Thunderstruck II so it's not all 1 way! Just check the OJOplus section to watch the cash stack up. Then hit COLLECT to transfer it to your cash balance. Ker-ching!

Thunderstruck II slot features
Like other top titles from Games Global's in-house game studio, Thunderstruck II is blessed by the gods when it comes to features. Let's dive straight in…
Wildstorm
The Wildstorm feature is randomly triggered during any base game and turns any reel fully Wild. The truly monumental Thunderstruck II wins come when more than one reel – and very occasionally all five reels – turns Wild.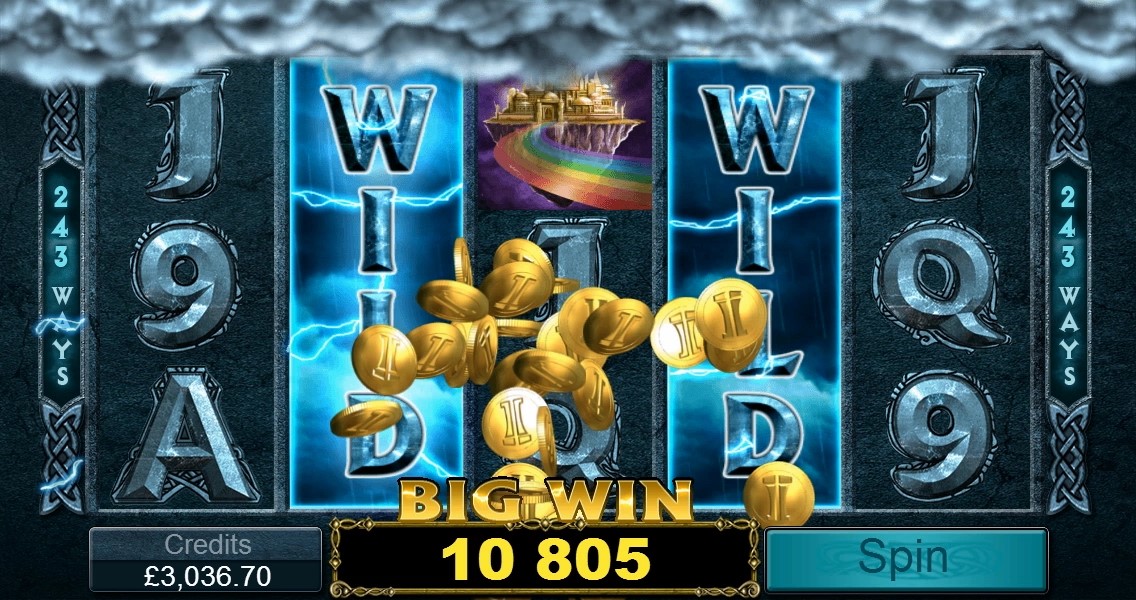 Great Hall of Spins
Also referred to as a Free Spins Selection Bonus (not very sexy, is it), Thunderstruck II's Great Hall of Spins is a similar format to Immortal Romance's Chamber of Spins.
Spin 3 or more Bonus hammer symbols to enter this mega-feature and begin your journey through 4 different bonus games and a whole mountain of Thunderstruck II Free Spins.
Initially you'll play Valkyrie but after triggering her bonus 5 times, you'll unlock Loki. Play each bonus 5 times to unlock the next until you scale the heights of Thor's bonus.
Once they're all unlocked, you can choose any of them when you enter the Great Hall of Spins in the future. Note that the game saves your progress, so you'll never have to unlock them again.
Let's crack open each bonus game and see what you'll get!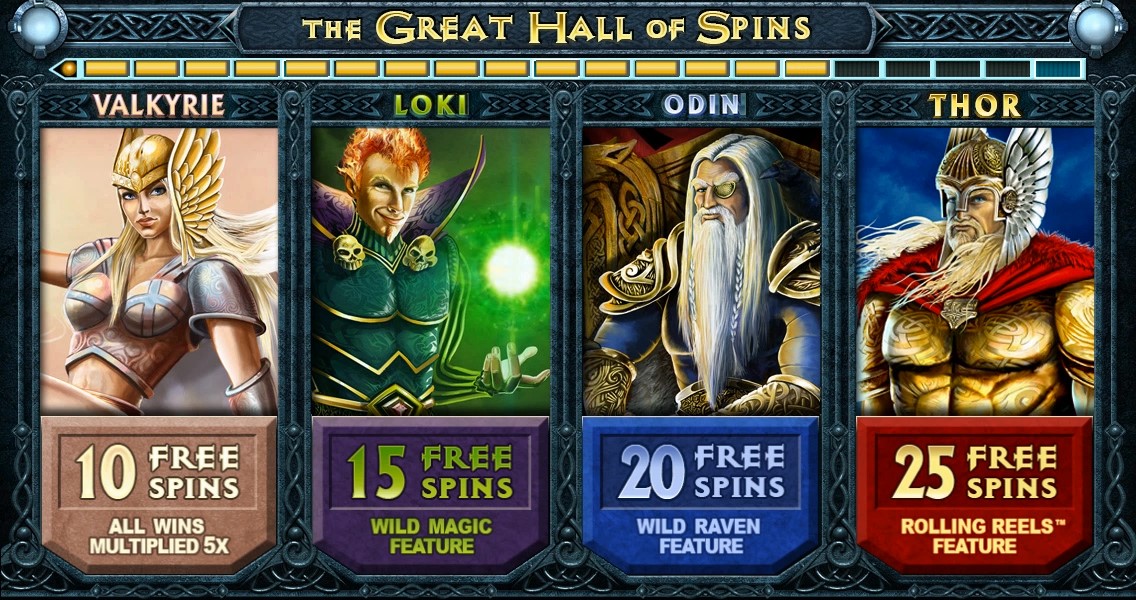 Valkyrie: Enjoy 10 Free Spins during which any wins are multiplied by 5! You can also retrigger Free Spins by landing 3 or more Bonus scatters.
Loki: This where Thunderstruck II gets really interesting. Now you're on 15 Free Spins (which can also be retriggered and added to your Free Spins balance), but with a couple of twists.
Firstly, spin 2, 3, 4 or 5 Bonus scatters and you'll earn 1, 2, 3 or 4 more Free Spins. Land a Wild Magic symbol and it'll randomly transform other reel symbols into Wilds (although the 2x multiplier does not apply in this bonus game). Game's getting hotter!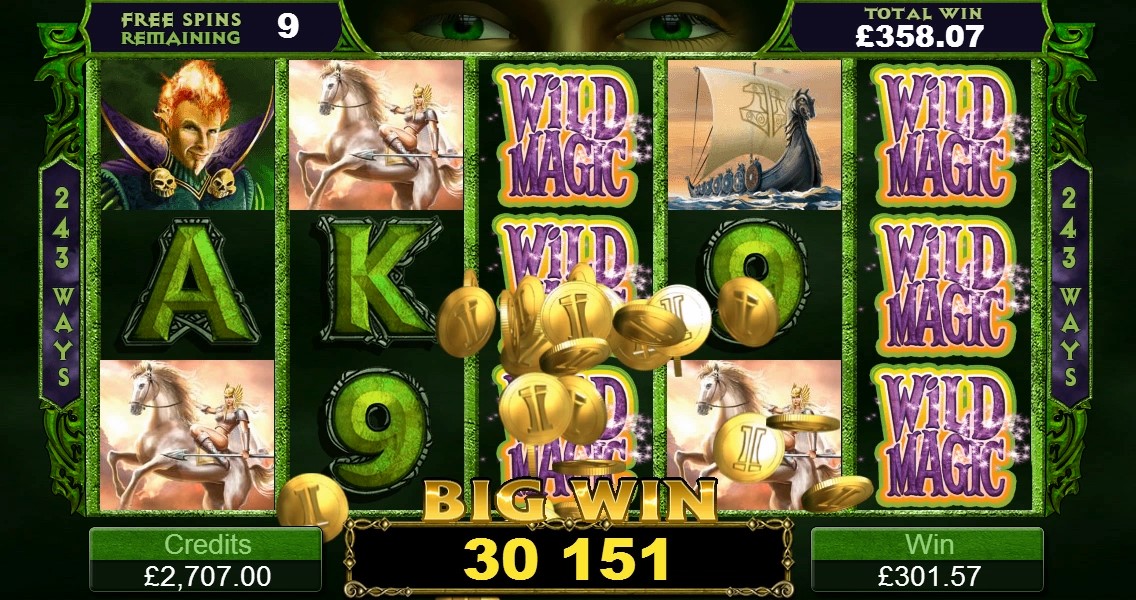 Odin: Now we're really cookin' - 20 Free Spins! And any win will trigger the Odin's Raven bonus where 1 of his birds can drop a 2x or 3x multiplier on the reels. If both ravens swoop in, they'll drop 6x multipliers. Great Odin's Raven! Free Spins can't be retriggered here but hey, you can't have it all!
Thor: Big spins from the big guy. And during your 25 Free Spins, any wins can increase the multiplier from 2x through to 5x, thanks to the Rolling Reels™ feature. Max possible win here? 50,000 coins!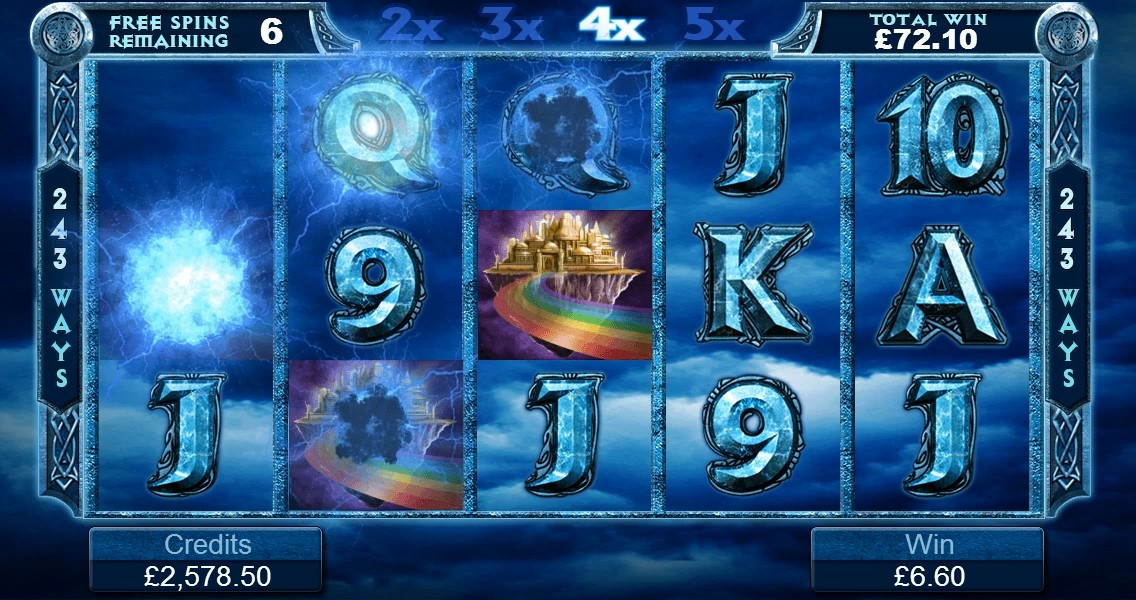 OJO says…
Whoa, this one's pure magic! Lightning has deffo struck twice for Games Global, as this slot delivers in every way, from slick graphics to fun features and mega wins up for grabs.

Like this? Then try….
Avalon or Immortal Romance. Both are extremely high quality slots with 243 Ways and spectacular features that'll keep the werewolf from the door!