Game Review
Bucanneer your way to better Pirates Plenty RTPs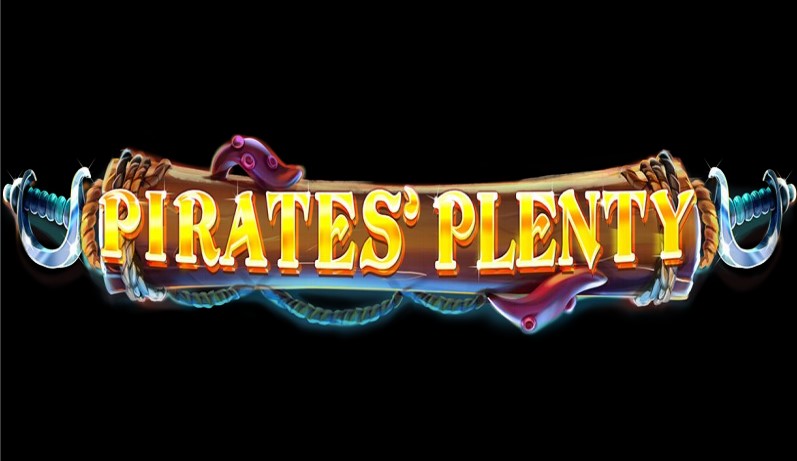 One spin of our Pirates Plenty slot games and you'll know they're from UK software supplier Red Tiger Gaming. That mix of high-definition graphics, fun contemporary themes and a boatload of features is Red Tiger to a tee.
OJO's Pirates' Plenty The Sunken Treasure slot hit the internet in November 2018 while Battle for Gold, the eagerly awaited sequel, was released in August 2019.
Pirate-themed slots are all the rage and I suppose we've got Johnny Depp to thank for that. But what about Goonies, doesn't that deserve a pirate slot as well? (Great steaming OJO, we've got one of them too! Thank you Blueprint Gaming. Go check it out, chief!).
Back to the task in hand, our combined Pirates Plenty slot review. Let's plunder the treasure of both games, see what makes them tick and figure out which wins the battle of best Pirates Plenty slot!
Pirates' Plenty The Sunken Treasure
Red Tiger's first-born pirate son, The Sunken Treasure video slot has it all – immersive design, epic payouts and clever maths that power a unique set of Pirates Plenty bonus features.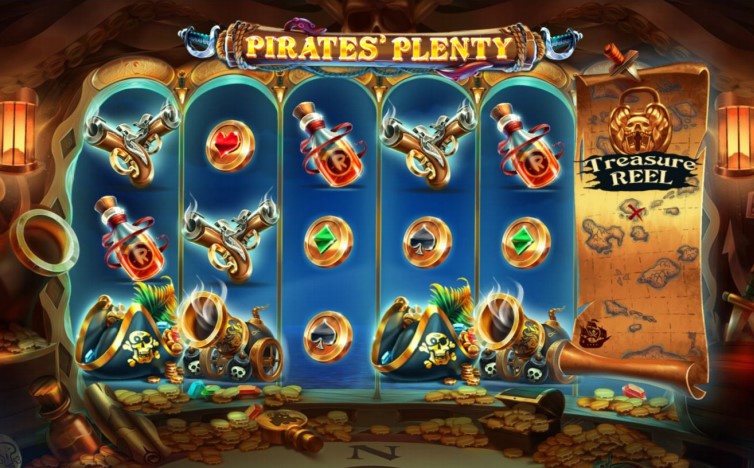 Slot design
The Sunken Treasure has definitely a darker vibe than the Pirates' Plenty slot game, the sequel Battle for Gold. Fiery lanterns illuminate the ship's cabin and the treasure. Peer through the reels and you'll see the ocean at night with obligatory ominous swirling mists. And check out the game's main character, a ghoulish undead pirate captain who holds the keys to the game's biggest wins.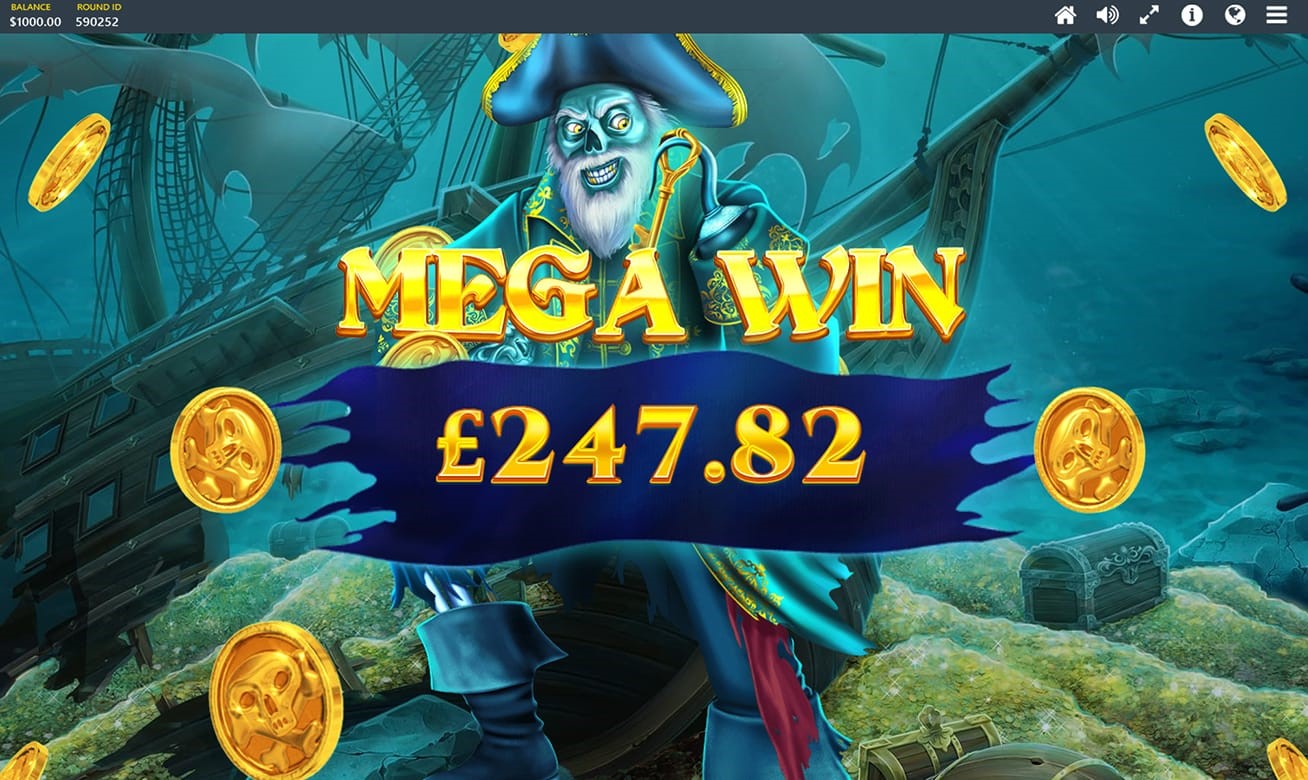 This game is usually a 5-reel slot but a special 6th reel is hidden by a vertical scroll on the right. This a progress feature that's live throughout your gaming session, so get comfy – your voyage has just begun.
Like all Red Tiger slots, the symbols show a real attention to detail and passion for game design. Lower value symbols come in the shape of gold coins with card suit symbols, while higher value symbols include bottle, guns, hat and skull. You'll also see a collection of bonus symbols, from the Wild Monkey and special Ocean Spins Wilds to map symbols, Ocean Spin Scatter symbols and Wild Ships bottles which act as expanding Wilds.
The important stuff
Pirates' Plenty The Sunken Treasure is a 5-reel, 3-row video slot with 20 paylines. Unlock the Treasure Reel and it becomes a 6-reel 3-row slot, though it remains a 20-payline game.
Betting limits for this game are 10p to £20 per spin, divided among the 20 paylines to calculate your payouts. Talking of which, the paytable win combos are very tasty, even before you factor in the bonus games. Six skull symbols are worth 1000 coins, for example, which is one of the best online casino pay-outs for a symbol win. But get reel lucky and you could win up to 5426 coins per spin, the maximum win on offer.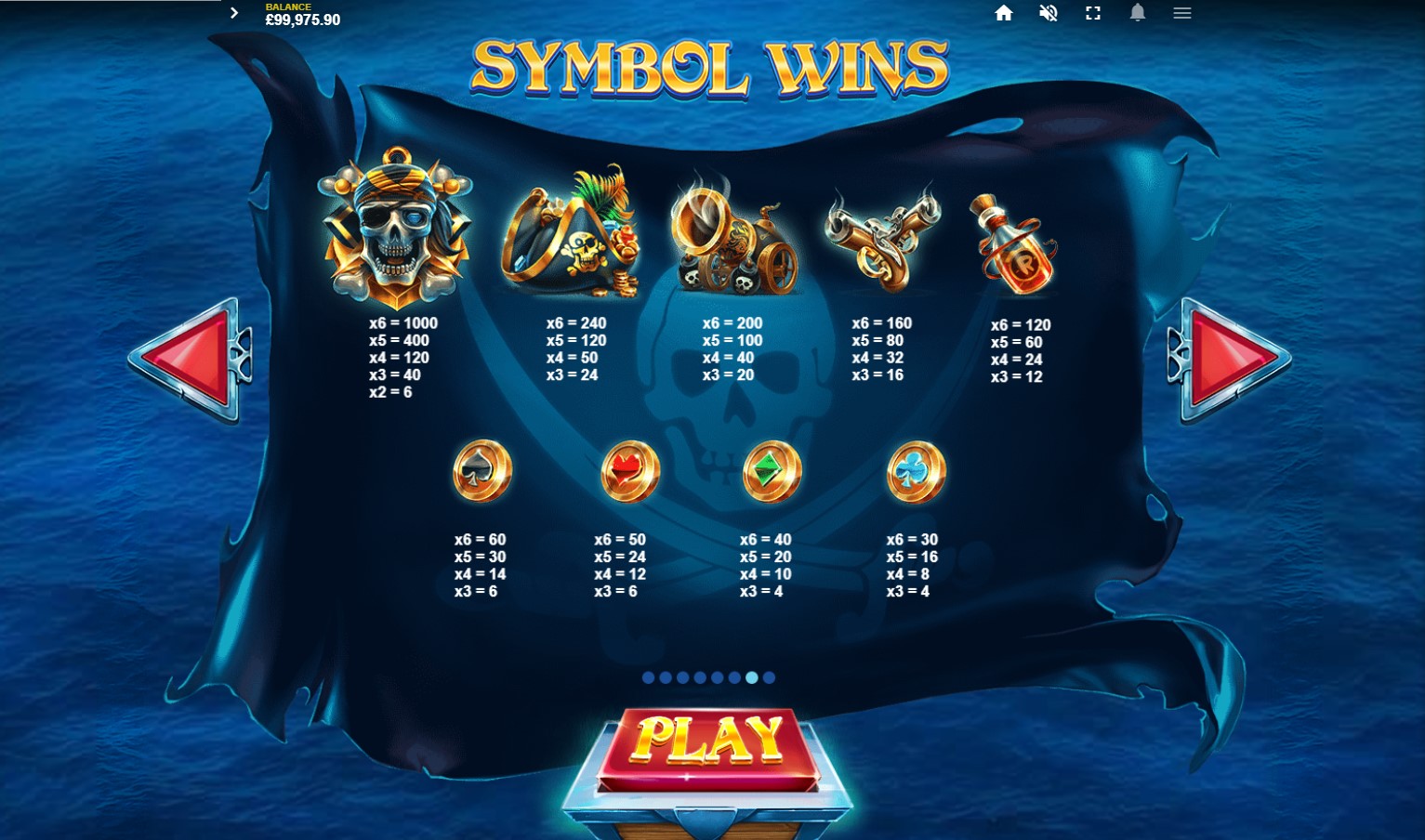 The Pirates Plenty RTP here is 95.10%, which is almost bang on average these days. But we don't do average, so how about some money back on every spin? That's where OJOplus comes in.
Both of these Pirates Plenty slots are made in HTML so they play really well on your phone or tablet. You don't need a casino app (though you should give ours a go!), just fire up PlayOJO in your browser and away you go. The interface is
There's a Pirates Plenty demo version if you want to play slots online risk-free, but that means prize-free too. If all that talk of coins and treasure has whetted your whistle, whip out your debit card or power up your PayPal (yes, we get bonuses for alliteration) and rinse out your snorkel – we're diving for Sunken Treasure!
Features
As the first in the Pirates' Plenty slot series and a game that'll compete with pirate slots from big boys like NetEnt, The Sunken Treasure had to make a good first impression. With Pirates Plenty bonus features like this, Red Tiger needn't have worried!
Treasure Reel: Collect 50 map symbols to unlock the 6th reel and more chances to win the lot. Now you can spin Wild Ship symbols on the 6th reel which expand to fill the entire reel. These comes with multipliers of 2x, 3x or 5x as well. Your 6th reel stays active as long as you do, but keep your stakes the same or it'll reset to hidden mode.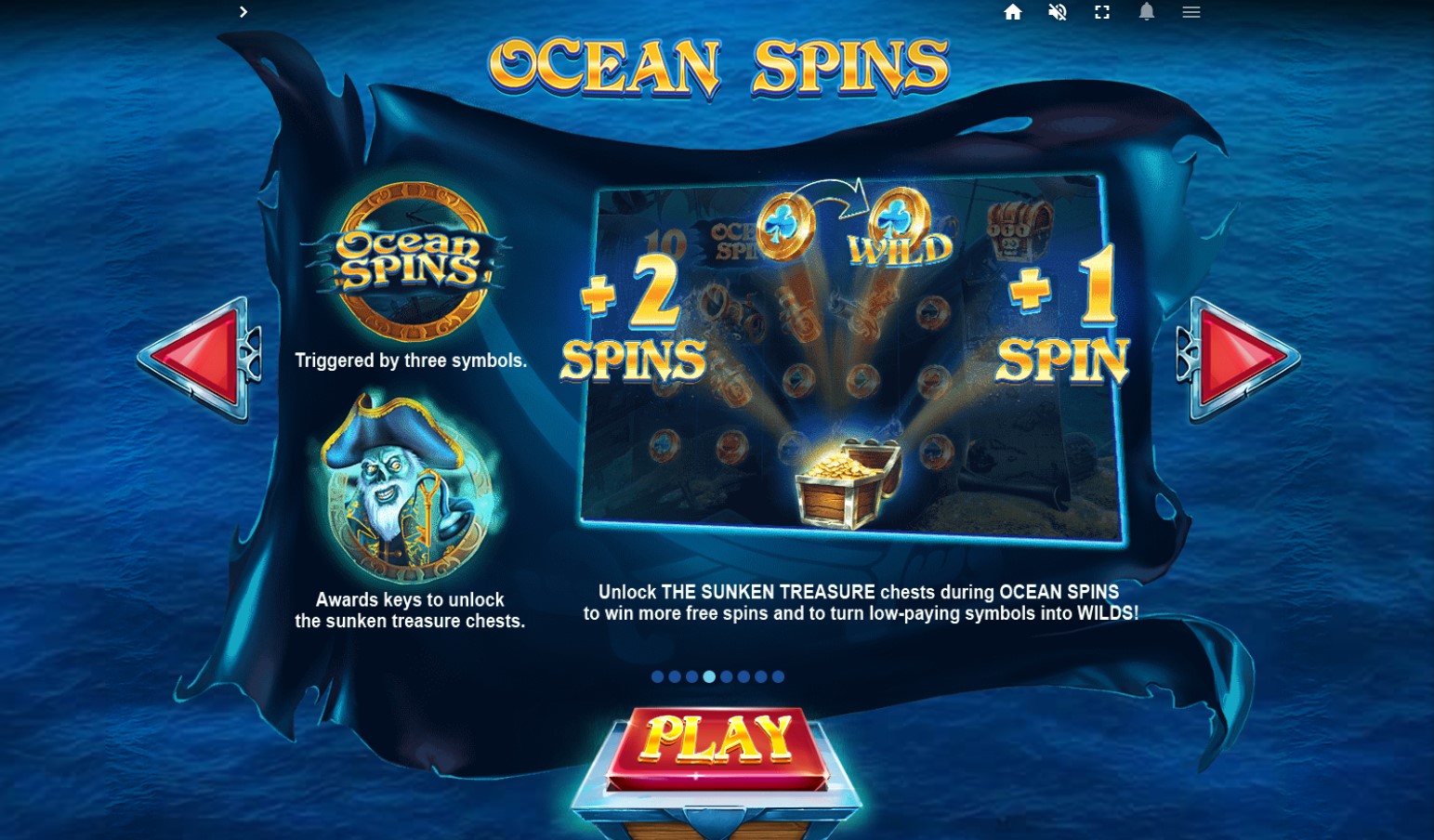 Ocean Spins: Spin 3 Ocean Spins scatter symbols to trigger 10 Free Spins. During Pirates' Plenty The Sunken Treasure Free Spins, you might spin a captain symbol and receive keys to unlock one of the chests above the reels. They contain Sticky Wilds which replace low value symbols, turbocharging your Ocean Spins wins.
Wild Monkey: Land one of these and it'll zap all of your low value symbols. They'll be replaced by new higher value symbols to create bigger wins.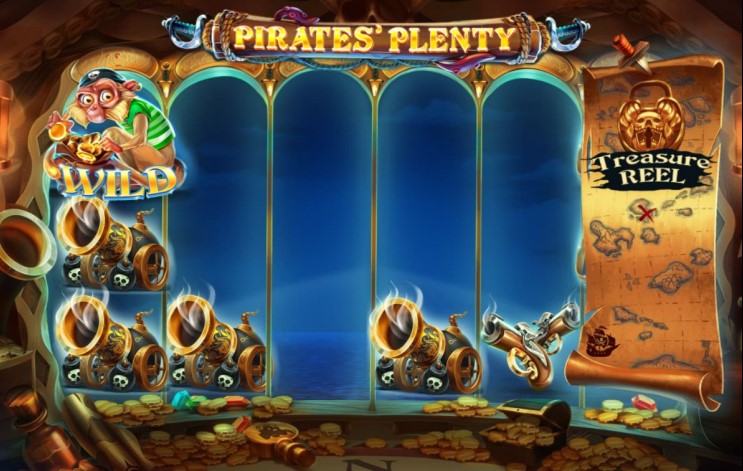 Gamble: The Gamble Wheel is a Red Tiger signature feature on all of their games, regardless of the theme. Configure the wheel to whatever probability you want – low risk, low reward or high risk, high reward, and spin. If the arrow lands in the green area, happy days! If it's red, you're back to square 1.
That's our Pirates' Plenty The Sunken Treasure game. Now let's see what its younger bro has to offer…
Pirates' Plenty Battle for Gold
Who says sequels are never as good? Pirates' Plenty Battle for Gold slot is obviously from the same family but it has enough new features to merit its own place in the OJO online casino games line-up.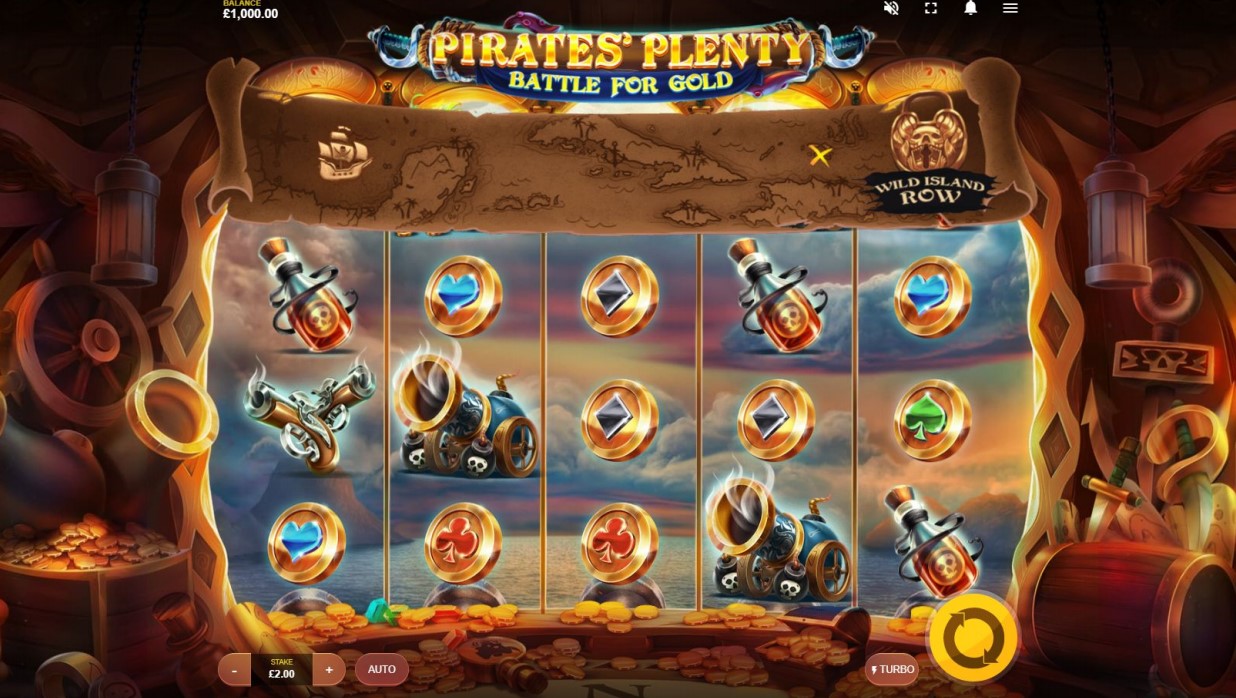 Slot design
Pirates Plenty Battle for Gold slot takes place inside an opulent galleon which is more Christopher Columbus than Captain Blackbeard – not a scurvy-inflicted shipmate in sight - but there you have it. The background is gold-rimmed cannons, lashings of gold coins and a gently swaying lantern or 2, just to keep the animators busy.
The reels themselves are designed to resemble the picture window of the ship's cabin. The vast ocean and setting sun are a contrasting backdrop to the frenetic action going down in front of the reels.
You get the same lower and higher value paying symbols as The Sunken Treasure, plus Wild Monkey too. But you also get Wild Multipliers, slightly different map symbols, Battle Spin Scatter symbols and bombs used in the Fire Away feature.
Red Tiger's expert team leave no stone unturned in the quest for the perfect slot, and the audio for Battle for Gold is as polished as the graphics. Right from the off, you'll hear cannon fire and dramatic music of the kind used by all self-respecting Hollywood pirate film franchises (you know the ones we mean).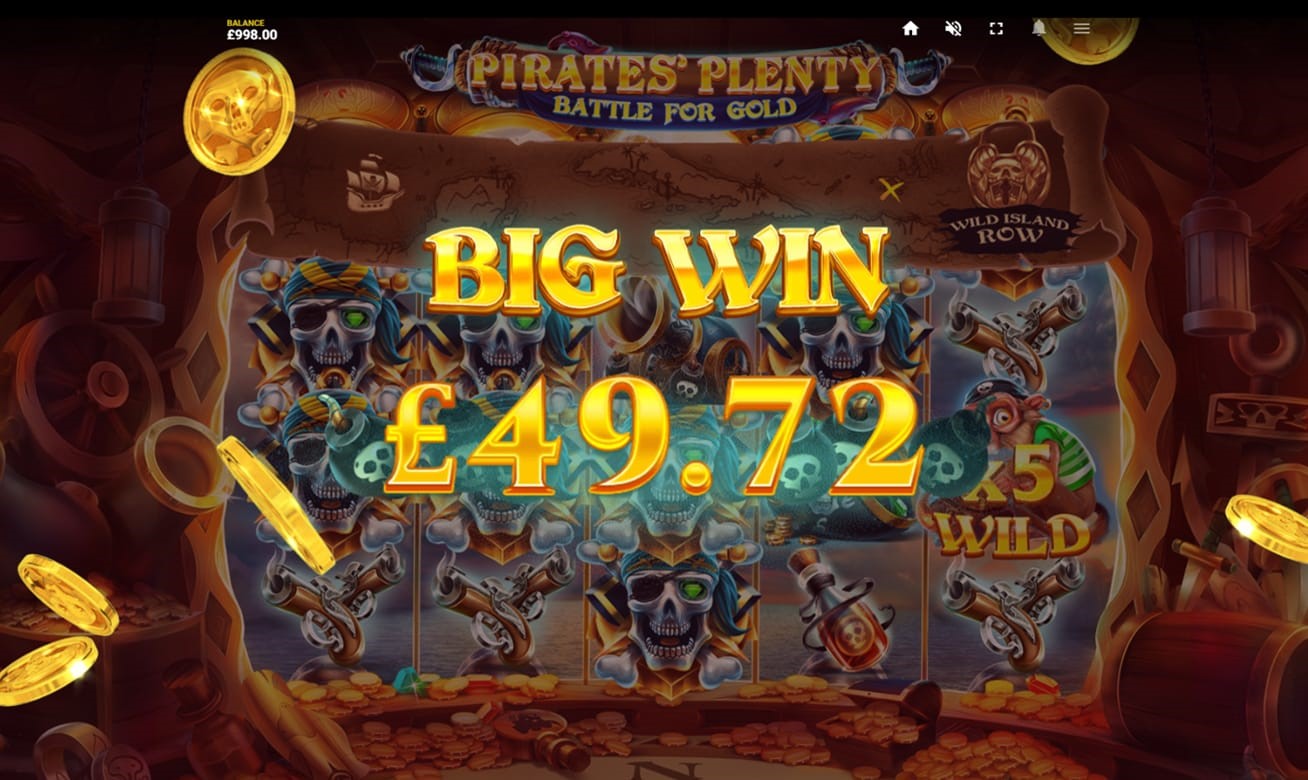 Slot design
Pirates' Plenty Battle for Gold is a 5-reel, 4-row video slot with 20 paylines, though another 10 paylines become active once you've unlocked the 4th row – called Wild Island Row – by collecting map symbols.
Betting limits are 10p to £20 per spin, and whatever you bet is divided by 20 to determine your bet per line. The maximum payout is a very healthy 5500x. That's over £200,000 in old money, which is the only type that matters.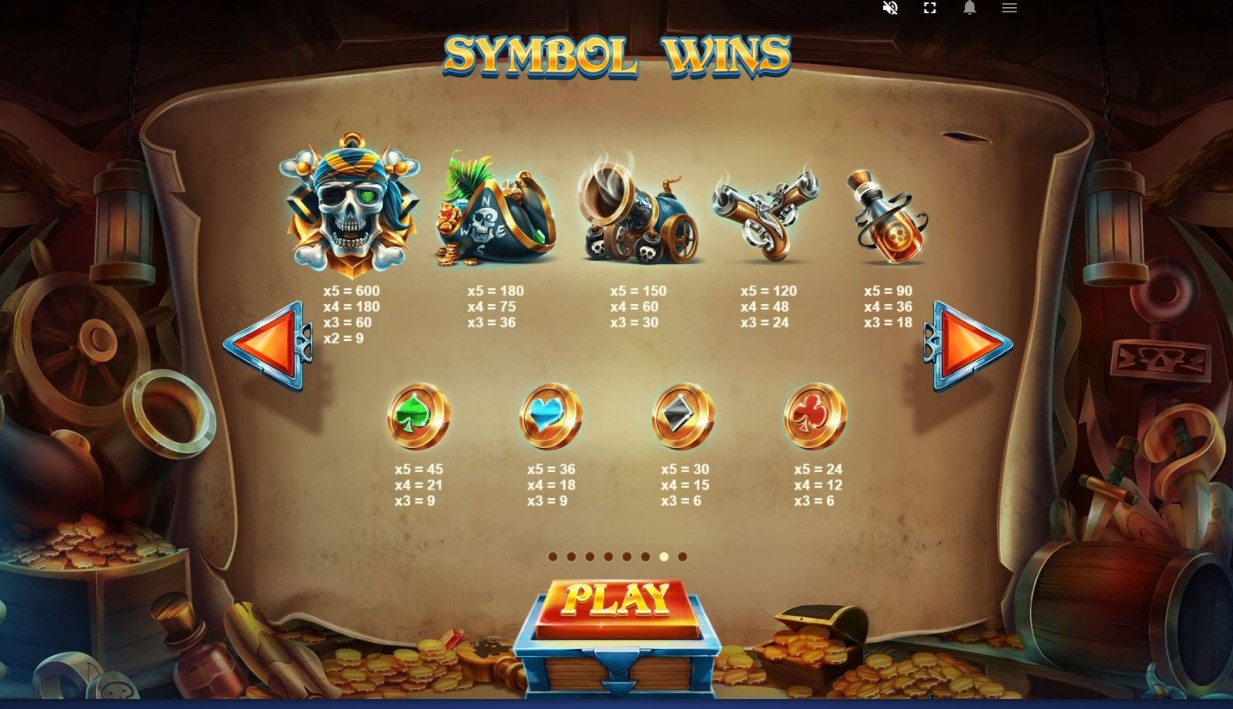 This Pirates Plenty slot RTP comes in at 94.69%, including the daily jackpot feature contributions. Spread some OJOplus money-back on top and you get decent value for money.
Log in and you'll see a demo version which gives you a chance to play Pirates' Plenty slot free play on Battle for Gold. Given the rich bounty of features to get used to, it's not a bad idea either. But once you're ready to go to battle, you'll need some gold of your own. Hit the Deposit button, unsheathe your debit card or get your PayPal login to hand and you're ready to roll!
Sometimes OJOers want to know how fair a game is, and rightly so. We only work with the straightest arrows in the biz, and as highly regulated software providers, Red Tiger fit that bill. Like us, they're licenced by the UK Gambling Commission and a few other top notch gaming regulators, so their games are reliable, trustworthy and pay out what they're meant to. All of our slots are to be enjoyed in a safe, sensible way too. If you need any more info, have a read of our Responsible Gaming page.
Features
Battle for Gold is a rollicking action-adventure with tons of Pirates' Plenty bonus games to keep your parrot squawkin'.
Wild Island Row: See that brown scroll above the reels? Every time you spin a map symbol, it'll be added to your tally, which is illustrated by a ship which advances to the right. Collect 50 map symbols and you'll unlock Wild Island Row, which improves your 20 paylines to 30. This crucial 4th row of symbols remains active for as long as you play the game at the same stake. Wild Island Row also unlocks new Wild multiplier symbols which go up to 5x. Spin 2 or more on the same payline and the multipliers multiply! Get a 2x and a 5x and the game will apply a 10x multiplier. Yoiks!
Wild Monkey: Spin a Wild Monkey and the lower value symbols will vanish from the reels and be replaced by higher value ones to create new potential winning combos. The Wild Monkey symbol itself will stick around in the position of the last low value symbol to be removed and will reveal a random multiplier too. BANANAS.
Battle Spins: A bonus round with lots of little sub-features, Battle Spins is triggered when you spin 3 Battle Spin Scatter symbols. Any Wilds that appear during Battle Spins are sticky. One feature per bonus round is sooooo 17th century, so we've got 2 more for ya.
Spin a Fire! symbol and you'll unleash a cannonball or 2 which award more Wilds or more Battle Spins. The second mini feature during Battle Spins is Fire Away, where Captain Blackbeard randomly appears to lob Wild Bombs at the reels for additional pyrotechnic win potential.
Gamble: You get the exact same Gamble feature we described above, so we need not say anymore!
Pirates' Plenty jackpots
Both Pirates Plenty slots qualify to participate in Red Tiger's slots jackpot network. If you see the big red label with an even bigger number rising fast underneath the game in the OJO lobby, that's how you know a game is currently part of the Red Tiger Jackpots roster.
The Daily Drop Jackpot is a timed jackpot that's awarded before the countdown timer ticks down to zero. The Mega Jackpot is a progressive jackpot with no maximum limit. The more you bet per spin, the more likely you are to spin 3 jackpot symbols or trigger the jackpot during a feature.
OJO says…
Two slots you could almost call twins, with incredible designs, awesome features and good Pirates Plenty RTP figures. Using an extra hidden reel or row that's unlocked once you collect special symbols is one of our favourite Red Tiger innovations too.
But which is better, The Sunken Treasure or Battle for Gold? That's like choosing which of your kids you like more. Cannot be done. Should not be done. Maybe today's a Sunken Treasure day. Tomorrow might be a Battle for Gold day. Shhh, don't tell anyone.
Whichever you prefer, you have to admit they're both cracking video slots and clearly only crazy people would bet against Red Tiger releasing a 3rd in the series. Bring it on, we say.
Now pick a slot and fire away, me hearty!
Like these? Then try….
Pirate Gold! This 5x4 grid slot from Pragmatic Play has a very similar feel to our Pirates Plenty slots but with 3 fixed jackpots and prizes of up to £200,000! Give it a spin or walk the plank, it's your choice shipmate.