Game Review
Is Jack In A Pot game the perfect modern Irish slot?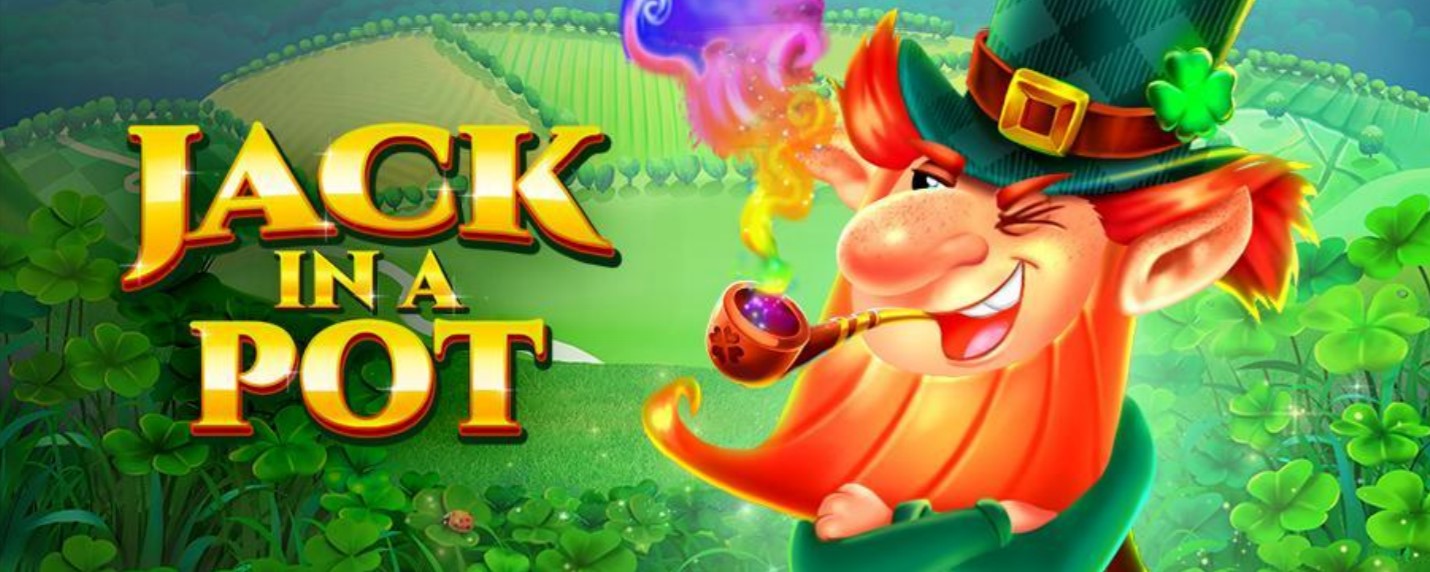 OJO's Jack In A Pot slot is a Red Tiger creation, and frankly if you don't love everything the Isle of Man outfit does, you're dead inside! This game rolled off the production line in 2018 and became an instant hit thanks to its unorthodox grid format, cascading symbols and smorgasbord of bonus features. And a lucky Irish theme never hurts either.
Jack in a pot: Graphics and gameplay
Celtic mythology, Irish luck, rainbows, pots of gold and leprechauns are pretty well-trodden paths for slots developers, so it takes something good to make its mark in that crowded genre. Thankfully, Red Tiger put their brains together and came up with something a little different.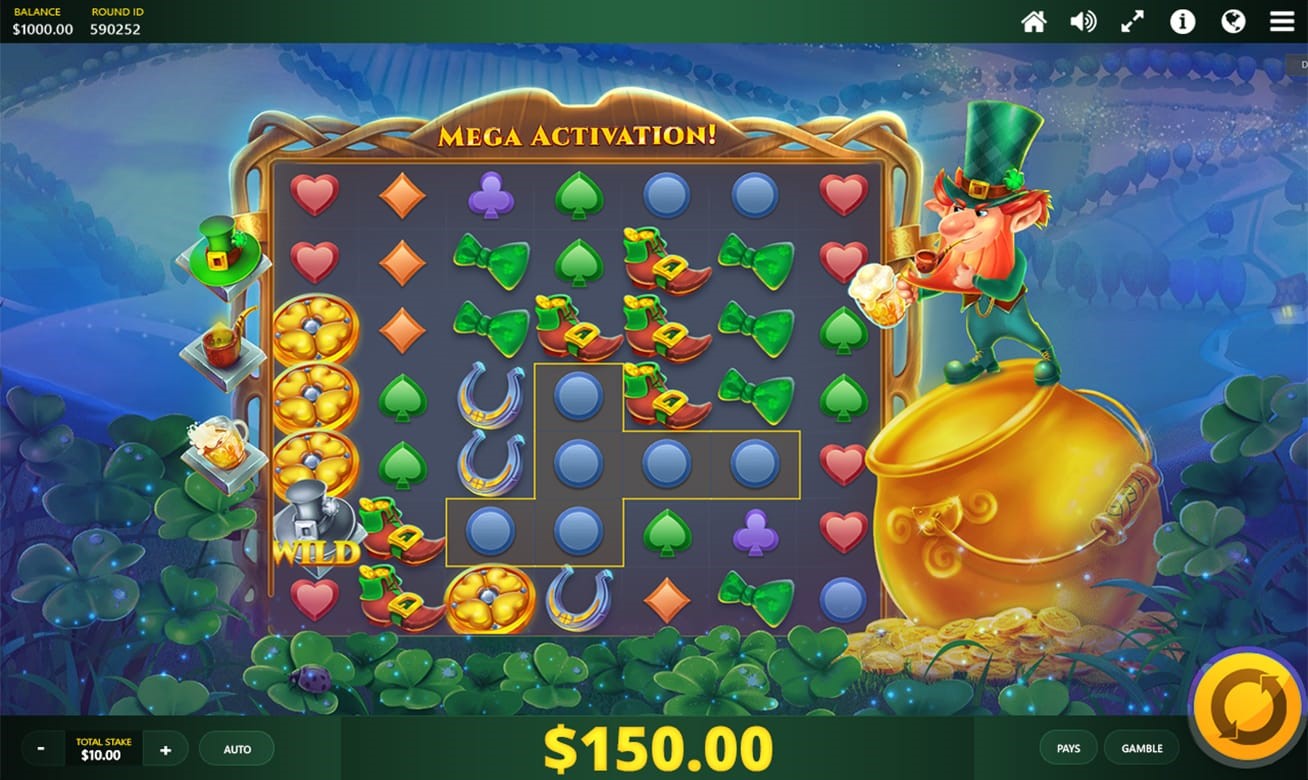 Theme & symbols
You could call this Jack In A pot slot design Fifty Shades of Green! The game is set in a wholesome rural scene. The game grid is surrounded by a golden frame in a Celtic knot style and sat within a field of clover.
Just in case you weren't aware that you're playing for some serious coin, there's a huge golden pot beside the grid.
Game symbols are simple, clean and brightly coloured. Happily, for lower value symbols Red Tiger have eschewed the usual Aces, Kings and suchlike in favour of card suits (and a random blue circle). Higher value symbols include Jack's bow tie, a horseshoe, a boot filled with gold coins and a golden clover. Of all the Irish-themed UK online casino games you can play at OJO's place – and lord knows there are MANY – this one is definitely one of the nicer, more modern designs, even if it sticks to the tried and tested icons and colour palettes of the emerald isle!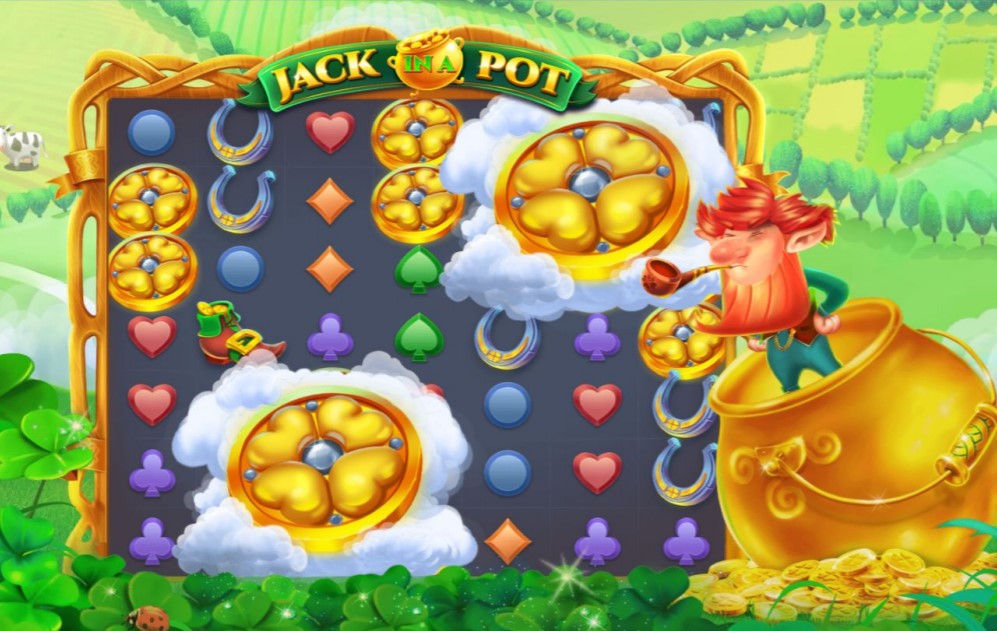 Interface
Another thing Red Tiger consistently smash out of the park with their top slot games is user friendliness. Rather than clutter the Jack In A Port game with all manner of buttons and toggles and switches and menus, you get a nice round spin button along with smaller Turbo, Gamble, Auto and Stake buttons. Each is perfectly crafted for smooth, intuitive use. On smartphone, the Jack In A Pot touch mobile casino game is virtually identical and just as easy, if not easier, to play. Good job, Tigers!

How to play
Jack In A Pot online slot isn't your normal reel-based game with winlines combos, so it's worth going over how to win. The aim of the game is to make clusters of matching symbols that award paytable wins. The game defines clusters as 5 matching symbols linked horizontally or vertically.
Once you've made a cluster, all symbols in that cluster disappear and the symbols above cascade down to create new combinations and potential winning sequences.
The important stuff
You could call Jack In A Pot a 7-reel, 7-row video slot but really it's a 7x7 grid with 49 symbol positions. Calculating the number of 'paylines' requires quantum computers that haven't been invented yet, so let's just go for 'a fair few'.
You can bet between 10p and £40 per spin and your stake size is multiplied by the paytable coin amout to calculate your win.
Paytable wins for matching symbols in clusters range from molecular to gargantuan. Remember that you're playing with 49 positions and an almost infinite combination of clusters, so hitting winning clusters is extremely easy, hence the low payouts for smaller clusters.
Hit 5 blue circles and you'll win an almighty 1/10th of a coin. Yep, that's a 90% loss (OJO doesn't gloss it). Hit 40 or more and you'll win 15 coins. Hit 5 of the highest value coin, the golden clover, and you'll net 2.5 coins which is a bit more like it! But if you're running good and land 40 or more golden clovers, you'll win 800 coins.
Paytable wins aren't where the big bucks are though. The maximum win up for grabs on our Jack In A Pot slot machine is 1743x. That kind of dosh is made possible by the game's array of features, which we'll cover later on in this Jack In A Pot slot review.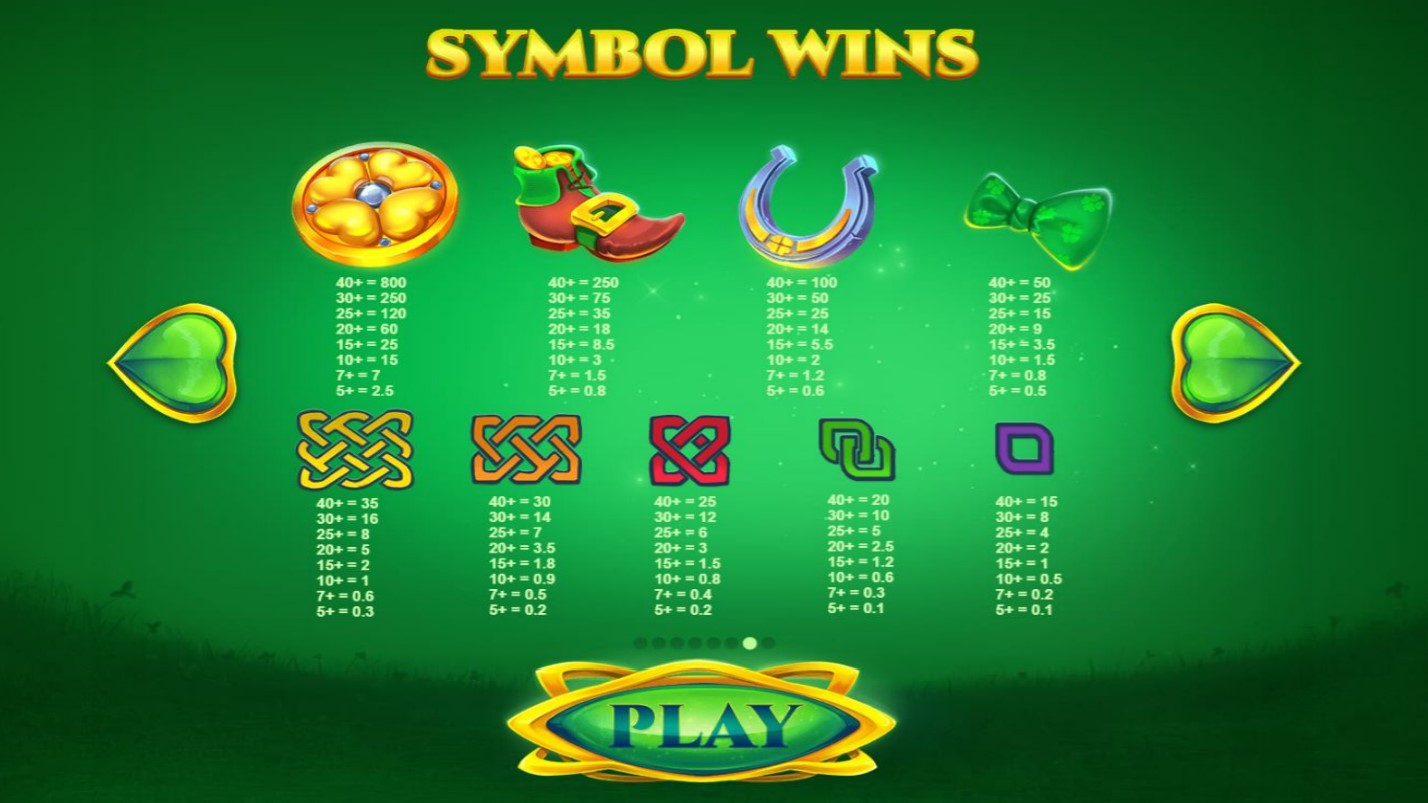 Jack In A Pot is considered a fairly high volatility game, with larger but less frequent wins. The Jack In A Pot slot RTP is 95.1%, a solid, middling return that any slot would be reasonably proud to call their own. Compare that figure to slots from the likes of Play'n GO and you'll see the Jack In A Pot RTP stacks up OK. But OJO is always lookin' to give you more, so you'll get money back on every spin as well. Learn more about this instant cash perk on our OJOplus guide.
Sometimes it takes a few spins to learn how the game works, so OJO's got a free Jack In A Pot demo version. To play Jack In A Pot risk-free, log into your PlayOJO account, find the game and hit Play For Free. Want to play for the big bucks straight away? If you're thinking about how to deposit and play at OJO's casino PayPal is one of our favourite options. Select it from the options in your Deposit section and unlock a world of instant, free deposits and withdrawals using the world's most popular e-wallet.
Jack In A Pot is as safe, secure and fair as they come because both Red Tiger and PlayOJO are licenced and regulated by all sorts of sensible regulators including the UK Gambling Commission. That means our games, systems and people are given the once over – many times over! – to ensure everything is above board and tickey boo. We're also fully committed to responsible gaming and want Jack In A Pot to be enjoyed responsibly. Read our responsible gaming page or get in touch with the OJO Crew if you want help managing your gaming.

Jack In A Pot slot features
Slots made in the last few years just have to have great features or they'll struggle to get a loyal following. Luckily for Jack, his slot is packed with fab bonus features to go with the great format and cascading symbols.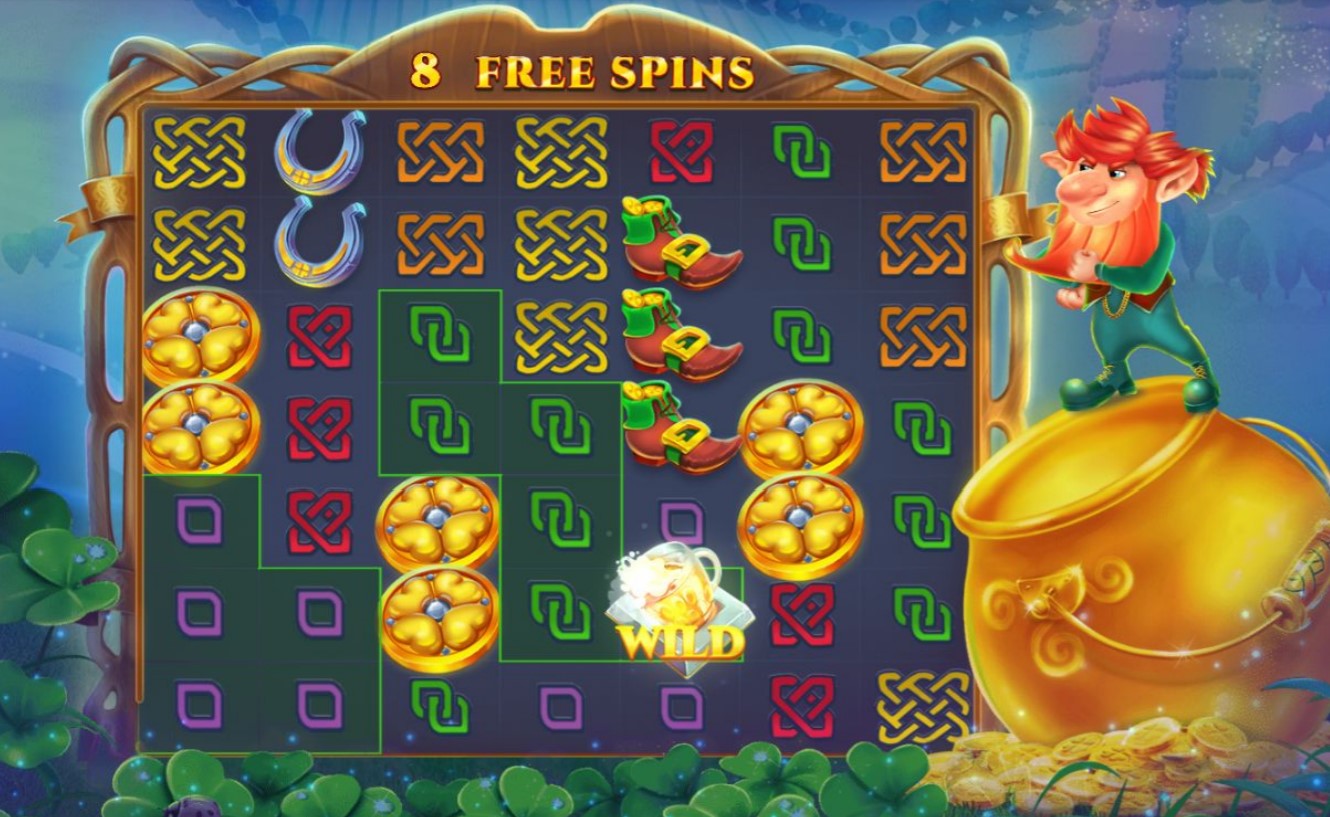 Free Spins
Jack In A Pot slot Free Spins are awarded when you collect all the 4 different leaves of a clover on the same spin. You'll know how many leaves you've collected because a clover meter appears to the right of the reels.
Spin all 4 leaves and you'll trigger 10 Free Spins, but that's not all. The game tracks every Wild symbol you collect over the course of the Free Spins and then activates them all at the same time after the final spin in a Feature Frenzy. Given the boost each of the 4 types of Wild can give you, this is where Jack In A Pot slot can really dish out the cashola.
Wilds
Jack In A Pot has 4 different Wild symbols which substitute for all paying symbols, as you'd expect, but they also trigger special bonus feature – and a funky animation - when they're part of a winning combination.
• Rainbow Swaps: Swaps random symbols for bigger wins.
• Beer Reels: Triggers beer taps above certain reels which pour new symbols down onto the reels.
• Magic Pipe: Converts random high value symbols into mega tiles that are 2, 3 or 4 times as big.
• Hat Trick: Sucks low value symbols from the reels.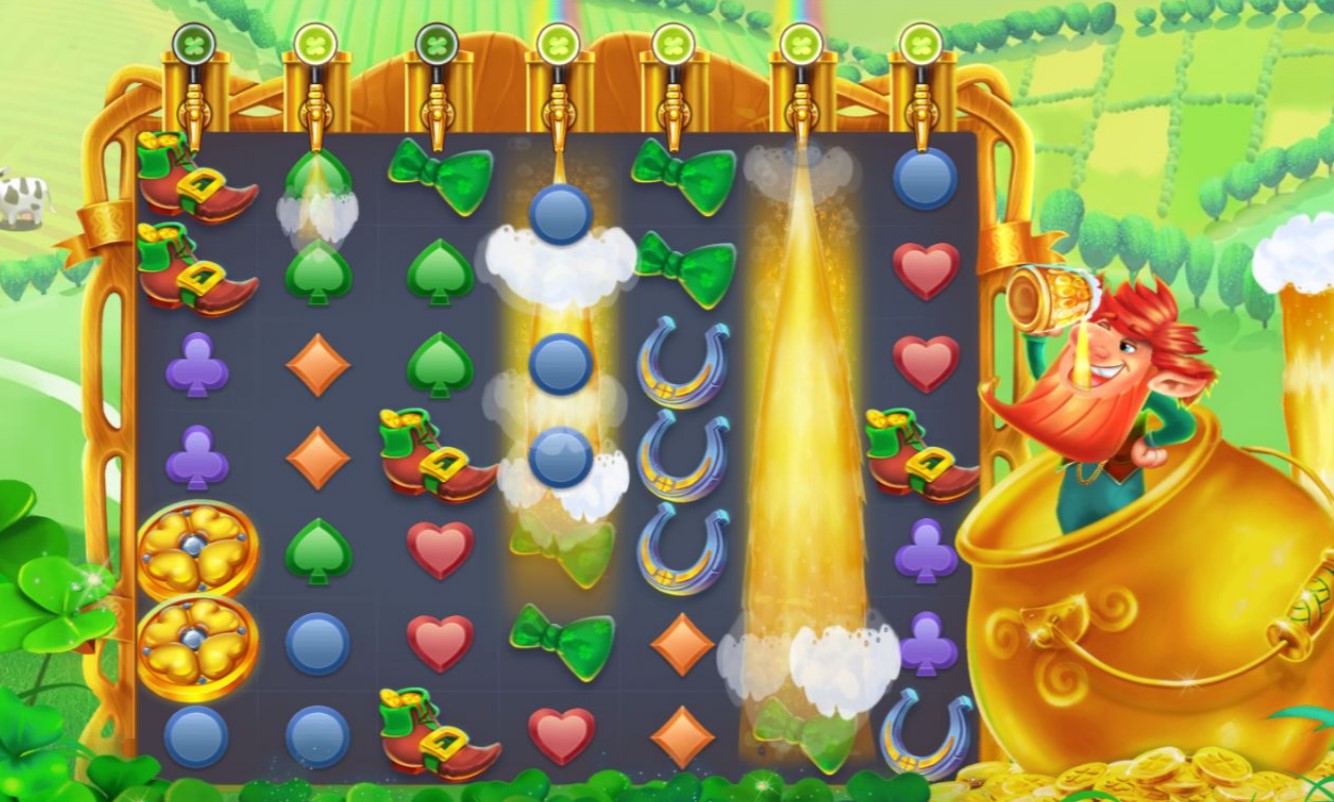 Gamble feature
Win 10p or more and you activate the Gamble Wheel, an enhanced version of the classic gamble where you can spin up your prize into much more than the 2x of old.
Move the wheel's green and red zones to change the winning and losing probabilities on the wheel. The green section shows the exact chance of winning and the red section the exact chance of losing. Hit spin and land the arrow pointer in the green section to win. Land it in the red and you're done, chief! You win zilch, but good try! The Gamble feature runs at 95% RTP, which is standard for these types of mini game. No such thing as a free lunch!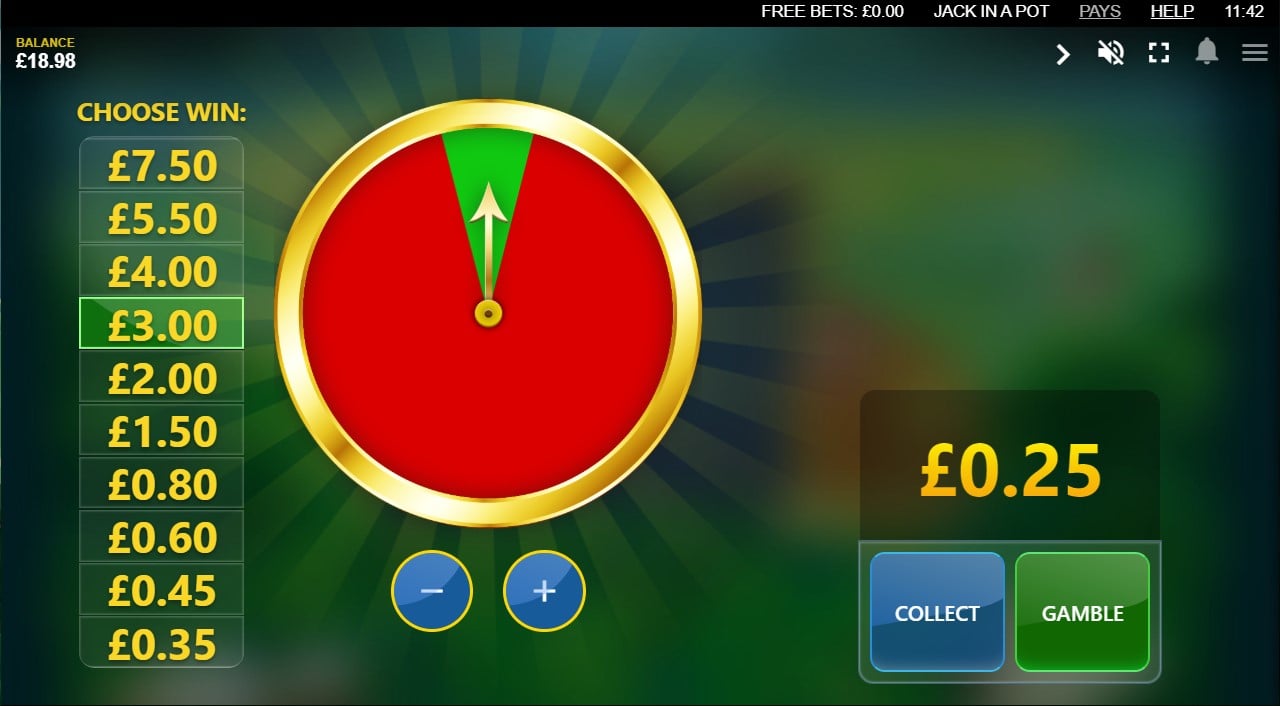 Jack In A Pot jackpots
Casino slots online made by developer Red Tiger can all be included in the developer's Daily Jackpots feature, which includes progressive and timed jackpots.
Play Jack In A Pot or any other jackpot-enabled Red Tiger slot and if you hit 3 jackpot symbols on the reels, or the jackpot is triggered by а game feature, you'll win one of the jackpots.
Just like with Games Global's Mega Moolah slot, the bigger your stake per spin, the more likely you are to trigger the jackpot game. On desktop, the Jack In A Pot jackpot info is shown in the panel to the left. The Daily Drop Jackpot is a timed prize that is guaranteed to be awarded if the countdown timer reaches zero. The Mega Jackpot is a progressive jackpot that just keeps on grinding higher until some lucky lubber scoops the lot. Here's what it looks like when you win.
OJO says…
Arrrrghhhh, not another Irish slot! But no, our Jack In A Pot slot is not just another Irish casino game. With a unique format, some cracking features and a contemporary take on a classic theme, this slot's a winner.
See for yourself, amigo!

Like this? Then try…
Rainbow Riches! From the Scientific Games stable, this is the seminal slot of the Celtic gaming genre. When you play Rainbow Riches you may well be taking a trip back in time, but you'll love the wheel-trail-multiplier bonus game thing and quite honestly you NEED to know where slots came from. This is our heritage!