Game Review

PlayOJO's Rainbow Riches online slot is much loved by slotfans everywhere and we're about to show you why!
Rainbow Riches is one of 8 games in the Rainbow Riches series you can play here at PlayOJO. They're all packed with colourful Celtic charm and each has their own take on classic slot bonus features. But this one's the original, the best, the reel deal!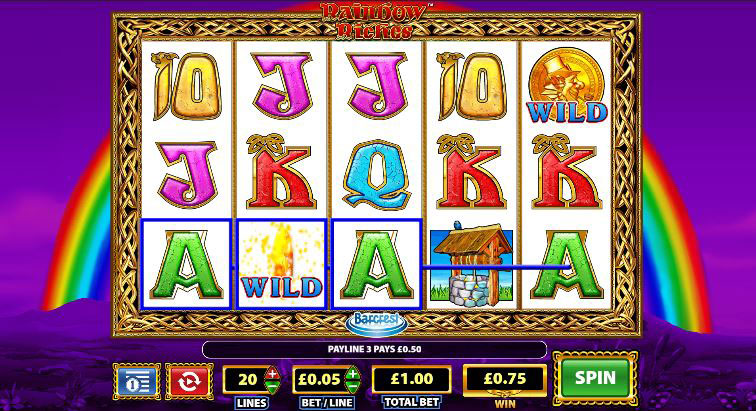 Rainbow Riches carries the branding of Barcrest (yes, that Barcrest of pub fruit machine fame) but the rights reserved trademark is now owned by slot studio supremos SG Gaming. When you play Rainbow Riches at PlayOJO, you can be sure you're playing a fully licenced and regulated game that's 100% fair too.
But what makes this Rainbow Riches slot one of the most popular online casino games of all time? Is it the Celtic retro vibe? The large dose of pub fruity nostalgia? The fun, sticky bonus features? Or all of the above? You decide.
Rainbow Riches rules
Our Rainbow Riches casino game is a 5-reel, 3-line slot with up to 20 paylines on offer. The real money version will set you back just 1p a spin – or up to £25 per payline if you're a big hitter.
Want to learn the rules and features with zero-risk? No problemo! You can enjoy Rainbow Riches free with our demo version. Look for the Try For Free option when you select the game.
To win a Rainbow Riches cash prize, match 3 or more symbols on one of the 20 paylines, starting from left to right.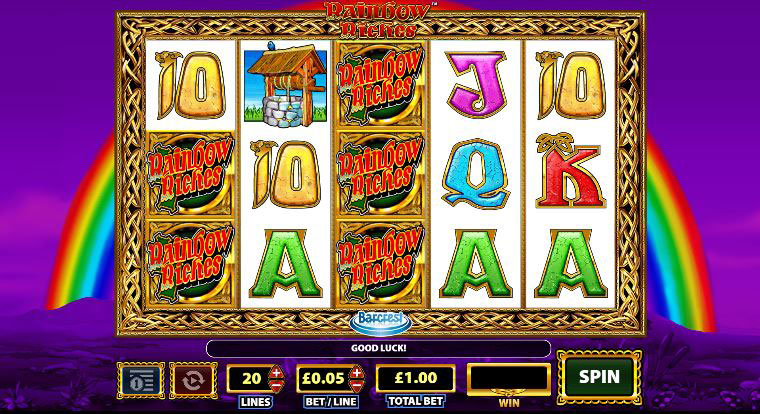 The Rainbow Riches RTP comes in at 95%, and it's generally got a nice balance of small, frequent wins and hefty paydays to aim for. Wins up to 500x are possible and there's more than one way to skin that cat, notably the bonus features.
The cherry on top? You get cashback every time you play courtesy of OJOplus, the best rewards club online! No funny business, no sneaky Ts & Cs, just money back on every bet.
If you've just landed at our no-wager online casino for the first time, we'll throw you a welcome party with 50 Free Spins on another legendary slot, Book of Dead, when you make your first deposit of £10 or more (terms apply). Like everything at OJO's place, there are no wagering requirements on anything you win from your free spins too. Kaboooom!
Rainbow Riches features
Perhaps surprisingly, you won't find a free spins bonus feature here, but it does have 3 great Rainbow Riches feature mini games which can turbocharge your wins. Once you've played them a few times, you'll see why they've become the stuff of slotlore! Let's do them in order of 'awesomeness according to OJO'…
Road To Riches
In almost all online slots games there's always one bonus feature we're itching to hit and in the Rainbow Riches online slot game, it's the Road To Riches feature.
Spin 3 Leprechaun symbols to trigger the Road To Riches bonus game and spin the wheel of fortune to march up the path and bag some swag. The multipliers increase with every step up the road, ending with a monster 200x pot of gold.
Pots Of Gold
The Pots Of Gold feature is your ticket to the biggest wins on this game. Hit 3 Pots Of Gold symbols on the 2nd, 3rd and 4th reels to trigger this bonus feature and the chance to win up to 500 times your stake.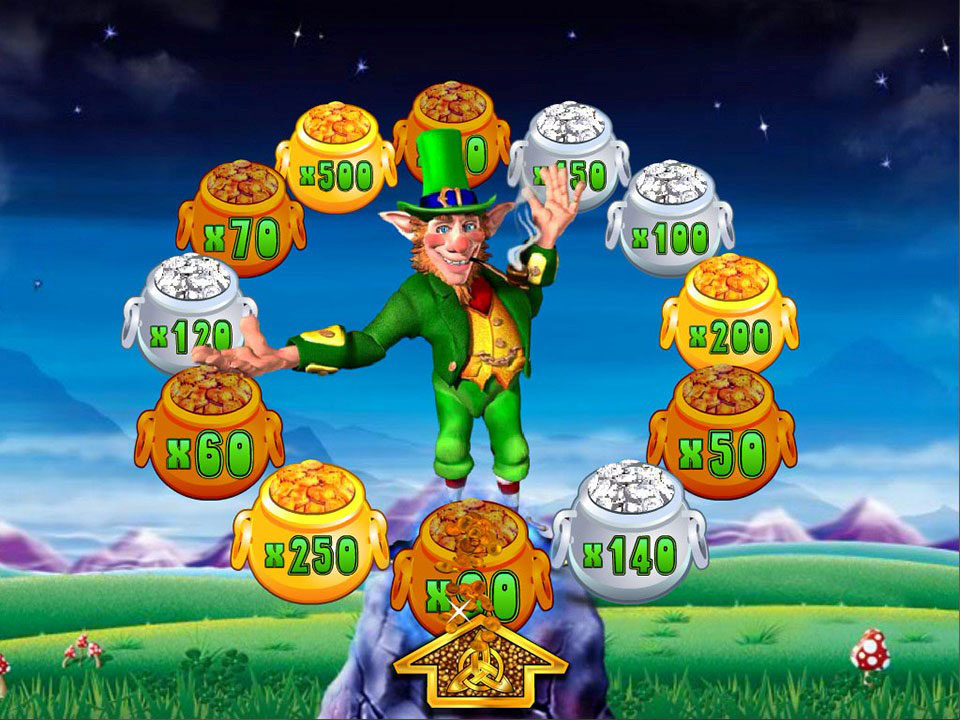 Once this particular Rainbow Riches slot feature begins, you'll see 12 pots of gold symbols encircling the leprechaun. The bronze pot prizes start at 50x, silver at 100x and gold from 100x to 500x. The pots of gold whizz round the leprechaun while he dances, then come to a stop to reveal your prize.
Wishing Well
No smash-hit slot game is complete without a picking game. Spin 3 scattered Wishing Well symbols on the reels and pick 1 to reveal a multiplier win. Wishing Well wins are usually modest at around 10x, but you'll trigger this feature more often, and it will keep things ticking along while you're waiting for bigger wins.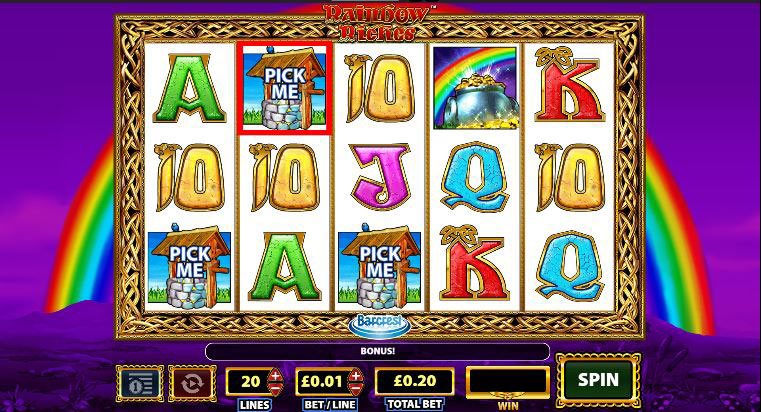 Rainbow Riches design
On the face of it, this slot game looks like thousands of others that borrow heavily from ancient mysticism and Celtic lore. Leprechaun? Check. Rainbow? Check. Pots of gold? Check. But look a little closer. Lurid purple sky! Madness. And we haven't even got to the rainbow.
The soundtrack is a perfect fit, limited largely to the bonus games and shouldn't get on your wick. Bonus features get the best tunes of course, with a variety of jaunty, pipey Irish jigs the order of the day.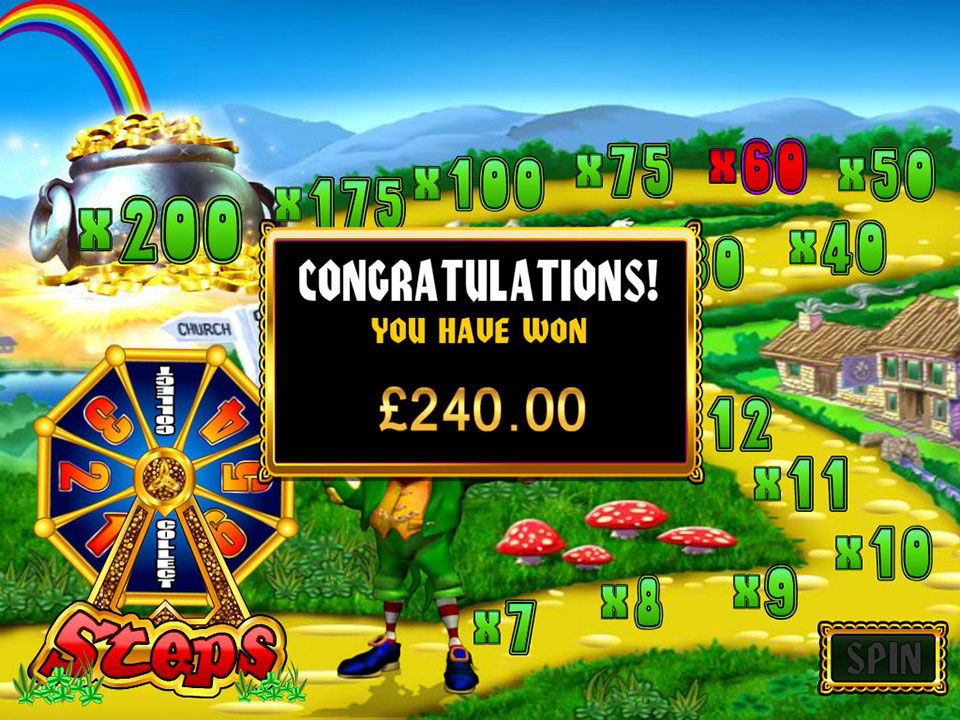 The big questions
A Rainbow Riches mystery keeping you up at night? Let's see what we can do for ya.
Where can I play Rainbow Riches?
OK, so we admit we're not the only place in the world who has this classic game, but PlayOJO is the only place you've get money back on every spin, win or lose, with absolutely
How do you play?
First stop, create your PlayOJO account and find the game using our handy search tool. Check out the Rainbow Riches rules we explained earlier, or read the short version inside the game itself. The easiest answer to how do you play Rainbow Riches fruit machine is simply to fire up the game and play for free. It won't take more than a few free spins to master the rules.
How do I know your Rainbow Riches game is fair?
Both the slot's suppliers SG Gaming and PlayOJO are licenced and regulated in the UK by the Gambling Commission and we regularly check the game is paying out the correct Return To Player.
OJO says…
This slot game is lazy afternoons in downtown Vegas, or palm readings in a mystical Glastonbury backstreet. No need to be sad there's no free spin bonus, as the game has 3 awesome features that'll keep you entertained. And with the prospect of chunky wins, it's no surprise this original Rainbow Riches casino game is the stuff of online legend.
Does it live up to its reputation? Fire up the demo version, get yourself some Rainbow Riches free play and see.
Play responsibly, amigo!

Like this? Then try….
Slingo Rainbow Riches! Same look, same feel as our other Rainbow Riches games but this time you get to play bingo too. Go on, you know you want to find out more.
Let the good times roll, amigo!