Game Review
Dream big with record-breaking Mega Moolah slot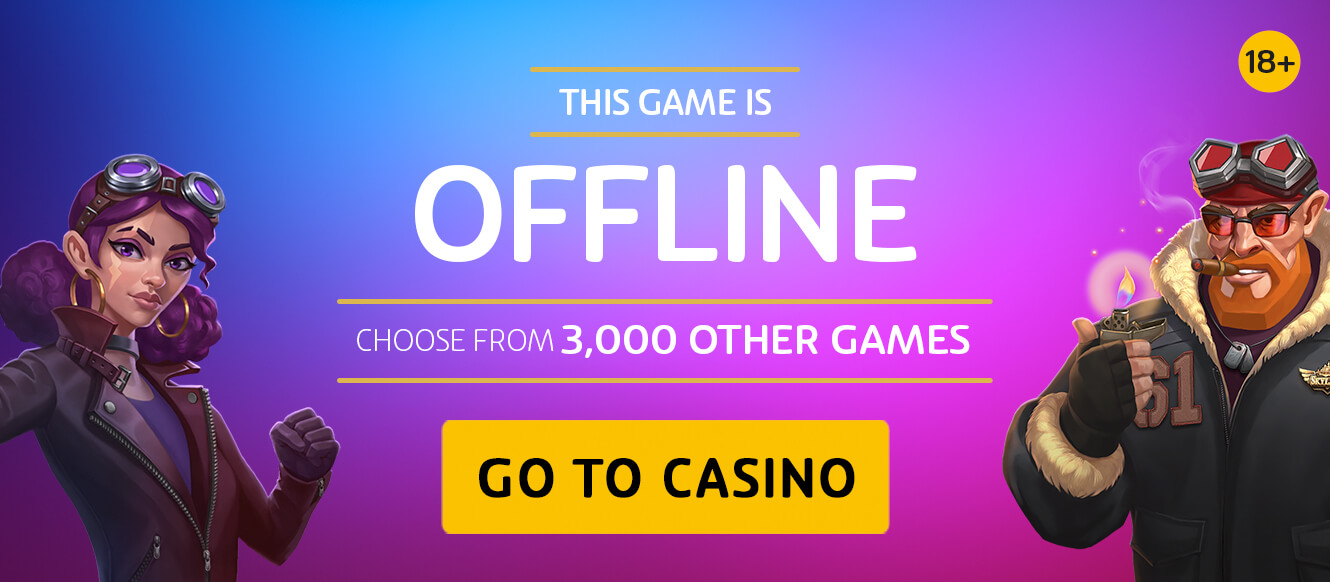 Our Mega Moolah video slot is one of the best known online slots on the planet thanks to its record-breaking progressive jackpots.
Why Mega Moolah?
In this age of megastars and mega deals, the word mega may have lost its mojo, but this is one time when it lives up to its name - literally!
Mega comes from the ancient Greek megas, meaning great/huge/powerful. But it also means a million of something (e.g. megawatt), which is certainly appropriate here with at least a million up for grabs if you hit the Mega Moolah Mega Jackpot!
When we wrote this, the Mega Jackpot was over £6 million and rising fast! Is it ready to drop? Will you be there when it does?
The legend of the Mega Moolah video slot
This slot has had such an epic impact on the landscape of online slots that it's worth looking at the story so far.
Launched in November 2006 by Microgaming, Mega Moolah was an instant sensation that has earned its place in the Guinness Book of Records™ for paying out the biggest online slot jackpot in history.
Microgaming progressive slots have paid out over £1 billion and created 68 instant millionaires so far. These whopping numbers are thanks mostly to Mega Moolah which, over a decade after it first hit the net, continues to make headlines virtually every year
In October 2015, a Mega Moolah UK player won a £13.2 million Mega Jackpot. In September 2018, another player smashed that with a £18.9 million win… from 75 CENTS! Lucky bugger. And just to cement its reputation as the biggest game in town that pays out again and again, the Mega Jackpot was won again in January 2019 for a tidy £13.3 million
To enable these colossal prizes, Mega Moolah is available at hundreds, maybe even thousands of online casinos. But PlayOJO is the ONLY one which offers a truly fair deal; bonuses with no strings attached and rewards that actually make you feel rewarded. Because you deserve it.
Quirky looks, zany sounds
Yep, it's about all the millions amigo! But no Mega Moolah slot review is complete without a few words on the graphics and gameplay.
We already know why they called it Mega Moolah, but for no apparent reason those clever cookies in the Microgaming slot lab gave Mega Moolah an African animal theme (maybe because it's a Big Game?).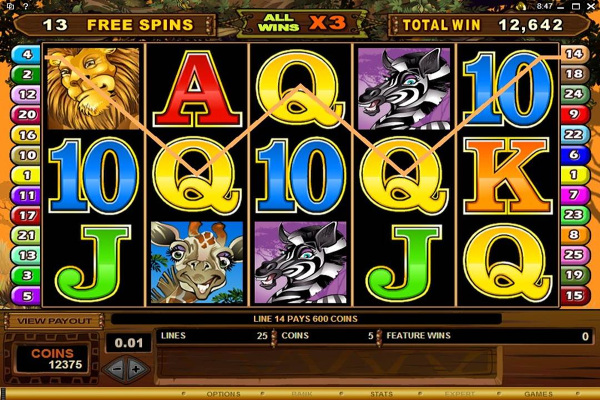 But it's no ordinary savannah, with a cast of animals right out of the Madagascar playbook (but sadly no King Julien). They look like they'd rather tickle your tummy than eat your face. Take the giraffe for instance. Looks like it won the Mega Jackpot and has been enjoying it too much!
Move past the standard 10-to-Ace card ranks for the lower value symbols and you get to the good stuff higher up the food chain. Antelopes, zebras, giraffes, wildebeests and elephants grace the reels with a few quirks that make Mega Moolah supremely good fun.
Unsurprisingly the King of the Jungle is used as the Wild symbol. The scatter symbol which triggers the Free Spins feature is more leftfield – a grinning, gourd-shaking, boggle-eyed purple witch-doctor monkey. As you do!
Hit a win using one of the animal symbols and you'll get a fun little animation; An antelope's wink, a bit of zebra sass, something strange involving an elephant's trunk.
So the slot's got a mighty meaty look. But what of the audio? In the background are the sounds of the savannah with the odd bongo drum for good measure. Hit some Wilds and you get a lovely snippet of African music which has that Lion King The Musical vibe. Trigger the Mega Moolah Jackpot Bonus and - holy wildebeest! – you unleash some Adiemus-level tunes (remember that one?).
The payline win animations come with some great little audio nuggets too. OJO says they're the true genius of Mega Moolah (not the million quid then?). Go spin, tune in and tell us he's wrong!
The other stuff
Usually this section is the important stuff, but somehow that doesn't feel right with this slot!
Microgaming's Mega Moolah is a 5 reel, 25 payline slot with a max bet of just £6.25. Yep, soon to be the price of a pint coming to a pub near you. This has to be the easiest way to play for millions, right?
And even progressive jackpots aside, Mega Moolah wins can go as high as 225,000 coins.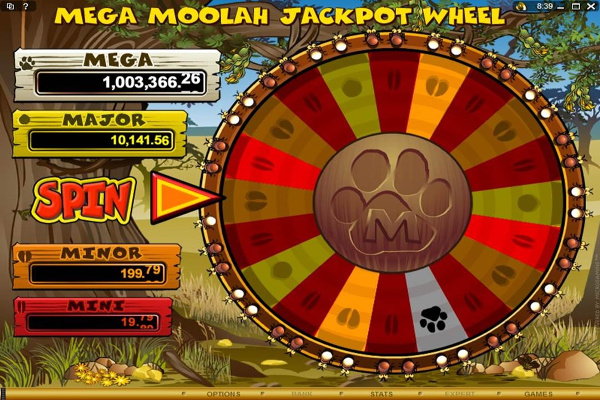 As a result of the progressives, which are funded by 8.8% contributions from all bets, the Mega Moolah RTP is 88.12%. That's a little lower than most standard slots but is it worth it? No diggity. And to sweeten the pot, if you play Mega Moolah at PlayOJO we'll give you money back on every spin courtesy of OJOplus!

Mega Moolah slot features
Mega Moolah is no 1-trick-pony, with a perfect balance of Wilds, Free Spins and Jackpot Bonuses. Together, they deliver a steady stream of wins and moments of big game drama. Let's start with the simplest feature…
Wild Lion
Wild Lion symbols can appear on any reel and replace everything but scatters. Any win completed using the Wild Lion is doubled!
Free Spins
As well as being a payline symbol in its own right (worth up to 100 coins), the purple monkey scatter symbol is your invite to the Mega Moolah Free Spins party. Hit 3, 4 or 5 scatter symbols on any reels during a normal round and you'll trigger 15 Free Spins.
In Free Spins mode the background of the reels goes dark, which adds a little extra spice. Above the reels, you can see both the number of Free Spins remaining and the total won during this round of Free Spins, a figure that's also confirmed at the end of the feature.
And the best bit? Any wins earned during these Mega Moolah Free Spins are TRIPLED! Additional Free Spins can be retriggered too, and they'll be added to your Free Spin balance with any you haven't yet used.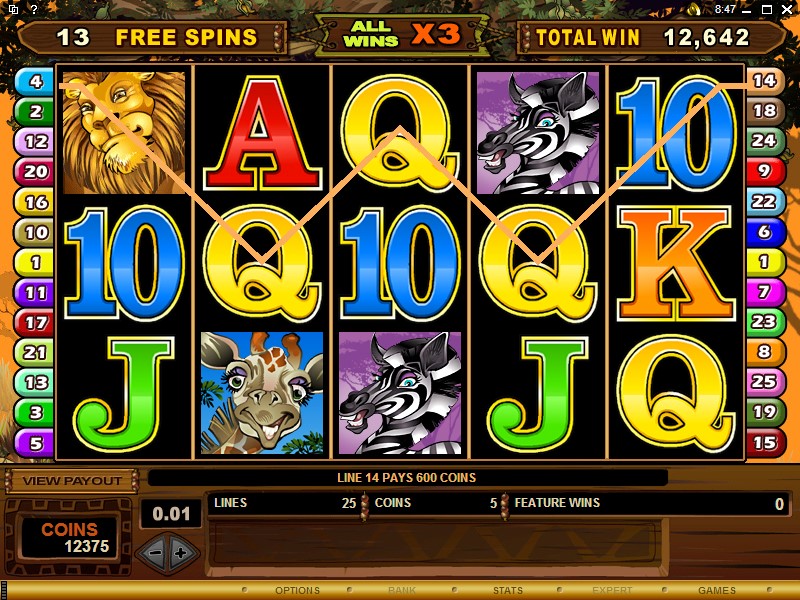 Progressive jackpots
The Mega Moolah Progressive Jackpot Bonus feature is where it's at. This is your ticket to retirement, a little place on Lake Como, a Tesla Model X, a nice yellow jet ski, some Manolo Blahniks. Whatever floats your boat. It's the feature you begin every spin hoping to trigger, and it'll do so at random intervals with no warning at all!
Then the action moves to a jackpot wheel. You get one spin to reveal which of the 4 jackpots you're gonna win. There are no prize-free segments so you're guaranteed to win a jackpot.
There are 4 different progressive jackpots – Mega, Major, Minor and Mini. These each have guaranteed minimums of 1 million, 10 thousand, 100 and 10. As we were writing this post, the Mega Jackpot stood at £6m, but with so many players around the globe playing, they go up quick! The best way to know where they stand is to log into PlayOJO and see!
So that's the moolah on offer in the Mega Moolah Jackpot Bonus game. But what is a progressive and how does it work?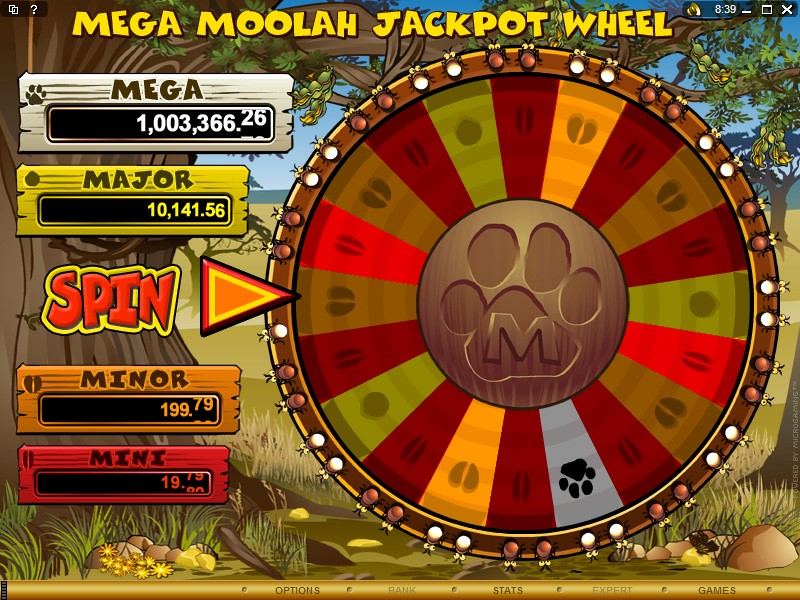 How do Mega Moolah progressive jackpots work?
Progressive jackpots are funded with small contributions from every spin. With thousands of players playing this game at any one time (as well as Mega Moolah ISIS which also shares the same jackpots), you can see how the jackpots are constantly and speedily ticking upwards.
The Mini Jackpot is won so often, it seldom gets far above the minimum before it goes in again. Same for the Minor which barely gets above 100 before someone somewhere has snatched it! The Major is rarer and so can reach dizzy heights far above its 10,000 minimum. The Mega? Well that's guaranteed to be over 1 million but it's often as much as 5 million and has been known to reach almost 20 million. Gulp. Imagine….
How to win Mega Moolah jackpots
So how do you get a piece of the action? One of the many great things about Mega Moolah is that you won't have to wait long to see the Jackpot Bonus feature.
There is no trigger on the reels themselves, only a message that appears after a regular spin that splashes "Mega Moolah Jackpot Bonus" across the screen. Game on!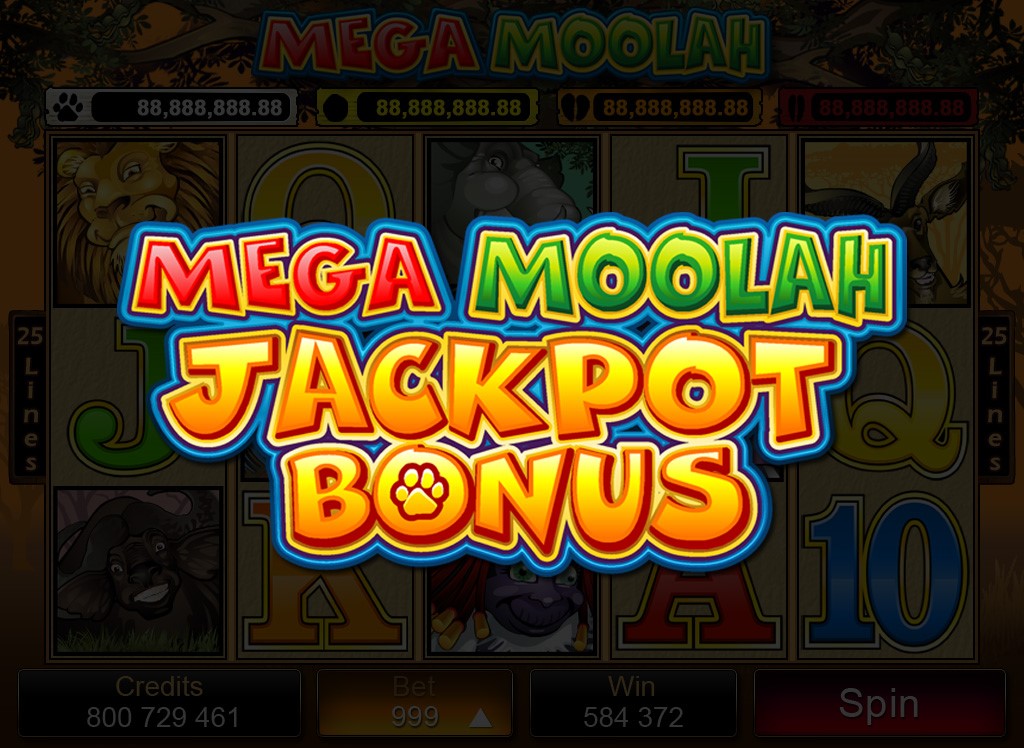 Then you'll see the jackpot wheel and get a few moments to settle the nerves/cross the fingers/rub the rabbit's foot before it starts to spin.
The Mega Moolah Jackpot Wheel has 20 segments. The 1 white Mega segment is the life-changer. Then there are 3 yellow segments which represent the Major Jackpot. No villa in the Seychelles but you might get a couple of weeks there. Next are the 6 orange segments for the Minor and 10 red segments for the Mini.
One more thing. The bigger your bet per spin, the more likely you are to win a jackpot. Sure, it's possible to win any of the progressives, even the Mega, with smaller bets (fewer coins per line, or lower value coins, or both), and indeed it's been done! But the more you bet, the better your chance of winning the big one. And with the max bet at just £6.25, it's sensibly positioned to give everyone a chance.
What happens when you win?
Win the Mini, Minor or Major Jackpots and it'll be instantly added to your balance. Cha ching! Win the Mega Moolah Mega Jackpot and now you're a millionaire. Well done. Get your phone out quick and take that pic.
It's a hefty wad of cash so you can bet OJO will be on the phone to say congrats (or someone in Marketing pretending to be him)! At PlayOJO we play fair, so you'll get all 7 figures (or possibly 8) in one lovely lump sum (once we've checked it's legit – hey, it's millions right?).
What do you do next?! Well the world is now your lobster. But before you disappear into the jungle of your private island to attempt your impersonation of Leo Di Caprio in The Beach, do OJO a favour. Send him a selfie with the giant cheque!
OJO says…
Is Mega Moolah the perfect slot? Decades of fans and a fair few millionaires say it is. Where else can we have a stab at millions for the price of a pint of milk/beer/pistachios (depending on location)?
Play the game. Spin the wheel. Dream big….

Like this? Then try….
… Mega Moolah ISIS. This is the Egyptian sister to Mega Moolah's African adventure, and it shares the same Mega Jackpots on our casino games page. Tutan-come-onnnnn, give it a spin!