Game Review

Eye of Horus is a memorable and massively popular into the Egyptian-themed slot genre which has given OJO a lesson in Egyptian mythology!
This special game was created in 2016 by Reel Time Gaming and eventually licenced to the Blueprint Gaming slot portfolio.
With a top prize per payline of 500 coins (that's $1,000 at the max $2 a line), it's a less wild ride than other slots. But with a bit of help from Horus, you can bag up to 5000 coins in 1 spin!
The epicentre of the game is a Free Spins feature which includes a great little symbol-upgrade twist. If you want to know why it's so unique, skip the upcoming history lesson and go straight to the feature section below.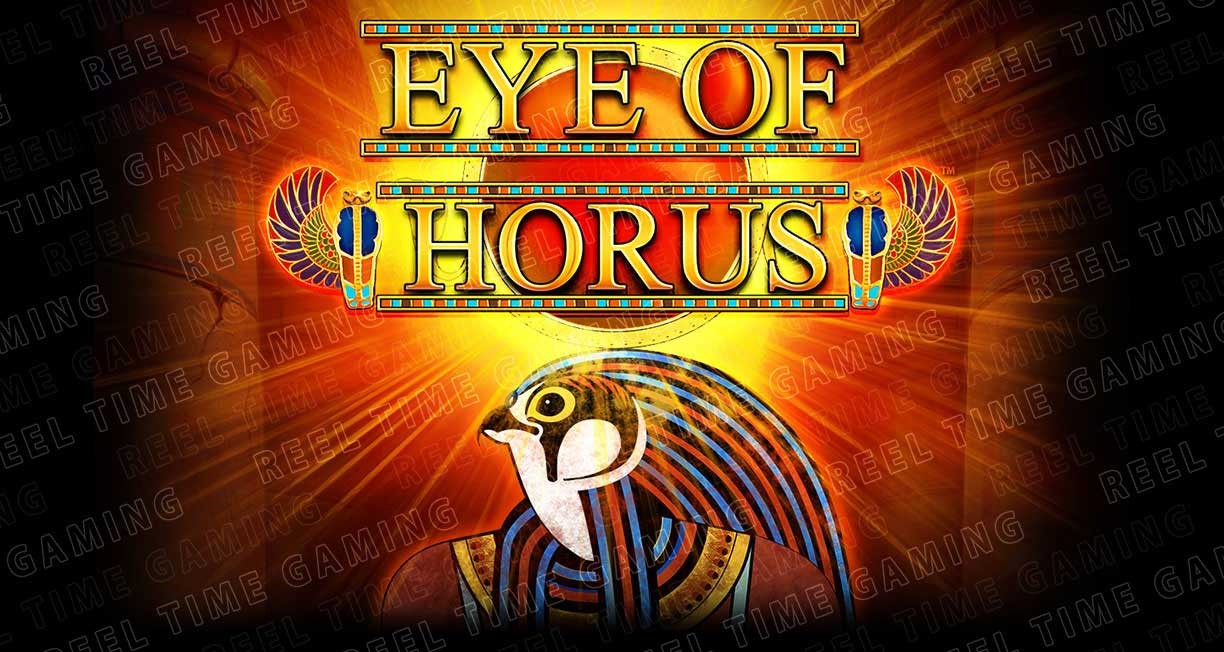 A little history lesson
This awesome Eye of Horus online slot machine is set in ancient Egypt around 3000 years BC. It's a time when a dude with the head of a dog was considered plausible, so we're in for some fun!
Horus had some pretty famous parents and a weird birth story. His dad Osiris was murdered by Set, the brother of Isis, his mum. With us so far?
Horus wasn't born yet, so Isis used magic to reconstruct the body of Osiris. Minus the key body part you need to make a baby, that is. It'd been eaten by a catfish (you can't make this stuff up, although you might say the Egyptians did).
As with many pagan gods around this time, Horus had lots of jobs including god of the sky, sun and moon. He's usually depicted as a falcon or man with a falcon's head, which is what we get here with the Eye of Horus Wild symbol.
Rumour has it Horus got into a few good scraps with uncle Set (including some insane shenanigans involving semen and lettuce – go Wiki it!). In one of those ruckuses he had his eye gouged out, although Set lost a testicle so you decide who came off worse. That leads us to the Wedjat or Eye of Horus, the name of this slot and a powerful symbol which can ward off evil. Let's hope it wards off evil and brings good fortune for you, eh!
Now we've passed Egyptology 101, let's get to the slot itself….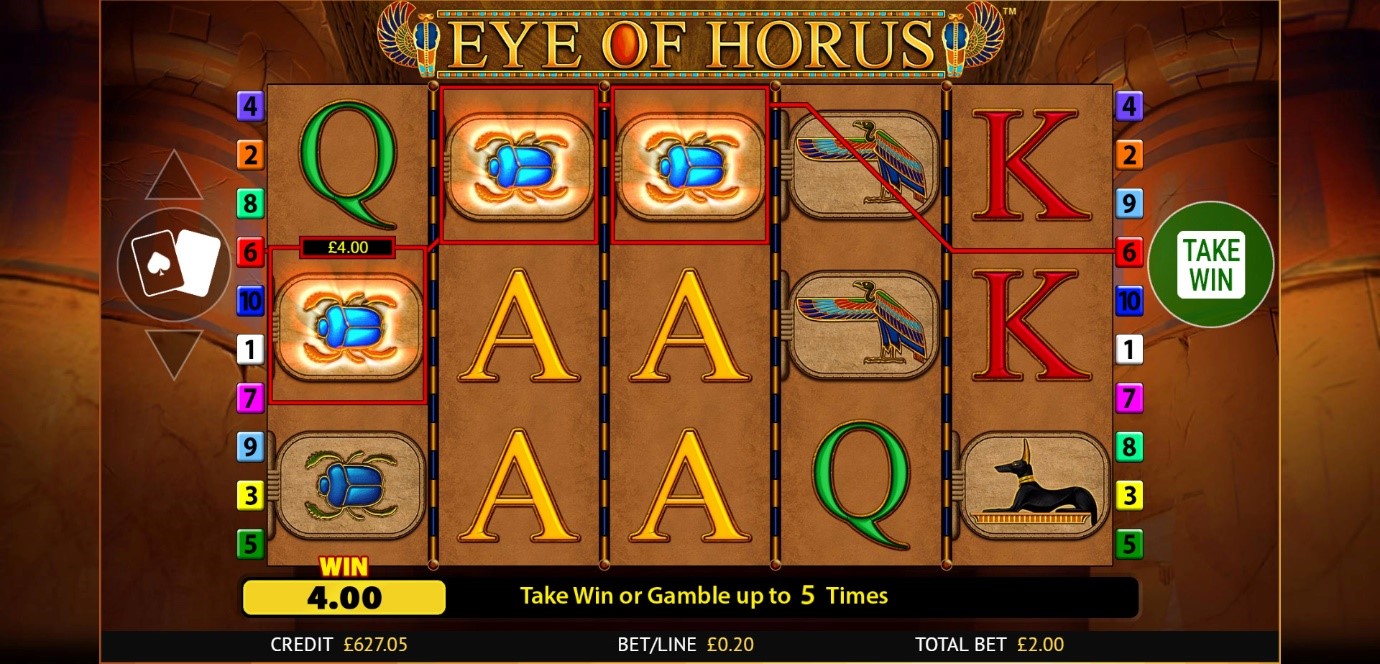 Eye of Horus theme and gameplay
Despite its 2016 release, PlayOJO's Eye of Horus slot machine is more of an old school 2D game which feels like it's from a similar era to one of our other free online slots Rainbow Riches. The design and symbols resemble hieroglyphs found in temples, caves and on tablets. It's a dark, atmospheric theme with occasional splashes of colour and piercing rays of sunlight during the most exciting moments.
The game controls are nice and simple, perfect for casino on mobile. You've got your Change Lines, Change Bets, Auto Play and Stop buttons (sometimes called Skill Stop – there's no skill but at least it saves you a bit of time!).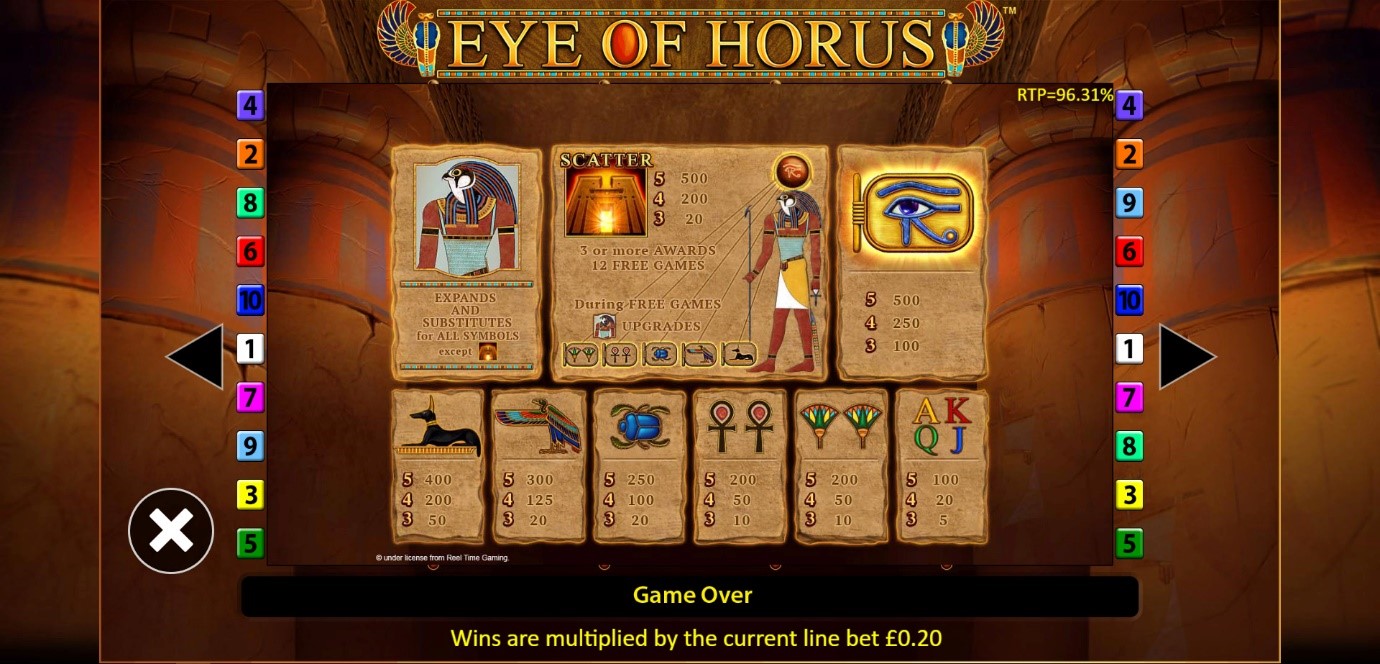 Symbols
Ancient Egypt has the best emojis! Let's kick it off at the top with a cracking Wild symbol - Horus himself. But why has he got a conker on his head?
Eye of Horus uses a funky array of symbols from Egyptian lore. The Tomb of Horus is the scatter symbol which triggers Free Spins and shows you the light.
The Eye of Horus itself is the highest paying symbol, with the Anubis jackal god, scarab beetle and ankh (a cross symbolising life) among the others you'll see on a regular basis.
Sounds
No background track here but as soon as you spin, you'll be bathed in the definitive sound of casinos the world over. Impossible to describe, so we won't! Spin it and see.
Trigger the Free Spins feature and suddenly you're in a souk, in all its belly-dancing, snake-charming glory. A little corny maybe but OJO gets it!
Oddly, the Gamble feature unleashes some sort of cosmic death ray sound effect that we doubt any ancient Egyptian ever heard. It's attention-grabbing though!
So there's your authentic Egyptian theme. What about the numbers that make it tick?
The important stuff
Eye of Horus is a slot you can master on your first spin, with the standard 5 reels and 3 rows configuration. You can choose between 1 and 10 paylines, but with the maximum total bet per spin just $20 (though it goes as low as 10c), playing the max 10 lines to improve your chance of getting the Free Spins feature seems the smart play!
Hit 5 Aces, Kings, Queens or Jacks and you'll swing 100 coins, while the 5 higher value symbols pay more with 500 coin wins on offer for 5 Eyes or 5 Tomb scatters. Hit 3 or more scatters and you'll trigger 12 Free Spins with symbol upgrades and retriggered Free Spins on the cards too.
The maximum win per spin? Bag 5000 coins for 5 Eyes on all 10 paylines. Sounds impossible? Not with the Free Spin upgrade feature!
The Eye of Horus slot RTP comes in at 96.31% and with the extra money back from every spin via OJOplus, and our online slots no wagering bonuses, you're getting the best deal around amigo!

Eye of Horus bonus features
Eye of Horus delivers a big hit of excitement with Reel Time Gaming's unique take on Free Spins. But it also offers expanding wilds and a cheeky chance to instantly parlay any win into twice as much.
Expanding Wild
The Horus Wild symbol can appear on reels 1, 2 and 3 and expands in all his full-height glory to fill the entire reel. As you'd expect, it replaces all symbols except the Tomb symbol which acts as the scatter to trigger Free Spins. A combination of Wilds and higher value symbols can be a real balance-booster!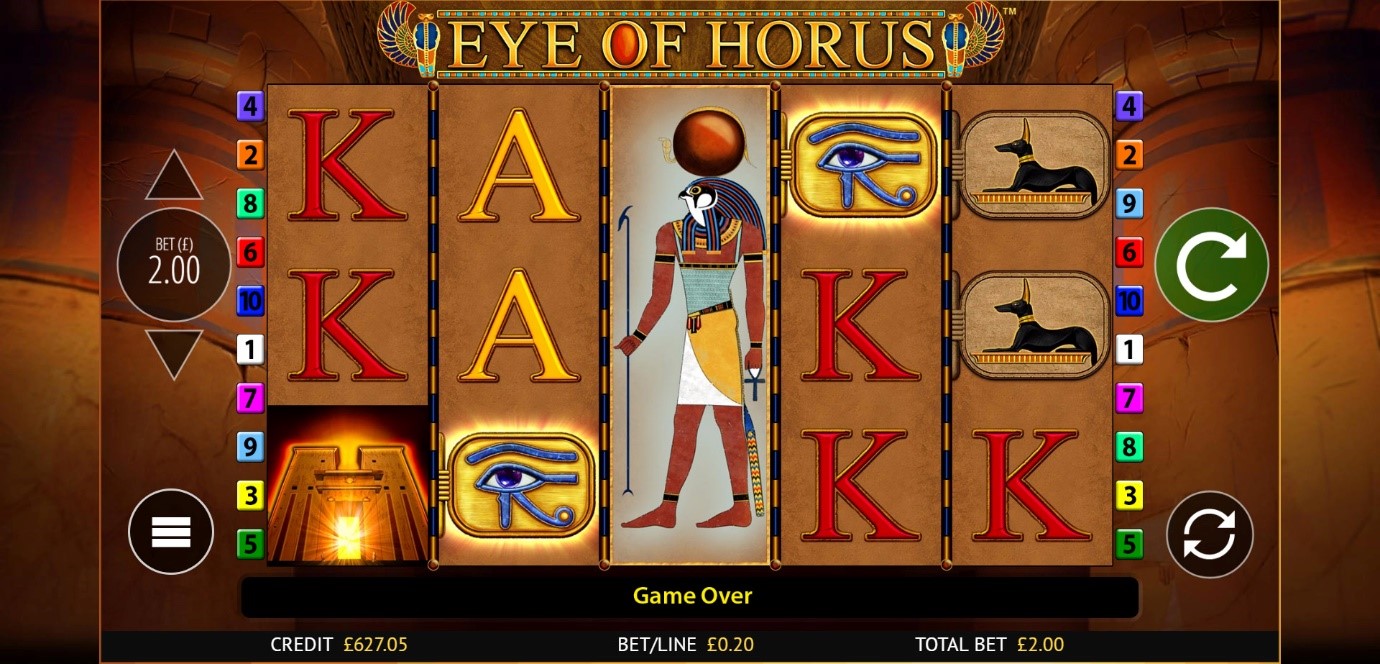 Eye of Horus Free Spins
Every slotsplayer's best friend, Free Spins are the central feature of our Eye of Horus slot game. Land 3 or more scatter symbols on any reels and you'll receive 12 Free Spins. Bingo! But that's not all…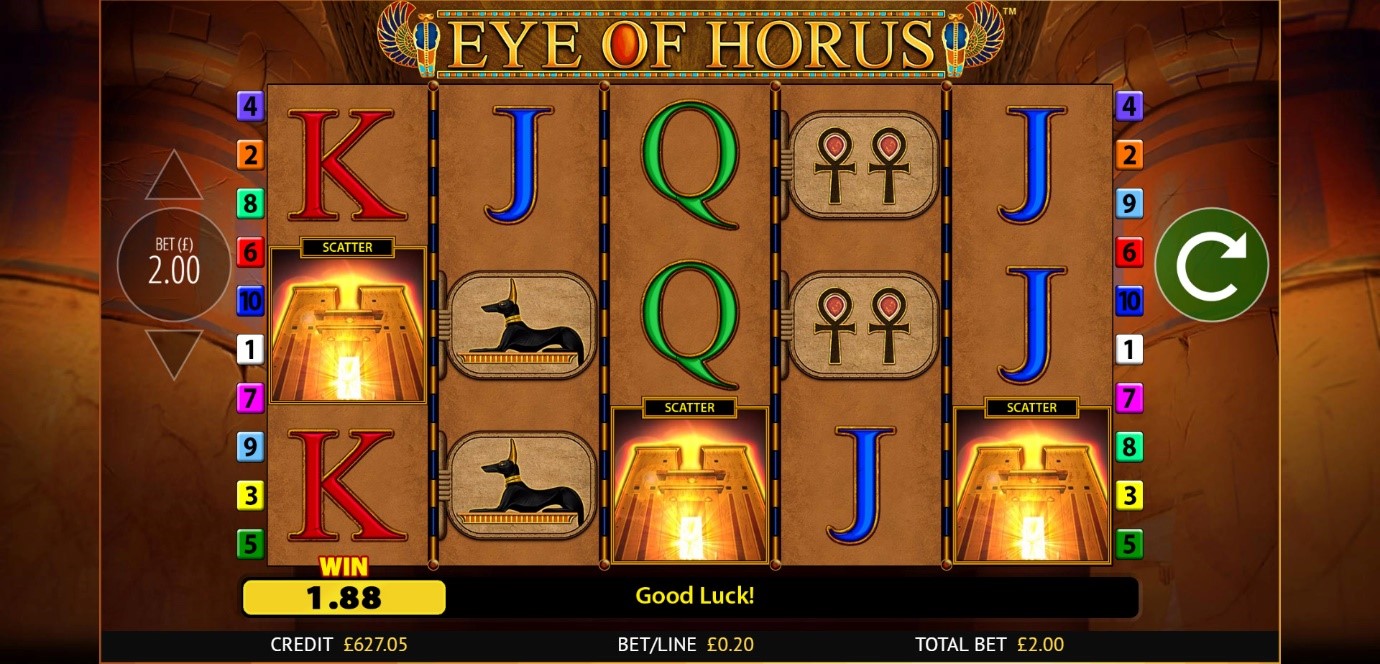 Retriggers
Hit another Horus Wild symbol during any Free Spin round and you'll get up to 5 Free Spins added to your Free Spin balance. Here's how it works:
| Number of Wilds during a Free Spin | Extra Free Spins awarded |
| --- | --- |
| 1 | 1 |
| 2 | 3 |
| 3 | 5 |
But that's STILL not all! How about a bit of Egyptian magic to transform symbols into higher value ones?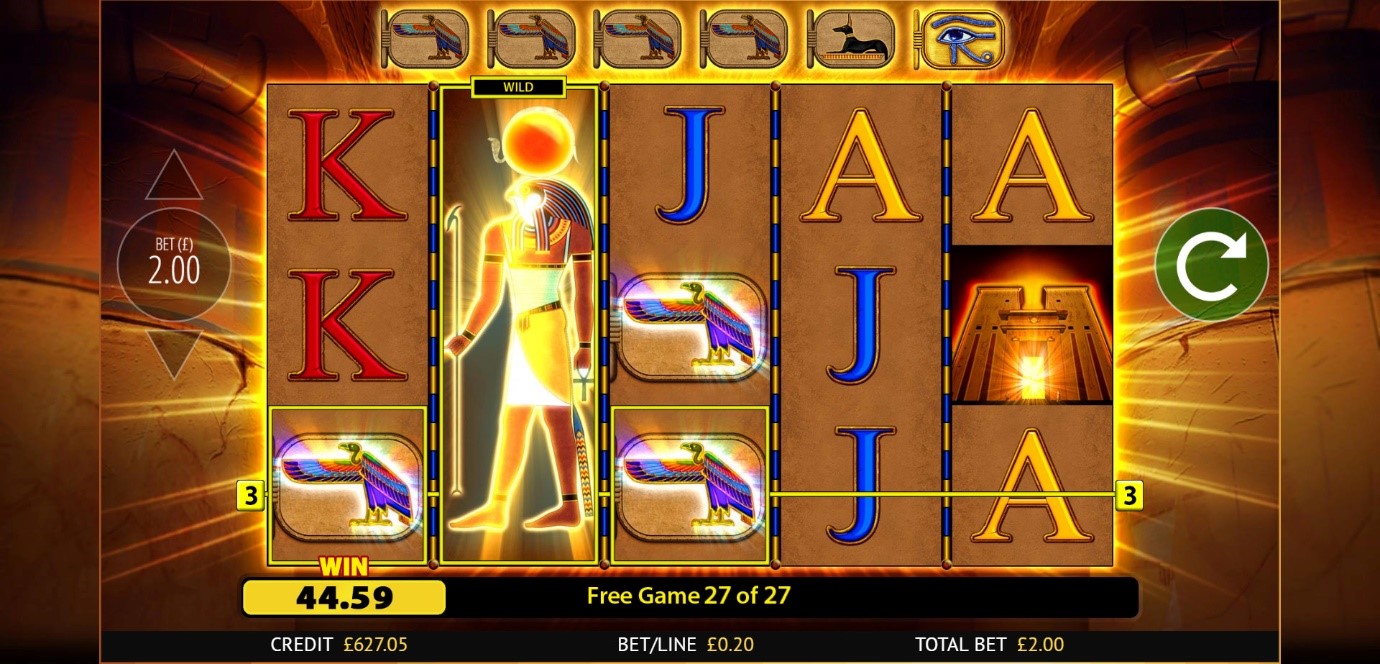 Symbol upgrade
During the Free Spins you'll see a row of tablets above the reels which display all standard symbols from palm trees to the Eye. Hit a Wild symbol during your Free Spins and Horus will turn the palm symbol into an ankh, the next highest value symbol. All palms from your existing spin then turn into ankhs, and any new wins credited.
Next time it happens, ankhs are turned into scarab beetles, and so on. If you've got luck on your side and you retrigger enough Free Spins, you could find yourself in a position where you can only spin A, K, Q, J and Eye symbols! That's your ticket to a possible max prize of 5000 coins in just 1 spin. Scrambled your brain a bit? Watch this video to see how it works.
Gamble feature
Double-your-money on any win is a common feature in many casino games online these days and you get it here too. Choose from the Red or Black buttons below the reels after any win for a quick coin flip which you can repeat up to 5 times in total.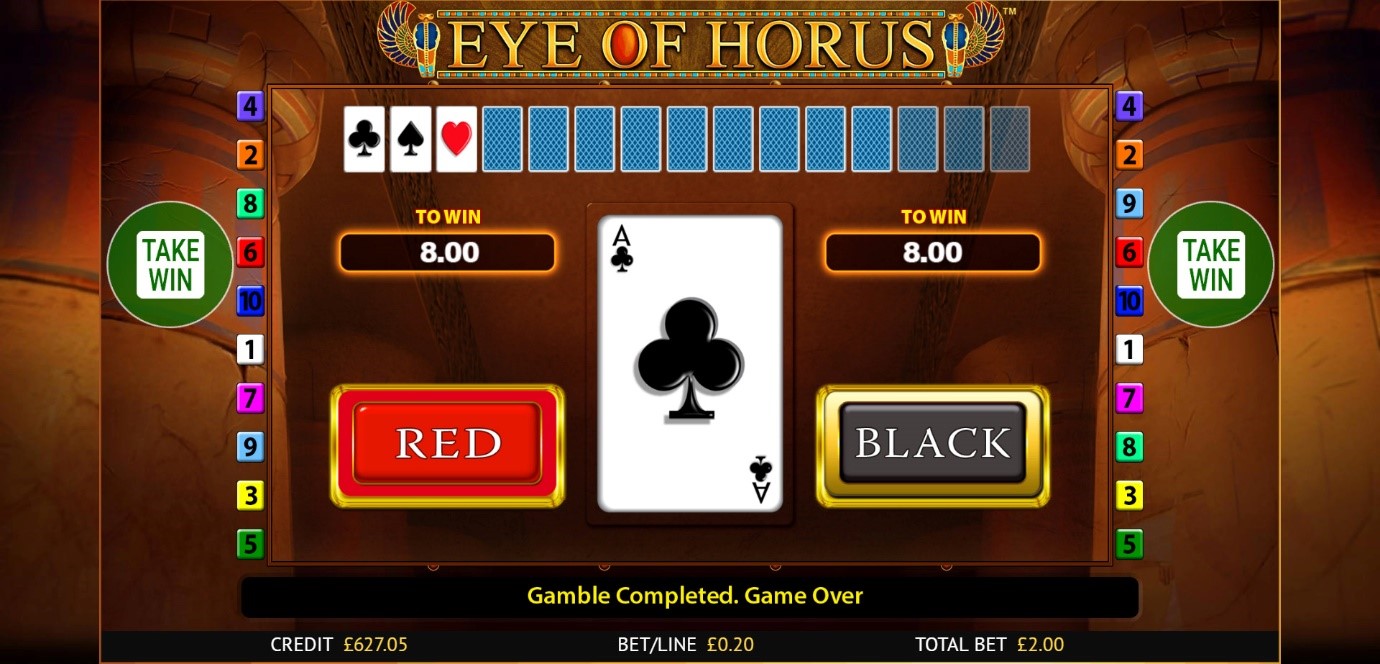 OJO says…
Eye of Horus is a classic of the genre that keeps fans coming back again and again, even in this age of fancy designs and complex game mechanics. Why? The Wild upgrade feature! Play Eye of Horus slot for real money today at PlayOJO and you'll be worshipping the gods of luck for a go on the Free Spins feature - it's the pharaoh's phalanx!
Good luck amigo!
.

Like this? Then try….
…Book of Dead! The older but jazzier cousin to Eye of Horus takes the ancient Egyptian theme and smashes it out of the park. Go play it now!