Game Review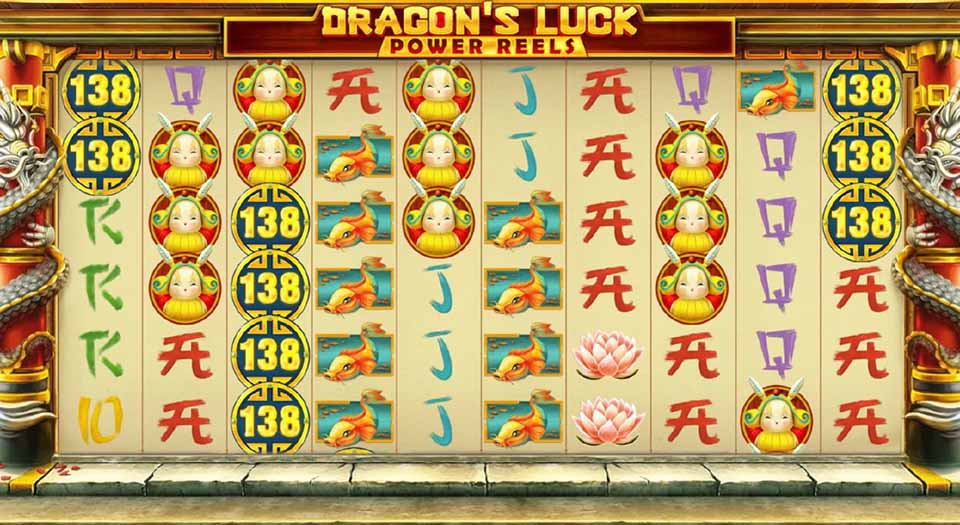 OJO's Dragon's Luck Power Reels slot might look like just another chinese slot but with DOUBLE the number of reels and rows plus the boldest base game this side of Beijing, it's the emperor of casino slots online! Know any other games that pay up to 3,888x on a regular spin?
Red Tiger Gaming unleashed this crazy beast in 2018 as a follow-up to their Dragon's Luck slot. A classic 5-reel game you can also play here at PlayOJO, the original was born a few years earlier but still feels fresh as a spring-heeled spring onion on the first day of spring. But it's the sumo-sized younger bro we're dealing today.
Based in the Isle of Man, Red Tiger are the UK game studio responsible for slots like Lucky Wizard, Vicky Ventura and a pooled progressive jackpot that turns over 10 of ther games into Red Tiger progressive jackpot slots at any one time. That means Dragon's Luck Power Reels game could be chosen at any time, and in fact as we wrote this, it was indeed one of our Daily Jackpot and Mega Jackpot games.
Back to Red Tiger, who've got Asian gaming in their blood too. That explains why their portfolio of online casino games is packed with oriental slots like Fortune House, Magic Gate and Dragon's Luck Power Reels, a variation on this slot with double the reels and rows!
This slot is the perfect antidote to games where you're racing through base games to trigger some free spins or a bonus feature. They've taken a samurai sword to the concept of all-singing, all-dancing video slots and reduced the recipe to pure base game goodness! A slot without free spins or bonus rounds might sound a bit boring (even with 10 reels), but they've packed the game with bonus symbols and bumped up the payouts for even the lowliest of paytable symbol wins.
Curious? Course you are, Daniel-San. Zen your way through this Dragon's Luck Power Reels slot review, then use your new powers to enter the temple and plunder its treasure!

Dragon's Luck Power Reels slot design
Look, we've got dragons and we've got regal red and gold. Instant slot genre recognition! Unlike their Fortune House slot which is a pure hit of lavish Chinese richesse, this Dragon's Luck jackpot slot goes a bit more atmospheric. The game is set in a stone temple on a misty mountain top. You know the sort. Red tiled roof, ornate dragons curling round pillars that support the reels.
Interestingly the designers have combined the realism of the background with more modern animé elements like the China Doll symbol and even a logo font that has a kung fu video game vibe.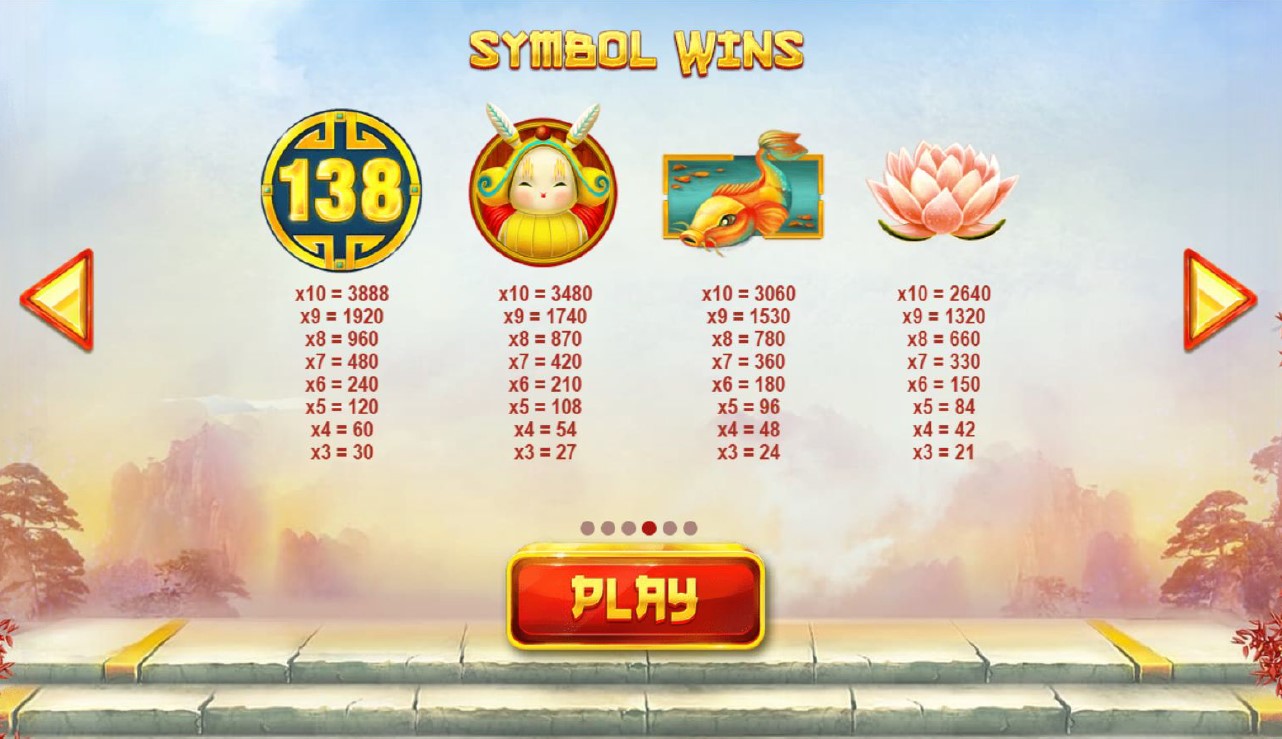 Reel symbols
As there are no free spins or bonus games in this Dragon's Luck Power Reels game, you won't find any Wild or Scatter symbols here, but that doesn't mean you can coin it in using the basic symbols.
As usual, the lower value symbols are represented by card ranks, Ace through 10. Brush-painted for an authentic feel, the card symbols pay much better than other games with even the 10s awarding up to 720 coins. That's a sign of things to come.
Painted lotus flowers pay up to 2640 coins while 10 koi carps will net you 3060 coins. Even just 3 China Dolls pays 27 coins though you get a princely 3480 for 10 of them. And finally, the '138' symbol, well this baby pays BIG! Land 5 of these for 120 coins or settle for 10 of them and you'll see your stake multiplied by 3,888!
You'll see 2 other symbols on a regular basis, the Dragon Coin and Mega Coin. They're among the 4 features that we'll cover in the features section below.
The important stuff
OJO's Dragon's Luck Power Reels game is a 10-reel 6-row slot with 30 paylines. You can bet between 10p and £20 per spin, and win up to 3,888x your stake by spinning 10 x '138' symbols.
With a Dragon's Luck slot RTP of 95.05%, it's middle-of-the-road in terms of house edge, though that includes the jackpot contribution. Better still, with your OJOplus money back on every spin, you're getting a better deal than all the other boring casinos!
As it's made in HTML5 by developers who know their spring onions, you can play our Dragon's Luck Power Reels slot game on desktop and mobile without noticing any real difference. In fact, play our Dragon's Luck Power Reels mobile slot today and you'll see why Red Tiger have been hoovering up awards. HD graphics, whip-fast action, smooth animations and fat finger-proof controls are just for starters.
How fair is our Dragon's Luck Power Reels slot game? Right-down-the-middle-of-the-fairway-fair! Red Tiger have gaming licences from some of the best regulators in the business including the UK Gambling Commission and the Alderney Gambling Control Commission. OJO's got the stamp of approval from them too, which means our systems and Red Tiger' games are all independently tested to make sure they're super secure and pay out exactly as advertised. Like us, Red Tiger take Responsible Gaming seriously too. Check out the OJO Safeguard section of your account to find out more.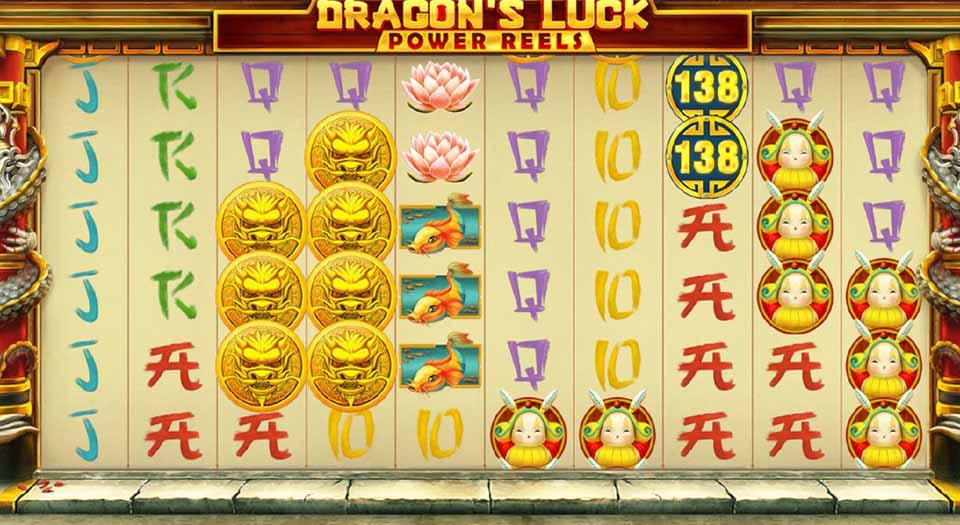 Dragon's Luck Power Reels slot features
Unusually this Dragon's Luck progressive jackpot slot is geared towards max action from the base game. One look at the paytable and you'll see much bigger wins for even the smallest combinations than you get from most online casino games.
Red Tiger realised that wasn't enough to keep your ticker pounding, so they added 3 bonus features that hit randomly during normal spins.
• Mega Coin: That's the big ol' beast in the picture below. These award guaranteed wins, and can fill 3x3, 4x4, 5x5, 6x6 and 10x6 grids on the reels.
• Dragon Coin: These gold coin symbols pop up all the time and spin to reveal mystery symbols. All Dragon Coins on the same spin will reveal the same symbol, to maximise your payline wins.
• Dragon Fire: The fiery pair wake occasionally, a bit grouchy like Mrs OJO in the morning, and breathe fire onto the reels to create bigger wins.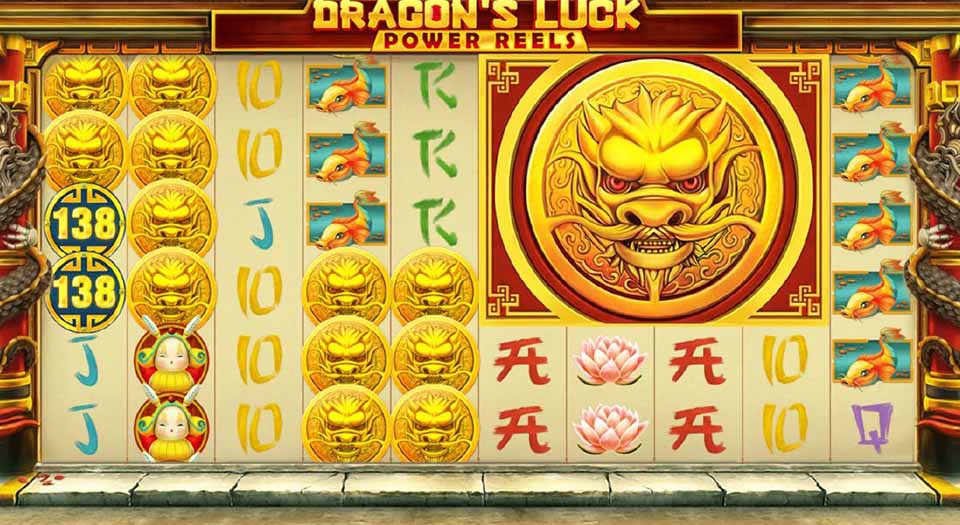 Dragon's Luck Power Reels slot also includes a Gamble feature which is available when you win 10p or more. This mini game runs at a 95% RTP and gives you the chance to bump your prize by 50% or more, to as much as 27.5 times your win. You can adjust the clock face to the multiplier you're after, and the game recalculates the probability of winning. Land the spinning arrow in the green area – which gets smaller the bigger the win you're after – and you'll win. Land it in the red zone and you're back to zero, hero!
Dragon's Luck Power Reels jackpots
Fire up OJO's game lobby right now, filter by Red Tiger slots and you'll see a whole bunch of Red Tiger progressive jackpot slots to choose from. Open any of them and you'll see the Daily Jackpot and Mega Jackpot amounts updating in real time.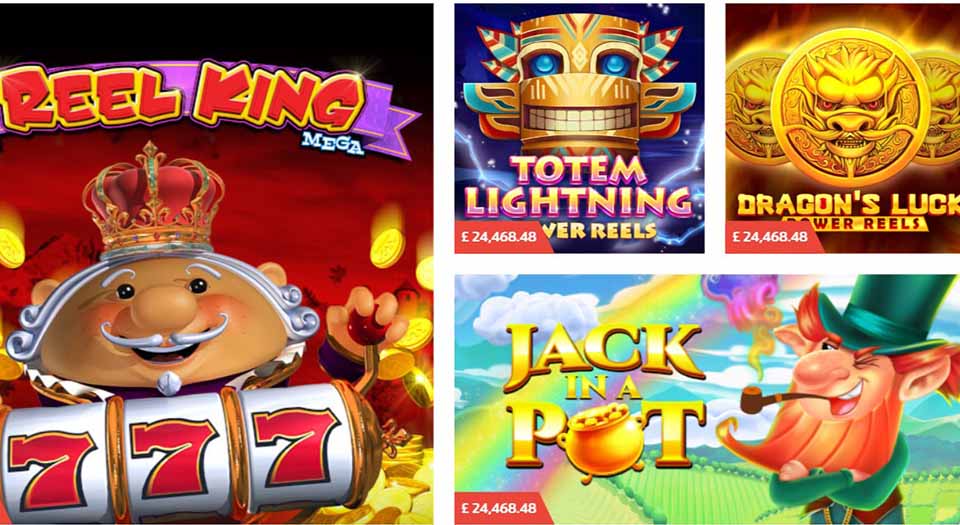 Both Daily and Mega Jackpots are progressive, which means they get bigger every time someone plays a linked game. The Daily Jackpot must be won every day, while the Mega Jackpot continues until some lucky lubber strikes it rich!
To win one of the Dragon's Luck Power Reels slot jackpots, you'll need to spin 3 or more jackpot symbols, or randomly trigger the jackpot during a feature. Once you've been chosen to win one of the 2 jackpots, the panel on the left will cycle through the available jackpots and land on the one you've won. *pleeeeease be the big 'un!*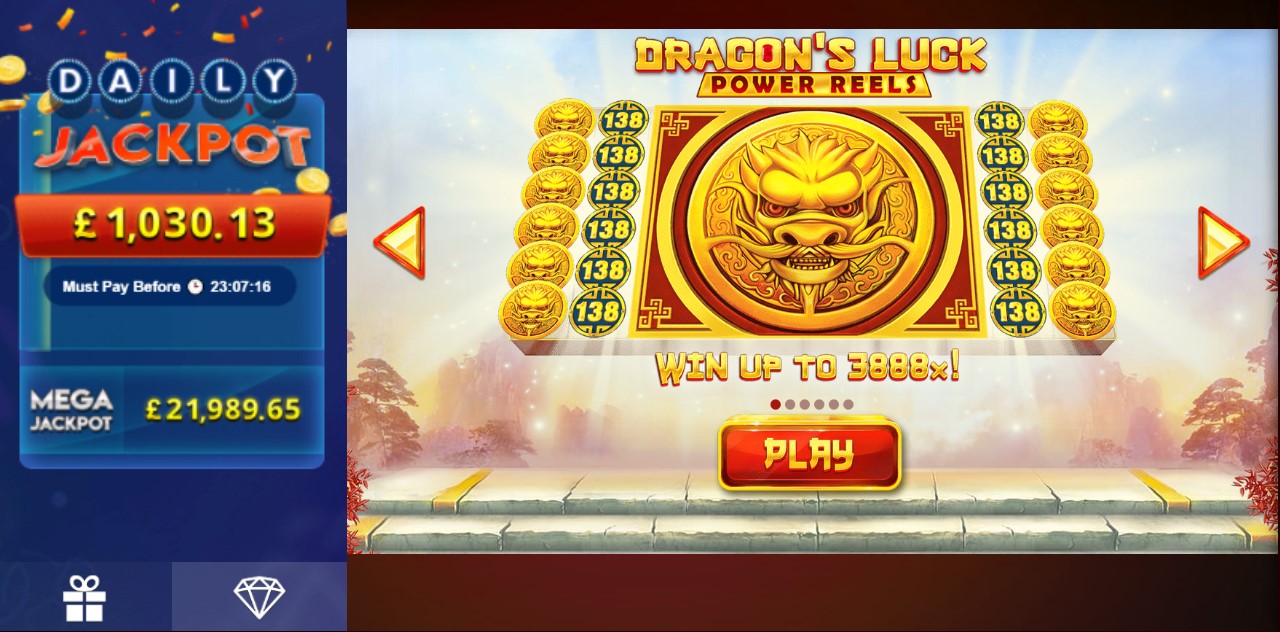 OJO says…
We love slots with a mystical, magical oriental theme and even though it'll take up double the space, we're pumped to have this one in our collection! Power Reels, non-stop bonus action and epic wins on normal spins? Yes please, amigo-san.
Wax on!

Like this? Then try...
Fortune House! Another piece of magic from the Red Tiger crew, Fortune House slot has a tree that shakes coins, a generous golden toad and a wheel. A wheel! You know how OJO loves his wheels. Go forth and discover its mysterious ways, friend.