Game Review
Fortune House slot is so good you'll stay all day

If you're not a fan of online slots that take a PhD to work out, the Fortune House online slot should be right up your street! This oriental classic from Red Tiger Gaming only takes a second to master, so chances are you'll be playing your way to some fun features and a pile of gold within a few spins!
A taste of the orient
As befits its mystical theme, the Fortune House video slot gets the kind of opulent red and gold paint job you'd expect from a visit to Chinatown's classier venues. But we're told Fortune House is styled on a traditional Chinese household… If that's true, OJO's getting a place in China!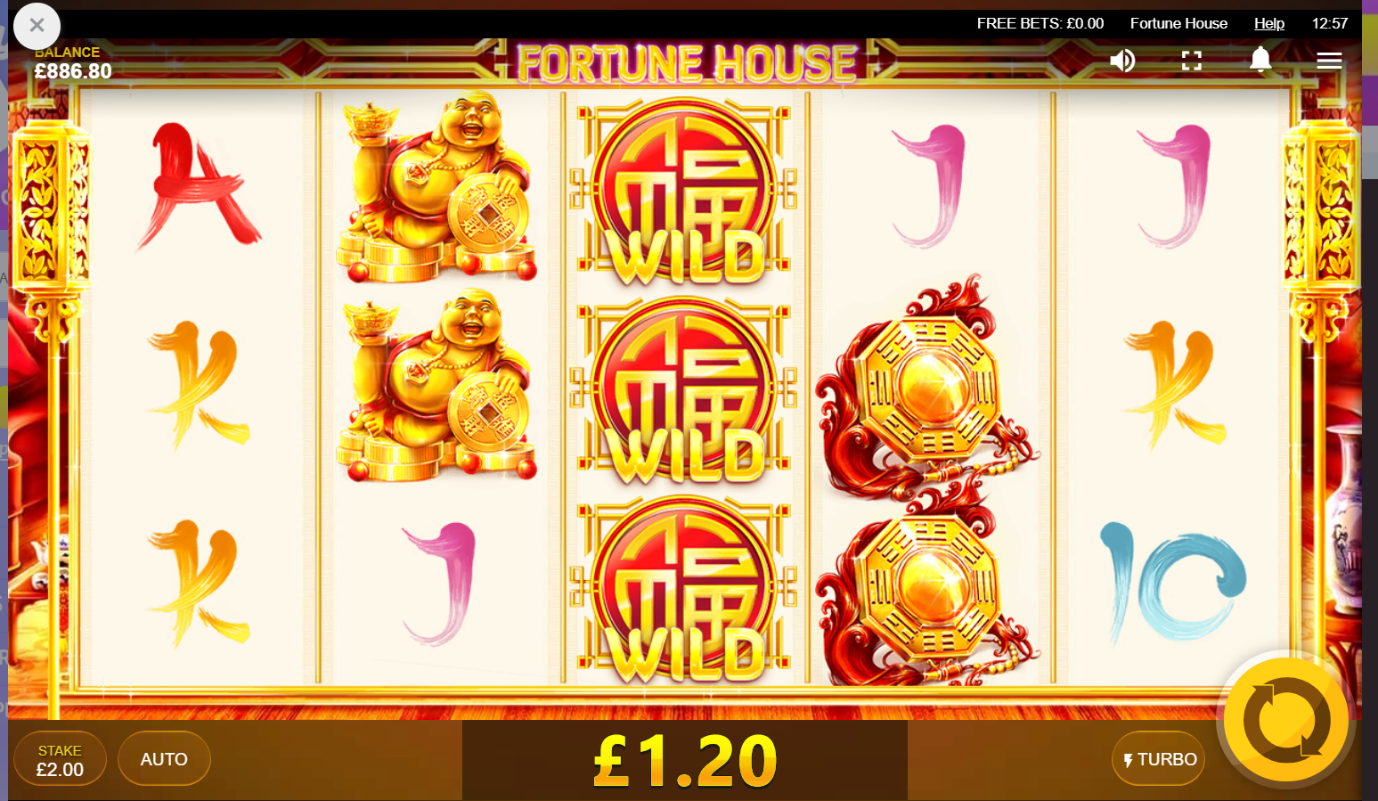 Framed by gold lanterns, the reels display 10 symbols; Golden dragons, fish, coins and Buddhas contrast nicely with the beautifully painted card ranks Ace to Ten. The set is completed by a mystical, almost futuristic, Wild symbol which can land, stacked, on any reel. Bonus points to Red Tiger for not going down the Waving Cat route!
Red Tiger have added some nice touches to elevate this game above other online slots in the Asian category in an already packed genre. The feature symbols are twice as big, taking up 4 slots across 2 reels. Whenever a feature symbol comes into view, the reels become blurry and slow down for extra drama.
Fortunately, they keep you guessing with a good mathematical balance of 'does stop-doesn't stop'. If you're a speed freak or not fussed about the drama (how can you not??), you can always choose the Turbo option and power through the spins to your next win.
When you land a decent sized win, you'll be treated to the Big Win animation where your payout amount is counted-up rather than revealed instantly, while gold coins rain down from either side.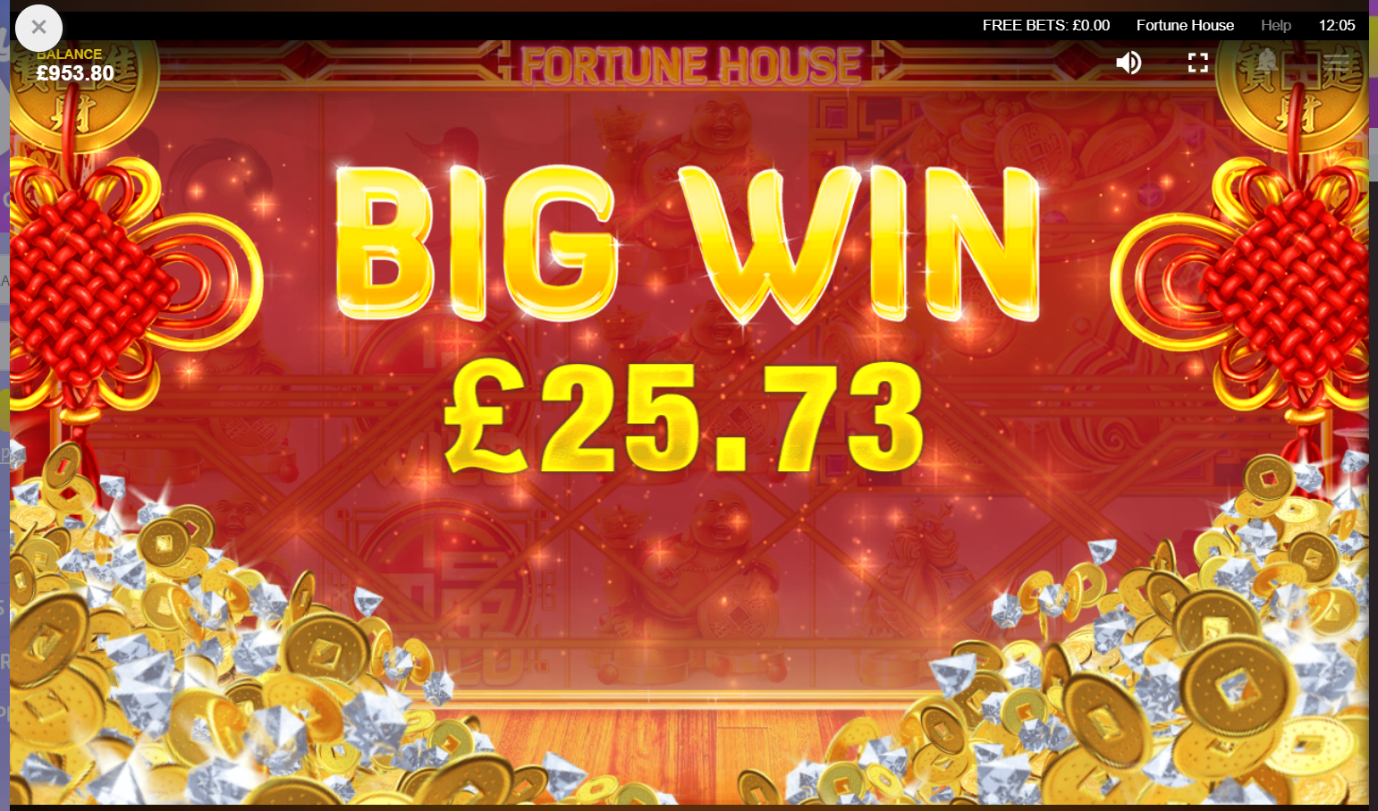 What's the soundtrack to this non-stop action? It's a nice cosy homestead, so no Kung Fu sound effects here, just the zen calm of traditional Chinese music.
Under the hood, the game is powered by Red Tiger's patented RTG Core technology, which means seamless, high quality gameplay at any speed.

The important stuff
With 5 reels, 3 symbols and 20 fixed paylines, this slot is a true classic with lasting appeal. Although you can't select the number of paylines you want to play, there's a pleasing simplicity in the format. Just select your total stake per spin, from 20p to £100, and you're ready to roll.
The maximum multiplier available is 697x, and the jackpot is 500 coins when you hit 5 Wilds on a payline. All that plus the Fortune House's RTP of 96% make this game ideal for players who like regular wins from casino games online. You might not become a millionaire but you won't have time to think about that once the action starts!
And the cherry on the cake – we put free money in your account every time you play. Check out the OJOplus page for more information on this little perk!
Fun-packed features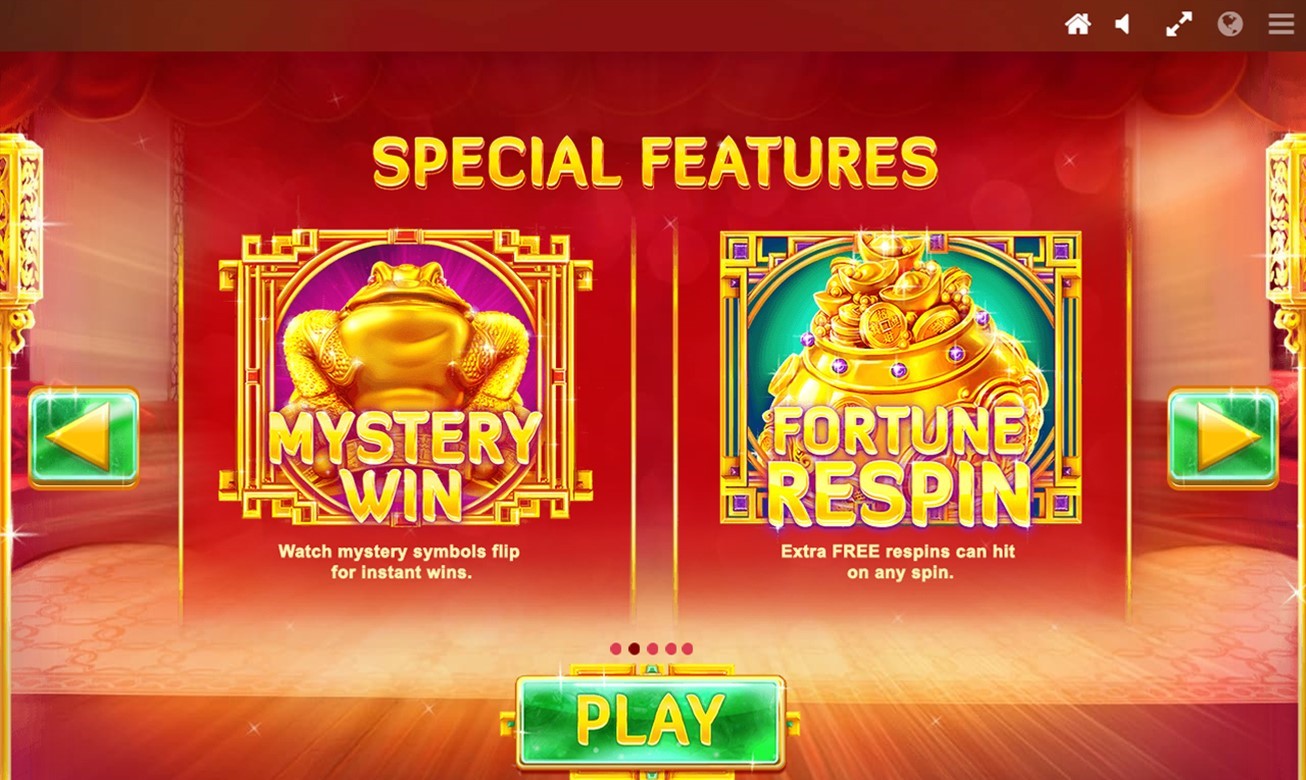 There are no Free Spins in the usual sense, but there's no shortage of bonus action with four special features, all triggered from the base game.
Like Wilds, you can hit feature symbols on any reel in any position. They're twice as big as the standard symbols too, so they take up four positions across two reels!
You'll see plenty of the Fortune Respin and Dragon Wheel features, while the Fortune Tree and Mystery Win features hit less often but they can pack more of punch when they do. Whatever happens, you won't need to wait for the Year of the Snake to hit any of these enjoyable rounds. Let's dig into each one to find out more…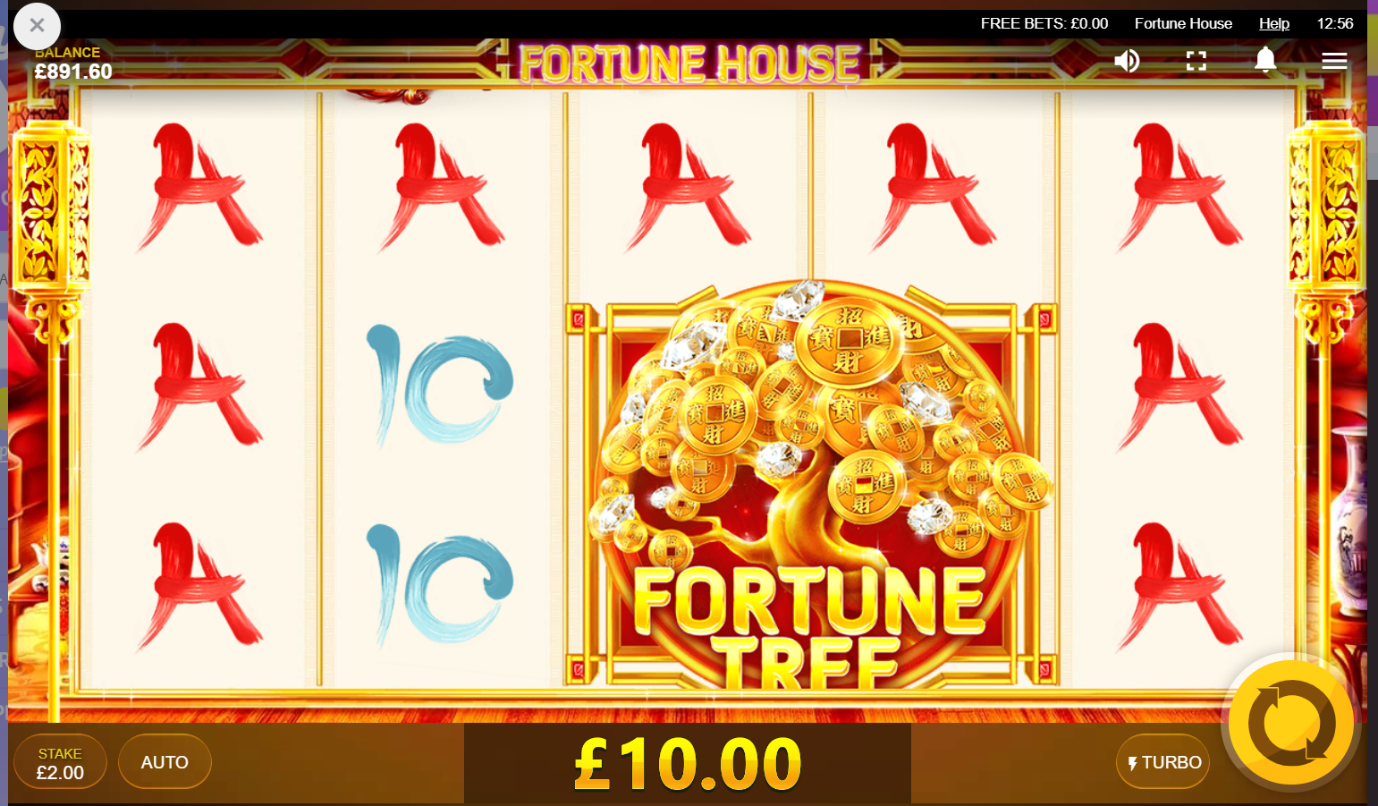 Fortune Tree
The Fortune Tree shakes its prize leaves across the grid, covering the reels in many of the same random symbols to improve your chances of a monster win. You might even get more than one shake, if you're lucky.
Dragon Wheel
The Dragon Wheel is a mega multiplier and if you've been to Vegas or watched 80s TV, you'll recognise the retro Wheel of Fortune-style mechanic. This wheel random multipliers from 3x to 88x (8 being the luckiest number in Chinese culture), and may spin you some prizes more than once too.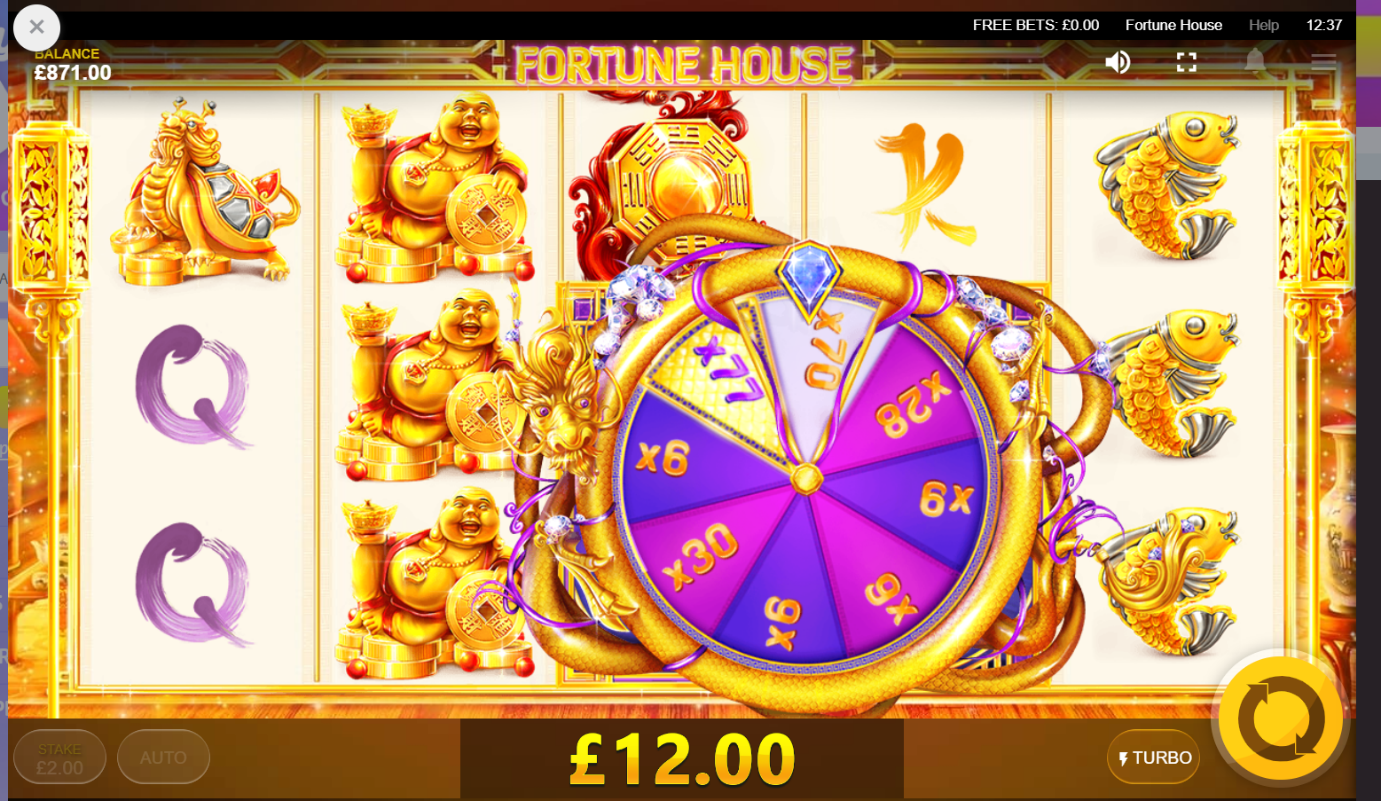 Fortune Respin
When a Fortune Respin symbol appears, a gold cauldron bursting with coins thumps the ground to deliver a Free Spin. Just like the other features, the cauldron can repeat this more than once.
Mystery Win
OJO's personal favourite! How did we ever live without a giant golden toad that erupts with mystery coins? The toad will fire out gold coins which, once they land in their position on the reels, will rotate through various symbols (a random number of times too, just to keep you guessing) before settling on one. As you'd expect by now, the toad can do this twice or more.
OJO says….
Play the Fortune House video slot at your favourite online slots uk site and in the time it takes to demolish a special fried rice you're likely to experience all 4 feature rounds, and be in the middle of the non-stop action. The combination of frequent bonus rounds and Wilds can deliver big wins. No air of oriental mystery here – our Fortune House video slot gives up its secrets nice and easy!
Good luck amigos!

Like this? Then you'll love….
… Fortune Charm! More Asian flavour but this time with Daily, Turbo and Mega Jackpots to play for! Discover this oriental gem now.