Bingo Etiquette
We'll show you how things are done
Bingo is about more than just winning. It's a social game that is great fun to play by yourself or with a large group of friends. Modern bingo can be played in a variety of different ways including online and in person.
No matter where you play, though, the rules and bingo etiquette remain the same. This helps to make sure that players can enjoy their games as much as possible, keeping bingo fair, fun and responsible for everyone.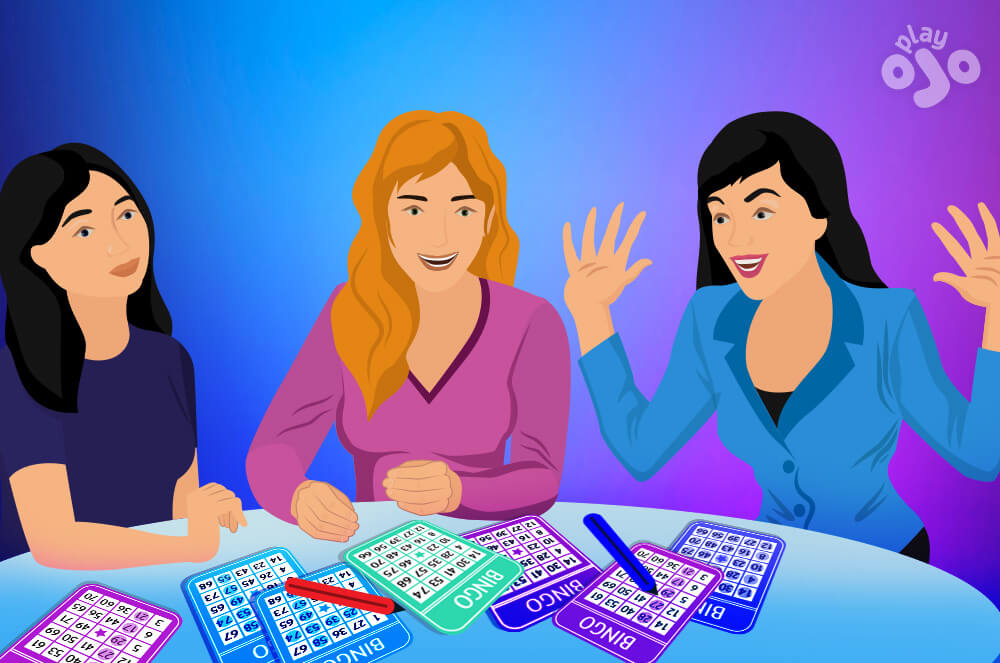 Whether you prefer to play 90 ball bingo, 80 Ball, 75 ball bingo or any of the other types of bingo we have here at PlayOJO, you'll have a lot more fun if you follow the rules and etiquette of the game.
Even though bingo rules might seem a bit tedious, we promise that they'll help you have fun and enjoy your time playing online bingo.
What is Bingo Etiquette?
Etiquette is a French word meaning the code of behaviour among individuals in a certain group. When used to describe bingo, etiquette is the rules you follow to ensure that you and your fellow bingo players are having fun and playing fairly.
All bingo sites and bingo halls have a set of rules that players must abide by if they want to play. These rules are always designed to prevent cheating and make it so that games can be enjoyed by anyone.
No matter what kind of bingo you're playing or whether you're playing online or in-person, you'll need to pay attention to the bingo etiquette rules and play fairly and respectfully.
A player that follows proper bingo etiquette is more likely to have fun and feel like a proper member of the bingo community.
Although bingo etiquette is more or less the same no matter where you play, there are some key differences between online and in-person bingo etiquettes.
In this bingo guide, we'll see how to behave correctly while playing online bingo or while playing in a bingo hall. You'll also see the dos and don't of respectful and fair bingo play that will help you to be welcome part of the bingo community here at PlayOJO or anywhere else.
Bingo Hall Etiquette
Bingo halls used to be the main way of getting your dose of bingo excitement. Today, they've mostly been replaced by online bingo sites but there are still plenty of bingo halls open for business in the UK.
The rules of individual bingo halls can vary a lot depending on which company runs it and where it is. Generally though, there are a lot of bingo etiquettes which players must follow if they want to play respectfully and fairly.
When you first visit a bingo hall, whether you're with your friends or by yourself, you'll want to read through the rules carefully. The bingo etiquette rules are usually displayed on handouts and will include both the standard etiquette rules and the rules of the game you're playing.
Don't worry if you're completely new to playing bingo or playing in a bingo hall, there's nothing to complicated. If you let those around you know you're new, they'll usually be happy to give you advice or pointers on how to play bingo.
The bingo community is a very welcoming one and most bingo halls are a great place to socialise and meet other people who love playing bingo. Below are some examples of bingo hall rules and the etiquette that players should follow to play safe and fair.
Altering Your Bingo Card
At the beginning of every round of bingo, you'll be able to purchase your tickets, either as singles or in strips of several tickets at once. This ticket will contain the numbers which you'll need to match to those being called out in order to win.
Because the numbers on your ticket are the key to winning, some players might feel tempted to change them to ones being called out, especially if they're just one or two numbers away from a win.
Of course, this form of cheating is heavily frowned upon and most bingo halls have electronic methods for determining whether a ticket has been altered. Those who have been caught trying to alter their ticket will be removed from the game and likely won't be able to return to the hall.
In the interest of fair play, bingo tickets are normally tampered proof and trying to change the numbers of your ticket is not acceptable in bingo etiquette.
Talking Too Loud
Bingo halls are a great place to socialise, catching up with old friends or meeting new ones. Part of the fun of playing bingo is being able to chat with your friends as the game goes on but it's important not to talk to loudly to avoid distracting other players.
Make sure you're sitting fairly close to your friends so you can speak to them without having to shout and be sure to keep quiet while numbers are being called.
If you're unsure whether you should be speaking or not, keep an eye on what other players are doing and save the socialising for between games.
If you miss which number was just called out, avoid asking the players around you or asking the caller to repeat the number as this is a good way to miss the next one. Most bingo halls display the numbers on a screen when they're called, meaning you won't have to worry about missing out.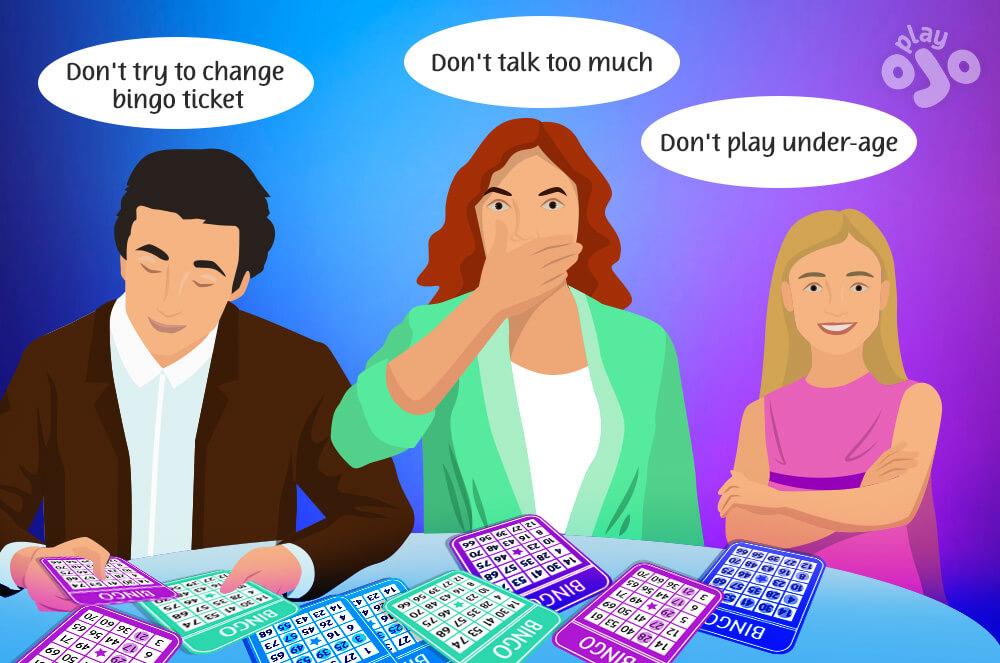 Repeating Numbers
Some players find it easier to find the matching numbers on their sheet if they're repeating the numbers out loud as they're looking. This can obviously be quite distracting for other players around you just like talking too loud or while the numbers are being called.
If you want to be able to find your numbers quickly, study your tickets carefully before the games starts. You should also know that certain number ranges are always in certain columns.
On a 90 ball ticket, the numbers 1-9 are in the first column, 10-19 are in the second, 20-29 are in the third and 30-39 are in the fourth. Numbers 40-49 are in the fifth column, 50-59 are in the sixth, 60-69 are in the seventh, 70-79 are in the eighth, 80-89 are in the ninth and the tenth column contains 89-90.
Age Limits
Bingo halls are off limits to players or certain ages. However, the rules can depend on where you are and what hall you're playing in. Most bingo halls have an age limit of 18, while others may require you to be 21 to play.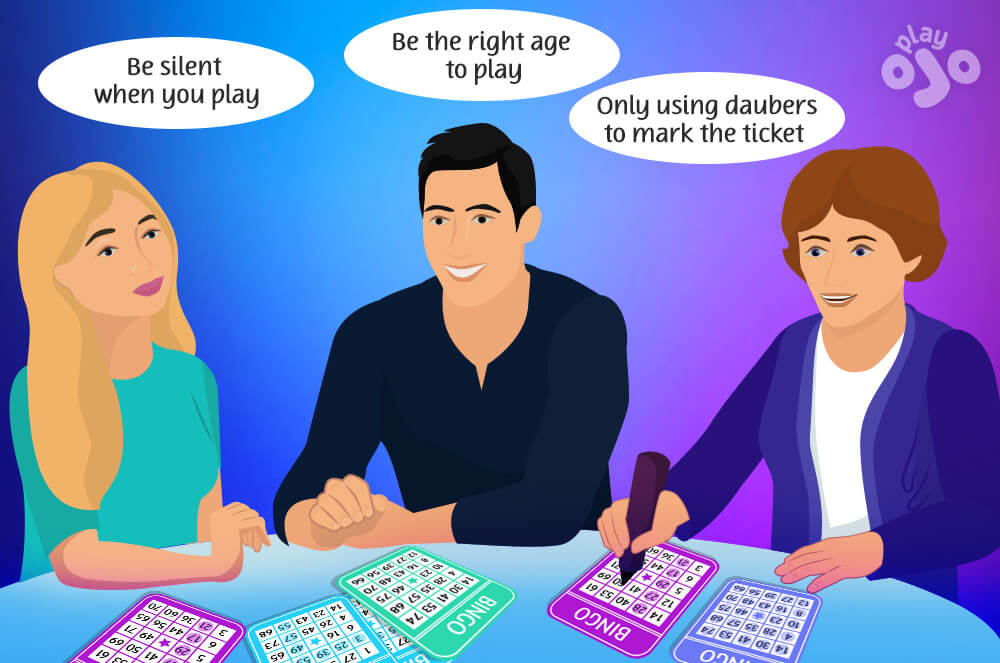 Respecting the Caller
The caller is the person who reads out the numbers as they're revealed. They have a difficult job of making sure they're heard by everyone in the bingo room as well as helping to make the game more enjoyable for everyone involved.
Even if the game isn't going your way, avoid disrespecting the caller or urging them to call out specific numbers. They can't personally alter the results of the draw, so all you'll be doing is distracting them and making their job harder.
You may interject if you feel they're reading too fast or if you can't hear them very well. However, if you do make a request, be sure to be as courteous as possible and remember that they're just trying to do their job. If you're still having trouble hearing the numbers, you can also speak to the bingo manager.
False Bingos
Occasionally, you might get carried away with excitement and call out bingo before you have a winner. While this does happen sometimes, especially to new players, it's important not to make a habit out of it.
Calling out bingo stops the game and if it has to be restarted again, it can be frustrating for other players. Be sure to double check before you shout bingo to avoid any disruption to the flow of the game. Keep your bingo daubers in check and make sure you're only daubing out numbers that have been called.
Online Bingo Etiquette
Of course, playing bingo online is now the most popular way to enjoy this game and just as with bingo halls, there are lots of rules to follow for fair play.
Online bingo is relatively new compared to the history of bingo itself, but there is already well-established online bingo etiquettes which you'll need to follow to have fun and be part of the bingo community.
Here at PlayOJO bingo, we encourage fair play and safety, and we have a few different rules in place to make sure you have as much fun as possible while playing fair. Rules online tend to be less strict and while some situations are different, the same general rule of respecting other players applies.
While you can't physically talk to other players online, most bingo sites include a bingo chatroom which allows you to type messages to anyone else in the room.
This allows you to easily socialise with other players, enjoying the social nature of bingo even when playing by yourself. It's easy to ignore the chatroom and simply focus on the game if you want, but there are still rules that prevent players from being rude or disrespectful in the chat.
Chatrooms will usually feature a chat host, who's there to make the chat more enjoyable as well as enforce the rules to prevent spam or rude messages. Chat hosts will also answer any questions you might have about the game, which is perfect if you're new to bingo and want some advice on the rules.
Bingo Etiquette at PlayOJO
The chatroom rules will depend on which site you're playing at, but at PlayOJO bingo, you can find the following rules which affect how you can use the chatroom as you play:
Be nice

Bingo is a social game and being nice to one another is important to make sure the game is fun for everyone. Our chat rules don't tolerate any form of discrimination, personal attacks or aggressive messages. While playing, you should always keep your messages friendly and polite, while also taking care to respect the chat hosts.

Keep it clean

While bingo sites only accept players over the age of eighteen, there's still no need for profanity and foul language. Keep your messages clean and appropriate for others.

No shouting

All capital letters are annoying to read and is considered shouting while typing online. Just as in bingo halls, don't shout and avoid annoying other players. Hosts may sometimes use all capital letters to send important messages, so they're the only exception to this rule.

Don't argue or offend

People come to play bingo online to relax and have fun. No one wants to start arguments or to get into fights, so there's no need to upset anyone or send any abuse to other players or hosts.

If you're worried about any messages, you feel are aimed at you, you can bring them to the attention of the chat host to have the issue resolved.

Steer clear of sticky subjects

Whether it's religion, sex or politics, these topics are bound to get a reaction and get people talking. However, we're here to play bingo and have fun, not get into an online debate. Leave these topics for social media and focus on enjoying the game.

Be patient

Give people a chance to respond without sending multiple messages at once. If you're worried that another player or a chat host didn't see your message, give them a bit of time as they might be away from the keyboard or simply thinking of a response.

Protect your privacy

You shouldn't reveal your personal details to people in online chatrooms and while PlayOJO is safe, that goes for our bingo chatrooms too. Keep your real name, email address and other details private and stay safe while playing online.

Be yourself

Don't try to impersonate other people online, whether its another player, a chat host or someone else. You're you and you should act like you while talking online.

No spam

Spam is advertising or any type of repeated text. Keep your messages interesting and unique, otherwise you'll be running the experience for other players. Any advertising can be met with a ban, whether it's another bingo site or your personal blog.

Stay positive

You can't win every time you play, and bingo results are determined by a random number generator that chooses numbers through sheer chance. Sometimes you'll win, other times you'll lose. That's just how it is.

Our bingo is as fair and random as it gets but even if you're disappointed by the result, you shouldn't let it get to you. Stay positive in the chat and if you feel like results aren't going your way, you can always log off and take a break.
It's your time to shine
Register today at PlayOJO and get 50 free bingo tickets. Enjoy fun time with your pals in the bingo rooms and be surprised by the bingo numbers. The full house is knocking at the door!