Game Review
Get money back when you play Raging Rhino | PlayOJO

SIX reels? Over 4,000 paylines? And Free Spins? Sounds complicated, but you don't need big game skills to tame our Raging Rhinos slot. Just check out this handy game guide, then play for up to £250000 per spin!
Originally made by Williams Interactive and now distributed by Scientific Games, Raging Rhinos is an Any Way™ slot with a tasty Free Spins feature and a convincing African animal theme.
With 4,096 Ways for just a single fixed bet, you get wins as big as an elephant and rare as a white rhino (not that rare then, just not your everyday animal sighting). So this game is for the patient hunters. The ones who're happy to lie in the long grass and wait for big game. REALLY big game. But before we get to the meaty stuff, let's check out their habitat!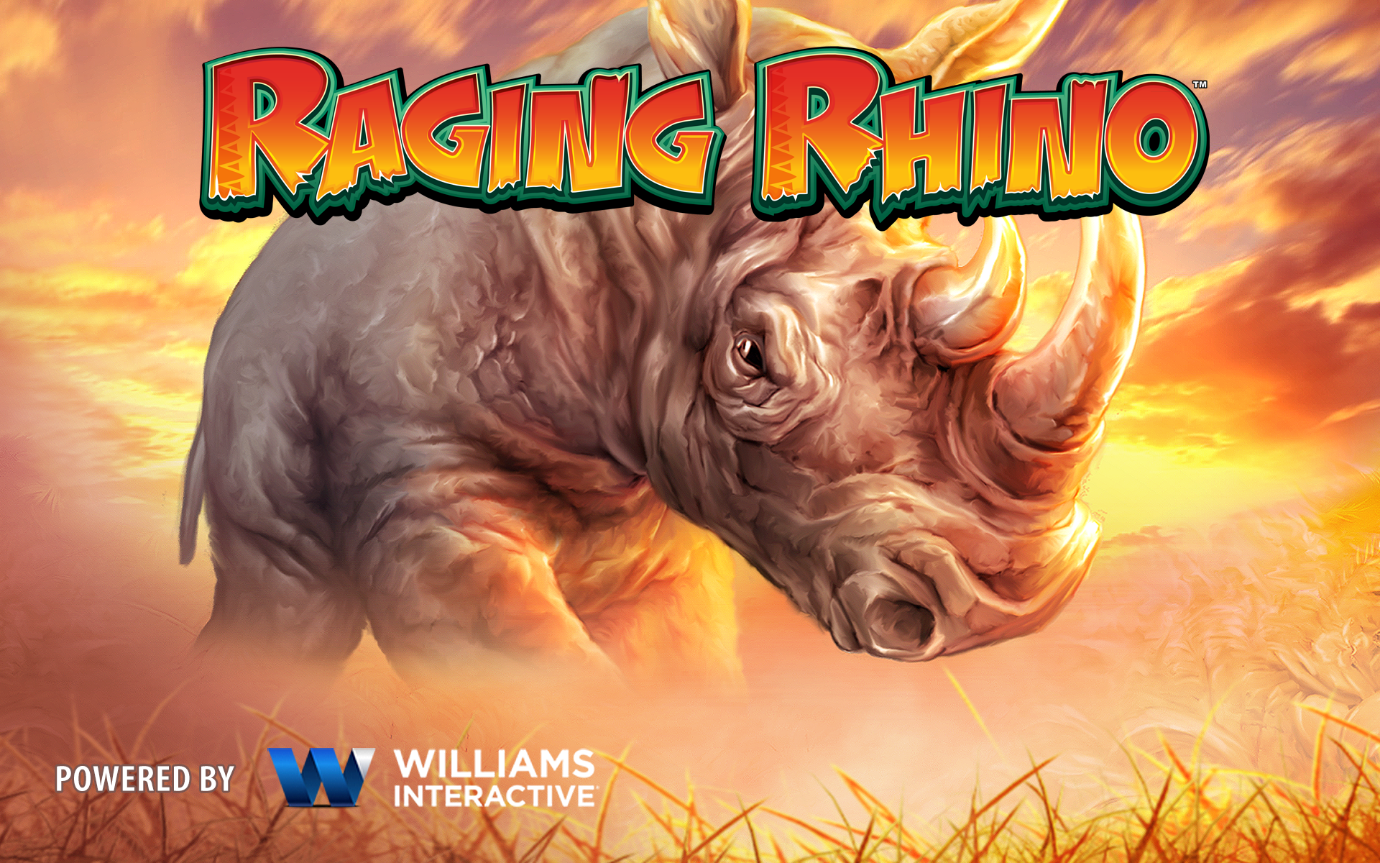 Theme and gameplay
Right from the off, the Raging Rhino slot background tells you it's dawn in the jungle. Could be Africa, could be Asia (don't ask OJO, he slept through geography).
A quick check of the animals involved reveals a mix of continents and habitats (gorillas in mountainous jungle areas, rhinos on the plains, porcupines…. no idea) so we won't get too nitty about the setting!
Let's just say, if this game was scratch and sniff, we'd be getting hot, musty, moist forest, glistening ferns, maybe some fresh dung.
The reels are bathed in a vibrant emerald colour which gives this slot machine a bright, exotic feel. Design freaks will also notice the clever use of light and shadow that really makes the symbols pop!
Symbols start with the usual playing card ranks for lower value wins, Ace down to 9. Then we're into the animals with porcupines, crocodiles, leopards and gorillas.
Love the realistic photos-possibly-drawings used for the animal symbols. Majestic! Occupying top spot is the mighty rhino, the highest value standard symbol that also has the best win animation. It's no coincidence that the rhino is the biggest and brightest of the symbols which also overlaps other reel symbols.
Wins are highlighted in a fun way with symbols leaping out from the reels. Hit 3 or more Rhinos and they'll charge at you too, accompanied by a warning cry of "RHINO!!". Cash in and get out before the stampede!
There are 2 special symbols you should get to know well. The Wild symbol, substituting for all except the Scatter, is an acacia tree at sunrise (or sunset - is there a way to tell?). The Scatter symbol is a giant sparkling diamond – ethically sourced, we hope! - which triggers the Free Spins feature.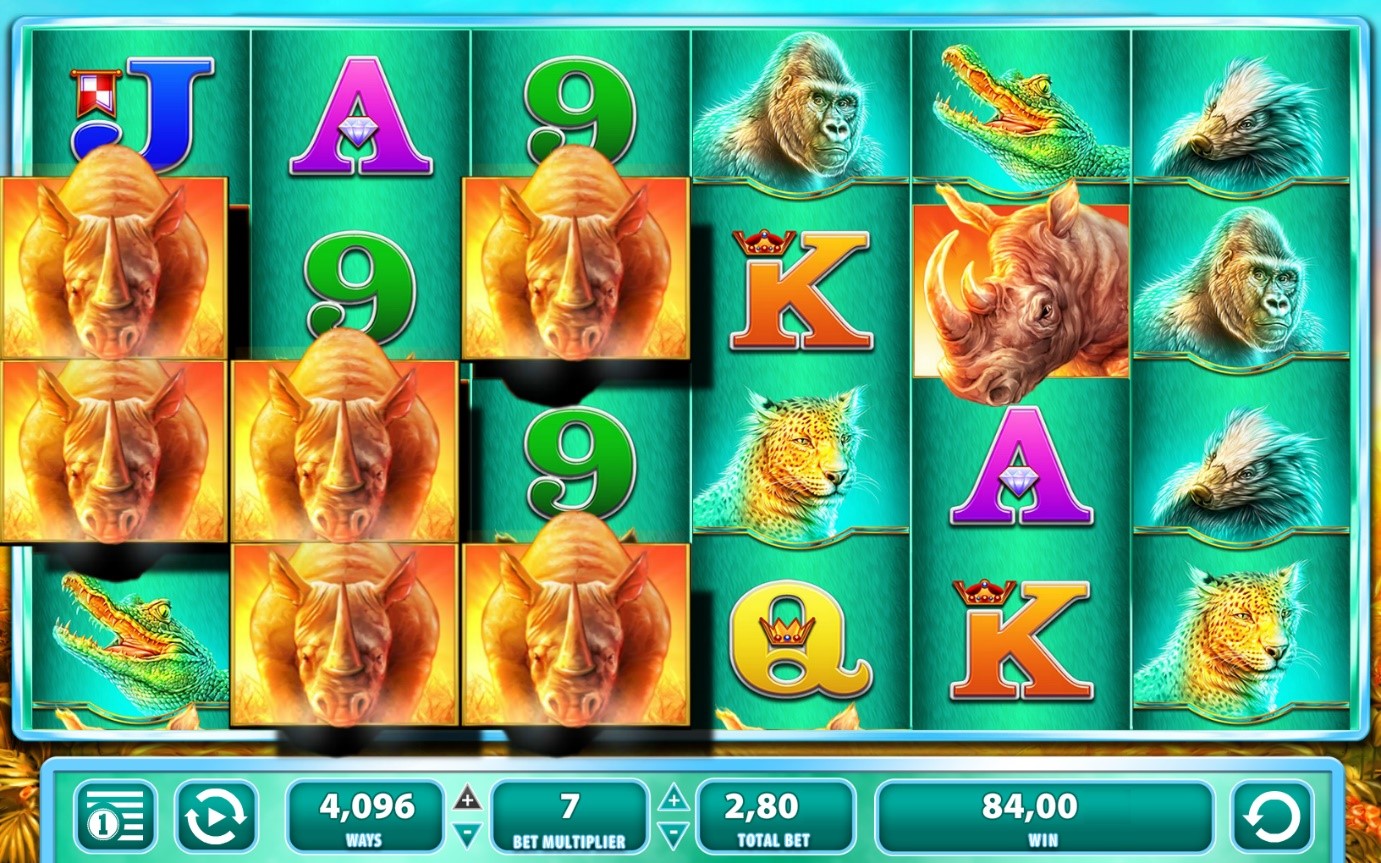 The Raging Rhino slot sounds do their bit to make this game fun and immersive without getting in the way. For a backing track you get a morning chorus of animals, birds and insects that makes us want to buy a machete and book a flight to Borneo. Spin the reels and you'll hear some hypnotic tribal drums too.
Another interesting UX feature is what happens when you spin. The slot name and background disappears as we zoom into the reels themselves. So many symbols (24 of them in view), it obviously needs the whole screen! Not something we've seen before, so it's worth a mention.
Right then. Afro-Asian animal adventure with all the right sounds. But does it have the numbers to back up the Big Game?
The important stuff
As we've said, Raging Rhino is a 6-reel, 4-row slot with 4,096 Ways to win. These are fixed paylines so you cannot choose how many paylines to play. You simply choose your total stake, which starts at 40p and goes up to £60 depending on the 'multiplier' you choose.
How Any Way™ works
In most slots games online, winning combinations can only be made using symbols on adjacent reels which are no more than 1 row above or below each other. With 4,096 Ways, wins can be made using symbols in ANY position – ie. on any row – on adjacent reels.
That alone would be enough to supercharge the number of possible paylines on a standard 5-reel 3-row slot, but here we have 6 reels and 4 rows! That's how we get to over 4,000 win lines and enable massive Raging Rhino slot wins.
Raging Rhino slot payouts
So the big question is always 'how much can we win'? As well as being the key to unlocking the Free Spins feature, Scatter diamond symbols can make winning combinations themselves and they are by far the highest paying symbol.
If we're playing the £60 max bet, for example, we get £450 for 6 Rhinos on 1 payline. But 6 Scatters will net you the maximum Raging Rhino slot jackpot of £60000 That's just for 1 payline and you've got 4,096 of these babies, so imagine what happens if you hit a Wild or two on other paylines! The max win per spin is £250,000, so that's your lot though. No superyacht dreams this time, that's what Mega Moolah free play is for.
PlayOJO's Raging Rhino slot RTP is 95.91%, a typical house edge for any decent video slot these days. Chuck in the 0.6% money back you'll get with each spin with OJOplus and it sounds like a winner!
How does Raging Rhino play?
For slotsplayers who've got the staying power and like wild rides, their casino search for the perfect slot is over! Although you'll see plenty of small wins in the base game, it's the Free Spins feature combined with Rhinos, Wilds and multipliers that can net you some enormous wins.
Let's see how those Free Spins work….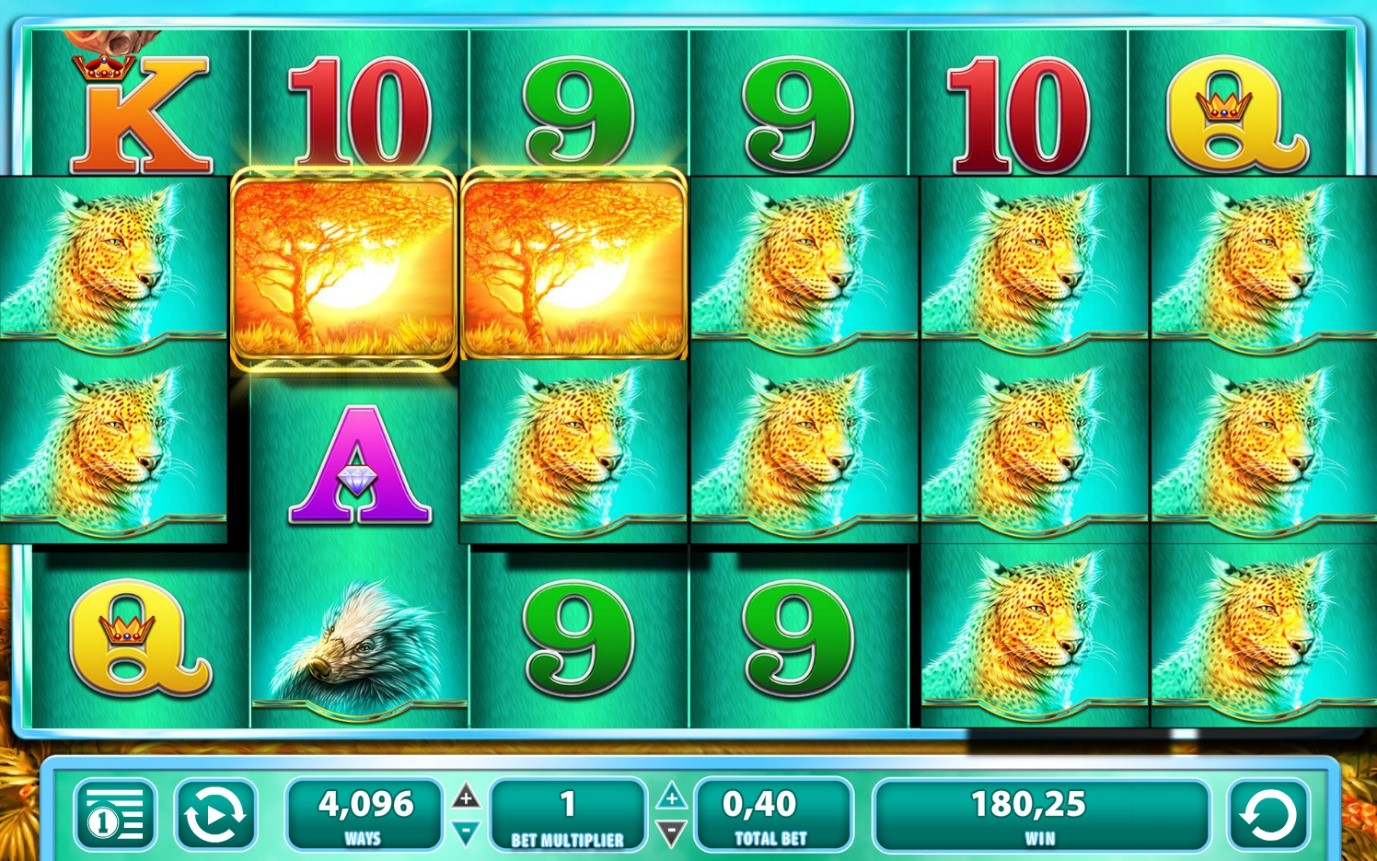 Raging Rhino video slot features
Williams Interactive have focused all their efforts on the Free Spins feature. As a result it packs a serious punch, giving you some epic Raging Rhino slot machine free play.
Wilds: Wild tree symbols can appear on reels 2, 3, 4 and 5 and substitute for all symbols except the Scatter. But it's how they behave during Free Spins that makes them count.
Free Spins: Hit 3 or more Scatters anywhere on the reels and you'll trigger at least 8 Free Spins and be guaranteed a prize. If during your Raging Rhino Free Spins you hit 2 or more Scatters, you'll earn even more Free Spins. Here's a nice little table which sums it up.
| Scatters during base game | Scatters during Free Spins |
| --- | --- |
| 2: Nothing. Zada. Zip. Zilch. | 2 diamonds: 5 extra Free Spins |
| 3 diamonds: 8 Free Spins | 3 diamonds: 8 extra Free Spins |
| 4 diamonds: 15 Free Spins | 4 diamonds: 15 extra Free Spins |
| 5 diamonds: 20 Free Spins | 5 diamonds: 20 extra Free Spins |
| 6 diamonds: 50 Free Spins | 6 diamonds: 50 extra Free Spins |
During Free Spins, any Wilds that appear will convert into 2x or 3x multipliers. That's a short sentence but a BIG deal! If that ain't a big enough carat to play this Raging Rhino slot machine at PlayOJO, we don't know what is!
You are also guaranteed to win at least 10 times your stake during the Raging Rhinos Free Spins feature, but with Wild multipliers and retriggered spins, your total feature win can eat 10x for breakfast!
OJO says…
There aren't many 6-reel slots around, but there should be! Despite the crazy number of paylines, this slot is quick to master and super simple to play. Raging Rhino started out as a popular land-based game but it's now a hit online and plays great even on iOS or Android.
Trigger the Free Spins feature, where all the big money is, and I guarantee it'll give you the horn…. (come one, you didn't think I'd do a Raging Rhino slot review without that pun, did you?).
Good luck amigos!
Like this? Then try….
Danger High Voltage! Another game with 4,096 Ways, this electric 6-reel slot has 2 bonuses, big multipliers and a max win of over £4000000! Search 'voltage' in the Games lobby and check it out.