Game Review
Raging Rhino Slot: A Wild Slot Adventure

Get ready Amigo, it's time to go on an African adventure, and there's no holding us back! Raging Rhino slot is one of the top offerings from developer Light & Wonder, and takes a classic slot game to the OJO online world.
You'll feel like you're actually in the African Savannah, so watch out for rhinos, crocodiles, and gorillas! You never know when they might pop up. The good thing is that if you see them playing Raging Rhino slot from the comfort of Canada, it means that you're hitting big combos and winning!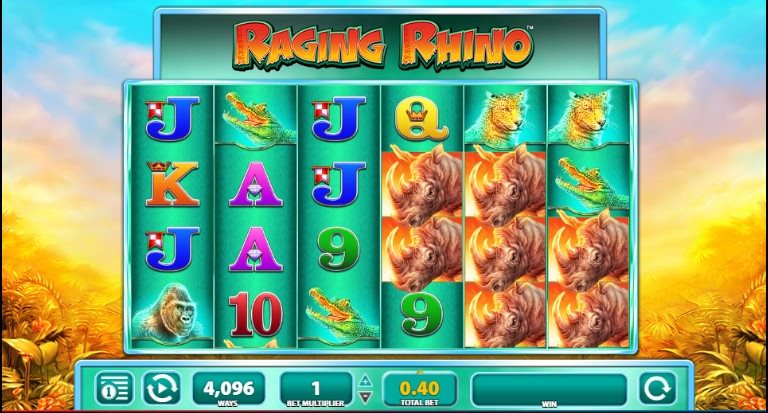 How To Play Raging Rhino Online Slot
Raging Rhino online slot machine offers so many ways to win with six reels and four rows, and it's a win-all-ways slot, which means there are 4096 possible ways to win! So that means the more you play, the more fun you'll have, my friend! You only need two of a symbol to cash in, so you'll be connecting on combos plenty often.
The symbols are the basic card symbols (9, 10, Jack, Queen, King and Ace), but the big symbols are the crocodiles, leopards, gorillas, and obviously the biggest winner, rhinos which may up to 7.5x your stake. The Raging Rhino slot can be played for as little as $0.40 per spin which makes it great for beginners. You can bet up to $60 per spin as well, so the old pros will still be able to have fun in this African Safari adventure! It's a lower limit slot, but not quite a penny slot, and should fit the budget of most slotsplay fans.
The Wild symbol is an African sunrise and this will take up the whole reel anytime you land on it. This is a great way to multiply your winnings and hit multiple combos at once! There is also a Feature symbol which is a diamond, and this will help you get to the Free Bonus Spin round. Any time that you hit three or more diamonds, you will trigger the Free Spin Bonus, and the more you hit, the more spins you'll get!
It may be a simple game, but with so many ways to win, you'll never get bored playing Raging Rhino Slot at PlayOJO. And with 50 Free Spins when you sign up for the OJO Crew, with no wagering requirements you don't want to miss out!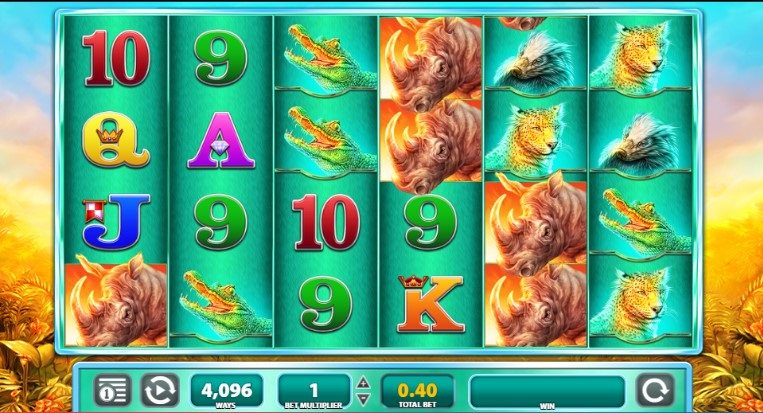 Raging Rhino Graphics And Effects
While the graphics and animations of Raging Rhino slot are not going to blow you away, they still feel like a classic slot and the music will make you daydream of cruising through the African Serengeti, with the wind flowing through your hair. You'll see the crocodiles, rhinos and other African creatures just as you would on a safari adventure, without having to leave your desktop or mobile device in Canada.
The game is more focused on how many ways you can win with win-all-ways payouts, Free Spin Bonus Rounds, and wild symbols that take up the entire reel, helping you win real money in real time!
Raging Rhino Bonus Features
Landing on three or more diamond scatter symbols will get you into the Free Spin Bonus round where you can really have some fun. The feature begins with at least eight free spins, and every two diamonds landed on the same spin add five more spins to the total.
The goal here my friend is to hit the Wild sunrise symbols here. The wild symbols have multipliers of two and three times, and if there are many wild symbols they can multiply each other as long as they are in the same line to form a winning combination (good thing there are over 4,000 winning combinations!). Stacked symbols combined with multiplying wilds create big possibilities.
Plus there is a safety net for you, which means Raging Rhino slot has got your back Amigo! If you end your bonus round without winning at least 10 times your stake, there is the Raging Rhino Bonus Guarantee, which will award you 10 times your stake at a minimum! Isn't that great!? That means that once you get into the Free Spin Bonus round, you are guaranteed to win! Good things happen when you play at OJO!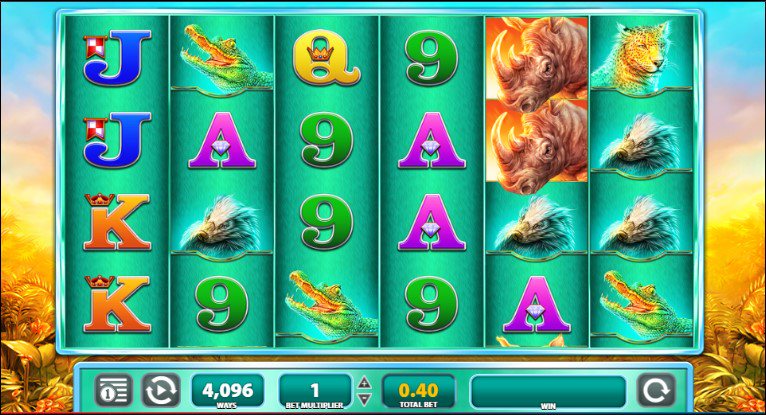 So, What's The Verdict?
With simple to learn rules and symbols, playing Raging Rhino slot from WMS is perfect for beginners, while also keeping old pros interested with thousands of ways to win and a great payout structure. Raging Rhino will help you win real money in real time with an RTP of over 96%.
All you have to do is hit three diamond scatter symbols to head to the Free Spin Bonus round, and with multipliers on top of multipliers, plus the Raging Rhino Bonus Guarantee of 10x your stake, you'll be cashing in! The exotic African graphics and animals will help you escape the grind of the real world, and you can pretend you're on an African Safari vacation of your own, without leaving Canada!
And don't forget you get 50 Free Spins when you sign up and make your first deposit with PlayOJO! Plus, OJO has no wagering requirements and lots of great online casino games like roulette and blackjack. So what are you waiting for, sign on, and play on!