Game Review
Holy Diver slot puts pedal to the heavy metal!

With a slot called Holy Diver you might be expecting an archbishop with an aqualung, or a pastor with a PADI (OK, we'll stop now). But no. No monks. No fish. Not even a monkfish.
Instead, the latest hit release from Big Time Gaming is named after the 1983 album and title track (which you hear during Free Spins rounds) from 80s heavy metal legend Ronnie James Dio. And as you'd expect given the former Sabbath front man's love of all things medieval, it's heavy on the knights, swords and quests.
This slot features two of the most mind-expanding innovations we've seen - Reel Adventure and MegaWays™. With a slick fantasy look and a mosh-inducing soundtrack, it's a gem of slot you'll never forget!
Holy Diver slot graphics & gameplay
This Holy Diver video slot was over 2 years in the making and you can see why. Stunning gothic visuals and mystical music immerse you from the start.
Just like your iPhone, the background comes alive. Game controls are clear, simple and uncluttered. Six reels are framed by a golden mirror set with precious gems. Above the reels sits a MegaWays™ counter, a constant and welcome reminder of the face-melting number of winlines at your disposal.
Underneath, and most eye-catching of all, is the Reel Adventure animation. This is your window into the world of a noble knight on a quest for treasure, a good scrap with the local hoodlums and most importantly, Free Spins galore.
Tiny details like the occasional head scratch or the gentle, constant motion of the shield remind you he's a living, breathing knight awaiting your next move. These are magic little touches, straight out of the video game world, and if this is what you get when you play slots online from now on, OJO is pumped!

The numbers that matter
Play the Holy Diver slot game and you'll be able to wager between 0.10 and 20 units, with a possible max win of 23,306x your stake!
The Holy Diver slot RTP comes in at between 96.39 and 96.54%. There's a range, albeit small, because of the choice you make in the Shield of Fortune feature. By sacrificing Free Spins in early rounds, you progress to later rounds and the prospect of greater riches. Whether you're a play-it-safer or a big-time-hunter, this element of strategy lets you have a say in how the game pays out.
Scatters are replaced here by reel modifiers in the base game giving a max possible 343x multiplier.
No predictable paylines model here either with the MegaWays™ mechanic and bonus rounds giving you up to 586,971 ways to win!
From some huge numbers to a small but important one – 0.40%! That's what you'll earn in free cash every time you play this slot, courtesy of OJO and his OJOplus reward. Check out the left-hand info bar to find out more!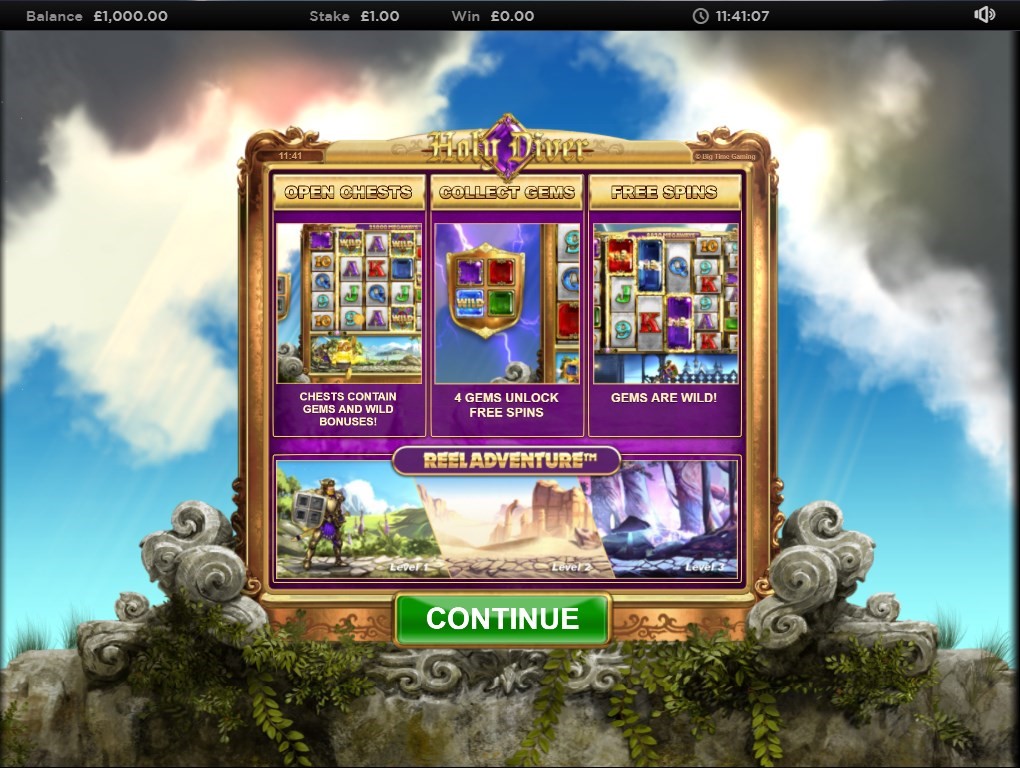 How to play
Welcome to the future of online slots!
Hats off to the maths whizz who came up with this game. The revolutionary MegaWays™ reel format is pure genius and like nothing you've played before. But this isn't the only curveball, with Wild symbols and Free Spins both found within the Reel Adventure mini game which runs in parallel.
MegaWays™
Have we finally reached peak paylines? OJO says no. You can never have enough!
With 6 reels – each able to display between 2 and 7 symbols – Big Time Gaming's MegaWays™ mechanic guarantees between 64 and 117,649 ways to win in the base game, and up to 586,971 ways to win in the bonus game. It also means every game is different, and it's the mind-bending variety it creates that helps make the Holy Diver video slot special.
Reel Adventure
If one game-changing innovation wasn't enough, try the Reel Adventure on for size. While the reels are doing their thing, your knight is off on his quest for treasure. He'll encounter and kick open a chest at least once in every 5 games. Inside there's a reel modifier from the Chest of Fortune feature or a gem for your Shield of Fortune collection.
Chest of Fortune
As you've guessed by now, this is no ordinary slot, so forget the usual way you'd get your gauntlets on some Wilds. Chests can contain 1 of 4 possible reel modifiers, a quartet of Wild rewards which includes the Standard Symbol Bonus, Sword Bonus, Fireball Bonus and Gem Bonus. Each one uses a different, interesting format for awarding Wilds, leading to some potentially huge multipliers. The Gem Symbol Bonus also awards gems which count towards the Shield of Fortune collector.
Shield of Fortune feature
Chests can also contain gems which count towards the Shield of Fortune on the left-hand side. Collect all 4 and you're off to the feature round. But beware! It starts with a classic stick-or-twist choice. Take the 10 Free Spins or sacrifice them for access to Level 2! Choose carefully, as there's no going back.
Go for Level 2 and your Shield resets, and you'll need to collect the 4 gems again to trigger the Free Spins, this time with 2x multipliers. Bite your thumb at those too, and you'll enter Level 3, where after collecting another 4 gems you'll be given Free Spins with 3x multipliers. So with each Level, the number of paylines increases to a massive 586,971!
Triggering the Shield of Fortune is pretty easy in Level 1 as many chests contain gems. In later levels they're few and far between. Some players prefer to stay in Level 1 with its promise of frequent Free Spins. But for the brave, only the holy grail of rare riches in Level 3 will do! Whatever floats your galleon.
Free Spins
Just like every aspect of this slot, the Free Spins are a game within a game. In Level 1, Free Spins are supercharged by any gem symbols on reels 2 to 5 turning into Wilds. In Levels 2 and 3, the Wild symbols have 2x or 3x multipliers!
So what's our knight doing while all this is going on? Doing what all good knights do – fighting bad guys to win shiny diamonds! Four diamonds get you an extra Free Spin, while the 5th retriggers the bonus round. Here's where it gets tasty. With each retrigger, your MegaWays™ to win are increased from 17,000 all the way up to 586,971.
And all this excitement to the soundtrack of the Holy Diver song itself! Hashtag #MetalHorns (which Ronnie apparently invented).
OJO says…
With both MegaWays™ and Reel Adventure, PlayOJO's new Holy Diver video slot is a glimpse of the future of gaming. And it blows his mind!
This one's got it all - the looks, the variety, the tricky decisions, the drama, the jaw-dropping numbers …. and the vocals! It might just be one of Big Time Gaming's best mobile casino games so far.
Play Holy Diver slot online now and see for yourself!

Like this? You'll also like….
Want more massive paylines and mind-blowing innovation? Give Who Wants To Be A Millionaire a go!