Game Review
Golden Goddess slot is divine


Our Golden Goddess slots are the perfect way to end a stressful day, and with a MegaJackpots version to spice things up, they cater for almost any type of slots fan!
We'll show you how to play both Golden Goddess slots in this guide but we'll focus on the original game when it comes to rules and graphics.
A classic land-based casino game that made its way online in 2013, Golden Godess is a medium variance slot from IGT.
The global gaming powerhouse has been developing leading slots for land-based casinos and online for decades, so they not only know how to produce a thrilling, slick slot but they're also as fair and secure as OJO expects from his hand-picked sotware suppliers.
At PlayOJO you can learn how to play both Golden Goddess slots including the MegaJackpots version, and win up to £250,000.
How to play Golden Goddess slot
The aim of the Golden Goddess online slot is the match symbols on an active payline, starting from left to right. Golden Goddess is a 40-line slot so once you select your line bet, it's multiplied by 40 to produce your total bet per spin.
You can bet as little as 1p per line for a minimum bet of 40p per spin, or go right up to £10 per line for a £400 max bet. Efficient clickers will be glad to see an autoplay feature which lets you play up to 200 spins without lifting a finger.
Give the autoplay loss or win limits too so it knows when to stop earlier, if you wish.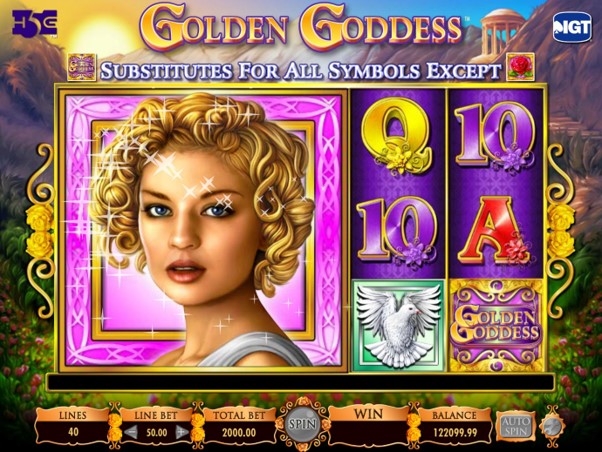 Got no account yet? Sign up in minutes (or seconds if you type quicker than OJO) and we'll have you playing Golden Goddess or any of our award-winning slots online, progressive jackpot games or live casino games in a jiffy!
You won't need to know the right people or have a special handshake to get a tasty UK slots bonus when you deposit either. Simply deposit £10 or more and we'll slip you 50 Free Spins on one of our legendary online slots. No wagering requirements, no maximum win and no BS, just a few fair terms.
Golden Goddess slot rules
Play any Golden Goddess slot online at OJO's place and you'll be hoping to spin your stake into some serious paytable fireworks. Here's how she rolls….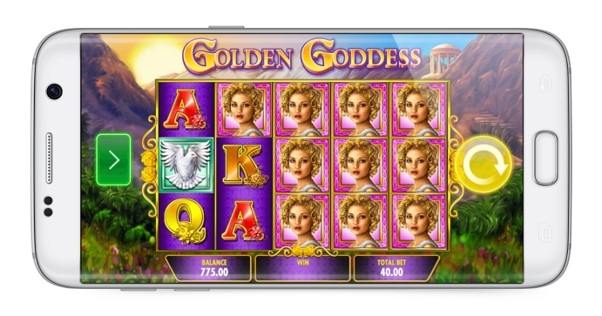 Prizes
As symbols often come super stacked, it's fairly easy to match 3 symbols, hence you get just 1 coin for the lowest value combos.
The paytable is quite top heavy with 50 coins the biggest win available with standard symbols. You get the same for 3 Wilds, 250 coins for 4 Wilds and 1000 coins for 5 Wilds, the game's biggest single prize.
The paytable is quite top heavy with 50 coins the biggest win available with standard symbols. You get the same for 3 Wilds, 250 coins for 4 Wilds and 1000 coins for 5 Wilds, the game's biggest single prize.
Return to Player
As one of the older games in the IGT slots collection, it's no surprise to find a Golden Goddess slot RTP of 93.50%. No great shakes but once you add in your OJOplus cashback on every spin, you're playing with a Golden Goddess RTP that compares well to playing slots at other sites.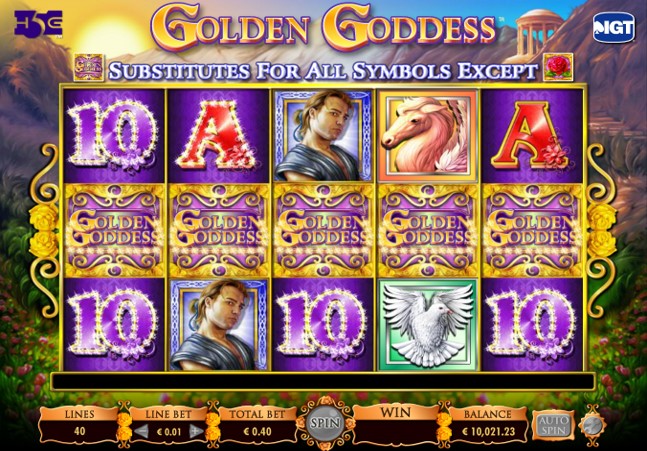 Wild
The Golden Goddess symbol is the Wild and substitutes for all other symbols except the rose scatter.
Super Stacks Feature
Each Golden Goddess slot reel includes large stacks of the same symbol. Before each spin, a symbol is randomly selected to fill each reel's stacks.
Any symbol may appear in any stack, except the bonus scatter symbol which may appear on reels 2, 3, and 4 in the base game only. The same symbol can appear in large stacks on multiple reels on the same spin.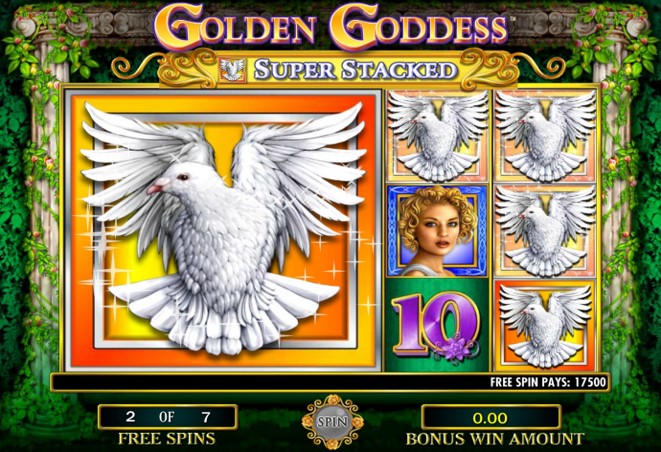 Free Spins Bonus
Spin a nice 3x3 grid of 9 scatter symbols on the centre 3 reels and you'll trigger the bonus picker. Choose a rose to reveal a goddess, warrior, horse, or dove symbol.
That symbol then becomes the Super Stacked symbol on all reels during your 7 Free Spins. There are no scatter symbols on the reels during Free Spins, so you can't retrigger any free spins.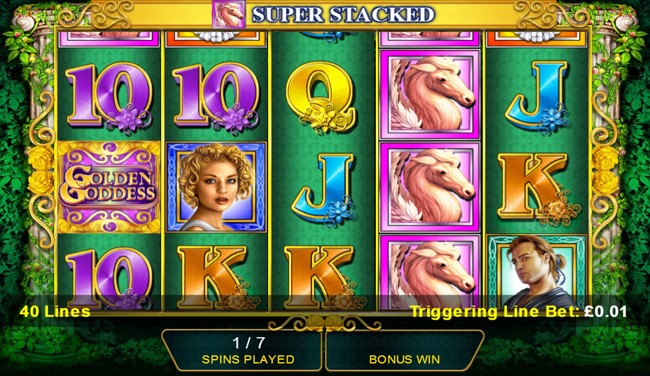 Golden Goddess slot design
IGT's Golden Goddess UK slot is basically like a visit to your local spa circa 400 BC. This game is a fantasy slot which plumbs the depths of Greek mythology, albeit the cheerier end of the spectrum (no one dies, betrays their brother or marries their mum).
The game takes place in a lush, sun-drenched valley surrounded by snow-capped mountains, with a temple visible on a hilltop above the reels. From the logo to the colour scheme and characters, everything about our Golden Goddess slot machine says peace and tranquillity.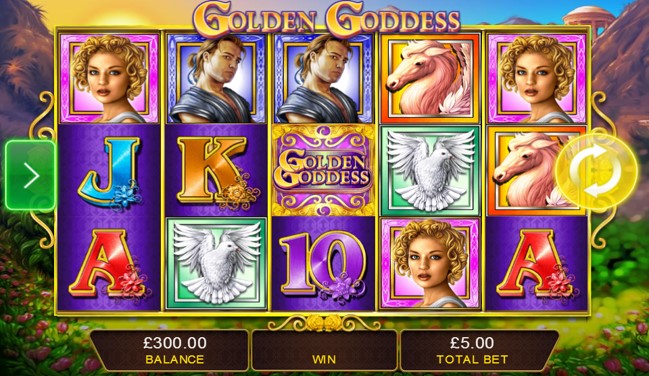 Symbols
The Golden Goddess slot symbols start with ornate, flowery and colourful Ace, King, Queen, Jack and Tens. Nice to squeeze a couple of holy animals in there, with the dove and horse, before we get to the warrior and his heroine, the Golden Goddess herself.
The most valuable symbol, which is also, is the game's logo. A red rose acts as the bonus scatter symbol. Any of the symbols can come to life when they're involved in a winning combination, and we especially like the Golden Goddess wild, glowing and spinning as it does.
Sound
In some ways (use your imagination, amigo), playing Golden Goddess is like taking a bath in coconut milk, while cherubs gently stroke your golden locks (typical Monday night at OJO's house).
The backing track is as divine as the star of this slot, and it's certainly the first time OJO's ever been bathed in the peaceful sounds of harps, tambourines and birdsong while he plays slots online.
When have you come across reels that twang gently when you spin them? Never. Land a win however and you get a more lively, celebratory orchestral burst. Get close to a bonus and things take a more dramatic turn with a more cinematic score. Full marks for effort, IGT!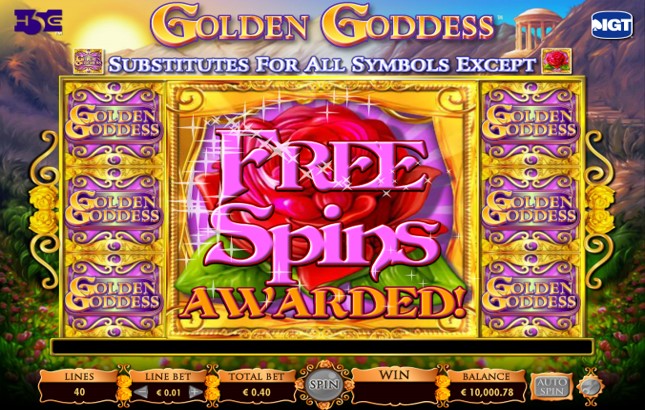 MegaJackpots Golden Goddess slot
Once you've fallen for the original version of our Golden Goddess slot machine, spare a spin for the MegaJackpots version. The jackpot version is basically identical but with the addition of a huge progressive jackpot.
Hit MegaJackpot symbols in every reel position to clinch the massive Golden Goddess progressive jackpot. You also get a behind-the-scenes second chance at the jackpot after each spin, and your odds of hitting the progressive jackpot are higher the bigger your line bet.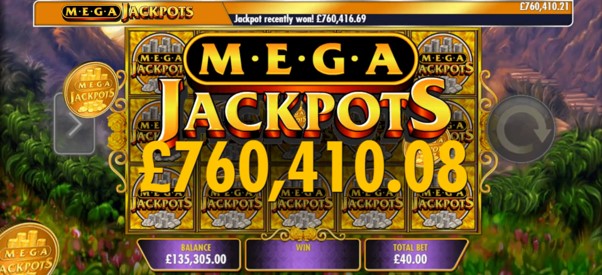 At any time, several of OJO's IGT slots will be linked to the progressive, so it can get very big, very quick and it will always be at least £500,000. When we penned this little ode to the Golden Goddess, the jackpot was over £693,000!
The MegaJackpots Golden Goddess RTP is a little lower than its non-jackpot cousin, starting at 91.01% when the jackpot has been reset. The RTP does however increase as the jackpot increases (for example, it'll be 93.02% if the jackpot hits £1m).
There are a few other differences when it comes to how to win Golden Goddess slot prizes - the MegaJackpots symbol is also wild, and there's a higher max line bet of £30 for the MegaJackpots version, but in all, the games are the same.
OJO says…
It's late, you've had a stressful day and you want a bit of light entertainment with a calming vibe. Golden Goddess is your go-to slot.
Happy and colourful with a classic Free Spins bonus feature and a life-changing progressive jackpot prize, OJO's Golden Goddess slots are the happy side of the Greek mythology coin, and you just might be thanking ye gods that you gave one of them a spin!
Like this? Then try….
Cleopatra slots! Another it from the IGT stable, Cleopatra is a legendary 20-line slot with a MegaJackpots version too. Whatever god you pray to next time you play, Greek or Egyptian, may they shower you with gold, amigo!