Game Review
117,649 Reasons to play our Bonanza slot

Our Bonanza slot is one of many that use the Megways™ mechanic here at OJO. But with an iconic design and some perfectly chosen features, this Bonanza game has become one of the top UK slots ever!
Released by Australian software developer Big Time Gaming in 2016, Bonanza slot has up to 117,649 Ways to win plus a killer combination of reactions, Free Spins and multipliers.
In this Bonanza slot review we'll leave no stone unturned in our quest to find the secret behind one of the best casino games.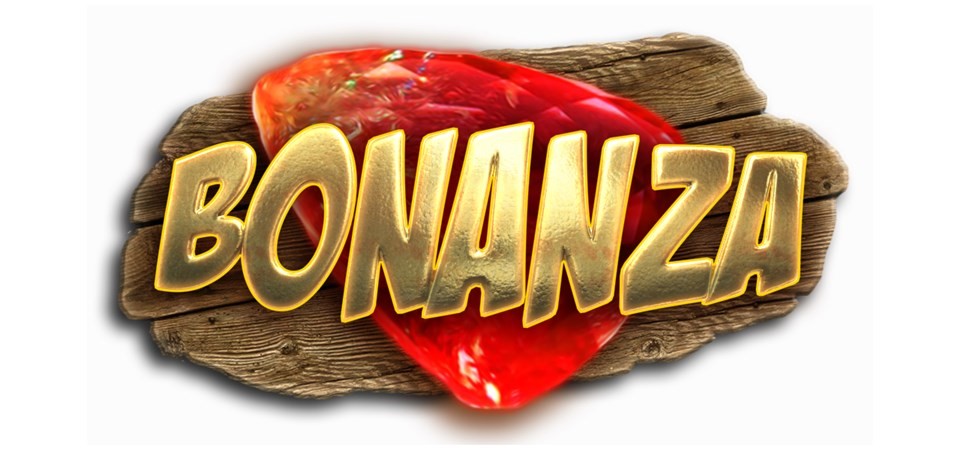 Bonanza slot machine design
A fitting name for a mining slot with valuable treasure up for grabs, the word Bonanza comes from Spanish and Latin words meaning success, prosperity or a rich lode, a term often used in mining when you hit the good stuff.
With its slick graphics, fun little animations and an incredible package of features, the Bonanza slot is one of the jewels in Big Time Gaming's crown. Let's drill down and see why!
Faultless theme
We can't think of another UK online slot that doesn't feature any characters at all. That's a bold move from Big Time Gaming, though they must have known they were onto something as Bonanza has become one of the most successful online slots of all time.
The premise of this Bonanza video slot is mining for precious stones and gold, but if you thought you'd get coughing canaries and Welshmen with black lung, thing again.
The game is set on a green mountain outside a mine. They've gone for an animated rather than realistic style, so it feels like this mine is the home of hobbits or the workplace of dwarves.
From the green hillside dotted with coloured flowers to the contrast of primary colours against grey on the reels, this Bonanza Megaways game has a bright, breezy, happy feel in normal mode. In Free Spins mode, the scene turns darkly red, giving the game a fiery-depths-of-mount-doom vibe.
The distinctive Megaways reels are grey, granite slabs, topped by the extra reel row where symbols are trolleyed in on mining carts. Venture higher still when you play Bonanza slot and you'll see the Megaways counter, which displays the number of paylines created by the current spin. We'll explain how Megaways works a bit later on.
Surrounding the reels, we've got nice graphic details like a miner's hut, the game logo and a water wheel whose water tumbles down behind the gameplay buttons. Like all Big Time Gaming games, these are big, simple and easy to use, whether you're playing on desktop or the Bonanza mobile slot.
The game isn't the most advanced in terms of design or gameplay but small animations bring the game to life; Burning dynamite fuses, the wonderfully hypnotic water wheel, rolling carts, exploding symbol reactions, cascading blocks, the fiery arrival of Scatters and even the gold coins that appear after a decent win.
Reel symbols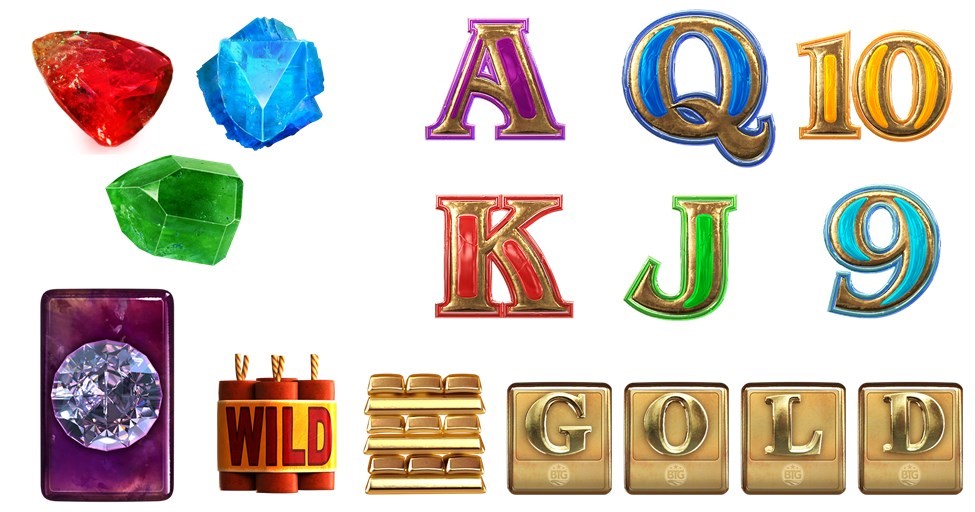 Aces, Kings, Queens, Jacks, 10s & 9s: The lowest value Bonanza game symbols are crafted from gold and painted with slivers of their own unique colours. Nice font, with the Q being our favourite!
Green, blue and red gems: Unlike the purple diamond gem, these higher value stones are more rustic and come in a variety of shapes.
Purple gem: The highest value symbol looks like a brilliant round diamond with a purple hue, and unlike all other symbols, it's set into a classy purple block rather than a grey rock.
Wild: A bundle of dynamite sticks whose fuses have been lit, Wilds only appear in carts on the top row.
Scatter: Bonanza slot uses gold bars as the Scatters which trigger the Free Spins game. The first 4 you'll see have the letters G-O-L-D, while others use +5 to award an extra 5 Free Spins. Clean, shiny and factory-polished with the Big Time Gaming logo etched into the bigger versions, these symbols hardly look like they've just come out of the ground, but we don't mine-d! In the Free Spins game, Scatters appear only in the carts up top, and take the form of 3 stacks of gold bars instead.
The important stuff
Bonanza is a 6-reel video slot machine with between 2 and 7 rows on each reel, plus an extra row of symbols above the game just for good measure! All that reely funky Megaways stuff is how the game offers you up to 117,649 Ways to win.
You can bet between 20p and £20 per spin when you play Bonanza at OJO's place. Although the highest paying symbol, the purple gem, is worth just 50 coins, the combination of wins from reactions and multipliers in the Free Spins game is how we turn a modest stake into the £20,000 maximum win. Ker-ching!
The Bonanza slot RTP is 96%, more than fair, but not fair enough for us. That's why OJO gives you money back on every spin through OJOplus. That real-time cash boost, which can be spent immediately – no strings! – is how we ensure the Bonanza RTP is effectively higher here than anywhere else.
When you play our Bonanza slot, you're not just getting good value, it's safe, secure and fair too. Big Time Gaming are licenced by a number of top regulators including the UK Gambling Commission, which means this Bonanza video slot and their other games are all independently certified to ensure the highest standards of fairness and integrity.

How to play Bonanza slot
Unlike our other Megaways slots like Raging Rhino, White Rabbit and Extra Chilli, this Bonanza game goes big on winlines by using an extra row of symbols, brought round by mining carts on a track - located above the reels. Also seen with slots like Who Wants To Be A Millionaire and Medusa, this extra row simply adds another symbol to reels 2, 3, 4 and 5.
Unlike other slots with a fixed or variable number of paylines, to play Bonanza you simply choose the total bet per spin and the game does the rest. The number of winlines varies with every spin from the high 100s to over 100,000, and any winning combinations are then multiplied by your total stake.
For example, the nice wooden paytable tells us 6 Aces will net you 1.75 coins. If your total stake per spin is set to £0.20, those Aces will be worth 35p. Might not sound much for 6 Aces, but with thousands of ways to win, combinations are much easier to hit, and each spin can often contain multiple winning combos. The base game isn't where you unearth the richest prizes however, and you should be looking to the Free Spins feature to strike gold.
Once you've played the Bonanza online slot for a few minutes, you'll quickly pick up the various mechanics and features. But if you still need a few spins to get comfortable, choose OJO's demo version to play Bonanza for free.
Now let's dig into the Bonanza slot features, where the real fun begins…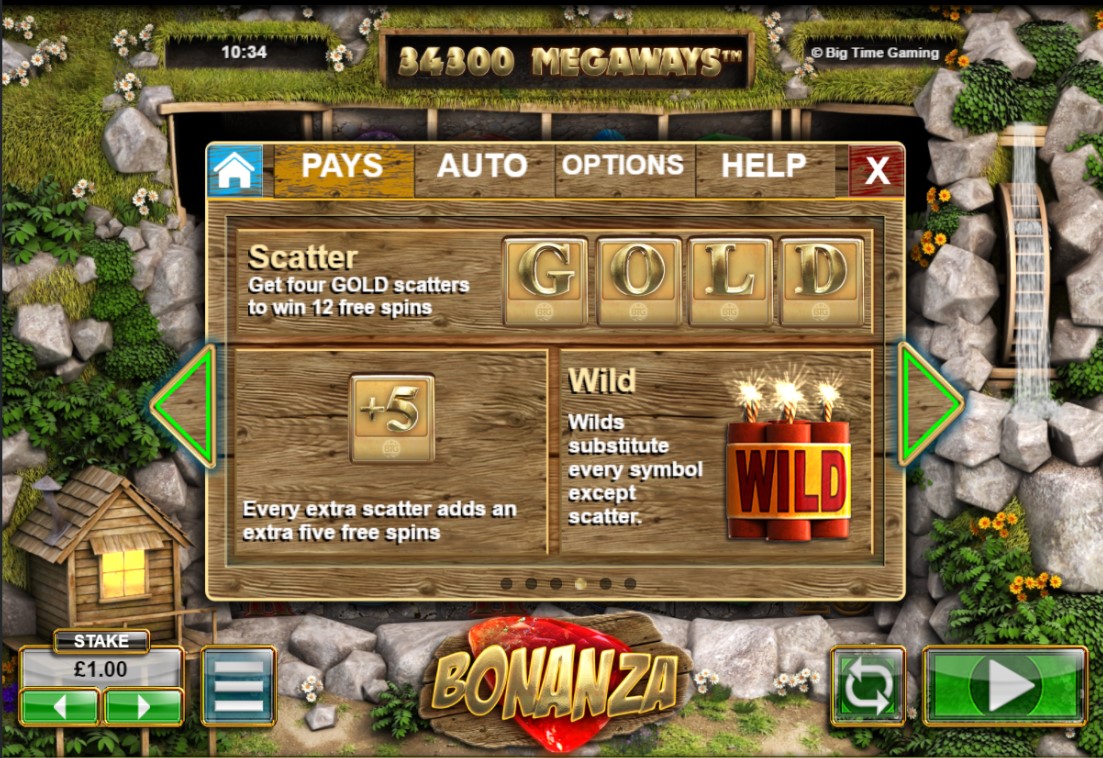 Megaways slots feature
Megaways was invented by Big Time Gaming but is now used in a wide range of slots from other developers, thanks to partnerships and licencing agreements. Instead of reels containing a fixed number of positions, say 3 or 4 rows, Megaways reels have a random number of rows between 2 and 7, which changes every spin. The more rows per reel, the more combinations of paylines are possible. That's how PlayOJO Megaways slots can create up to 117,649 Ways to win!
Wins are awarded slightly differently too, by landing matching symbols on adjacent reels. This means they can appear anywhere on the reel, rather than having to be connected to each other as you'll find in most standard 20-payline slots.
Reactions
Every winning combination result in a reaction where the symbols explode, allowing those above them to drop down and create more possible wins. This can often lead to a chain of consecutive wins on the same spin. If any symbols on the cart row are involved in reactions, more carts are wheeled round to replace them.
Wilds
As usual, Wilds replace all symbols except the Scatter, although Wilds will only ever appear in the carts in the top row.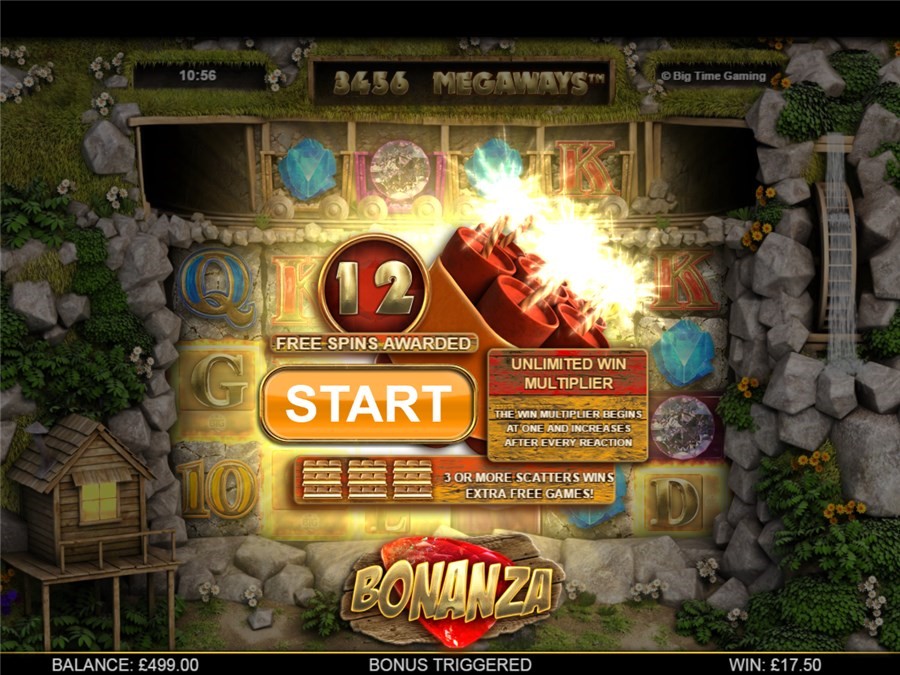 Free Spins
Despite having a gazillion winlines in the base game, the Bonanza Free Spins game is the real key to big wins. Land 4 Scatter symbols during a regular base game spin and you'll trigger 12 Free Spins. You might well hit a 5th Scatter too, which will award an extra 5 Free Spins, taking your total to 17.
During the Bonanza Free Spins, every winning combination increases the Multiplier by 1. As each win also creates a reaction that can result in another win, your Multiplier counter can actually rise several notches on the same Free Spins. There's no limit to the Multiplier either and on one of the games we played when prepping for this piece, we reached 16x within 10 spins!
And that ain't all! The carts can also ferry in some special Free Spins Scatters. Hit 4 of them and you'll earn 5 more Free Spins, while 5 Scatters will award 10 more Free Spins.
OJO says…
Danger down below! With Bonanza's unique theme, a worthy Free Spins feature and the odd payline or 2, our favourite Aussie game studio has smacked this one right out of the park.
Go play, chief!

Like this? Then try...
Get into your Megaways with a few spins on another Big Time Gaming classic, Extra Chilli. Or if you can handle more than 1 slots innovation at once, give Holy Diver a spin!