Game Review
Play Live 3 Card Poker Online

You don't need to be a poker pro to play Live Three Card Poker online – just OJO-up and see!
Dazzling Live Dealers are waiting for you right now at the most exciting 3 card poker tables online, beamed straight from the award-winning Evolution Gaming studios. Play for Straight, Flushes and cash wins of up to 1,000 times your bet.
Live 3 card poker: Features review
If you want online 3 card poker with Live Dealers and the highest quality streams, you won't find a better table than Evolution Gaming's Three Card Poker live casino game.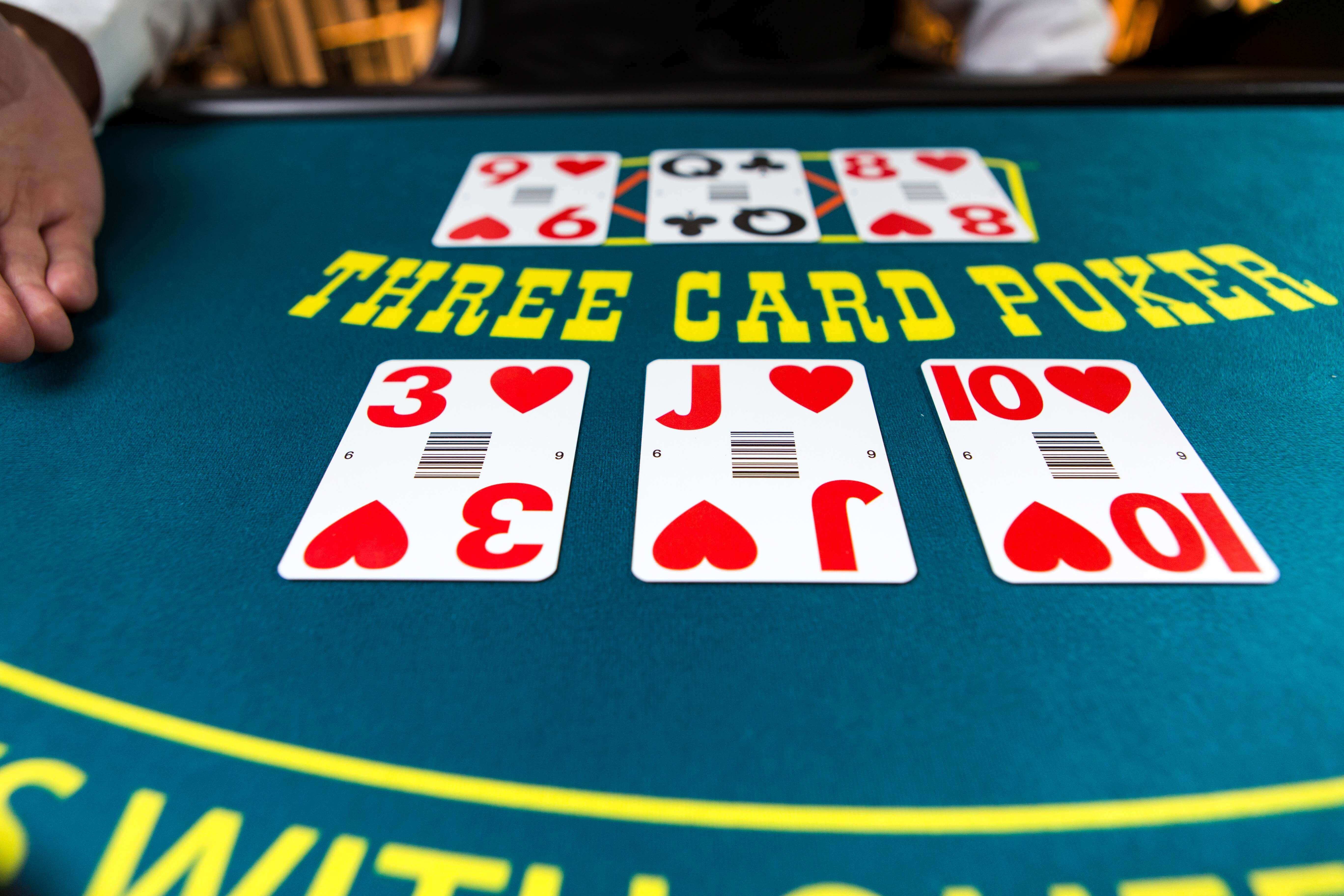 From the people who brought us the fastest Live Blackjack around, this live poker game involves Ante and Play bets that pay 1 to 1 odds. If you hit a straight, Three of a Kind of Straight Flush, you'll have more chips coming your way.
You're playing for up to 5 to 1 odds in the main game, but if you prefer 1,000 to 1 long shots, look out for 3 card poker's 6 Card Bonus online side bet.
How to play 3 card poker
To get started, simply create your PlayOJO account and deposit £10 or more, then search for 'poker' and select our Three Card Poker game.
Three Card Poker is basically 3-card stud played with a single deck of cards. You'll need to understand the ranking of poker hands to play, so if you need a refresher, head to the in-game rules.

To play the game, first make an Ante bet, and you will be dealt your 3-card hand. You must then decide whether to continue – by making an additional Play bet – or fold and lose your Ante bet. If you decide to Play on, the dealer will reveal his 3-card poker hand and settle up.
How to win
You will win your Ante bet and your Play bet if your hand is better than the dealer, AND the dealer makes at least Queen-high (also known as 'qualifying'). If the dealer does not qualify, you still win the Ante bet but your Play bet is returned.
In the example above, the dealer has qualified with a Queen, and we beat her with a King. Our Ante and Play bets are both winners, but our King-high is not strong enough for an additional Ante Bonus payout.
Three Card Poker payouts
The Ante bet and Play bets are always paid out at 'even money' or 1:1 odds, but the payouts for the Ante Bonus are where Three Card Poker gets interesting. Here's a typical payout table from Evolution Gaming. If you make a straight like 6-7-8, you'll win an extra 5 times your stake, whether the dealer qualifiers or not.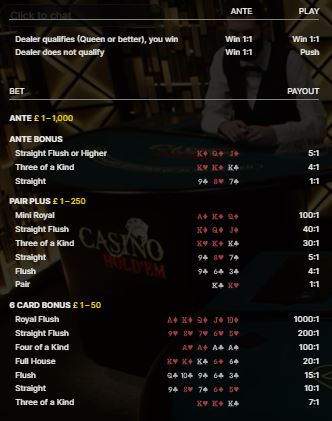 Three Card Poker strategy
There's a small amount of strategy in Three Card Poker because you have to decide when to Play and when to fold. Here are 2 simple rules that keep the house edge as low as possible:
Only make your Play bet with Q-6-4 or better
Fold all worse hands. Even though you could still win, the odds are against you
Why play 3 card poker with OJO?
Years after launching the first truly Fair Casino, we're still the fairest place to play live casino games. And here's why:
✓ We don't do wagering requirements – they're sneaky!
✓ Anything you win from a bonus is paid in cash, no limits
✓ Money back on every bet with no strings attached
✓ No minimum withdrawal
✓ No-nonsense regular Kickers and Rewards
✓ Tools, tips & advice to help you play safe
Most asked questions
What is a flush in 3 card poker?
A flush is a relatively strong hand that features in the hand rankings for virtually all forms of poker. You make a flush when all of your cards are from the same suit. So in Three Card Poker, for example, you would have a flush if you were dealt Ah-9h-2h. To win the Ante Bonus, you'll need a straight flush, which is 3 consecutive cards of the same suit, for example 2h-3h-4h. However you can win a cash prize on Three Card Poker side bets with any type of flush.
What is a straight in 3 card poker?
In poker, a straight is a hand where cards are in consecutive order, for example 9-T-J. It's sometimes called a 'run', because the cards run in number order. Straights are often referred to by their highest card. So in Three Card Poker, a 5-high straight would be 5-4-3. A straight in Three Card Poker is worth an extra 1-to-1 payout from the Ante Bonus, and also one of the smaller payouts in the side bets. If all of your cards in your straight use the same suit, your hand becomes a straight flush, the most valuable hand in poker.