Bingo Rooms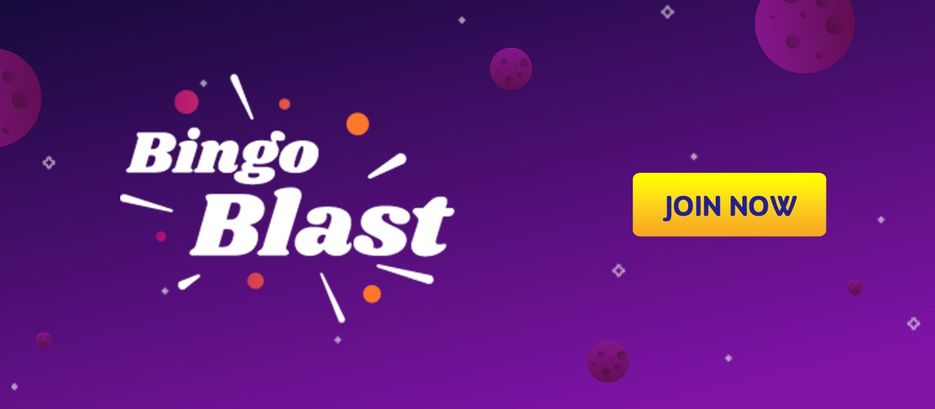 5..4..3..2..1..Blast Off! Players can experience the fastest possible 90 ball bingo games in our Bingo Blast room. Here at PlayOJO bingo, we have loads of different rooms for players to enjoy, each with unique features, prizes and rules. In our Bingo Blast room, you can enjoy some lightning-fast games of bingo, perfect if you want to fit a few games into your busy schedule.
In our full Bingo Blast review below you will find out more about how to play, what to expect, prizes and more. Here at PlayOJO, we always make sure our players have everything they need to enjoy themselves and win, which is why we've created these detailed bingo guides. If you have any questions about the Bingo Blast room or any of our other rooms, don't hesitate to get in touch using our live chat, we're always here to help!
What to Expect
The Bingo Blast room is up to four times faster than a standard 90 ball bingo game, allowing you to get more games in without having to wait around for long. While it's a 90 ball bingo room, we've made some adjustments to make sure that games fly by quickly, perfect if you only have a few minutes to play. Check out all the details for what you can expect when you play in the Bingo Blast room:
Bingo Type: 90 ball bingo
Opening Hours: 8am until midnight
Min ticket: £0.02
Max ticket: £0.20
Jackpot: No
Developer: Pragmatic Play
OJOplus Payout: 1.5%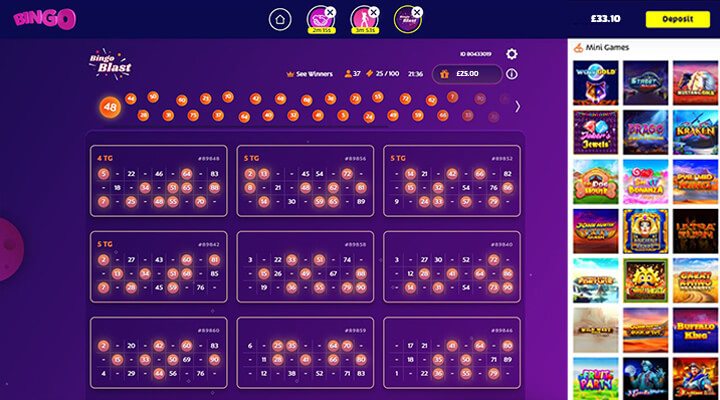 How to Play
Our Bingo Blast room is open every day between 8am and midnight. That gives you plenty of time to log into your account and play during the day or night. Games run every minute, so there are hundreds of games to join each day, plenty of chances for you to buy your tickets and hopefully end up a winner! Read on for our guide on how to play bingo in the Bingo Blast room.
The room is a 90 ball bingo room, and although there are some differences between a traditional 90 ball bingo room, the rules are still very easy to understand. Don't worry if you've never played online bingo before, as we're going to explain all these rules in detail below.
To play, you'll first need to log into your account and join the Bingo Blast room. Once you've joined the room, you can choose how many tickets you want to buy. Move the slider or choose one of the pre-sets to purchase a set amount of tickets. You can choose which specific tickets you want to buy or let the software pick them at random, it's all up to you.
You'll need at least one ticket in order to play but make sure you check the ticket prices before you buy. The Bingo Blast room tickets always cost between £0.02 and £0.20 each. Buying more tickets will increase your chances of winning but remember that you'll also be spending more. The great thing about online bingo is, it's possible to win with a single ticket!
Once you've bought your tickets, you can wait for the timer to count down and the next game to begin. You won't have to wait long as Bingo Blast games whizz by faster than any normal game of 90 ball bingo. Once the timer reaches zero, your game will begin, and the numbers will start to be called out.
Just as with any other 90 ball bingo game, there are 90 numbered balls which are chosen at random. The numbers are called out and the game continues until the prizes are won. As the numbers are called out, you can daub off the matching numbers on your tickets.
Don't worry if it's going too fast for you though, you can also choose the auto-daub option for the game to automatically daub off any matching numbers on any of your tickets. Even if you miss some, the game will automatically know if you have a winning ticket, so you don't need to worry about missing out on a prize if you weren't following the game closely.
As you daub off numbers on your tickets, you'll get closer to achieving one of the three winning bingo patterns. There's 1 line, 2 lines and the full house. Each of these will earn you a portion of the pot with the full house awarding the biggest prize as well as ending the game.
If multiple players win the same time, the prize will be shared evenly between them. The exact amount won will depend on the number of tickets sold, and the Bingo Blast room has more than £70k to be won every month. You can check how much is up for grabs on the ticket buying screen.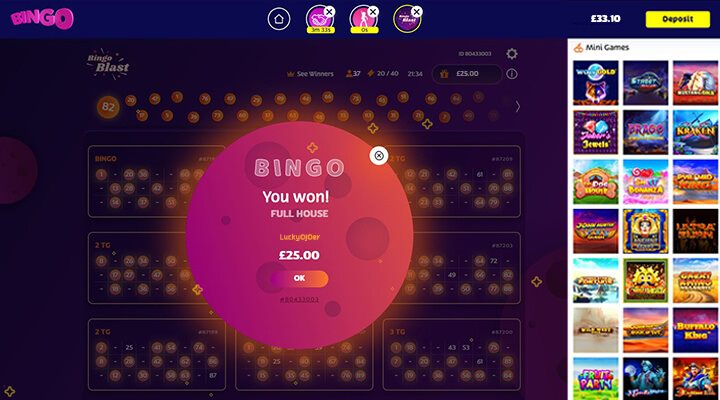 Why Do Players Love Our Bingo Blast Room?
We have loads of fantastic 90 ball bingo rooms here at PlayOJO, yet the Bingo Blast room is still one of the most popular rooms on our site. Just what is it about the room that's so popular? As it turns out, there are lots of different reasons why OJOers enjoy our Bingo Blast room so much:
Super speedy – The main feature of our Bingo Blast room is that games are over in the blink of an eye. On average, the games in this room are three to four times quicker than typical 90 ball bingo games. This means you have more time for more games, or you can squeeze in some games on your mobile during the day while you take a short break from work.
Open every day – You can join in the fast-paced fun of the Bingo Blast room any day of the week. The room is open every day between 8 am and midnight, giving you plenty of time to log in, play a few quick games and log back out.
Get money back on every ticket – At PlayOJO, we like to reward our loyal players, which is why we offer 1.5% back on each ticket you buy. You can use your OJOPlus cash to buy more bingo tickets, letting you play for longer while spending less.
Lots of prizes – There are loads of great prizes on offer in our Bingo Blast room where more than £70k is won every single month!
Simple rules – This room uses the typical 90 ball rules, so the standard 90 ball ticket is used, and there's nothing complicated to learn in order to play. If you've played online bingo before in the UK, you're probably already familiar with these rules, so you'll be ready to start playing straight away.
Top quality, trusted software – Our Bingo Blast room, as with our other rooms, is provided by Pragmatic Play. Considered one of the best online gaming developers licenced in the UK, Pragmatic Play has produced hundreds of excellent slots over the years and now creates these fantastic bingo games for us to enjoy.
Prepare for Blast Off!
Now you've read through all the rules and details of our Bingo Blast room, you can buy your tickets and get playing! Don't forget you can always ask our chat hosts and your follow OJOers any questions in our bingo chat rooms if you're unsure of how to play. If you loved this room, why not try out some of our other bingo rooms which also offer great prizes, loyalty rewards and lots of ways to play.