Bingo Rooms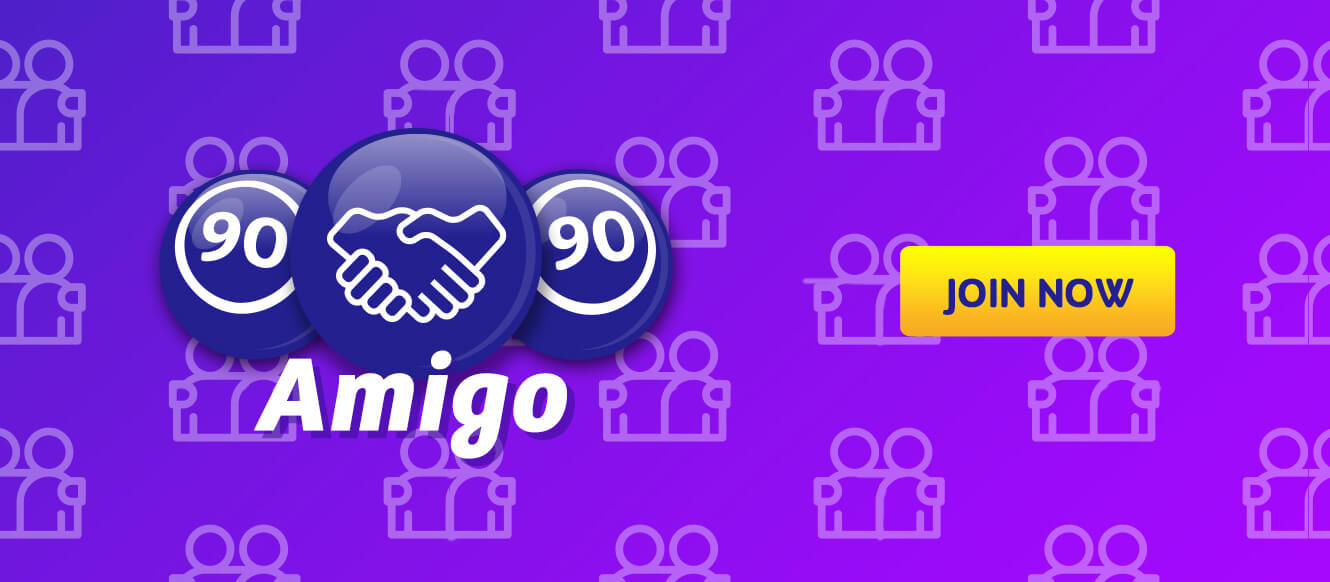 Hola Amigo! Here at PlayOJO, we have loads of great bingo rooms for you to check out. Here in the Amigo room, you can enjoy some classic 90 ball bingo with over £11,000 in daily guaranteed prizes. Find out why so many players love the Amigo bingo room at PlayOJO and grab your tickets today to take part in the fun.
If you want to know more about the Amigo room, including what to expect, how to play bingo and more, read on for our full guide . At PlayOJO, we're all about making sure our players feel comfortable and that they have everything they need. If you have any other questions about the Amigo room, get in touch using the live chat feature.
What to Expect
The Amigo room is a 90 ball bingo room is the main room here at PlayOJO. Famed for its big jackpots, this room is great for anyone that enjoys classic bingo with big potential prizes. Check out the details for what to expect when you play in the Amigo room:
Bingo Type: 90 ball bingo
Opening Hours: 24 hours a day
Min ticket: £0.01
Max ticket: £0.25
Jackpot: Yes – £10,000 per day and £300,000 monthly
Developer: Pragmatic Play
OJOplus payout: 1.5%
How to Play
The Amigo room is open 24 hours a day, meaning you can sign in to your account and start playing whenever you feel like it. With games running every 5 minutes and 240 games per day, there's loads of time to relax and enjoy some classic bingo. Whether it's an early morning game or later at night, your Amigo is always here for you! This is a 90 ball variant, which if you've never played before don't worry, the rules are nice and simple to understand.
To play, you'll first need to log into your account and join the room. Once you're in, you can purchase between one and 125 tickets. Choose from a range of different options, spending between £0.01 to £0.25 per ticket. Buy a single ticket or a strip of multiple tickets to boost your chances of winning!
Once you've bought your tickets, you'll wait as the numbers are called out. This game type includes numbers 1 to 90 and games usually take ten minutes or so to complete. Feel free to use the Amigo chatroom and chat to other players as you watch the numbers get called out.
You can daub off numbers as you play or let the computer do it for you automatically. If you're lucky enough to make 1 line, 2 lines or a full house, you'll win the pot! Prizes depend on how many players are in the room and how many tickets have been sold.
Jackpot Details
Amigo is one of our most popular bingo rooms thanks to the guaranteed prize pots plus the progressive jackpot on offer. Every single day, prize pots of more than £11,000 are won by lucky players in the Amigo room. Progressive jackpots are big prizes that increase over time as more people play, and while they're harder to win, the rewards are even bigger than a regular bingo win.
Think about everything you'd do if you won that amount of money and then prepare to play! Once you enter the Amigo room, you'll be able to buy your tickets and start playing. The prize pots are available for 1 line, 2 line and full house wins.
If you want to learn more details about the available progressive jackpot, you can click on the "i" symbol in the game lobby. This will tell you the prizes and the breakdown of the prizes. You'll also be able to see how to win the jackpot. In the Amigo room, winning the bingo jackpot is as simple as reaching a full house within a certain number of balls. You can see the exact number of balls called you'll need to achieve a full house within explained in the details.
As an example of how to win the progressive jackpot, you might need to reach a full house within 38 balls to win the main jackpot prize. That means that you'll win the jackpot if you manage to cross off all the numbers on your ticket within 38 balls.
If you want, you can choose to pre-buy tickets for the Amigo room. You can choose the pre-buy option to make sure you have tickets for upcoming games, that way you won't miss out! You can check your play history any time you like to see if you've won while you're offline, you'll then be able to claim your prize without any hassle.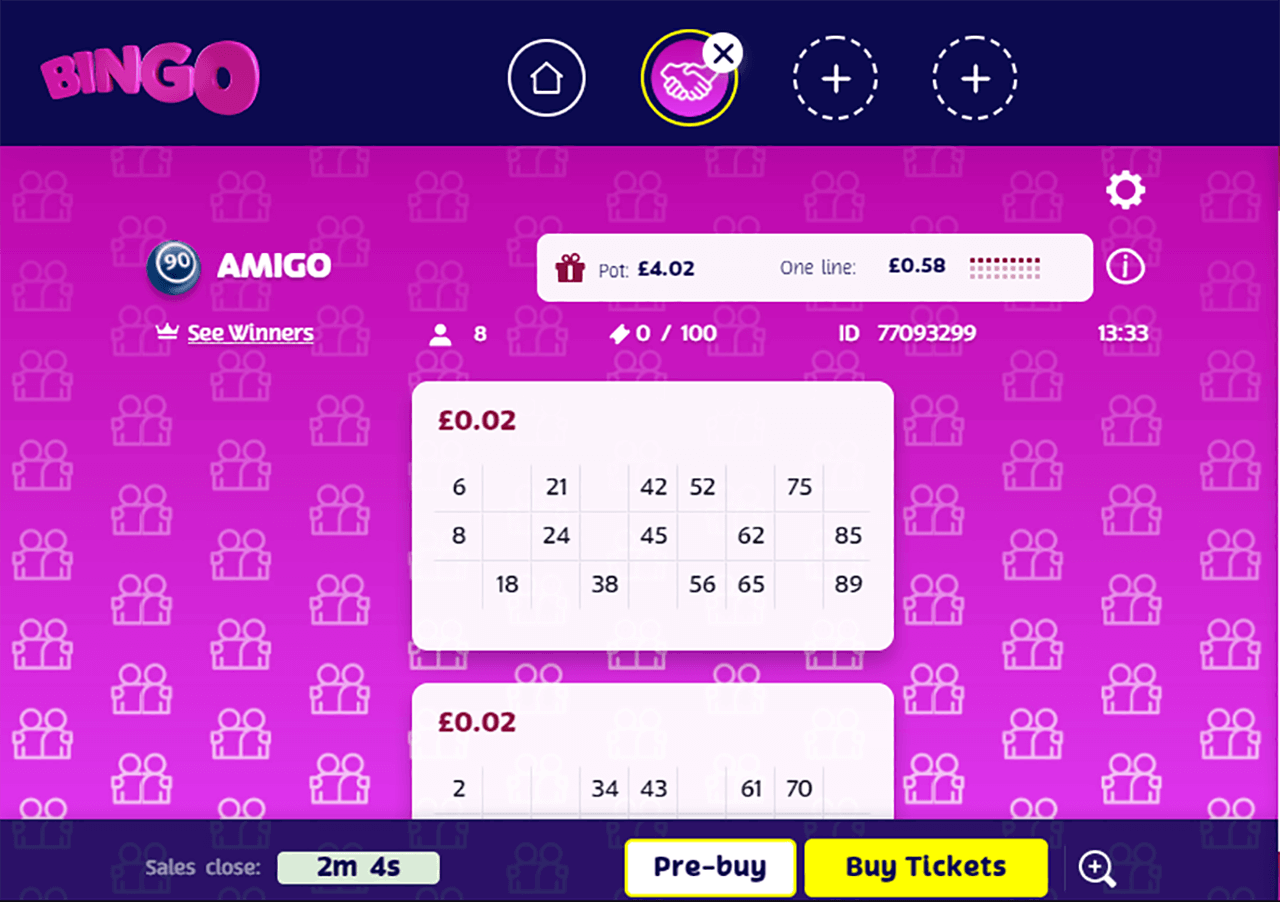 Why do Players Love Amigo?
The Amigo room is one of our favourites and loads of PlayOJO players love it too! But just what makes it such a popular bingo room to play at? There are actually a few different reasons for its popularity, here are some of the main ones:
It's open 24 hours a day – You can play online bingo whenever you want here at PlayOJO because the Amigo room is open all day every day. Amigo never sleeps, and there's always fun and excitement to be had! No matter when you're feeling in the mood for bingo, it's good to know that Amigo is always here for you.
Money back on every ticket – At PlayOJO, we award OJOplus cashback on our Bingo games. In the Amigo room, players can claim 1.5% of their money back on every single ticket, helping you to play for longer while spending less!
Big potential prizes – One of the most exciting aspects of the Amigo room is the big potential prizes on offer. We give away a guaranteed £10,000 every day, plus there's a chance to win the biggest progressive jackpot in any PlayOJO room.
Classic gameplay – 90 ball bingo is a classic game that everyone loves, especially UK players. This game is simple to play yet incredibly fun, which is one of the reasons why the Amigo room is so popular. While there are loads of other great bingo games available, a lot of players love the reliable and comforting feeling of playing 90 ball bingo.
High-quality software – The Amigo bingo room is provided by software developer Pragmatic Play. As one of the top developers in the games industry, Pragmatic Play has years of experience in making fun and exciting games for players to enjoy.
Play Fair Bingo in Our Amigo Room
There are loads of reasons to love Amigo, but you should always make sure that you play safely. Playing safe bingo means not spending more than you can afford, keeping your personal details secure and not letting bingo get in the way of your personal life or responsibilities. Bingo can be great fun, but take a look at our bingo guide to safe play to make sure you're staying in control.
On top of that, the Amigo room also features more games and more prize money than other bingo room on our site. If you're looking for safe and fair bingo with lots of excitement, you've come to the right place!