Game Review
Play Worms Reloaded slot a wild & wormtastic game!


OJO's Worms Reloaded slot game was released by Blueprint Gaming in 2016, so it's been around a while. The UK games supplier released its first Worms slot in 2012 and this one came along a few years later, though still 6 years after the video game it is named after.
This Worms Reloaded slot leverages the cult status of the classic 90s video game well. It's packed with wacky worms, weird weapons, strange sounds and explosive action thanks to the picking games, cash trails and Free Spins bonuses.
If you're lucky enough to trigger Blueprint's Jackpot King bonus, you might just win a six-figure progressive jackpot too.
How to play Worms Reloaded slot
Worms Reloaded is a 5-reel slot with 20 fixed paylines, nothing new here. You can bet between £0.20 and £500 per spin, though your stake is then divided by the number of lines to give you your line bet.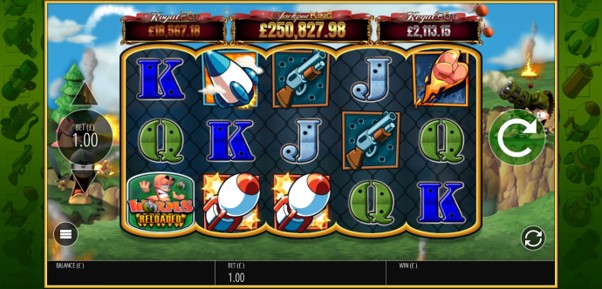 You won't find a Worms Reloaded demo game, but at 20p per spin and with easy to understand rules, it shouldn't take more than a few spins to get to grips with this slot.
If you're depositing for the first time to play our Worms Reloaded slot, you'll automatically get OJO's welcome bonus with no wagering requirements. Check it out!
As we expect with all of OJO's top mobile casino games, it's wormtastically easy to play Worms Reloaded slot on mobile, with very few buttons required and fast, smooth gameplay even when you're not using Wi-Fi.
You won't notice any difference between desktop and mobile versions of the Worms Reloaded online slot, and that's how OJO likes it.
The game has an autoplay feature if you want to play a specific number of spins without having to lift a finger. As with all modern autoplay features, you can also choose when to interrupt the autoplay, depending on how much you win or lose.

Worms Reloaded slot rules
Although you can play our Worms Reloaded slot without any clue how to win, it's good to know how the bonuses work so you can look out for them and enjoy the drama as you get close to a big win.
Payouts
Hit matching symbols on one of the 20 designated win lines, starting from the leftmost reel, to win a cash prize. Match 2 Wilds and you'll win the smallest prize, 2 coins.
You'll need 3 of any other symbols to trigger a prize, with prizes ranging from 4 coins for 3 x Jacks right up to 500 coins for 5 Wilds or Worms Reloaded symbols.
Hit one of the knockout bonus and randomly triggered bonus features however and you're likely to blow standard paytable wins out of the water. The maximum win on any one spin is £250,000 or 10,000x your stake, whichever you hit first.
That might sound like pie in the sky, but once you're in the Jackpot King Deluxe mini game, you'll be closer than you think.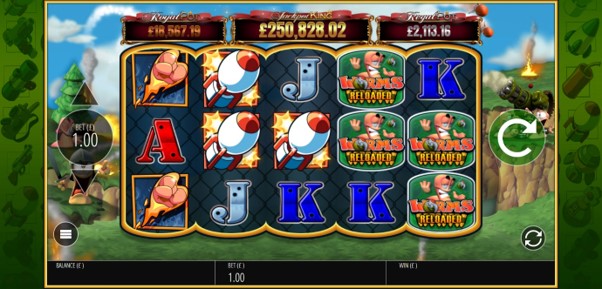 Worms Reloaded slot RTP
Our Worms Reloaded slot has an RTP of 95.66%, though that's broken down into 92.66% for the base game, 2.32% for the jackpot and 0.68% for the reserve.
The 95.66% Worms Reloaded RTP is bang on average these days, but we like to crank up the by giving you a cut of our house edge ON EVERY SPIN! That's OJOplus for ya.
Money back on every spin, straight to your OJOplus balance, which you can then transfer to your main balance and play, or cash out. It's your ball game, amigo!
Wilds
As usual, Wilds substitute for all other symbols except scatters. Wilds appear in various forms, including Banana Bomb Wilds, Donkey Wilds, Bazooka Wilds and Standard Wilds.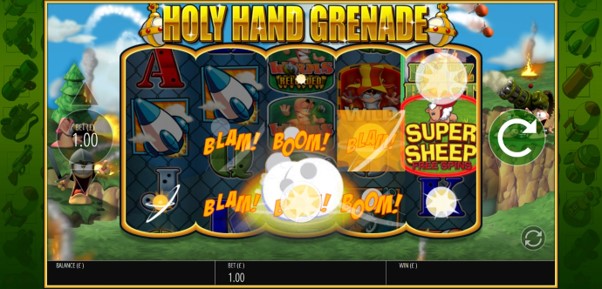 Worms Grenade Features
The grenade in the logo above the reels can explode at any time, randomly awarding one of these handy bonuses:
Banana Bomb Wilds: A banana bomb explodes, distributing banana bomb wild symbols across the reels. If a worm appears and fires a bazooka, you get a respin with the banana bomb wilds remaining in positon.
Holy Hand Grenade: A holy hand grenade explodes, adding bonus symbols to the reels and improving your chances of triggering the bonus.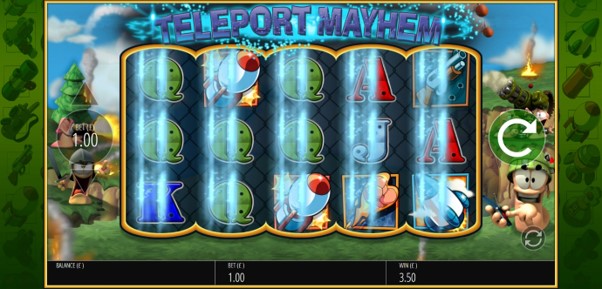 Teleport Mayhem: The reels stop, a worm appears and presses a teleporter causing the symbols to disappear and reappear in a winning order. This continues until the worm blows himself up!
Concrete Donkey: A worm appears and presses a button causing Concrete Donkeys to fall, creating wild reels.
Worms Reloaded Bonus
Land 3 bonus symbols on reels 1, 3 and 5 to trigger one of 4 available Worms Reloaded online slot bonus games. The bonus symbol you spin on reel 5 will reveal which of the 4 bonus games you'll play.
Battleground Bonus: Pick from a set of mines to reveal a multiplier, a Collect symbol or one of the other 3 bonuses. Keep picking until you hit Collect.
Jetpack Bonus: A space-themed bonus in 2 parts, a multiplier trail and a Big Money Bonus. Start by choosing UFOs to progress along the trail, increasing the total bet multiplier.
Pick a dynamite or a mine and you'll blow up your worm and the bonus game is over. Reach the end of the trail however and you'll enter the Big Money end game where you pick a planet to reveal a massive multiplier.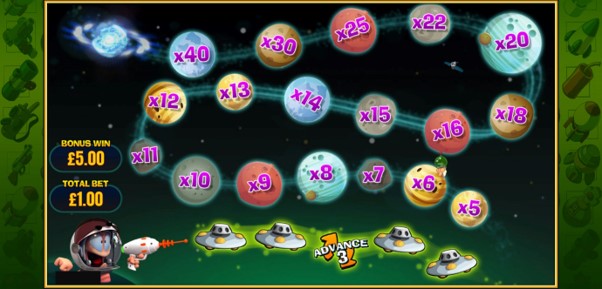 Blitz Blast Free Spins: A game of unlimited Free Spins involving a worm tied to a missile. A fuse is lit and your Free Spins end once the missile launches. Any worm symbol on reel 5 triggers the fuse. As the fuse burns, a multiplier increases which applies to any win.
Super Sheep Free Spins: Now you get to play 6 Worms Reloaded Free Spins in a special castle location. Up to 3 Super Sheep Wild symbols can appear, though the worm at the side of the reel might shoot 'em down!
One extra feature we love about this Worms Reloaded slot machine bonus is the chance to retrigger. At the end of your Free Spins, pick from 3 grenades for the chance to retrigger the bonus or collect whatever prize money you won.
Worms Reloaded slot jackpot
You're not just spinning for the top symbol and bonus prizes when you play Worms Reloaded online slot, as there are jackpot to win too. The inclusion of Blueprint Gaming's Jackpot King mini game may be one reason why there isn't currently a Worms Reloaded demo version.
Jackpot King Deluxe adds even more juice to PlayOJO online slots, with 3 progressive jackpots up for grabs. The 2 smaller jackpots must be won by the time they reach their maximums, while the biggest can reach £100,000 or more and continues until it's won.
The biggest jackpot here is right up there with our Mega Moolah jackpot for excitement and sheer size, except you're eligible to win this one for just 20p bet.
This bonus is a little different when it comes to how are progressive jackpots paid. You can trigger the Jackpot King Deluxe bonus game at any point when you play Worms Reload by spinning 5 Jackpot King symbols.
In the game that follows, which is entirely separate from the Worms Reloaded slot game itself, you'll spin crowns to increase your win multiplier or reach the Wheel King, where the progressive jackpots can be won.
Spin the wheel to win a multiplier prize or one of the 3 progressives.
Worms Reloaded slot design
Ahhh, the nostalgia of our (18+) video gaming youth! OJO's Worms Reloaded slot machine has an instantly recognisable, cartoony design that perfectly corresponds to the original game.
The game background features much comedy carnage with a castle battle scene, heavy artillery, burning blast holes and worms galore.
The worms themselves get a modern makeover with giant comic grins, maniacal eyes, a thirst for worm blood and a casual disregard for their own safety – everything you'd demand from your worm army!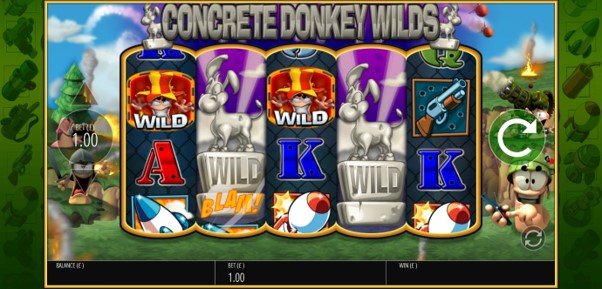 Symbols
The slot designers went to town on Worms Reloaded slot machine with bullet-ridden Ace, King, Queen and Jacks at the lower end, and a selection of deadly weapons and projectiles for more valuable wins – shotguns, flaming fists, rockets, missiles.
Worms play a starring role in the remaining symbols – a sinister worm with a joker's hat for the Wild, a trio of crazed worms for the scatter and others for each of the bonuses.
Sound
Worms Reloaded slot sounds are one of the best elements of this game. From the randomised intros ("Prepare to die!" or "Let's kick some butt!") to the industrial drum beat of war when you spin the reels, this game is a full-fat portion of retro gaming heaven!
OJO says…
There's always a place in OJO's heart for branded slots, especially if they're based on his favourites movies or celebs.
But a classic video game he spent hours playing? BOOOM! This slot's a full-on airstrike, no survivors. Who needs anything else but battlefields, bazookas and bonuses?

Like this? Then try….
Reel Steal! Want some more retro gaming action? NetEnt's take on Grand Theft Auto is a 9-line slot with a Free Spins feature and wins of up to 375,000 coins. Go play it, chief!