Game Review
Reel Rush is a fruity blast from your past

Reel Rush is a joyous slot-puzzle-scratchcard creation full of the kind of fruit machiney goodness that gets OJO all nostalgic! In a universe of generic slots which have been skinned to death, Reel Rush is a breath of zesty fresh air which also gives our grey cells a nice little workout.
Our Reel Rush online slot was released in 2013 by NetEnt. One of gaming's biggest and most innovative studios, NetEnt are responsible for such triumphs as Starburst and Gonzo's Quest.
As well as its unique game mechanics, this game stands out thanks to retro 2D video game graphics and a soundtrack to match. It may have been around a while but to us it still feels box fresh!
Reel Rush uses an unusual format where you play with a square 5 x 5 reel grid but only some of these positions are available to begin with. As you get deeper into the game, you'll unlock more positions and thus more ways to win, with up to 3,125 ways in the Free Spins rounds.
With wins of up to 1,000 coins per line and up to 480,000 coins in a single round, Reel Rush can pay out as sweetly as it looks.
Reel Rush is pretty darn awesome on mobile too, thanks to NetEnt's Touch mobile platform. They know exactly what phone users want from a mobile slot and it delivers a fun, convenient playing experience that's as good as they come.
Time to put this Reel Rush slot review into 2nd gear and check out the look and feel….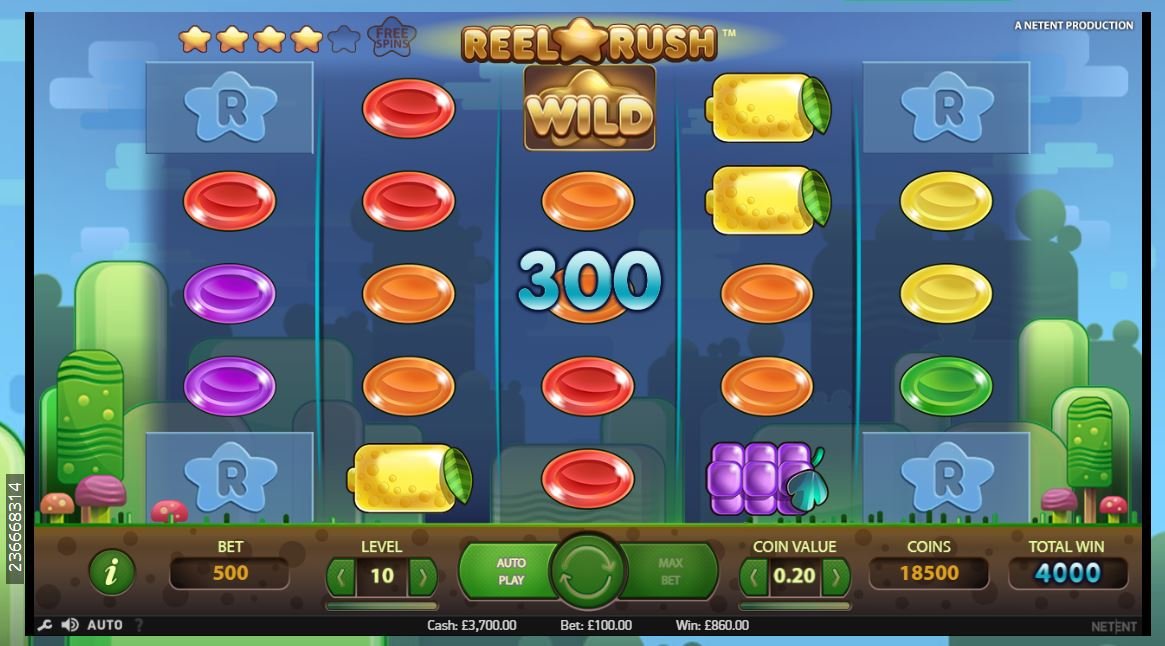 Reel Rush slot design
At first glance, Reel Rush looks more like a mobile puzzle game app than a play-for-real online video slot machine. The fun, bright, fruity theme owes as much to Nintendo as it does to pub fruit machines. Part Super Mario, part Super Stickman Golf, Reel Rush is a uplifting hit of sweetness that never gets old.
At first glance, Reel Rush looks more like a mobile puzzle game app than a play-for-real online video slot machine. The fun, bright, fruity theme owes as much to Nintendo as it does to pub fruit machines. Part Super Mario, part Super Stickman Golf, Reel Rush is a uplifting hit of sweetness that never gets old.
NetEnt always take great care with the little details of their games, as well as polishing them to perfection. Even the game's loading sequence is nicely put together. And look at the buttons for gods sakes! Clean, crisp and begging to be clicked.
The game is set in what looks like an early level of a video game, with trees, land and clouds rendered in that friendly, rounded, bubbly way.
The reels themselves are see-through, which means that the symbols appear to float on the screen. It's not something you see often and it's a fab touch that adds extra flavour to an already juicy game.
Above the reels to the left of the logo you'll see a row of 6 gold stars. This is the meter which indicates your progress towards the 6 wins in a row you'll need to trigger the Free Spins.
For once, symbols do not include card ranks like Aces, Kings, Queens and so on. Wayhayyy! Instead the lower value symbols include 5 colours of oval sweet (or lozenge, as OJO's gran would say). Plums, grapes (or possibly blackberries?), apples, lemons, pineapples and strawberries complete the set.
No need for a Scatter symbol here as the Free Spins are triggered in a different way, which we'll discuss later on. The Wild symbol is nicely made browny-gold star with Wild helpfully written on it for those who aren't paying attention! Reel positions which are initially inactive use a transparent star with an 'R'.
The soundtrack is a big part of the slot design here, and is inspired by the 8-bit video games of the 1990s. Think Sonic The Hedgehog, Super Mario Land or Tetris. A dreamy, hypnotic backing track contrasts well with the HI-NRG sound effects like the faithful ding-ding! of coins being won.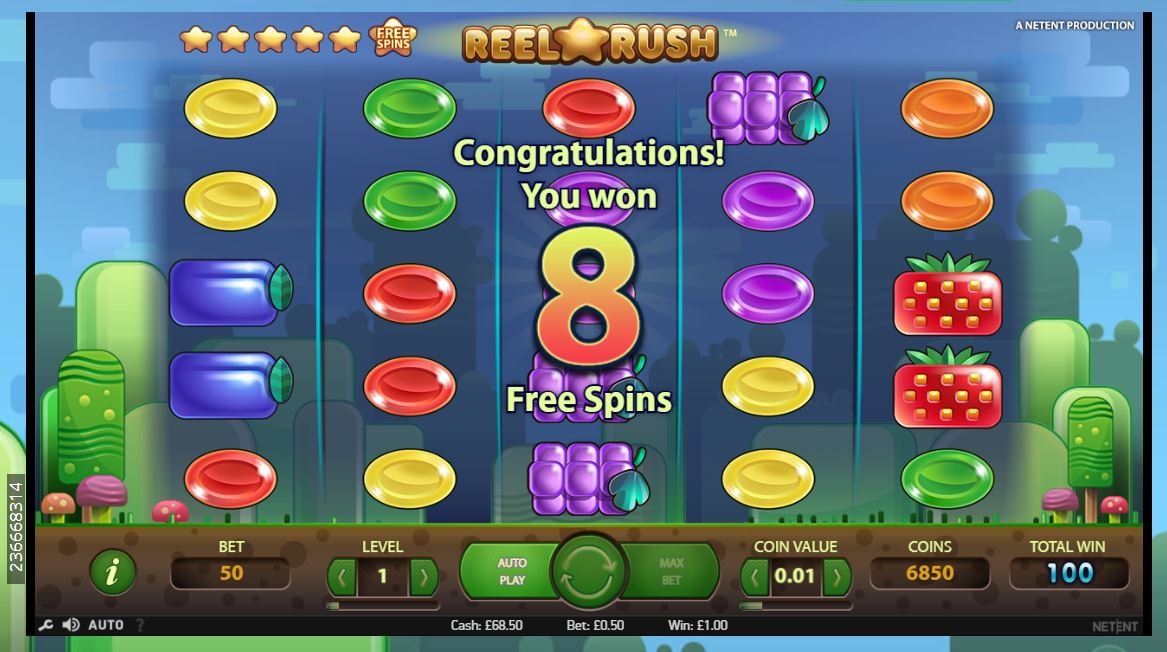 The important stuff
Reel Rush is a 5-row 5-reel slot, though you begin each game with a 1-3-5-3-1 diamond reel configuration. There are between 45 and 3,125 ways to win depending on your progress during respins.
You can bet between 1p and 20p per coin and with between 50 and 500 coins per spin, that's a total of between 50p and £100 per spin.
Reel Rush slot game is a middly slot in terms of swings, with a fairly steady stream of smaller wins and the occasional monster payout. You can win up to 1,000 coins per line and it is theoretically possible to win up to 480,000 coins (£96,000 with a max bet per coin).
The Reel Rush RTP of 96.96% is about as high as you'll see. Chuck in some money back on every spin courtesy of OJO and this is slotsplay, done right!!

Getting started
Reel Rush is different enough from the usual reel and game button layout that it merits a bit of a tutorial before we get into the meaty main course of game features.
Head to the casino login, Load up the game from the PlayOJO games page – you can deposit using our online casino uk paypal method or plump straight for the Real Money version or try it for free with the Reel Rush slot demo – and you'll see the control panel below the reels.
Figure out how much you want to play per spin first – good bankroll management, amigo! – then set the Coin Value and Level to the correct amounts to achieve that total. For example, choose Level 10 (500 coins) and 1p coin value and your total bet per spin will be £5.
The win values in the Reel Rush paytable do not change when you change the Level or Coin Value setting, so you'll need to know a bit about what Level and Coin Value mean to understand how wins are calculated.
Level is the multiple applied to the symbol win amount (in coins) in the paytable. Coin Value is the currency multiple applied to that figure. Still with us? If you hit 4 plums, you'll win £250.
This is how its calculated:
(Paytable win) x (Level) x (Coin Value)
Hit 4 Plums at Level 10 for £0.01:
50 Coins X 500 x £0.01 = £250
Once you're happy with your Level and Coin Value settings, you're good to go. If you are feeling lazy, you can use the Autoplay feature too.
Simply click 'auto' below the green information button and choose the number of spins you want to play. You can also set any rules about when the autoplay can be stopped (for example if you reach a certain win or loss limit, or if you trigger the Free Spins feature).
So now you're really ready to get down and boogie. What's this funky reel all about?
How the Reel Rush slot game works
Unlike normal reels where all symbol positions are active and paylines remain largely fixed, Reel Rush gives you the chance to increase the number of 'ways to win'.
You start each fresh game on the most limited reel formation, with 13 symbols out of a possible 25 in use. The rest are covered by an 'R' symbol. To begin with you have 45 ways to win, which is still a lot!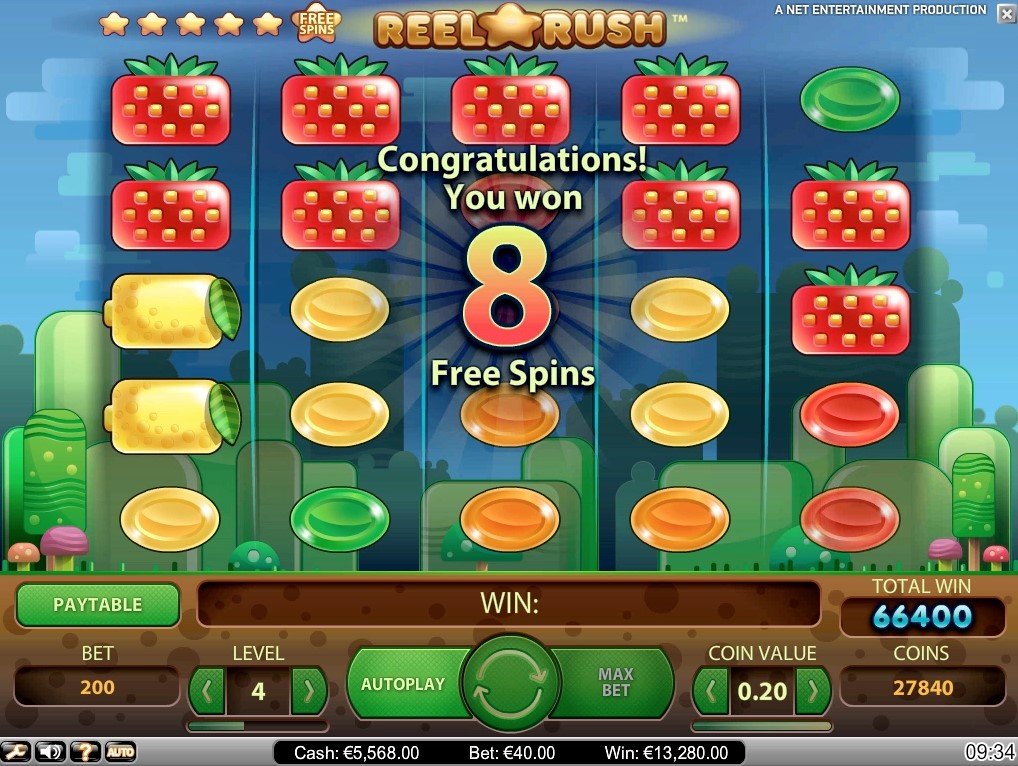 Respins & Free Spins
Once you've hit a winning combo, 2 of the 'R' symbols that are locked in place will be removed ready for a free respin – but now you've got 135 ways to win! You will also fill 1 of the golden stars in the meter above the reels, to indicate how many respins you have to complete before you trigger the Free Spins feature.
With your extra ways to win, you're more likely to hit another win and keep the show rollin' on. But if you don't hit a win on your respin, you're back to square 1 with the default reel setting.
If you do win, however, you get another respin. This time another 2 R's will be removed and you get 405 ways to win! You can see how it gets easier and easier to hit a win and stay on track to trigger the Free Spins feature, right? Keep winning on your respins, fill up the star meter and after your 5th respin (thanks to a mighty 1,875 ways to win) you'll trigger 8 Free Spins!
During these Reel Rush slot Free Spins, you enjoy the full benefit of the 5-reel, 5-row game with no squares hidden. That gives you an eye-watering 3,125 ways to win. But if that wasn't enough, you've always got Wilds to boost your chances of an epic payout.
Wilds
The Wild star symbol can appear on reels 2, 3, 4 or 5 and. It's not a paytable symbol itself, but it does substitutes for all other symbols as you'd expect.
Wilds not only land you bigger or more frequent wins, but they also improve your chances of completing the 6-win sequence needed to trigger Free Spins. And once you're into your 8 Free Spins, the combination of Wilds and 3,125 Ways can make for some fruity fun!
OJO says…
Yeeeaaaaah! This is my kind of slot. Hours spent on my Gameboy were not in vain. We can always rely on NetEnt to think outside the box and this is one of their most creative efforts. Love the theme, love the crazy format! So I hope you do too.
Have a ball, amigo!

Like this? Then try….
Berryburst Max! Another fruity slot you can deploy your newfound NetEnt slot smarts on, and win up to 400,000 smackers! Just search 'berryburst' in the Games lobby and you'll be berry happy.