Game Review

PlayOJO's Starburst online slot is one of the most popular in the gaming universe. Period. Created by award-winning game developers NetEnt in 2012, it quickly became an unexpected smash on Starburst slot sites across the planet.
So what's it's secret?
It's a simple yet stunning slot that's perfect for playing casino on your mobile, thanks to NetEnt's Touch mobile version.
It's 1 part Bejewelled, 1 part Candy Crush with a sprinkle of retro-futuristic space dust. And with wins of up to 50,000 coins, Starburst delivers everything your 21st century (that used to sound cool in the 20th century!) gamer needs.
Time to engage warp drive on this Starburst slot review and see why this game has taken over the galaxy…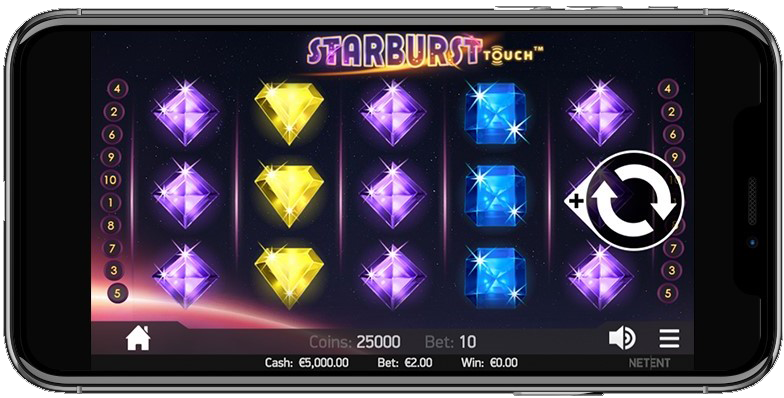 Starburst slot's got stellar looks
All aspiring cosmonauts know that space is basically an endless frozen void littered with interstellar junk and Buzz Aldrin's lunch. But thankfully NetEnt have gone the 1980s Hollywood fantasy route, so we're good.
With super simple controls, particularly on mobile where you get a nice finger-sized SPIN button, our Starburst video slot is so easy to play. Everything is sharp and shiny, and it all looks amazing in HD. Even the little backwards step as the reels prepare to spin is a nice touch.
The Starburst colour scheme just seems a perfect match for smartphones and tablets too; The dark, star-speckled, subtly animated background of the cosmos. One of those sun-planet-eclipse-dawn things you get with all good sci-fi movie posters. And plenty of neon, because neon is galactic, baby!
So Starburst is THE SLOT OF THE FUTURE (said in 70s American voice-over style), but also a nod to fruit machines of the past.
Reel symbols start with a selection of brightly coloured gems of varying shapes. Further up the value tree you get a Lucky 7 surrounded by an animated planetary ring that shouts NASA logo.
Next up is a BAR symbol in front of a golden planet that'll net you the max payout. The star of the show of course is the Starburst Wild symbol. This is a stunning 8-point rainbow star which triggers the game's only feature, which we'll discuss in a mo.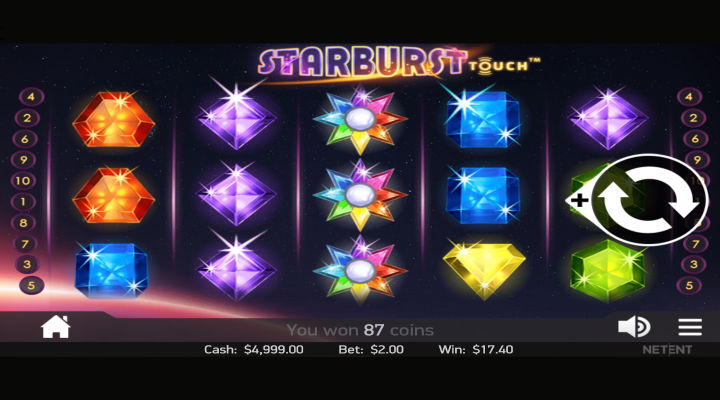 Hit a particularly good win and you'll see 'Super Combo' and 'Mega Combo', followed by Super, Mega or even Super Mega Win.
Get a reel-full of Wilds and the whole game 'powers up', the reel goes full rainbow and just in case you still weren't sure if this was the super mega moment you'd been hoping for, it'll rain stars too.
So what's the sound of the interstellar universe? The hypnotic backing track is intense cosmic concentration. It's how people in the past thought the future would sound (but they also thought we'd be living in bubbles on Mars by now).
We left the music on for the entire time it took to write this and we can tell you, life isn't the same when you return to Earth. It went on OJO's ringtone immediately!
As for sound effects, the SPIN button is either submarine sonar or Star Trek comms bleep. Let's go with the latter. Even the reels whirr away and come to a stop with a nice little clunk. As we always say, it's little things that make the biggest video slots online!
Best of all, wins are accompanied by an interstellar explosion of drums, 4-note space jingle and that Super Mario coin ding. Hopefully that's done it justice. Go check it out and tell us what you think.
The important stuff
Starburst is a 5-reel, 3-row video slot with 10 fixed paylines, but don't forget they pay right-to-left and left-to-right, so it's more like 20!
You can choose a coin value from 1p to £1, so with up to 10 coins per line that's a maximum of 100 coins. Hit your combos and Wilds right and you could net the 50,000 coins top prize!
The Starburst slot RTP is a pretty generous 96.1% and offers lots of action and frequent, lower value wins to keep you entertained while you scour the galaxy in search of astronomical UK online casino games wins.

Starburst slot features
PlayOJO's Starburst slot games is unique in so many ways, not least its two features, Win Both Ways and Starburst Wild, which gets you some Starburst slot free play.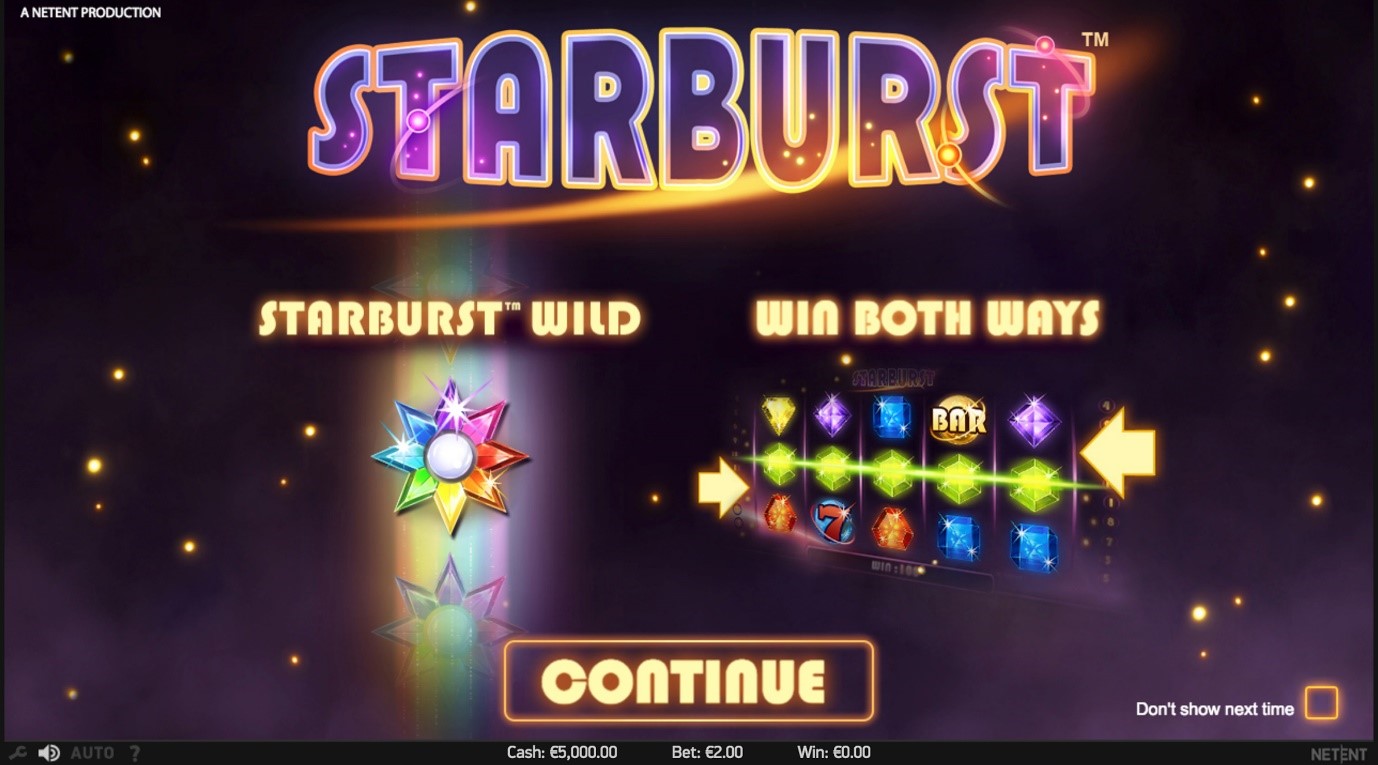 Win Both Ways
This is a feature we'd never seen before, and we loved it instantly! It does it exactly what it says – base game wins can land from left-to-right as well as right-to-left. That means double the chance to win!
Starburst Wilds
Wilds are the centre of the Starburst galaxy and once you've hit them, you'll see why. The iconic Starburst Wild symbol can appear on reels 2, 3 and 4. When they appear, they cover all 3 positions on the reel. They trigger 1 Free Spin – called a re-spin – and the reel locks in place.
Starburst Slot Free Spins can be retriggered too. If more Wilds appear on other reels, more can be retriggered up to a maximum of 3 re-spins. Want to see it in action?
OJO says…
NetEnt say their Starburst video slot is an all-time classic and we're not quibbling! Like our iconic Gonzo Quest slot, it's the complete package; A clean, crisp design, an astronomical Wild feature and the potential for stellar wins. OJO gives it 5 STARS!
Play Starburst slot machine now and he'll also give you money back on every spin with OJOplus. Cosmic!

Like this? Then try….
… Twin Spin. It's Starburst's jazzy Vegas twin! Same great NetEnt interface plus even more of that classic fruit machine vibe. And oh man, the music. Try and stop your head nodding. You can't. Not possible, amigo. Find this one in the Games section right now!