Game Review
Super Charge your way to GEMiX glory!

Was there ever a more perfect slot for your mobile phone? No. This is it. Delete all other casino mobile apps. You don't need them (OK, keep Dominos, you gotta eat).
Play'n GO's GEMiX video slot may sound more like a small kitchen appliance (and it's missing a 'm' right? It absolutely is). But it's a killer slot-machine- phone-app-puzzle-arcade-game that blends a popular gaming format with catchy graphics, zingy sounds and cascading wins.
Unlike your average 5-reel slot, this game uses a square grid and a cluster system for awarding winning combinations. No paylines to see here, move along. Instead your mission is to advance through levels by completing patterns with winning symbol combos. You'll cash in both when you hit individual wins and when you complete Worlds.
Given how different this game is compared to your usual online slot fayre, there's a lot to get through in this GEMiX slot review. Best get cracking!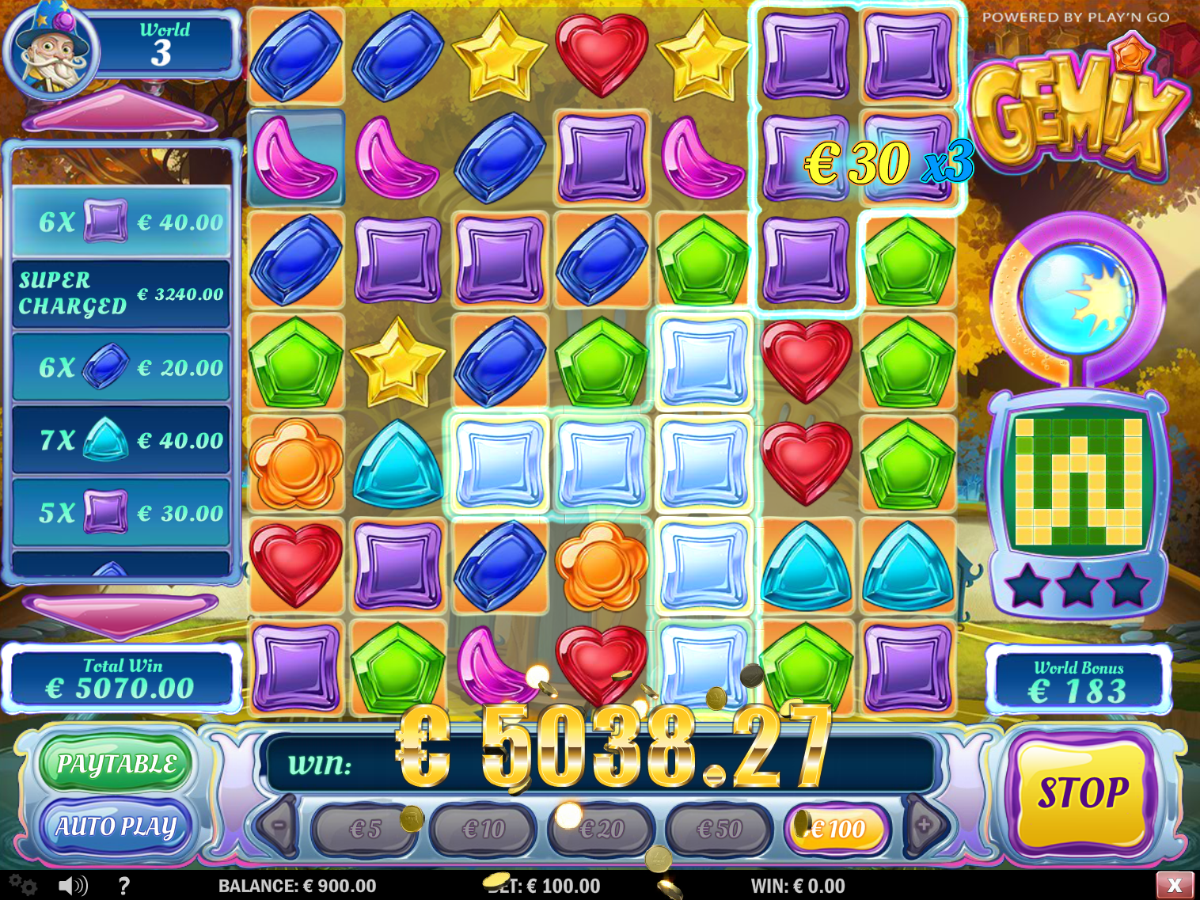 Theme and gameplay
GEMiX is a bright, shiny, colourful sweetshop of a slot which uses a kaleidoscopic array of colours. It has merrily leapt onto, hijacked and driven off with the Candy Crush-Bejewelled-Puzzle Quest bandwagon, and it ain't giving it back. Suck it and see!
As well as its gamey theme, GEMiX video slot is set up more like a puzzle game than casino games online with a 7x7 grid full of gems of varying shapes and colours. The grid is flanked by a win board on the left – which records the individual wins during each game, stacking them up as they cascade – and an info zone on the right.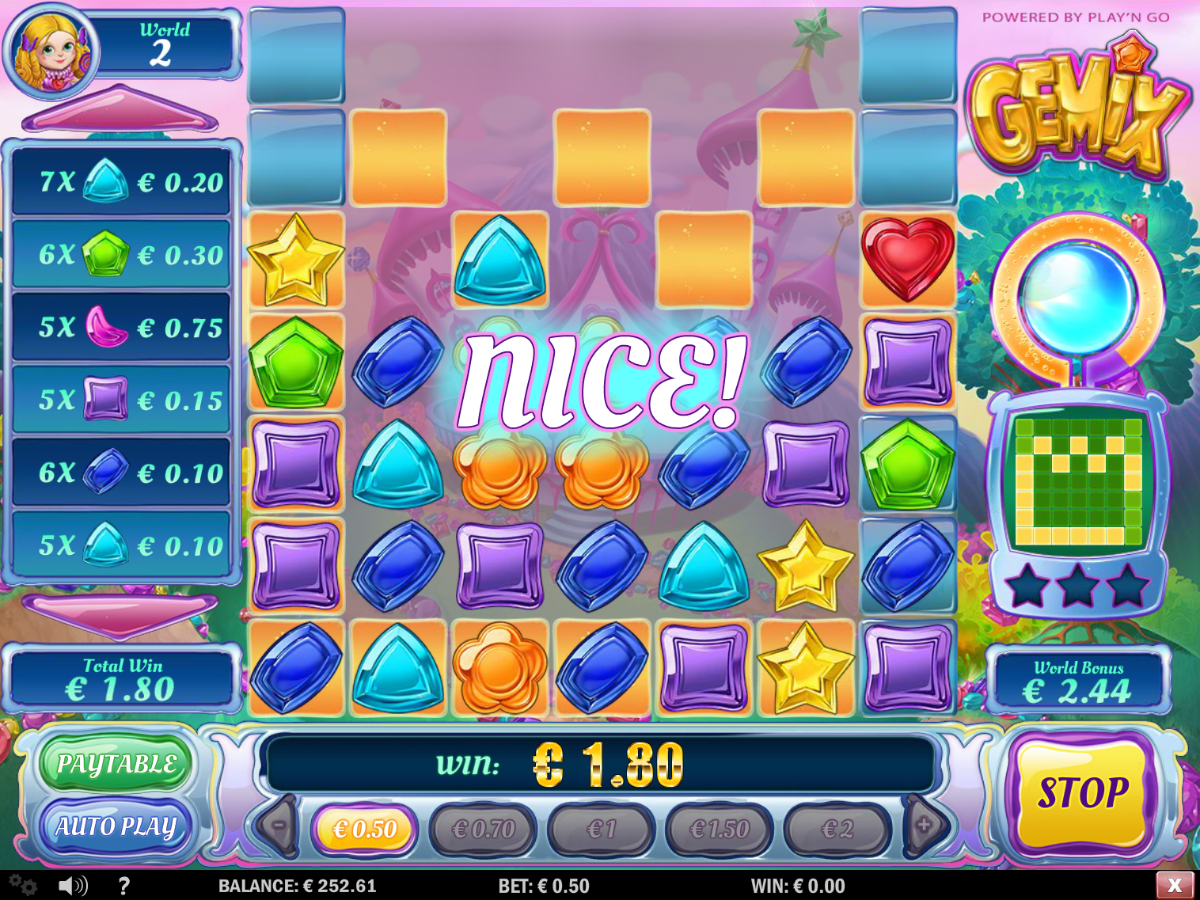 Above the START/STOP button is a World Bonus box which displays the payout you get once you've cleared all 3 levels within a World. This Bonus updates in real time every time you hit a winning combination. A trio of stars above this box indicates which of the World's 3 sub-levels you're currently playing. Above that you see the grid pattern that corresponds to the translucent jelly-like backgrounds behind certain gems on the grid. Blast those gems to clear the pattern and progress to the next level.
Finally, above the grid pattern is a globe surrounded by the Crystal Charge meter. The meter tracks the number of gems you've blasted in your current spin. Blast 20 symbols and the meter will be fully charged, the globe will spin and you'll be randomly awarded 1 of the 4 Crystal Charge features. Blast another 20 symbols (that's 40 in total on the same spin) and the meter will glow white to indicate that you've activated the Super Charge, that's a 3x multiplier for all wins.
Symbols come in 8 variations of gem so sweet you just wanna reach out and pop one in! They include an orange flower, purple square and yellow star.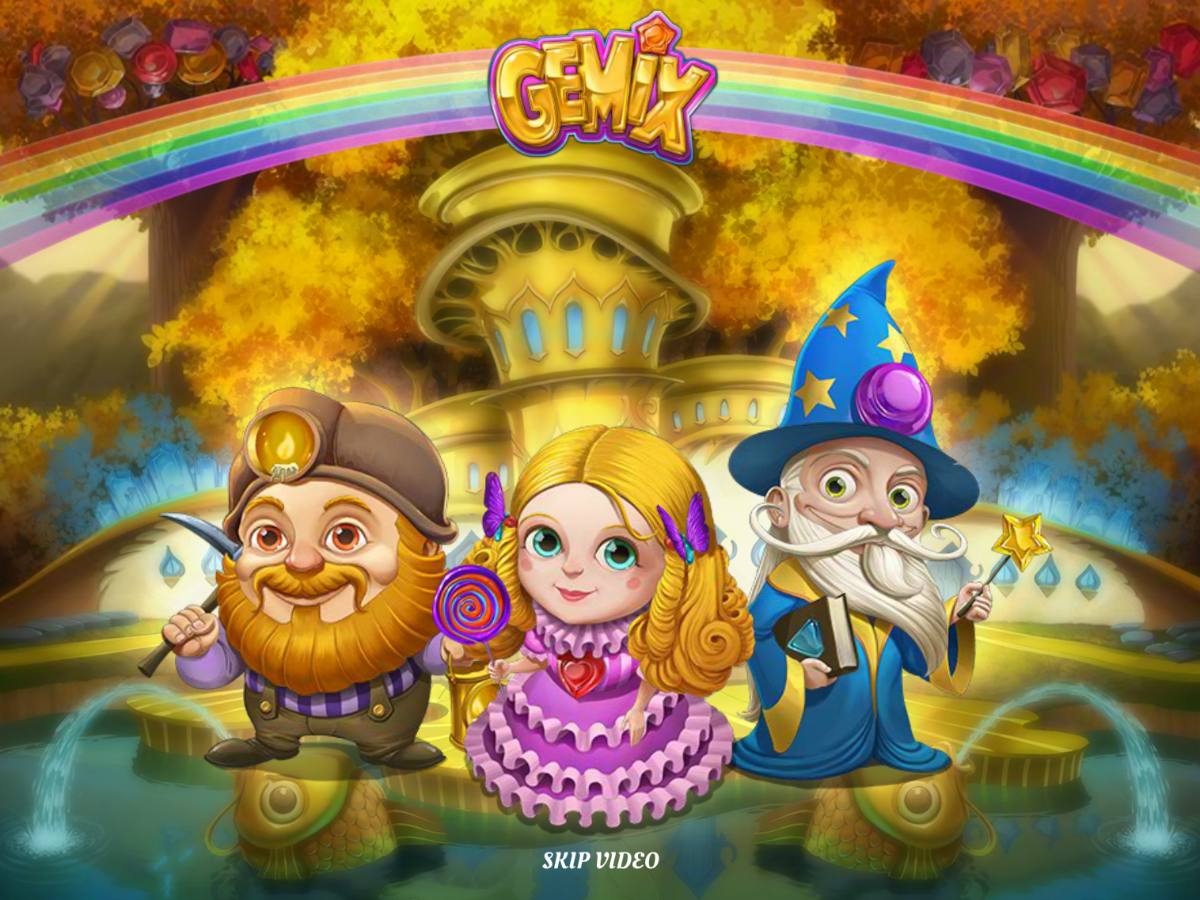 Three cartoony characters have been created for the GEMiX online slot, 1 for each World. We start the game in the cave of the Miner, a dwarfish chap complete with beard, lamp and pickaxe. His dark subterranean world is bluey-greeny-purple with luminous mushrooms on the floor and fluorescent shards of raw gem material on the ceiling. Ladders hang down from the doors above while train tracks shuttling carts of gemstones snake through the cave. The Wild symbol in World 1 is the handheld Miner's Lamp. A magical place to start your adventure!
World 2 is the land of the princess. The princess herself is a slightly freaky Victorian doll-like figure who's clearly been dressed by her granny. She lives in an ornate fantasy castle in a sunny rural landscape where gems grow on trees. Here the Wild symbol is the princess' lollipop, a swirly lump of rock scorned you wouldn't wanna give your 4 year old after 1pm.
World 3 is the land of the wizard who lives in a spectacular golden home within an enchanted forest. The water-spouting golden fish sculptures are maybe a step too far in terms of home design but hey, he's the boss. Don't mess with a wizard. His spellbook is used as the Wild and it's the ticket to some magical payouts.
The GEMiX slot game's sound effects are a bit of a surprise, we have to say. We were expecting an assault of sickly jingles and sounds that would drive any normal online slots fan insane. But in fact the World 1 music is understated, mysterious, atmospheric stuff that lets you take in the action and focus on what's happening. Progress further into the game and yep, things go up a notch with the addition of some phat bass and an increase in tempo. There's plenty of opportunity for the odd explosion as Wilds and Crystal Charges come into play, don't worry. Overall, Play'n GO done good!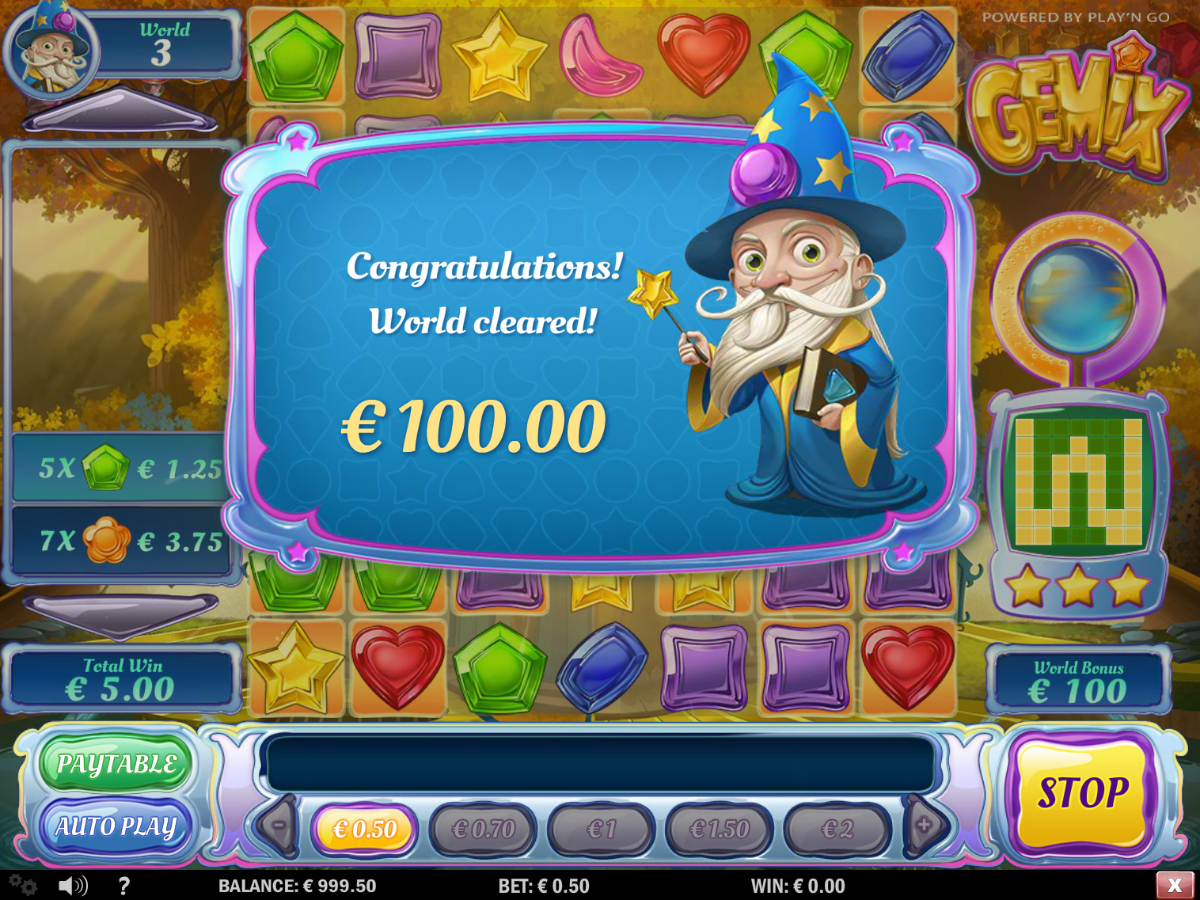 The important stuff
PlayOJO's GEMiX is a 7x7 grid slot with no standard paylines, but in reality it enables an almost endless combination of clusters.
There are no paylines to select, so one less thing to do before you start to play our GEMiX online slot. Simply select 1 of the 10 pre-set bet amounts – from 50p to $100 – and off you go!
Collect 5 or more of any symbol in a cluster formation to bag your first GEMiX win. With so many possible winning combinations, not to mention cascading wins and Wilds, it's not surprise that wins come thick and fast, and this slot would generally be seen as at the lower variance end of the casino games scale. But that doesn't mean there aren't big GEMiX slot wins to be had, with up to 1000 coins per cluster up for grabs and a max win of $100,000. Not too shabby!
The GEMiX slot RTP is a pretty standard 94.78% but comes with a nice little 0.6% money back on every spin courtesy of OJOplus. It all adds up!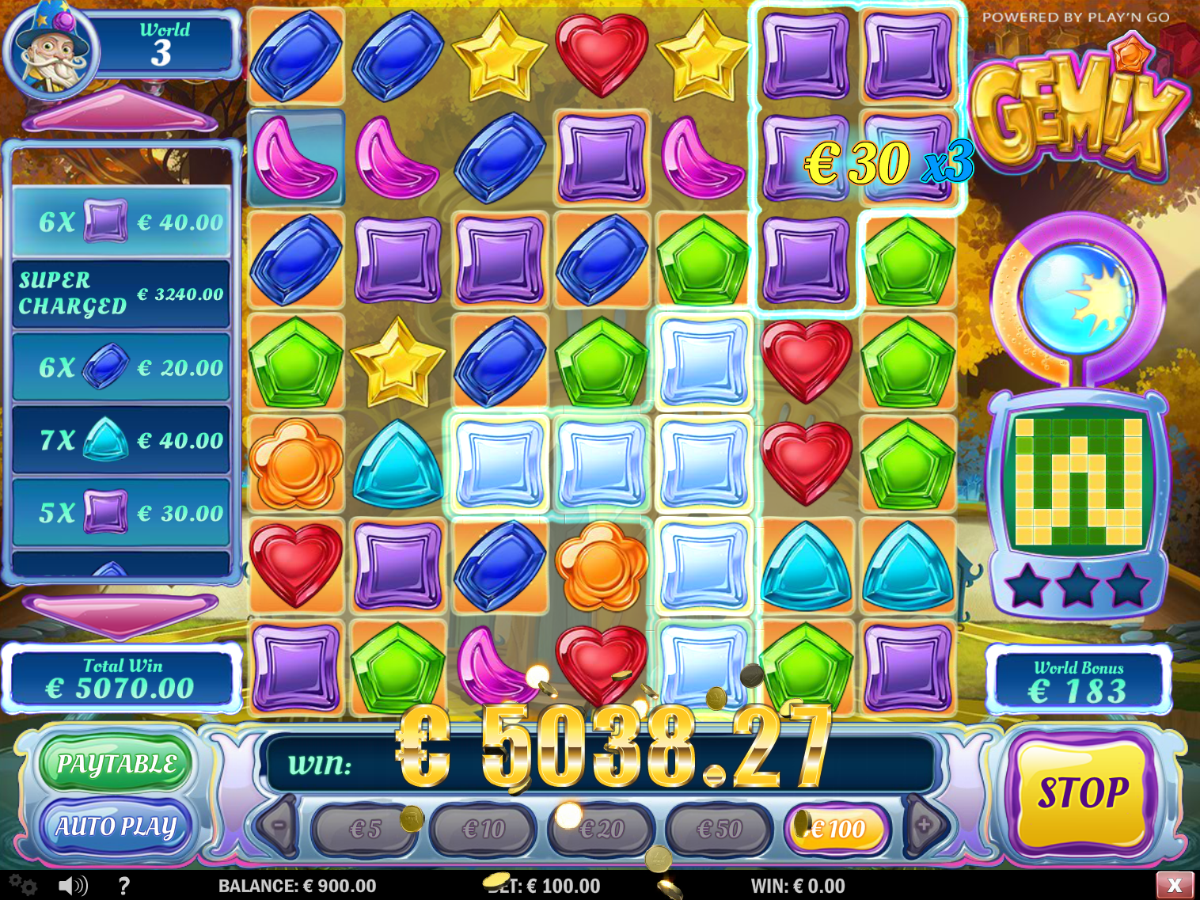 How to play GEMiX online slot
The name of the game is hitting gems in clusters of 5 or more. A cluster can be made when any gem touches horizontally or vertically, but not diagonally.
Once you've hit a winning combination, gems will blast away, leaving space for more to drop dow. This creates more chances to win during the same 'spin'. Not only do you win cash for any valid combinations, but you can also tick off any jellies underneath each gem to complete the pattern.
Complete the pattern and you'll progress to the next level. Complete all 3 levels within a World and you'll win the World Bonus which grows by 10% of symbol win amounts. Clearing a World quickly might only net you a small cash win but it means you're headed for bigger possible wins in the next World. Take your time to complete a World – perhaps one pesky jelly just won't be cleared! – and you're in for a nice big World Bonus when you do.
Fortunately the GEMiX video slot saves your progress at PlayOJO so that when you log back in and play, you'll pick up where you left off. No need to complete the entire game in 1 go!
Clearing patterns can be tricky if you've got 1 or 2 jellies tucked away in a corner. But there are 2 features that come in dead handy – Wilds and Crystal Charge.

Wilds
Each World has a special Wild symbol which can be triggered randomly on any spin where no wins occur. Here's what they do:
World 1: Up to 10 miners lamp Wild symbols are added to the grid.
World 2: The lollipop Wild will expand horizontally to fill the entire row.
World 3: Up to 8 sticky spellbook Wilds are added to the grid and they'll stay locked in place as long as you continue to create winning combinations.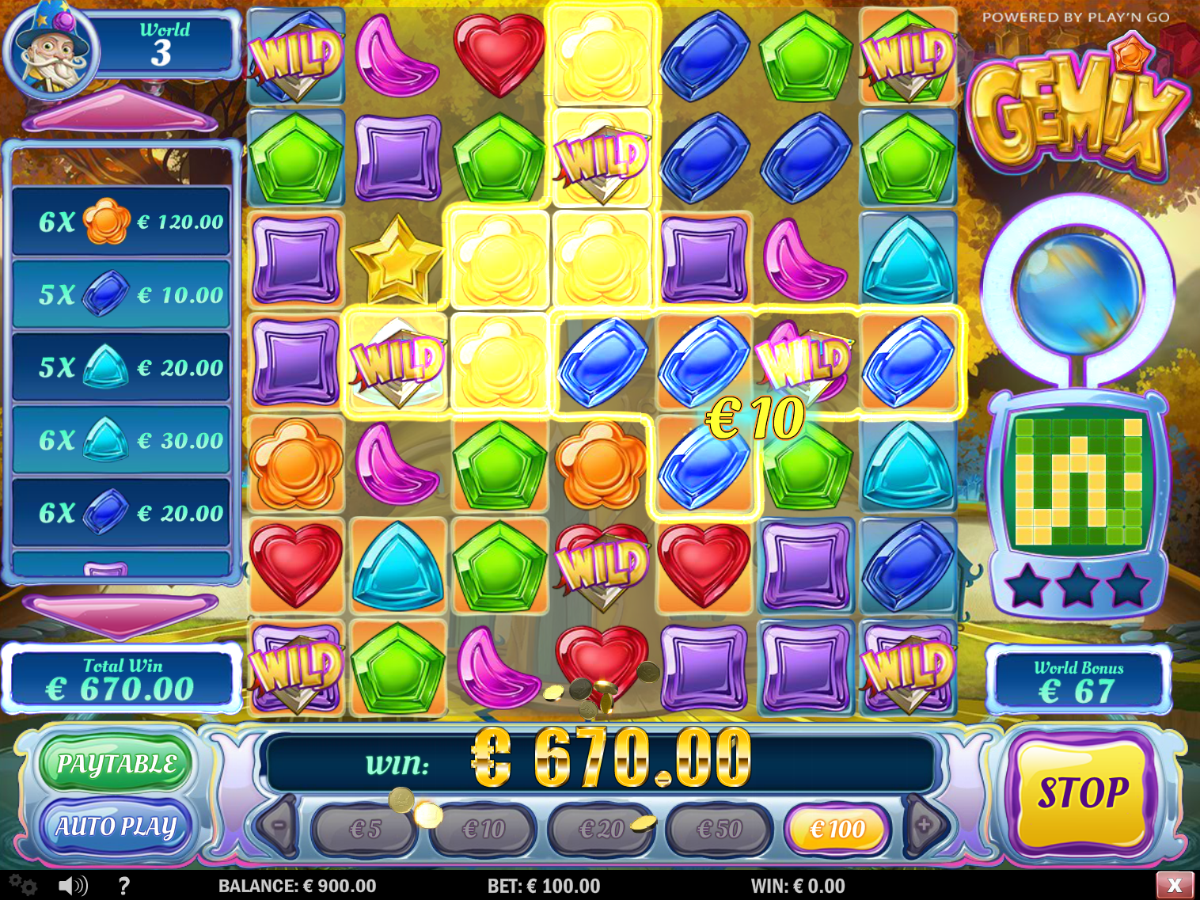 Crystal Charge
There are no GEMiX Free Spins here but the Crystal Charge makes up for it! This is the most entertaining aspect of GEMiX and the one unleashes the potential for monster wins! Blast 20 gems in a spin and you'll be randomly awarded 1 of these 4 power-packed features: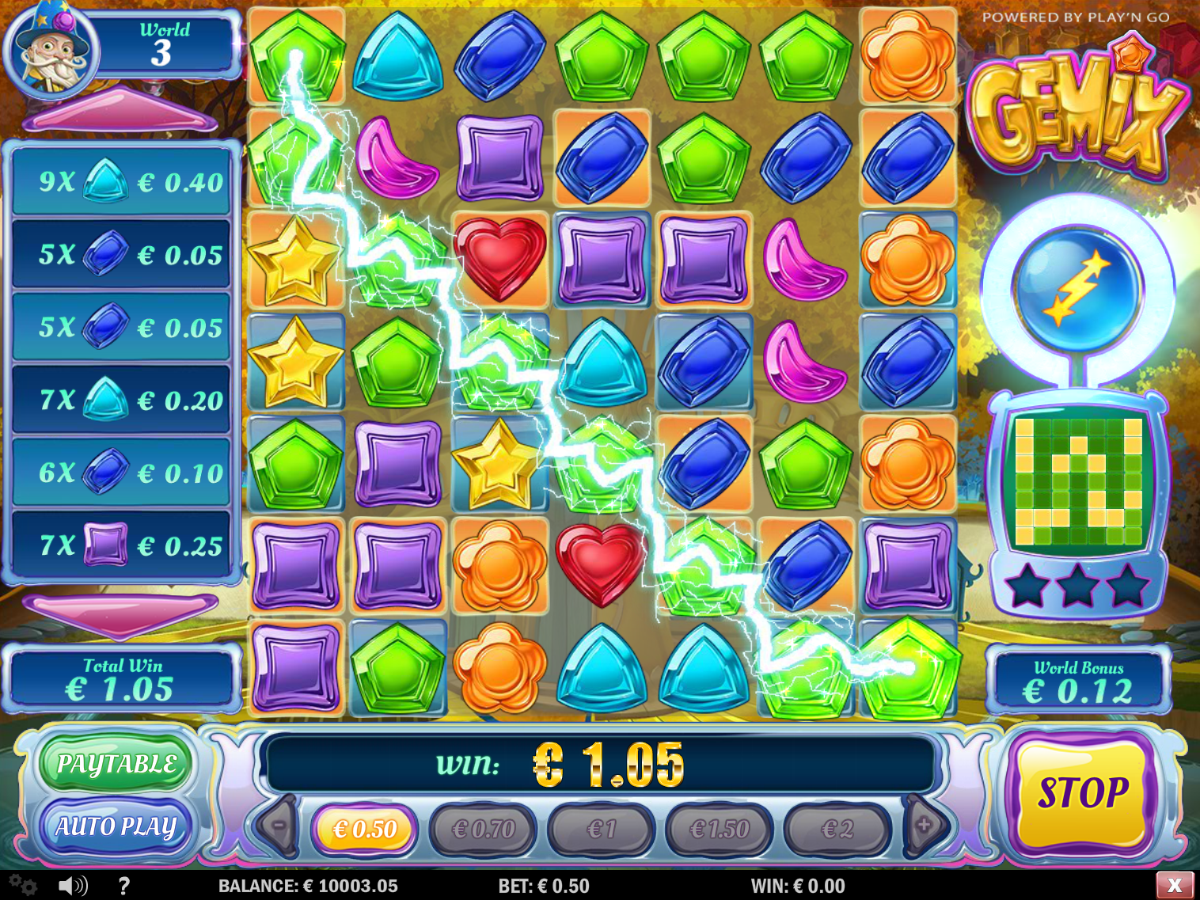 Nova Blast: 1 symbol explodes, destroying and transforming adjacent gems
Crystal Warp: 1 symbol is randomly chosen and all matching symbols are transformed into other symbols
Light Beam: 1 symbol emits a light beam and other symbols are transformed
Chain Lightning: 2 corner symbols are linked by a lightning chain and all affected symbols and changed to become one of the 2 corner symbols. OJO's personal favourite!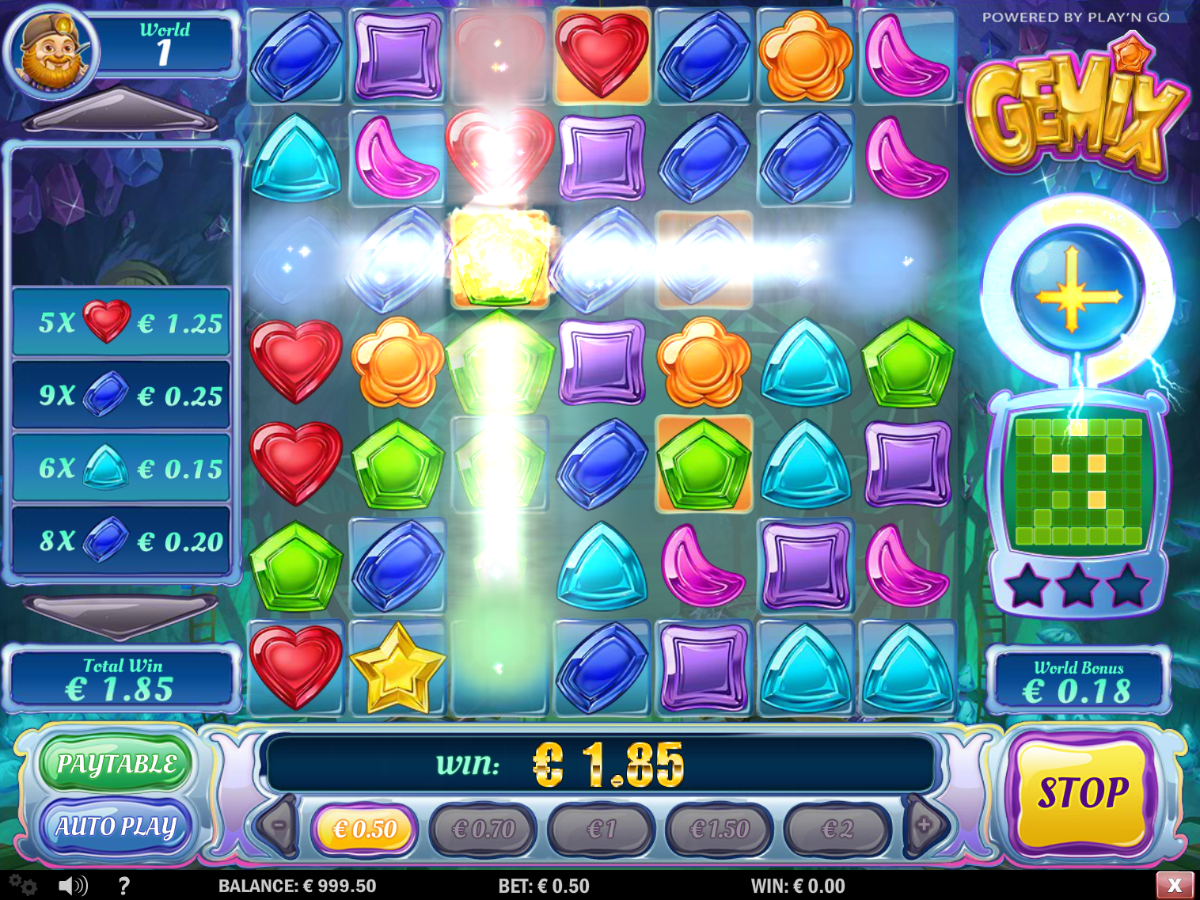 Blast 40 gems on the same spin to activate the Super Charge and you'll be awarded a 3x multiplier!
OJO says…
Everyone on your train is playing Candy Crush. They're probably buying worthless coins to cheat their way to level 308. But what are they winning? Nada. That's what. OJO knows you're better than that. Make your gems count!

Like this? Then try….
Starburst, King of the gem-based slots! If you haven't tried our free play Starburst game, log in and get to it, chief!