Bingo Rooms
Once a month at PlayOJO bingo, something special happens. The Super Saturday bingo room is ready and waiting for you on the last Saturday of every month. Offering a guaranteed prize pot of £1000 and classic 90 ball bingo action, this super bingo room is massively popular with PlayOJOers.
If you'd like to find out more about the Super Saturday room, including what's on offer and how to play, we've created this review for you. We recommend you read it before playing to give yourself an idea of what's available and what makes the room so fun to play. At PlayOJO bingo, we're always making sure our players have as much fun as possible, which means helping players like you to understand how to play bingo and win at our games.
What's to Expect
Our Super Saturday room offers the UK's favourite bingo variant, 90 ball bingo. We've kept things simple here, focusing on classic rules and making sure players can have as much fun as possible in this super bingo room. There's a guaranteed prize pool of £1000, so players can look forward to big potential prizes no matter how many people are in the room. See below for what else to expect when you join the monthly Super Saturday room:
Bingo Type: 90 ball bingo
Opening Hours: 10 pm every last Saturday of the month
Min ticket: £0.10
Max ticket: £0.10
Jackpot: No
Developer: Pragmatic Play
OJOplus payout: 10%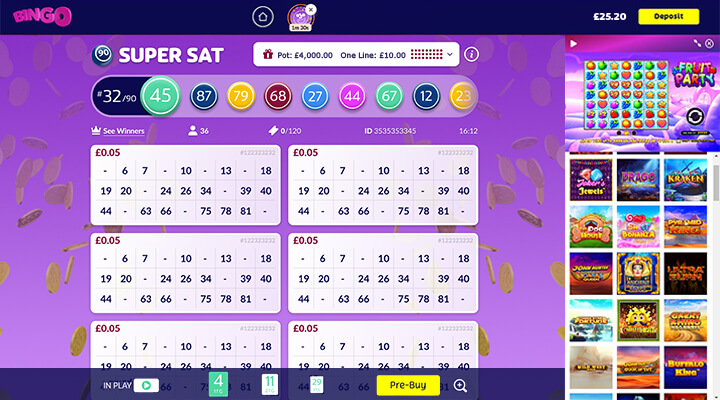 How to Play Super Saturday Bingo
The last Saturday of every month at PlayOJO is a celebration of fun online bingo and prizes. We open up our Super Saturday room for you to enjoy, offering a whopping prize pool of £1000. To join, you'll need to buy tickets, either on the day or prebuying in the lead up to the event. This is 90 ball bingo, so you're likely already familiar with the rules. If not, don't worry, we've written a full guide on how to play below.
Make sure you're logged into your PlayOJO account and have money in your account in order to purchase your tickets. Tickets are always 10p each, and you can buy between one and one hundred. Remember that buying more tickets increases your chances, but it doesn't guarantee you a win, and it can be risky. Don't spend more than you can afford to lose.
Once you have your ticket or strips of tickets, you'll be ready to start playing. If you prebought your tickets, you don't need to worry about being online during the games, your tickets will automatically be completed, and if you win, you'll be notified when you next log in.
This is 90 ball bingo, so each of your tickets will contain fifteen numbers between one and ninety. These numbers are contained on a grid containing twenty-seven spaces, and the remaining twelve spaces are all blank. The numbers are allocated at random, and you'll need to match the numbers on your ticket to those being called out.
As the game progresses, numbers are called out at random, and you can daub off any numbers that match on your ticket. The aim is to complete 1 line, 2 lines or a full house. 1 line is the easiest and involves forming a horizontal line across your ticket. The first player to get this wins a prize. 2 line is two horizontal lines on the same ticket and will lead to another prize. Finally, the biggest prize of the night is awarded to the first player to reach a full house, where all of the numbers on their ticket have been called out.
When you play at PlayOJO bingo, you don't have to actively daub off numbers as they're called out. You can socialise in the chatroom as the game progresses or even try out some of our highly popular online slots. As the numbers are called out, any matching numbers on your tickets will automatically be daubed, meaning you won't miss out on any prizes if you're not closely following the game.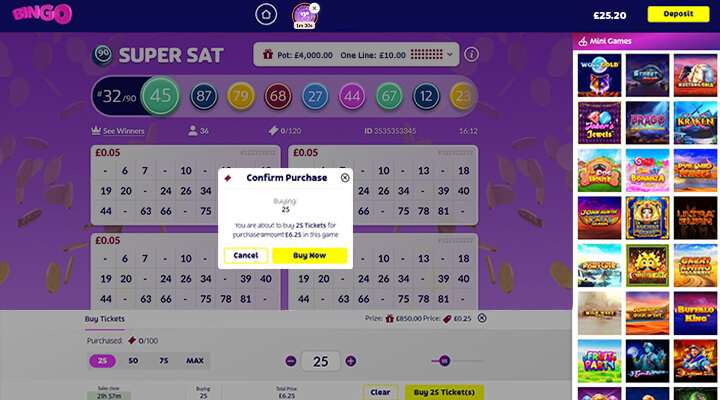 Why Do Players Love Super Saturday So Much?
Super Saturday is one of our most popular rooms, although players obviously can't play every day, we're sure they would if they could! We wanted to find out why players love Super Saturday so much, so we asked a few players why they like to play in this room. Here's are some of the reasons they gave:
Classic rules – Super Saturday uses standard 90 ball bingo rules, something that most players are already familiar with. That means they don't have to spend long reading how to play and can simply buy their tickets and start having fun straight away.
Guaranteed prize pot – While most bingo rooms have a prize that depends on how many tickets are sold, our Super Saturday room has a guaranteed prize pot of £1000. That's a lot of prize money, and a few lucky players each month will be walking away with some extra cash in their accounts after playing in this room. Because the prize money is guaranteed, you don't need to worry about how much is available as it's always clearly stated.
Money back on each ticket – As with our other PlayOJO rooms, the Super Saturday room offers 10% cashback on every ticket you buy. Our OJOPlus system is designed to make bingo fair for everyone and lets you play for longer while spending less.
Cheap tickets – Just like our Fab Friday room, the Super Saturday bingo room has a max ticket price of just 10p. You don't need to spend a lot on tickets to be in with a chance of winning, and many players are able to win just from buying a single ticket. This means you could potentially win a share of £10000 from spending just 10p!
An event to look forward to – Unlike other bingo rooms that are available every day or every week, the Super Saturday room is only open on the last Saturday of each month. This gives it a special atmosphere and makes the games a lot more exciting. Lots of Super Saturday players love the special occasion of the room and enjoy the fact that it happens just once a month.