Bingo Rooms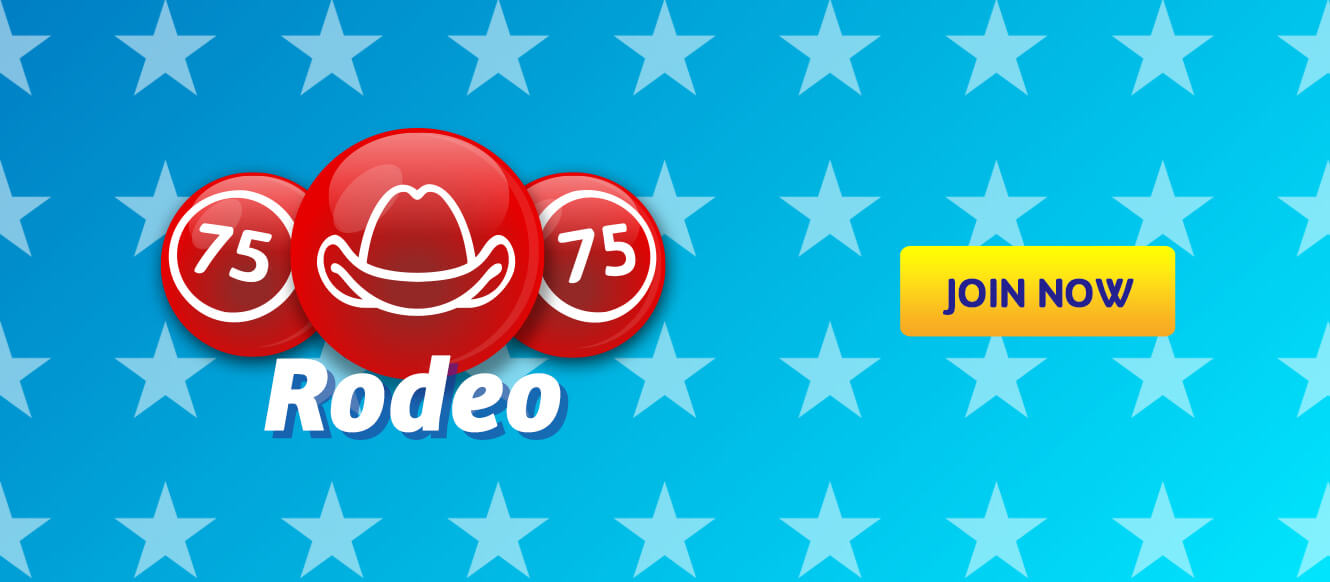 Yeehaw! Head on down to the Rodeo room for one of our most exciting online bingo games. Here you'll discover progressive jackpots and community prizes where everyone's a winner. Available 24/7, you never have to worry about missing out on the action again. Here at PlayOJO, we offer lots of different types of bingo, but it's fair to say that the Rodeo room is one of our favourites.
Grab your tickets today to join in on the fun, or if you want to learn more about our Rodeo room, read on for our complete review. On this page, we'll explain everything you can expect to find in the room, including when and how to play plus the different prizes on offer. We like to make sure all of our players are satisfied with their bingo experience so if you have any questions or issues, get in touch with us via our live chat service.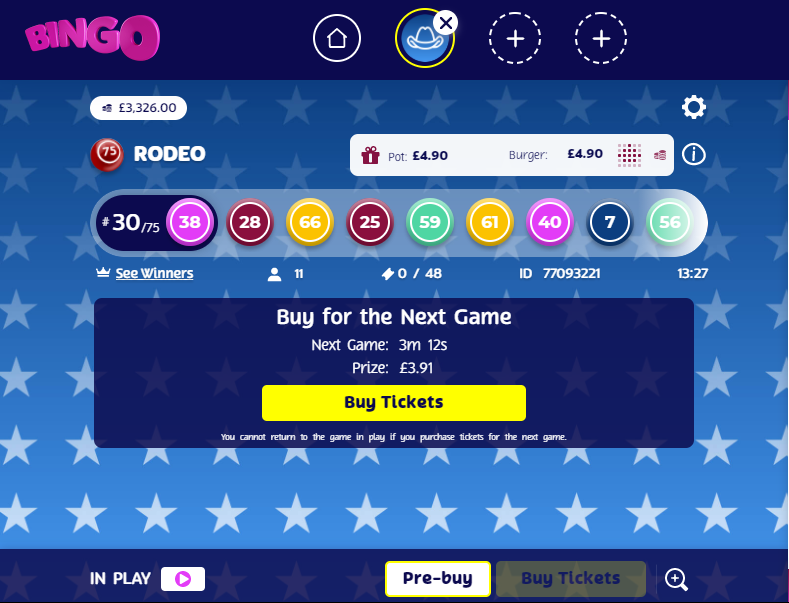 What to Expect
The Rodeo Room is a 75 ball bingo room and is enjoyed by lots of different players. The rules are slightly different than regular 90 ball bingo, but we'll explain those later. When you play in the Rodeo room, you can expect to find the following:
Bingo Type: 75 ball bingo
Opening hours: 24 hours a day
Min ticket: £0.05
Max ticket: £0.05
Jackpot: Yes, progressive and community jackpots with over £60,000 won each month
Developer: Pragmatic Play
OJOplus payout: 1.5%
How to Play
The Rodeo room is open 24 hours a day, every single day, meaning you can play whenever you want. Whether you prefer to play late at night or early in the morning, it doesn't matter. Log on and join the room any time you feel like playing a bit of bingo.
Once you're in the Rodeo room, you can start buying your tickets provided you're logged into your account. If you're a new player, be sure to grab our free ticket promotion to get started. You can purchase a single ticket or a strip of multiple tickets. All tickets in the Rodeo room cost £0.05, and you can purchase up to 100, giving you a greater chance of winning.
Buy however many tickets you like, and once you're ready, the game can begin. Numbers are called out one by one, each being randomly chosen from between one and seventy-five. As they're called, you can daub any matching numbers off of your tickets, or leave it for the computer to handle automatically.
To win, you'll need to mark off a horizontal, vertical or diagonal line, a double line or a full house. There are also lots of jackpots available, but these are won through certain patterns. Before the game begins, you'll be able to see the pattern needed to win one of the jackpots.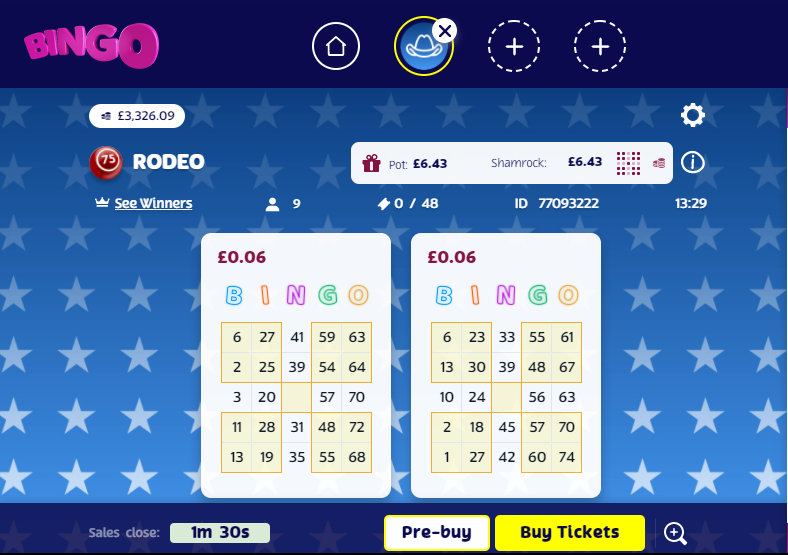 Jackpot Details
The Rodeo room is a big hit with players thanks to the jackpots on offer. Players can win both progressive and community jackpots with over £60,000 up for grabs each month! Once you enter the room and buy your tickets, you'll be able to check the full details about the available jackpots by clicking on the "I" button.
When you view the details of the jackpot, you'll see how much is up for grabs and the type of pattern you need to win. Aside from regular wins, daubing off a specific patterns within a certain number of balls is the key to landing a jackpot.
For example, the game might offer a jackpot to any player who forms a cross on their ticket within 25 balls. The type of pattern needed to win and the number of balls needed will change regularly, giving players a totally different game each time they play.
In the Rodeo Room, we offer two different types of jackpots, the progressive jackpots and community jackpots. Progressive jackpots are special prizes that increase over time as more players buy tickets. These bingo jackpots are generally harder to win but can be much larger than a regular jackpot. Prizes rollover from one game to the next, meaning they keep getting bigger and bigger until a lucky player wins.
Community jackpots are a big favourite as every player in the room gets a share of the prize when it's won. These jackpots will depend on how many tickets were sold and provide a nice boost to all of the players. The person with the winning ticket will also get an extra cash prize.
Why Do Players Love the Rodeo Room?
The Rodeo Room is one of our most exciting bingo rooms, and it's a big favourite of anyone that enjoys 75 ball bingo. Some of the main reasons why people love playing in Rodeo include:
It's open 24 hours a day – The Rodeo room is one of our 24/7 bingo rooms that run day and night. That means that whenever you're in the mood for bingo, you can hop online and get playing. It doesn't matter what time of the day it is, the Rodeo Room is open all day every day for your entertainment.
Big progressive and community jackpots – The best feature of the Rodeo Room is the chance to win big money prizes. All players entering the room have a chance to win the progressive or community prizes with every ticket they buy. To win, you simply need to complete a specific pattern within a certain number of balls.
75 ball variation – If you fancy a change from the regular 90 ball bingo, 75 ball bingo offers a fun and exciting alternative. This version is extremely popular in the USA and is just as exciting and easy to play as the 90 ball variant. Games go by a little quicker, and the bingo ticket is slightly different, offering a unique change of pace from the game you're used to playing.
Fun chatroom – Like all of our bingo rooms, the Rodeo Room features a fun and friendly chatroom. Here you can interact with the other players as you daub your ticket, joining in on the excitement and anticipation of those big jackpots.