Bingo Rooms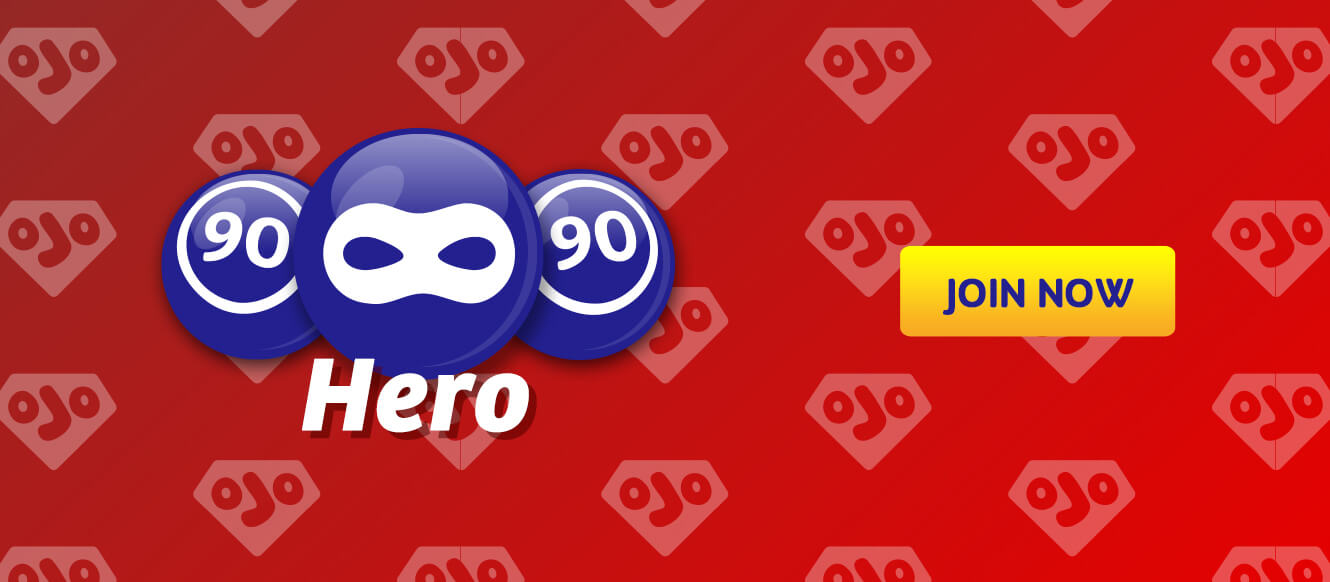 Looking for a hero to save you from boredom? Look no further because your saviour is here! The Hero room at PlayOJO is all about exciting Bingo and big potential prizes. Here you can enjoy some classic 90 ball Bingo at 9 pm every day for a chance to win a guaranteed prize of £850. Find out why the Hero room is so exciting and sign up to grab your tickets.
If you want to discover what's going on in the Hero room, we've written a bingo guide to give you all the details on what to expect, how to play and much more. Read on for our Hero room review below and find out why everyone is talking about PlayOJO's Hero room! If you have any questions about our Bingo games or using our site, get in touch with us through our live bingo chat service.
What to Expect
The Hero room is a 90 ball Bingo room offering a chance to play a classic version of Bingo with some great prizes. It's one of our most popular rooms and is loved by all of our regular players who enjoy some primetime Bingo. Take a look at the details to find out what you can expect when you play in the Hero room:
Bingo Type: 90 ball Bingo
Opening Hours: Every day at 9 pm except for 26th to the 31st of December
Min Ticket: £0.25
Max Ticket: £0.25
Jackpot: No
Developer: Pragmatic Play
OJOplus Payout: 3%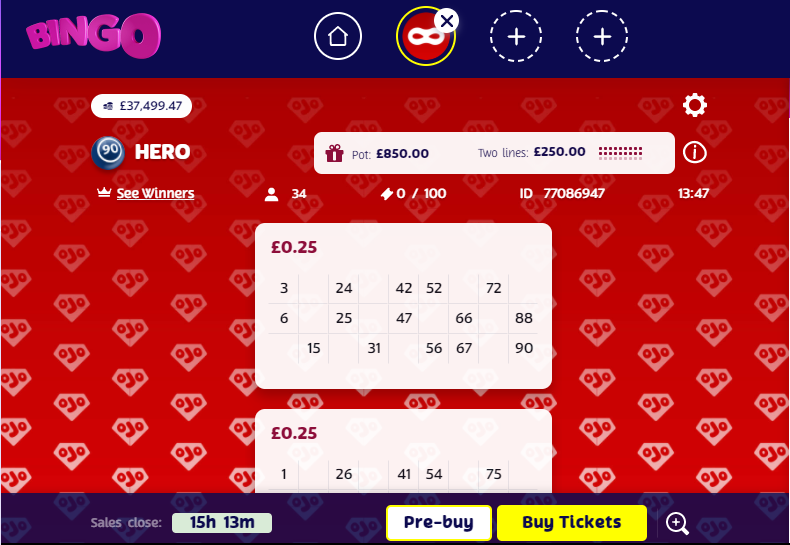 How to Play
The Hero room is available each day at 9 pm, letting players join in and play for a guaranteed prize pot of £850. While the games are only available to play at 9 pm, you can prebuy tickets whenever you feel like it, letting you win prizes even if you can't get online to play at the scheduled time. This is a version of 90 ball Bingo, which has rules that are simple to understand.
To play in the Hero room, you'll first need to make sure you're signed up and logged in to your PlayOJO account. Join the room and then purchase as many tickets as you like up to the maximum. Each ticket is worth £0.25, and you can buy up to one hundred of them. Remember that more tickets equal a higher chance of winning!
Once you've bought your tickets, wait for the game to begin or simply log off and come back later to check if you've won. If you're staying to watch, you can daub off numbers on your ticket as they're called out or select the auto-daub option to make things easier for you.
Make the most of the Hero room chatroom and interact with other players as you join in the fun. The Hero room is one of our busiest at peak times so you can expect to find plenty of people to chat to and share the excitement of this brilliant Bingo game.
Each day the Hero room has a guaranteed prize pot of £850, no matter how many people are playing. The prizes are split into three parts, £100 for a single line, £250 for a double line and £500 for a full house. Any player with at least one ticket has a chance to win that main prize so be sure to get involved, so you don't miss out!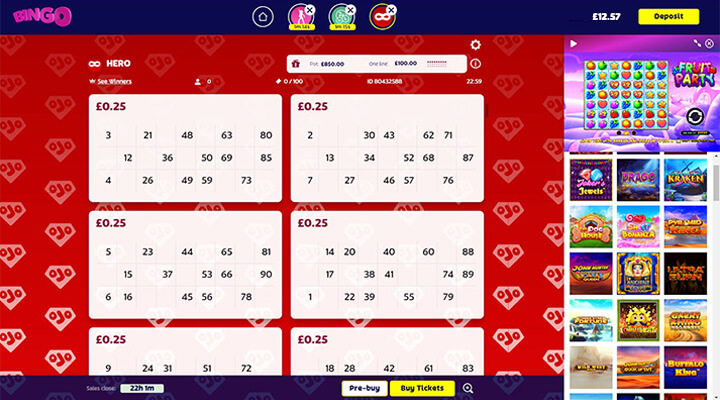 What Happens at the End of the Month?
The Hero room is available for players to join every single day. However, at the end of November until the end of December, the Hero room becomes supercharged, and all prizes are doubled! Each month, the Superhero room becomes available, giving players the chance to play daily online Bingo games at 9 pm for massive prizes.
The prize pot for the Superhero room is doubled up to a guaranteed £1,700! There's a £200 prize for a single line, £500 prize for a double line and a massive £1000 prize for the lucky player who gets a full house. This room is available to all but only for a limited time, so make sure you don't miss out!
This Superhero room works just the same as the Hero room. It's a 90 ball Bingo game and players can buy between 1 and 100 tickets. Prebuying is also available here so don't worry if you're not available at 9 pm. Even though the prizes are doubled, tickets are still the same price, giving you a great opportunity to win big.
This supercharged room lasts from the 26th of the month until the end of the month, giving £1,700 in prizes every day! Prebuy your tickets now to make sure you don't miss out!
Why Do Players Love Hero?
Hero is one of our most popular rooms, and for good reason! The room offers loads of fun and excitement plus some great prizes. Aside from that, here are some of the main reasons why Hero is so popular with PlayOJO players:
It's available every day – Hero is available to play every single day, letting players come online for a fun game of Bingo to unwind after a long day. While the game is only available to play at 9 pm, players can purchase their tickets throughout the day, ensuring that they don't miss out even if they're busy when the room comes online.
Guaranteed wins – There's no jackpot in the Hero room, but players can still be assured of a guaranteed prize pot each time they play. It doesn't matter how many players join the room, the prizes remain the same, which offers a lot of consistency and reliability.
Classic gameplay – The Hero room uses the 90 ball Bingo variant, the most popular game of Bingo in the UK. It's no surprises then that Hero is so popular, 90 ball Bingo is easy to play and offers loads of fun and excitement.
High-quality software – Like all of our Bingo rooms, Hero uses software from Pragmatic Play, one of the top Bingo developers in the industry. That means a fun and enjoyable interface that's easy to use and makes Bingo as simple as possible.