Bingo Rooms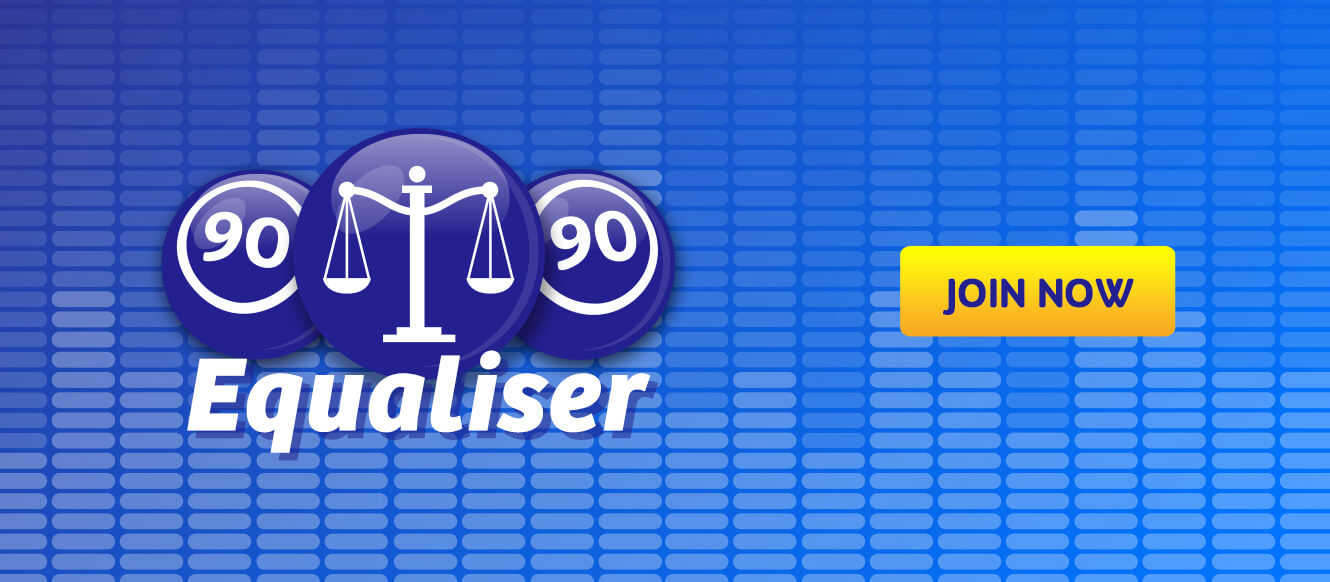 Fair bingo to the max! At PlayOJO, we're committed to giving players the fairest bingo experience possible. We've introduced lots of concepts such as OJOPLus to give players more chance to enjoy themselves and have fun while playing bingo online. Now we've also introduced the Equaliser room, where everyone has an equal chance of winning. This exclusive bingo variant offers loads of fun features on top of classic gameplay.
If you want to know more about how to play at the Equaliser room including what prizes are on offer, what times the room is open and more, you can find all the details on this page. At PlayOJO, we always make sure our players are comfortable and having as much fun as possible, which is why we've written this guide to help you make the most out of the Equalise room. If you have any other questions about the room and what it has to offer, get in touch with us through live chat.
What to Expect
The Equalise Room offers classic 90 ball bingo, which is the most common type of bingo played in the UK. While the room features classic rules, there are still a few extra features and surprises which you can find out more about in this guide. If you enjoy classic bingo and want an equal chance of winning without needing to buy loads of tickets, this is the room for you! Check out all of the room details below for more information on our Equaliser room:
Bingo Type: 90 ball bingo
Opening Hours: 8 am to 11 pm every day
Min ticket: £0.01
Max ticket: £0.20
Jackpot: No
Developer: Pragmatic Play
OJOplus payout: 10%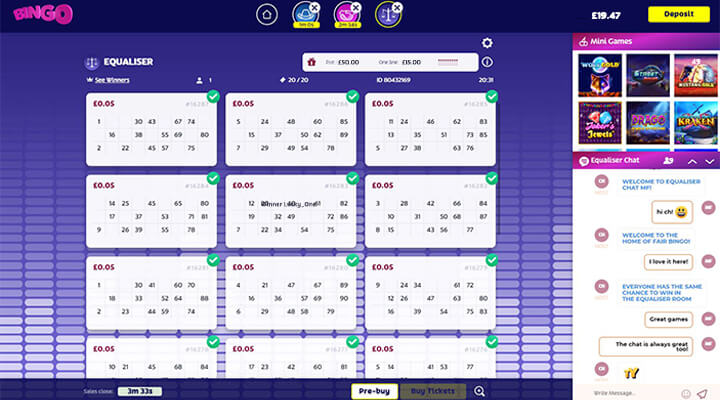 How to Play
If you've ever played 90 ball bingo before, the rules to the Equaliser room shouldn't hold many surprises for you. The gameplay is simple enough and follows the standard format. The main difference is that players are limited to a set number of tickets per game. This means there's no way to gain an advantage and it's a level playing field for all of the players. In case you're unfamiliar with 90 ball bingo rules, we've included a full description of how to play below.
To play in our Equaliser room, you'll need to visit PlayOJO and sign into your account between the hours or 8 am and 11 pm on any day of the week. The room will always be open between these times, so you'll be able to enter and purchase a ticket. You can also prebuy tickets if you arrive before the room is open.
The ticket price for games is always between 1p and 20p and of course, you'll be restricted to a certain number of tickets. Once you've bought your tickets and the game gets underway, you can watch as the numbers are called out at random. As this is 90 ball bingo, there are 90 numbers in total, and you'll daub off any matches on your ticket. You can also let the auto-daub work its magic if you prefer to socialise in the chatroom or play some slots while you wait for the game to complete.
Your tickets each contain fifteen numbers, and as you daub them, you'll be able to hopefully complete rows on your ticket. A single horizontal row is known as a 1 line and the first player to reach it wins a prize. After this, it's 2 line and then finally, the full house. The full house is where every available number on a single ticket is filled, and this usually signals the end of the game.
However, here in the Equaliser room things are a little different. Some Equaliser games include the Roll On feature. Here, a full house doesn't signal the end of the game and play will continue until a second full house is called. This means there are more chances to win and more fun!
The other special feature you can look forward to is 1TG (one to go). This feature offers a special reward to players who have just one number left to go to reach the full house, making sure they don't miss out on a prize after coming so close to winning. This prize is usually offered in all Equaliser games but check the rules before you play to make sure.
Why Do Players Love the Equaliser Room?
The Equaliser room is quickly becoming one of the favourites of a lot of players here at PlayOJO. It's fun and simple to play, so it's not hard to see why so many players love it so much, but just what are the main reasons for playing in this room? We asked some of our players to find out why they enjoyed Equaliser bingo so much:
Classic 90 ball bingo – One of the main reasons so many players love the Equaliser room is that it offers traditional 90 ball bingo. Most UK players are familiar with the rules, and it means there is less time needed to spend reading how to play bingo and more time for playing!
Fair gameplay – Of course, the standout feature of our Equaliser room is that players are limited on how many bingo tickets they can buy. Normally, players can increase the number of tickets they buy to have a greater chance of winning. This is unfair on those who are trying to spend less on tickets which is why we created the Equaliser room. Here, everyone has an equal chance of being a winner!
Available every day – No matter what day it is, you can always unwind and have some fun by playing in the Equaliser room. This bingo room is available every single day, although you will have to make sure you're online between 8 am and 11 pm in order to catch a game.
Fun features – The One to Go and Roll On features add some extra excitement to the game and give players more ways to win prizes. More prizes are always a good thing, and it's no surprise to see so many players enjoying these two exciting bingo features.
Cashback on tickets – Every time you buy a bingo ticket in the Equaliser room you can claim 10% cashback from our OJOPlus rewards scheme. This helps you play for longer while spending less, giving you more incentives to have fun and enjoy yourself here at PlayOJO.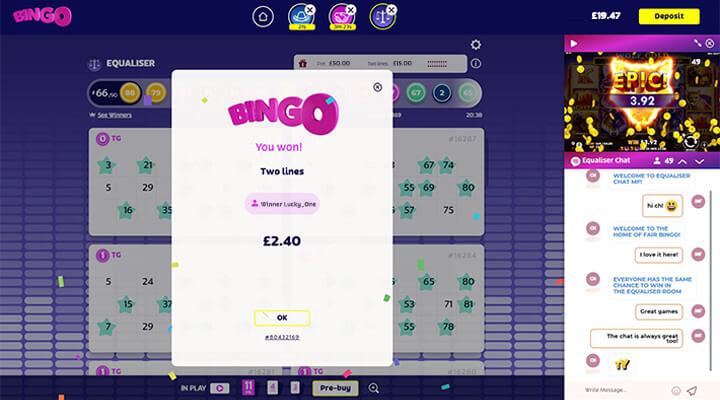 Play Fair in Our Equaliser Room
Our Equaliser room is all about fair play and equal chances which is a big feature here at PlayOJO bingo. We're committed to making sure our players are treated well and have plenty of chances to win and to enjoy themselves while playing. We're the home of safe and fair bingo, meaning we don't just offer more ways to win, we also ensure that all of our players are safe.
When you play at PlayOJO bingo, you can be sure you're in good hands. Our site is protected with encryption to keep your details safe, and our chat moderators are always on the lookout to remove scams and cheats. All of our bingo games are decided by random chance, with no way to game the system or gain an unfair advantage. Our Equaliser room is a testament to this, offering bingo where anyone can be a winner, no matter how much you have to spend.
You can also claim 10% cashback on every ticket you buy, letting you gain free tickets simply by playing. We want to reward players with a fun and enjoyable experience, which is why we started the OJOPlus rewards. This is available across all of our bingo rooms and lets you have fun for longer while spending less! If you're looking for fair and safe bingo, there's no better place than PlayOJO bingo.