Fast Bank Transfer
Fast Bank Transfer Casino Banking Method
OJO knows you just love the sound of Fast Bank Transfer casino payments. After all, who wouldn't like their bank transfers to be as speedy as possible? Well, OJO won't keep you waiting for more than 3 business days to play casino online games when it come to adding cash to your balance with the Fast Bank Transfer option. Sound good? You can go ahead and make your deposit with Fast Bank Transfer starting right now!
| | MINIMUM |
| --- | --- |
| DEPOSITS | $10 |
| WITHDRAWALS | $0 |
Still on the fence about Fast Bank Transfers? No worries amigo, let's take a closer look at why we've made this instant bank transfer casino solution available to you, including everything you need to know about Fast Bank Transfer at PlayOJO, the online casino uk.
So, what is Fast Bank Transfer anyway?
Simply put, a Fast Bank Transfer is the transferring of money from one domestic bank account to another. Most of the time, using the casino pay by bank transfer method will require your authorization. In other words, you will need to either authorize your bank to initiate the transfer or login to your online banking and authorize the bank transfer directly.
Don't confuse Fast Bank Transfer with a Bank Wire Transfer
Contrary to popular belief, Fast Bank Transfer and Bank Wire Transfer are not the same thing! T'is true that both are types of bank transfer; Fast Bank Transfer transfers funds between domestic bank accounts and Bank Wire Transfer transfers funds between international bank accounts. Both are secure methods, but the extra perk of using Fast Bank Transfer is the speediness. It's just faster. How OJOtastic it that?
Yes, you can use Fast Bank Transfer to make mobile deposits
If you like to spend your playtime OJO mobile-style then it's great news for you because Fast Bank Transfer is indeed a mobile casino banking method. As long as you've got your bank app on your phone, you should be good to go.
Fast Bank Transfer for all Casino Players
To get the ball rolling, you'll need to log into your own banking system and authorise the payment and you'll receive a security code via an automated caller. Coz safety comes first of course! You'll need to enter a security code every time you make a deposit. You may also need to provide the bank details to withdraw funds because direct Fast Bank Transfer cash outs are not a thing.
How to Load a Casino Account via Fast Bank Transfer
The Fast Bank Transfer payment option means extremely fast casino bank transfers. That's speedy stuff right there. Making a deposit by bank transfer couldn't be more straightforward. We'll show you just how easy with these simple steps:
Step 1 – Register/Login to your account.
Step 2 – Click on "Deposit Now" or go to "My Account" to access the "Cash Management" section and select "Deposit".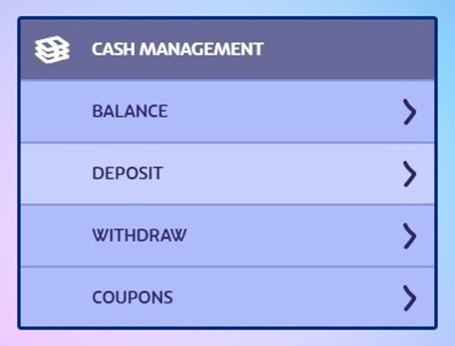 Step 3 – Select "Fast Bank Transfer" from the available casino banking methods displayed.
Step 4 – Enter your preferred deposit amount. You can also enter a "Kicker Code" in the appropriate box if you've got a promotional code. Click submit.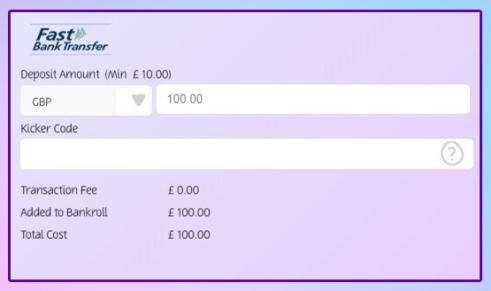 Note from OJO: The minimum amount that you can deposit is $10 and the maximum you can transfer from your bank account on each transaction is $50,000.
Step 5 – On the next screen you'll find "Your Payment Reference". Just select your bank and take a note of the payment reference. You'll need to supply this unique code to your bank by either adding it to the correct input field online or quoting it via telephone banking. To avoid payment delays, make sure you enter the deposit reference accurately.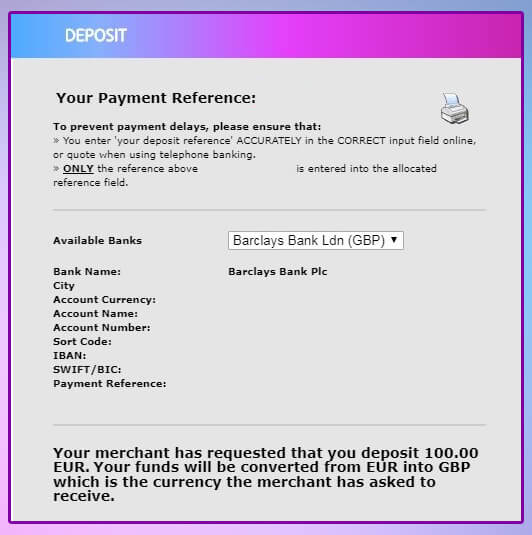 Step 6 – Once you've selected your bank, you'll be given the Payee Information that you will need to give your bank to arrange the fund transfer. You can sort all this out with your bank via phone or at an ATM. Yes, right there on your local high street!
Note from OJO: Remember, "Your Payment Reference" is your key to using the Fast Bank Transfer method. This reference number is unique to your account and will come in handy for making future deposits, so keep it in a safe place!
What about deposit fees?
The good news is that there are no Fast Bank Transfer charges when you make a deposit into your account. The cost of your deposit is the amount you deposit. No pesky fees makes for happy OJOers!
When can I start playing?
We get that you want to get playing in the nick of time, especially because our casino games are so OJOtastic. The speed of the transfer depends on how quickly you get in touch with your bank amigo. Well it also depends on your bank's specific processing times. This could be anywhere from 1 – 3 business days on average. If don't want to wait, OJO also offers other fast casino payments, such as e-Wallets like PayPal casino. Wait or not wait, the choice is always yours amigo.
Making a Fast Bank Transfer Online Casino Withdrawal
OJO's got its rep to protect and that's why we like dealing with rapid fast banking methods for online casinos like us. When you've made a Fast Bank Transfer deposit before you've ever cashed out, you can use the same personal details to authorise the cash-out transaction. Select the amount you wish to cash out and you're ready to withdraw. And it'll be with you in a flash! #happydays!
Here's how to do it:
Step 1 – Login to your account.
Step 2 – Select "Withdraw" from the "Cash Management" section in your account.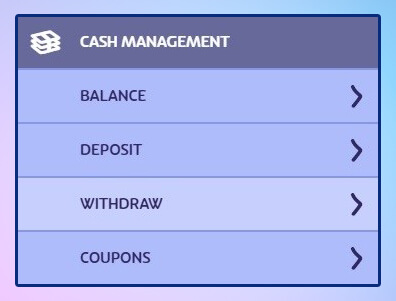 Step 3 – Since you have already made a deposit using Fast Bank Transfer, you should see the logo as one of your available withdrawal options. Select it!
Step 4 – Enter the amount you'd like to withdraw, fill in your bank details and click "Submit"
Note from OJO: The minimum amount you can withdraw is $20.
Step 5 – If your withdrawal is successful, you'll receive a unique transaction ID that you should keep for your records.
Are there fees?
Nope! Even better, since OJO's all about being fair and square, everything is paid in cash with no restrictions. There are no wagering requirements obvs. Your money is your money, always and forOJOever.
Do I have to wait to make a withdrawal?
No again! If you want to request a withdrawal on the same day that you've deposited, you bloomin' well can!
How long does a Fast Bank Transfer take?
Praying that this bank transfer method is an instant withdrawal casino UK payment method, with no waiting? We hate to burst your bubble, but it's not. Just like making deposits, you'll need to have just a little bit of patience when transferring funds with bank transfer.
We generally process withdrawals within 24 hours. What do we need from you? For your first-time withdrawal the OJO crew needs to validate your requested transaction for security purposes n' all. We'll require a couple of personal documents from you to verify your ID. It's easy to submit the docs we'll need. You can learn about that right here.
Once we've verified and processed your fund transfer, the money should be credited to your bank account within 2 – 4 business days. Saying that, banks have their own schedules, so how long it takes for your funds to appear will depend on those guys too.
Fast Bank Transfer Bonus
You might have heard that some casino online banking methods can't be used to claim certain bonuses or promotions.

None of these restrictions apply for Fast Bank Transfer at PlayOJO. So if this does turn out to be your preferred fast-payment method, you'll be ecstatic to know that you'll still benefit from all that OJO has to offer, including OJO's Kickers, Club OJO, The OJO Wheel, OJOPlus and OJO's Welcome Play Package.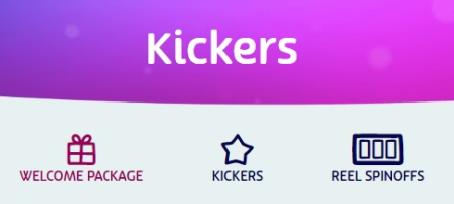 So, to repeat ourselves, when you make an instant bank transfer casino deposit, you'll see a "Kicker Code" section. In this box you might see "MyKicker", which awards you with your last claimed Kicker along with your deposit. You can also enter a unique Kicker code if you have one.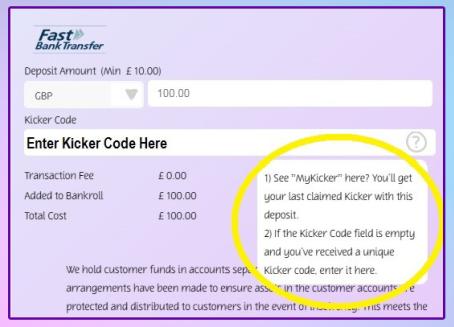 Help is always at hand!
If you ever need some OJO help you can always get in touch with the Fast Bank Transfer support team who are always happy to have a little chat. They can be reached on email, Live Chat or by phone. The OJO crew is always happy to help, don't you forget that! Get in touch right here.
Advantages of Using Fast Bank Transfer
There are so many pros of using the Fast Bank Transfer online casino method. Get ready for 'em:
• No middleman – Things like e-wallets are swift, safe and secure. But for those who don't care much for e-wallets and cards but want a response that is just as speedy, this payment method could be the one! Funds are transferred directly to and from your bank account with no third party involved!
• Security – Your money stays safe and protected in your bank account, in your OJO account, and on its journeys to and fro.
• A payment method you can trust – We're sure you trust your bank and you can put the same trust in PlayOJO. We not only provide you with secure state-of-the-art SSL encryption technology, but we hold all our customer funds in accounts totally separate from business accounts. This means that your money is 100% safe, whatever the weather. OJO is serious when we say that your money is your money, always.
• No fees – Need we say more?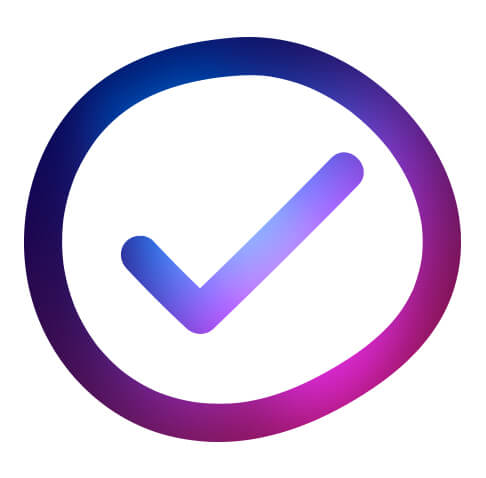 Disadvantage of Using Fast Bank Transfer
OJO promises to be fair and this means telling it like it is. In the case of Fast Bank Transfers, the main drawbacks are:
• Deposits are not instant – you may need to wait for funds to be deposited into your account, depending on how quickly your bank approves and releases your transfer.
• Withdrawals can take multiple business days – Whilst still considered to be a fast casino payment option, it can take up to 4 business days for your money to arrive in your bank account.
• Country availability – Although this is not an issue for UK players, depending on where you live, Fast Bank Transfer is not always a widely available option.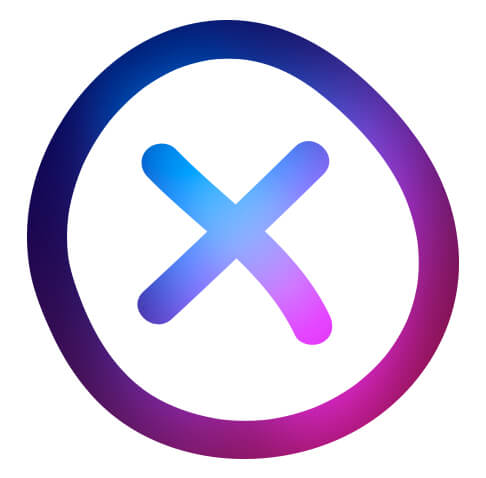 Is Fast Bank Transfer the right online casino banking choice for you?
• Do you want to make direct online casino deposits and withdrawals to and from your bank account?
• Do you mind waiting a day or two for money to be deposited into your account?
• Are you willing to wait up to 4 business days (on average) to receive your funds in your bank account?
• Do you like the idea of zero transaction fees?
• Do you want to make deposits and withdrawal on the same day?
If you answered "Yes" to any of these above questions, things are looking good!
Ready to deposit with Fast Bank Transfer? Let's Play!