Game Review
2 Gods: Zeus Versus Thor Slot: A Divine Battle!

Howdy, amigos! Today, we're looking at a frankly divine slot that's available at PlayOJO. The 2 Gods: Zeus Versus Thor slot by Yggdrasil plays host to the heavenly armies of Greek and Norse gods. Things are about to get epic in here!
If a divine battle in slot form wasn't exciting enough, OJO has yet more thrilling news. He's offering all his newest members 50 Free Spins when they make their first deposit. The best part? There's no wagering requirement whatsoever!

2 Gods: Zeus Versus Thor Slot: How it Looks
Norse and Greek mythology collide on the 2 Gods: Zeus Versus Thor online slot. To the left of the reels is Zeus, with a lightning bolt in hand. Opposite is Thor. He brandishes a mighty war-hammer.
Each god has his own symbol set. Along with the deities themselves, there are fierce looking warrioresses, mythical beasts, mighty warships, and helmets in the respective styles. It's up to you whose side you take!
Gameplay Dynamics
Yggdrasil's 2 gods: Zeus Versus Thor slot machine features a Dual Spin dynamic. Zeus's reels run left to right and are controlled by a spin button to the left. Meanwhile, Thor takes the opposite side, with wins formed from right to left. You get to pick which reel set you use, meaning it's essentially two online casino games in one!
The action itself takes place across five reels and three rows of symbols. This means there's 2,048 ways to win (1,024 ways twice). We are talking about two of the greatest powers in the known universe here. Obviously, they both get their own set of reels!
Yggdrasil says the 2 Gods: Zeus Versus Thor slot RTP rating is 95.6%. Oh, and there's a godly maximum win of 15,360x the bet up for grabs!
Like most video slots online these days, the title also features an Auto Play function. You can opt to play as only Zeus or Thor. Alternatively, you can choose to switch between the two godly warriors. Whilst Auto Play certainly speeds the action up, it's important to remember to play responsibly!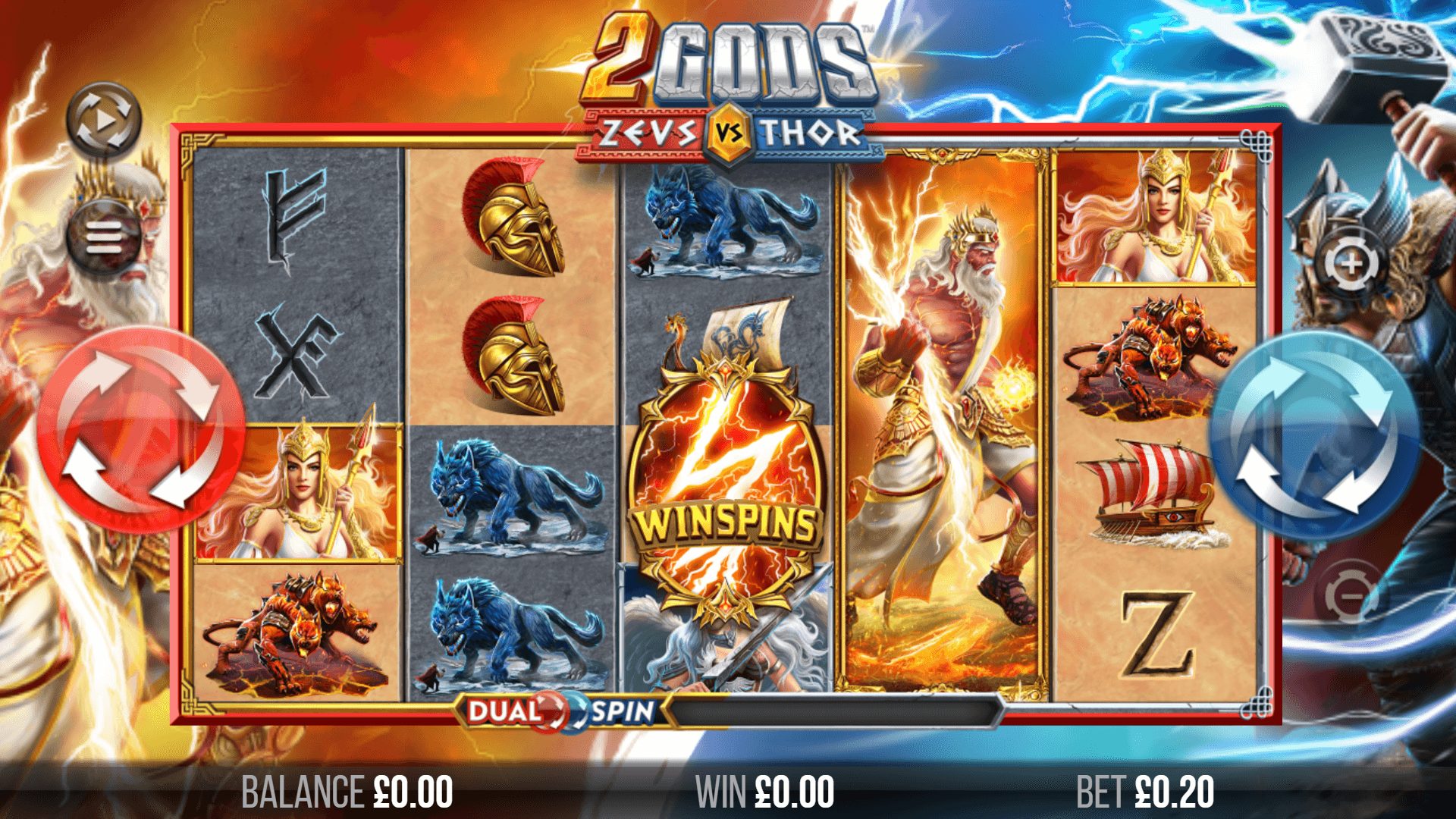 It's worth noting that the 2 Gods: Zeus Versus Thor slot game also looks amazing on any device. If choosing to play on a mobile in portrait, you can activate the BIG Reels mode. It flips the reels horizontally to fit the screen better!

Truly Epic Special Features!
2x Dual Spin Wins
Whilst you will win prizes for the same symbols of either colour landing on consecutive reels, you'll receive a 2x Multiplier if the colour matches the reel set used. Red symbols on Zeus Spins and blue symbols on Thor Spins trigger the bonus.
Win Spins!
Land three Scatters of any colour to trigger the 2 Gods: Zeus Versus Thor Free Spins mode. If the colour of the majority of the Scatter Symbols triggering the feature match the reel set, you'll get 10 Free Spins. If not, you'll receive seven.
The best part about the Free Spins feature is that every spin is a guaranteed winner. There's also an increasing multiplier that comes into play when your spin and win are of the same colour!
Betting Limits
Bets range from 10p to £20 on the 2 Gods: Zeus Versus Thor online slot. Just hit the Plus or Minus to the right of the reels to toggle the different total bet amounts.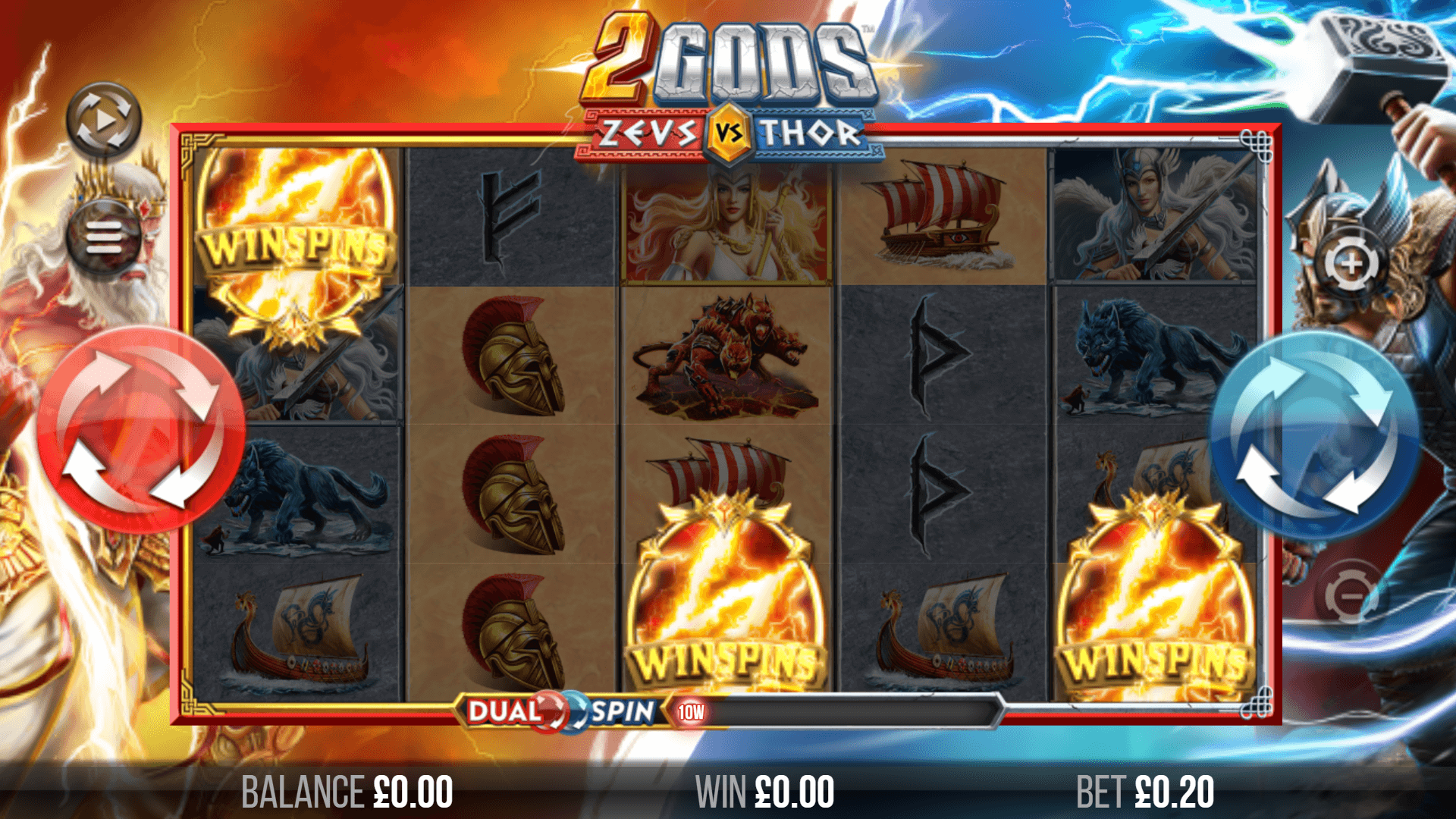 If you're not ready to take part in this divine battle for real right away, don't worry. PlayOJO hosts a 2 Gods: Zeus Versus Thor demo so you can get a taste of the action for free first.

OJO says…
The 2 Gods: Zeus Versus Thor online slot is an innovative online slot with a lot of replay value. Its generous special features and interesting reel dynamics are sure to win it a lot of fans. See for yourself and play the 2 Gods: Zeus Versus Thor slot in the UK at PlayOJO today.
Like this? Try…
Hall of Gods by NetEnt. Another game steeped in ancient mythology; this one features an epic progressive jackpot even Odin himself wouldn't grumble at!