Game Review

Wild Toro slot is an award-winning online casino game that, like all ELK Studios productions, will give you a snorting good ride!
A 178-ways slot with a max win of £225,000, this Wild Toro online slot won Game of the Year at the 2017 EGR Operator Awards, so it's not just OJO that loves this one.
Don't take anyone else's word for it though, you gotta play our Wild Toro slot yourself to see how ELK go about making some incredible games.
This 5-reel slot tells the story of the battle between our hero, Toro, and his former friend, the matador Diaz Jr.
We'll get to that tale later in this Wild Toro slot review but backstory aside, it's typically outstanding graphics, electrifying features and a 96.4% player return rate that keep OJOers comin' back for more.
Before we unleash the beast, OJO would just like to state that no bulls or matadors were hurt in the making of this slot (though in Toro's case, it's not for want of trying).

How to play Wild Toro slot
First things first, chief. If you ain't an OJOer, you gotta become one! Input your deets in our fast and friendly signup form and you're almost ready to roll.
There's no Wild Toro demo slot here I'm afraid (*sad face*), but fortunately it's cheap as chips to play and OJO gives you crazy value for money on every spin. More on that in a jiffy.
If you've got funds in your account, bully for you! Move on down. For the rest of us, it's a case of figuring out a sensible amount to spend, and picking your favourite banking method.
We've got plenty of safe and secure casino deposit methods, from debit and credit cards to Paypal, Skirll, Trustly and paysafecard, so it's easy to play Wild Toro for real.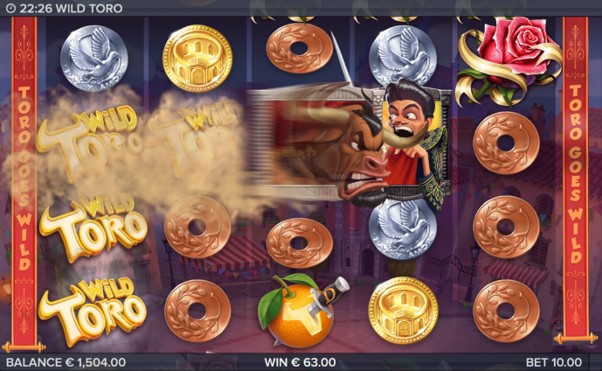 When you make your first deposit. OJO gives you 50 Free Spins with his welcome package, but they'll probably be on one of his other star slots. Check the info when you claim, or head to the Kickers section to find out.
PlayOJO and Wild Toro slot makers ELK Studios are both licenced by the UK Gambling Commission too, so you know your money's safe and your games are fair.
We also both want you to enjoy playing all of our UK slots in a responsible way, so we've given you the tools you need in the Safeguard section of your account.
If you'd like to know more about managing your gaming, head over to our responsible gaming page once you're done here. Play smart, pal!
Now we're good to go, but what device you on, amigo? ELK Studios are big Mobile Firsters, so this Wild Toro slot machine is pure gold on any phone. It's just as fun on tablet and WOWSER are the graphics slick on laptops and bigger screens. ZING!
Aim of the game
Our job is basically to hit the SPIN button and hope. But what are we hoping for? To notch a win, you'll need to string a few matching symbols together, or hit a bonus feature and see where it goes.
Like most casino games, the big payouts come through bonuses and special features, but we're in luck here, as this hit UK slot game is packed with extra action.
This slot has 178 possible paylines and your bet is applied to all of them rather than divided between them. You have to get 3 or more matching symbols, from left to right starting from reel 1. They don't need to be in a particular position on the reel, they just need to be on connecting reels.
Pick your bet size – from 20p to £100 - using the coin stack icon and hit the SPIN button, which needs no introduction.
Whatever your stake, you play 100 coins per spin. The paytable is set out in coins too, but you can still see your Wild Toro slot win amounts in pounds, below the reels. If you prefer, you can change from coins to pounds in the Settings menu, so your bets, wins and paytable are all in £.

Aimed at experienced players of slots games online, ELK have created a Betting Strategy tool which offers you 4 unique strategies to suit the most common player styles. You can use these with or without autoplay mode.
The Optimiser (blue) changes your bet automatically to adapt to your selected percentage of your balance (1%, 2%, 5%, or 10%).
The Leveller (green) raises 2 levels after 5 consecutive losses.
The Booster (red) raises the bet one more level after a loss until you reach 4 levels above your base bet.
The Jumper (yellow) raises your bet a level after every winning round, until 4 levels above your base bet.

Wild Toro slot rules
For a stunner of a game with plenty beneath the surface, it's incredibly easy to play Wild Toro online slot and understand the rules. Probably coz there aren't many!
Prizes
The headline figure is 225,000 coins, though it's an action packed slot with a decent RTP so you can expect plenty of smaller wins along the way. As Wild Toro is an online slot with a high number of win lines, the payouts for each symbol set are pretty modest at first glance.
But with so many paylines and Wild-related bonus features, it's common to get wins on multiple lines during the same spin. The paytable wins range from 20 coins to 1,000 coins for 5 roses, which is essentially 10x.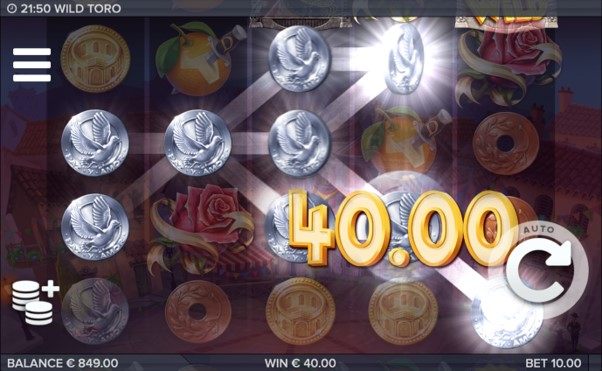 Return to player
The Wild Toro RTP comes in at 96.4%. On its own, that's a pretty healthy figure and well above average. But hear this, friend. You get cash back on every spin via OJOplus, so we're talking 97%+ already.
Toro Walking Wild
The Wild symbol substitutes for all symbols except Toro and Matador, and they're a massive part of this game's special features. It ain't called Wild Toro for nuthin'!
Toro Wilds can pop up on any reel, but when they appear on reel 5, Toro moves across the reels, it triggers the Walking Wild bonus. The special Toro Wild moves across the reels, 1 reel at a time. You get a Respin at each stop, for a total of 4 Respins.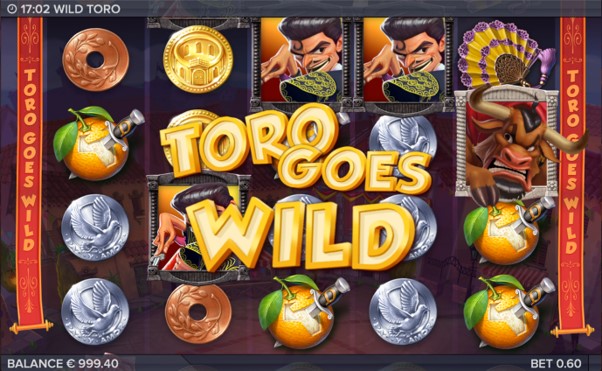 Toro Goes Wild
If a Matador symbol pops up at the same time as Toro, things get fruity. Toro gets so angry at the sight of his rival that he attacks any Matador symbols in sight, leaving a trail of Wilds behind him, and these remain in place for a Respin.
You can land multiple Toros and multiple Matadors on the same spin, giving this feature serious win potential. It ends once there are no more Matadors on screen.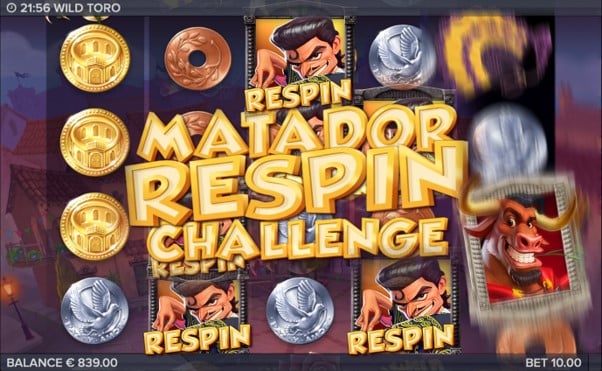 Matador Respin Challenge
This Wild Toro UK slot game feature is triggered when you land 3 Matadors on the 3 middle reels. This feature makes the Matador symbols sticky, giving you 1 Respin for each symbol, for 3 Respins in total.
Oh yes, one more thing you might find when you play the Wild Toro slot For each additional Matador that lands during the Respins, you get an additional Respin. This will continue until the feature ends when all the Matadors Respins run out or when Toro defeats all the Matadors.
Wild Toro slot design
Wild Toro is a rich, slick animated adventure where the graphics, sound and gameplay combine with magical effect. Time to wax lyrical...
Symbols
There are only 6 base game symbols but they've been given the love and attention we expect from ELK. The trio of lower value symbols is a set of bronze, silver and gold coins, each etched with a different ancient image.
The higher value symbols include a lace fan, an orange punctured by Diaz's dagger and a red rose. Don't forget the Toro Wild symbol and the stars of our show, Toro and Diaz the Matador. Graphics and characters like these are worth of their own cartoon or movie!
Where's Pixar when you need 'em...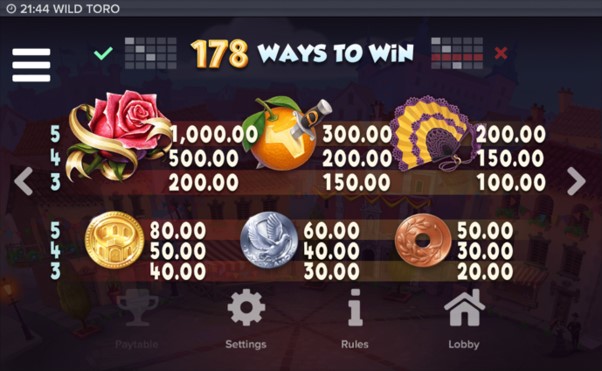 Sound
The folks at ELK pay plenty of attention to the audio of their slots (and their slot trailers!), so it's worth sticking the headphones on for a few spins, cranking it up and appreciating their work.
Here we've got the subtle hubbub of a Spanish town square and a little intro music with a flamenco flavour.
Win sequences come with a nice flourish and if you don't end up hearing the bonus music, you're missing out. It's a latino dance floor destroyer.
OJO says...
The Wild Toro slot game is a high-energy game full of surprises with many an amusing moment along the way. Thanks to some great bonuses, it pays tribute to one of the all-time great slot features, the Wild.
If you're rearing to go on a Spanish bullfighting adventure to potentially win up to 2,250 times your stake, this is the game for you!

Like this? Then try...
If you like animated antics with awesome production values, you're spoiled for choice with ELK slots. Taco Brothers is very similar to Wild Toro and Platooners will put a smile on your face. But it's 243-line Bloopers slot that OJO's picked as his Next Best.
With a fun ensemble cast, a Free Spins bonus game and a £185k max win, this cinematic slot got plenty of star power.