Game Review
Super Monopoly Money slot features explained!

PlayOJO's Super Monopoly Money video slot is a classic in land-based casinos that's been successfully imported online. Created by Williams Gaming, a sub brand of Scientific Games, Super Monopoly Money is bursting with heady post-war capitalism…. And we LOVE it!
This game is packed with features – Free Spins, Chance and Community Chest cards, Wheel Bonus and more – and combined with hectic non-stop action, it's one of the best slot games around. If you don't hit any kind of feature in your 1st few spins, OJO will personally come round and give you a hug*.
The absolute best way to learn about this game's many fun features is to simply give it a spin. But for the benefit of hardcore slotsfans and the Google bot, here begins our Super Monopoly Money slot review!
*Not applicable on days ending in a Y
Super Monopoly Money graphics
Oh boy, this is a mega happy slot! You feel it from the off with a brash n' bold American welcome from the announcer (who you'll come to know and love).
As you can see from the background, this game follows the classic Monopoly design with nods to London and Paris. Inside the game itself, the vibe is pure Roaring 20s, Great Gatsby, bankers in top hats, unbridled optimism. Let's make some money, baby!
Symbols are a mix of classic Monopoly playing pieces – top hat, boot, ship, car – and some more leftfield additions (taxi? bus? Not very bling!).At the business end of payline wins are the fancier symbols – dog, driver, Mr Monopoly himself, Wild and Jackpot. In keeping with the 20s theme, they're all given a nice shiny art deco flavour.
Super Monopoly Money stays true to a world famous design, but what sounds did they match it with? We've got a lounge jazz backing track that's got to put a smile on your face, plus some big band jazz, game show-esque jingles during features.Not enough? How about a burst of brass when Wilds and Scatters appear, or a bit of Charleston during the Free Parking (Pick a car, any car! Vroom vroom!)?
All that contributes to the same happy go lucky boomtown feel we get from slots like Piggy Riches. The sky's the limit right? Everything's going up up up! (until 1929 that is, let's not go there).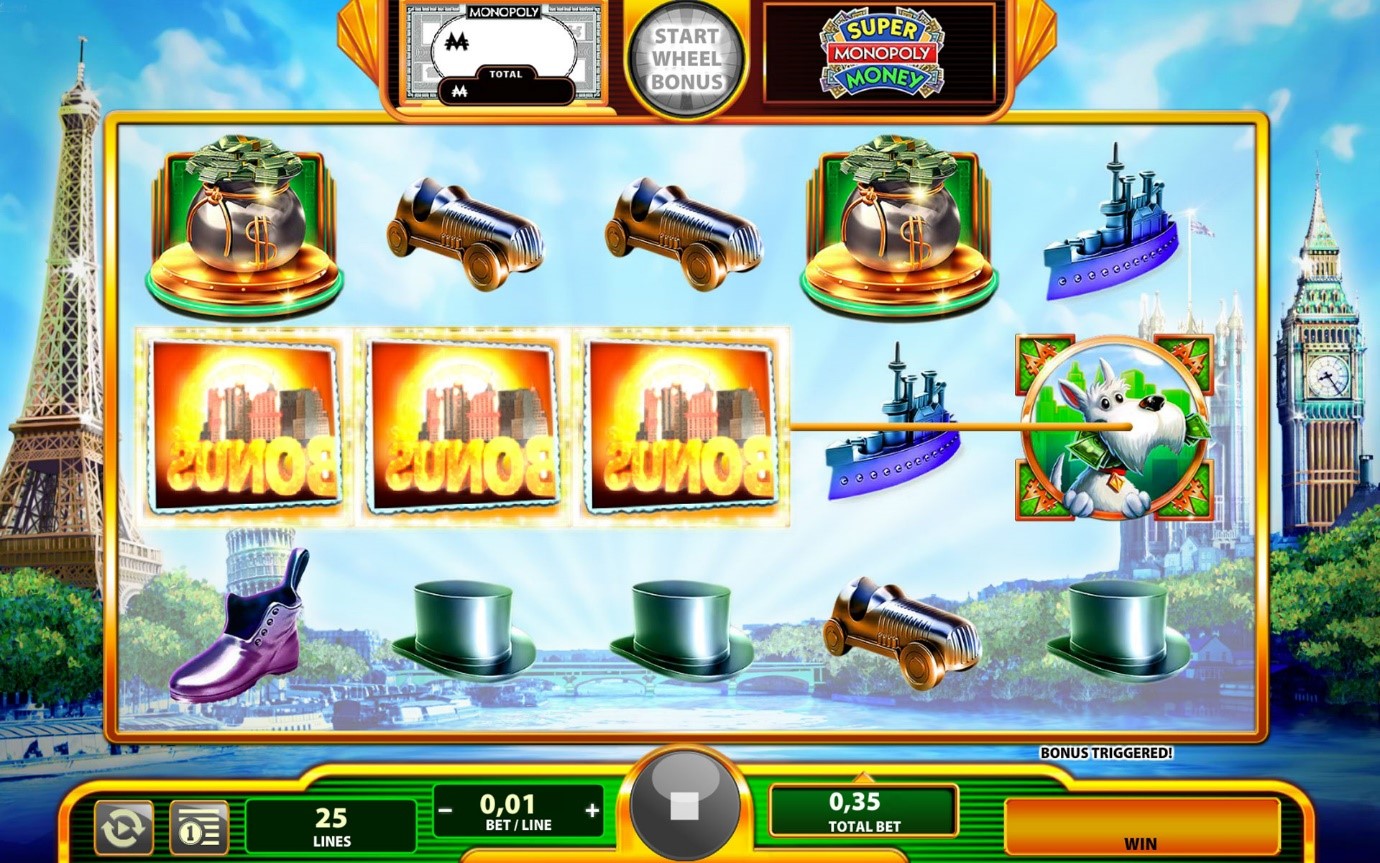 The important stuff
Super Monopoly Money is a 5-reel, 3-row slot with 25 fixed paylines. Nothing out of the ordinary so far.The total stake is where your first decision comes. Bet from 1p to £3 per line + a 10 coin contribution which they call a Feature Bet. That means a minimum total wager of 35p and a maximum of £105.
What are we playing for then? We're not short of chances to win up to 200x in the bonus features but it's the 25,000 coin jackpot that blew our mind. With a max stake of £3 per coin, that's a razzle-dazzling £75000
Super Monopoly Money slot RTP is a fairly standard 95.57%. Chuck in some money back every time you play thanks to OJOplus, and you're in the best place with the fairest casino around. No word of a lie!
So the numbers speak for themselves, but this section is about the important stuff and that really means one thing - Monopoly Money! See that wallet up top?That's where the real action happens, so keep your eyes on it. How do you accumulate Monopoly Money (and the real stuff that really matters)? Read on, amigo…

Super Monopoly Money slot features
With 4 great online slots features and something always happenin', PlayOJO's Super Monopoly Money slot machine is almost impossible to match for entertainment.
Free Parking
• New payline win
• Free Spins Bonus
• Increased value of existing win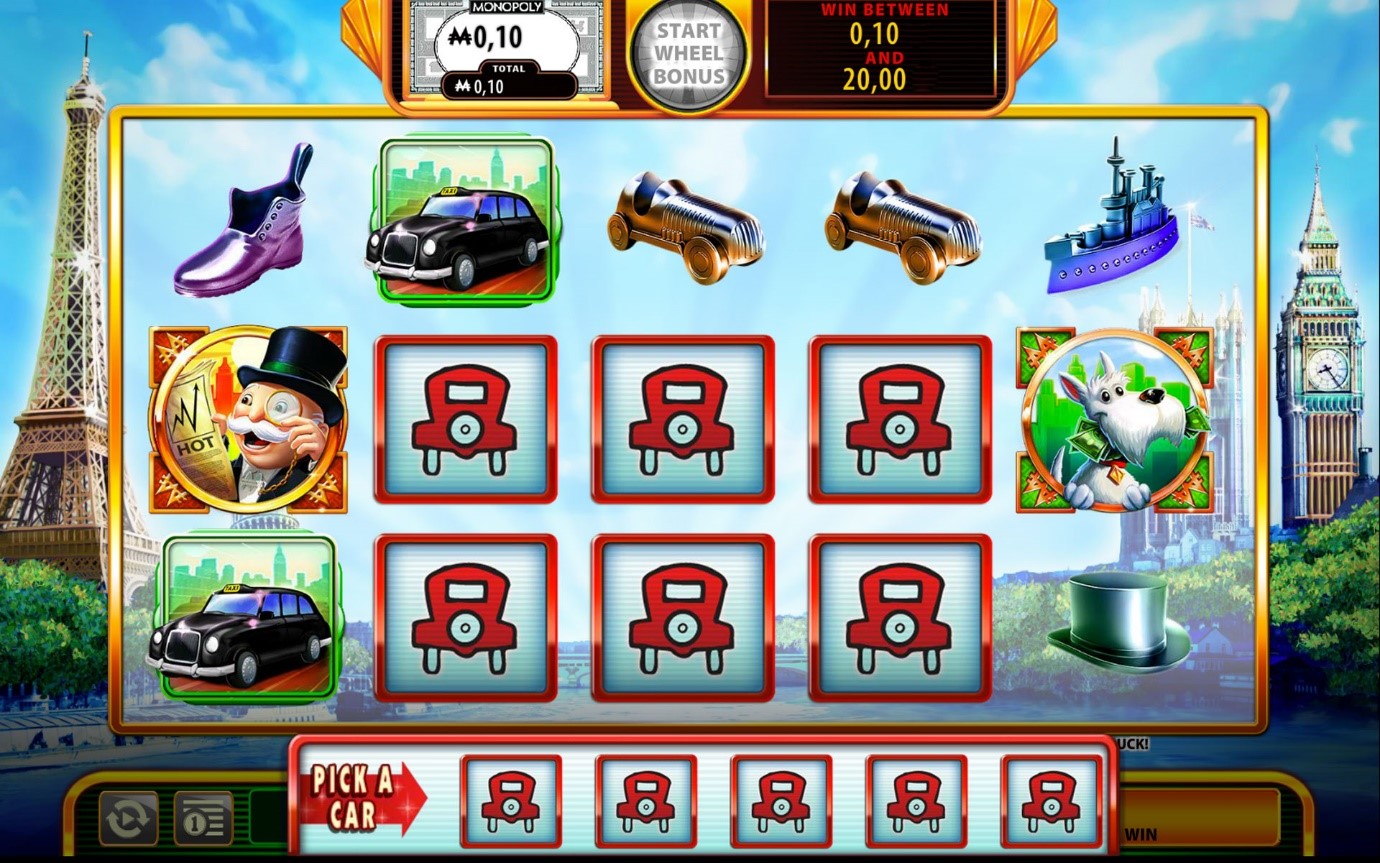 You'll be asked to pick from 5 Free Parking boxes below the reels which contain 3 standard symbols from the current reel spin (not the Jackpot though, that'd be too easy!) plus a Wild and an MM Bonus. Whatever you pick will then replace any Free Parking symbols on the reels.
The MM Bonus symbol is unique to this feature, and if you pick it, you'll win 8, 10 or 15 Free Spins if you end up with 3, 4 or 5 of them on the reels.
Super Monopoly Money Free Spins Bonus
Super Monopoly Money Free Spins are your chance to strike it rich! Simply land 3, 4 or 5 Bonus or MM Bonus scatters (or a combo of the 2) and you'll trigger 8, 10 or 15 Free Spins. Hit 3 or more Bonus symbols during Free Spins and you'll retrigger even more Free Spins!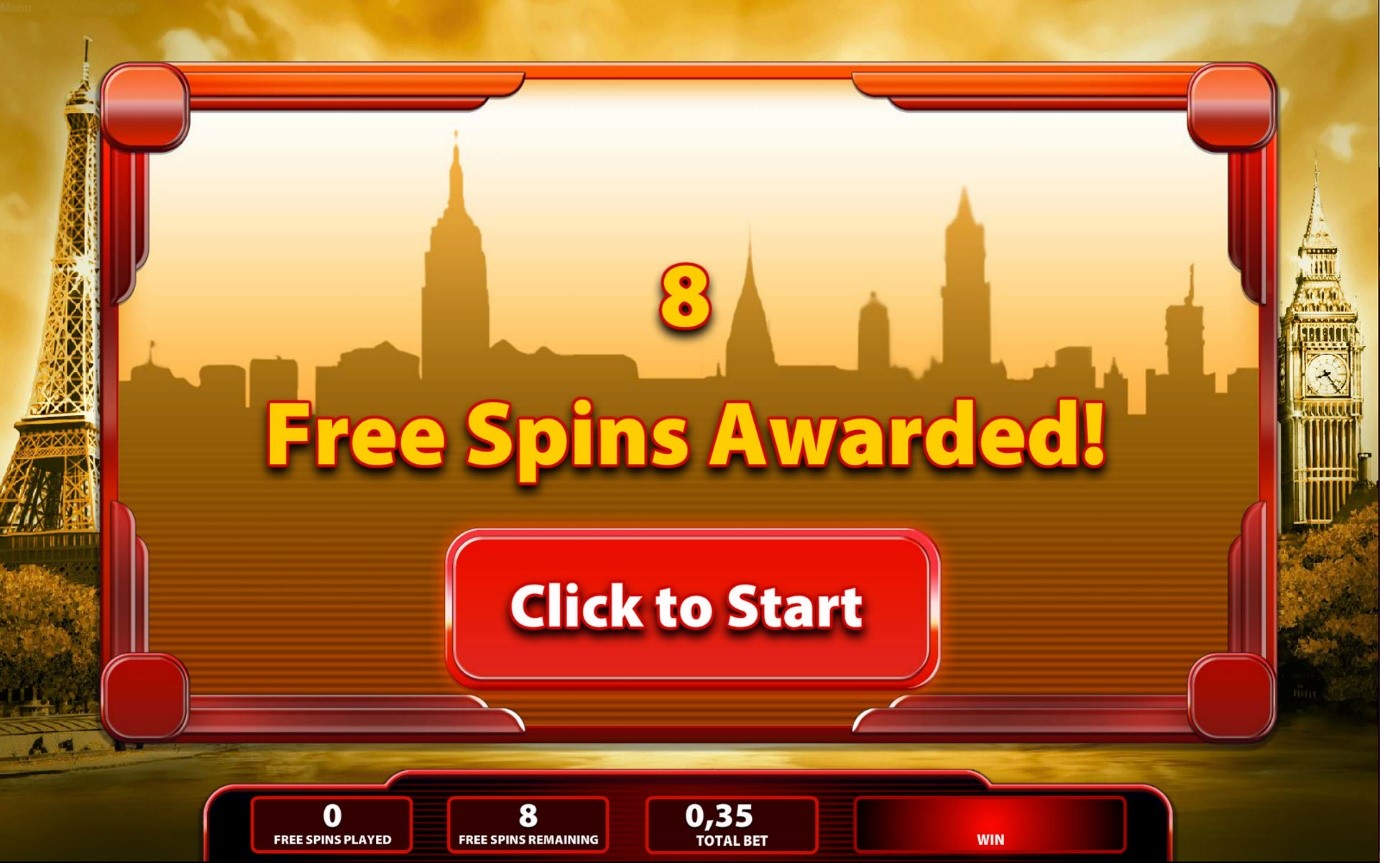 Monopoly Money Wild
The standard Wild symbol substitutes for all symbols except Bonus, MM Bonus, MM Wild and Free Parking, and is a payline win in its own right. But that's not the Wild we're talking about here.
The MM Wild symbol can appear only on reel 5 and substitutes for all symbols except Free Parking scatter. It expands to fill the entire reel and also banks you some Monopoly Money. This is your ticket to the Wheel Bonus.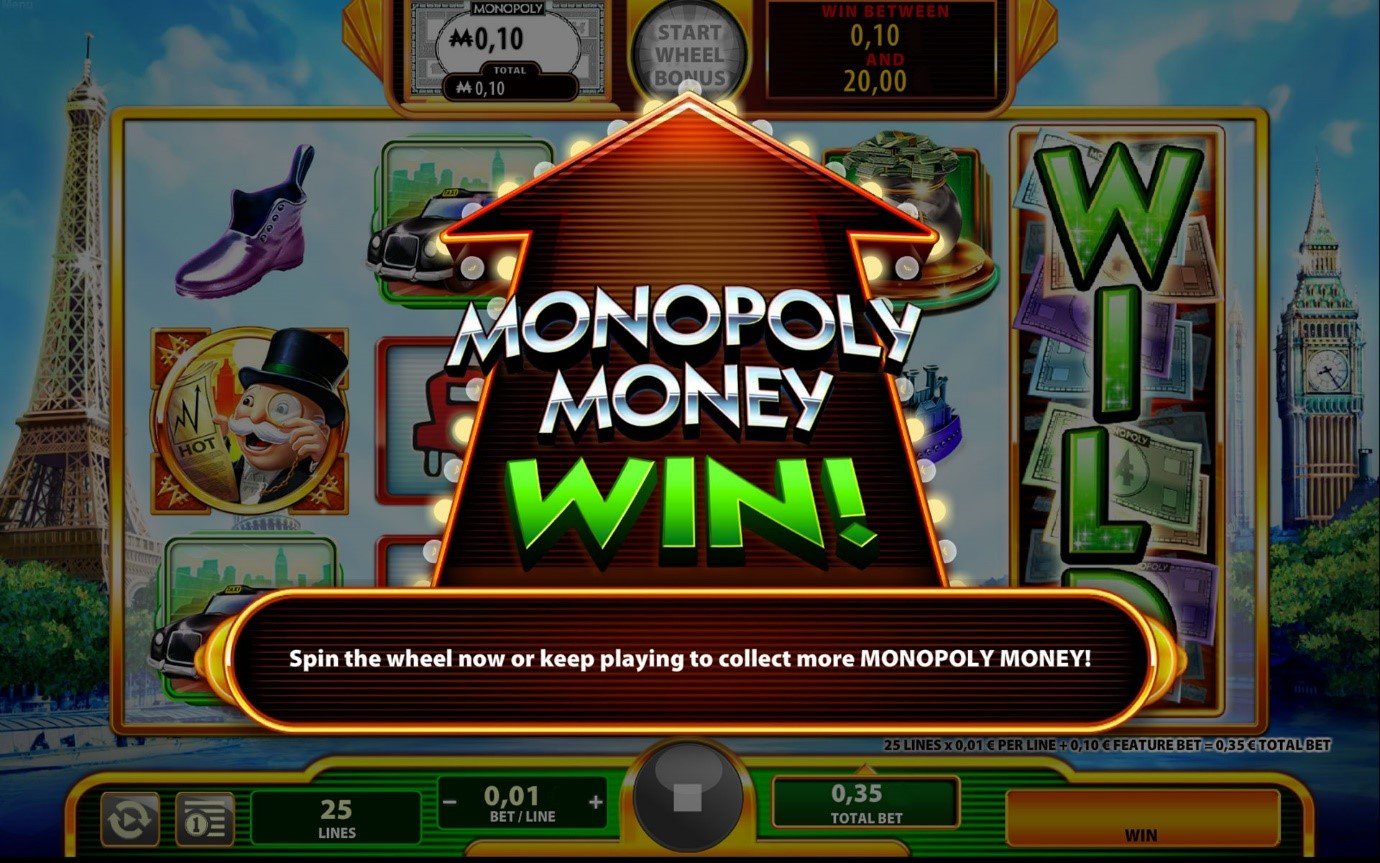 Then it's your call – take your shot at the Wheel Bonus to try and multiply that win, or bank it and keep building your Monopoly Money bankroll for a tastier tilt at the wheel further down the road.
Wheel Bonus
Choose to spin the wheel and you'll put your entire Monopoly Money bankroll on the line (up to a max of M1000 – any more will stay in your MM bank).The info panel to the right of the wheel above the reels will tell you the minimum (your MM wallet balance, as you're guaranteed to win at least that much) and maximum possible wins.
Once you fancy a shot, click the Wheel Bonus button and then click Mr Monopoly to start spinning (Round and round we go, where it stops, no one knows!). The wheel has a wide range of prizes including respins, multipliers from 1x to 100x and mystery bonuses.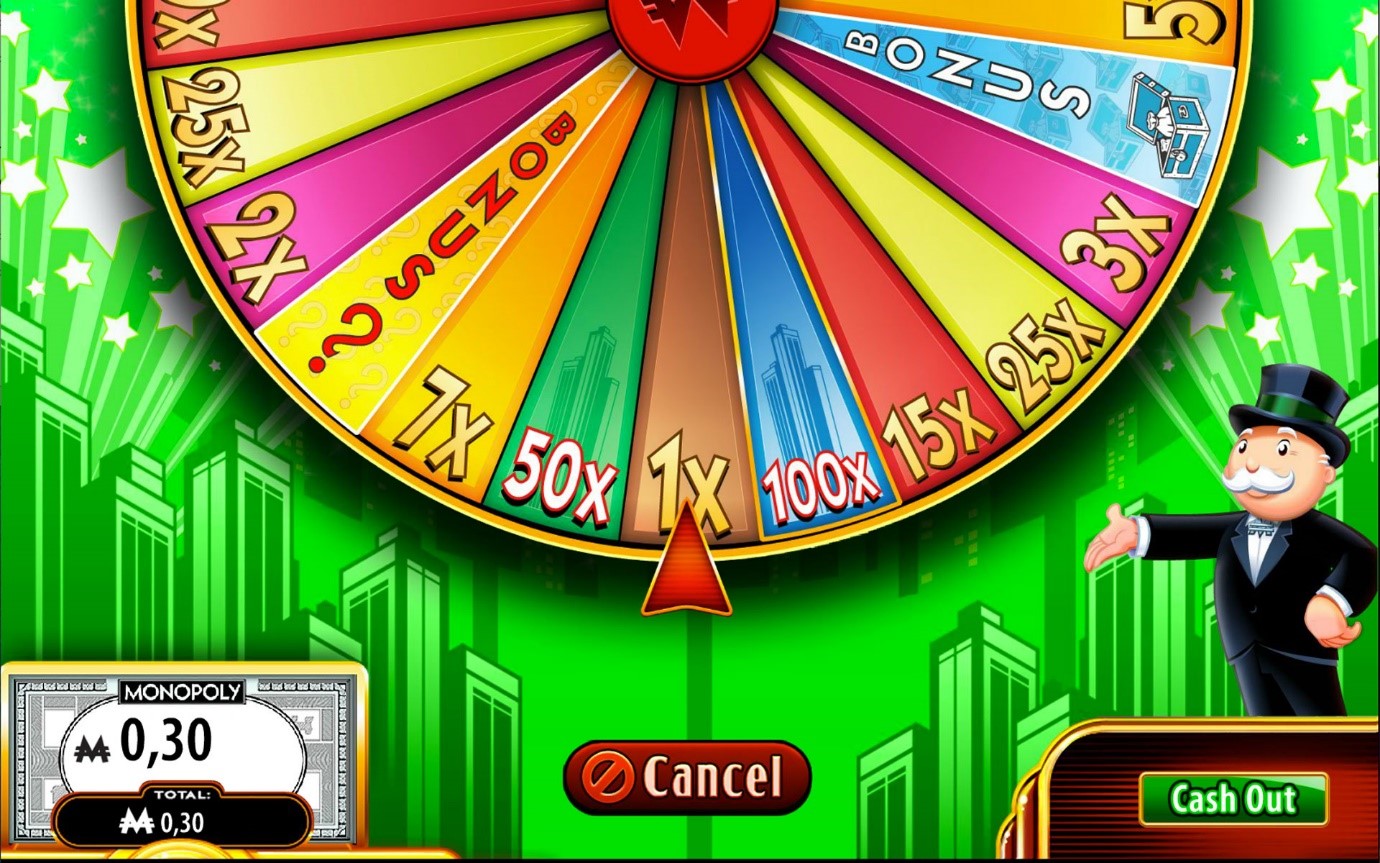 Stop on a multiplier and your MM balance gets multiplied and added to your game credits and you exit the Wheel Bonus game. Stop on Go! Respin and you get another spin of the wheel but this time with multipliers between 10x and 200x!
Stop on Chance during a regular wheel spin and choose a Chance card to reveal a 5x, 10x or a respin. Stop on Chance during a respin and you'll win a multiplier between 10x and 200x.
Stop on Community Chest and you'll pick a card to win between 1x and 25x or ALL PRIZES! Crazy. If you stop on Community Chest during a respin, you're picking for between 10x and 50x. Respins are clearly where it's at!
Hotel or House Awards
Mr Monopoly may be filthy rich, but he ain't mean! Even if you hit zilch on any standard spin, you could still be randomly awarded a chunk of Monopoly Money.
And the bigger your total bet per spin, the more likely you are to land a Hotel/House Award and a bump in your MM balance.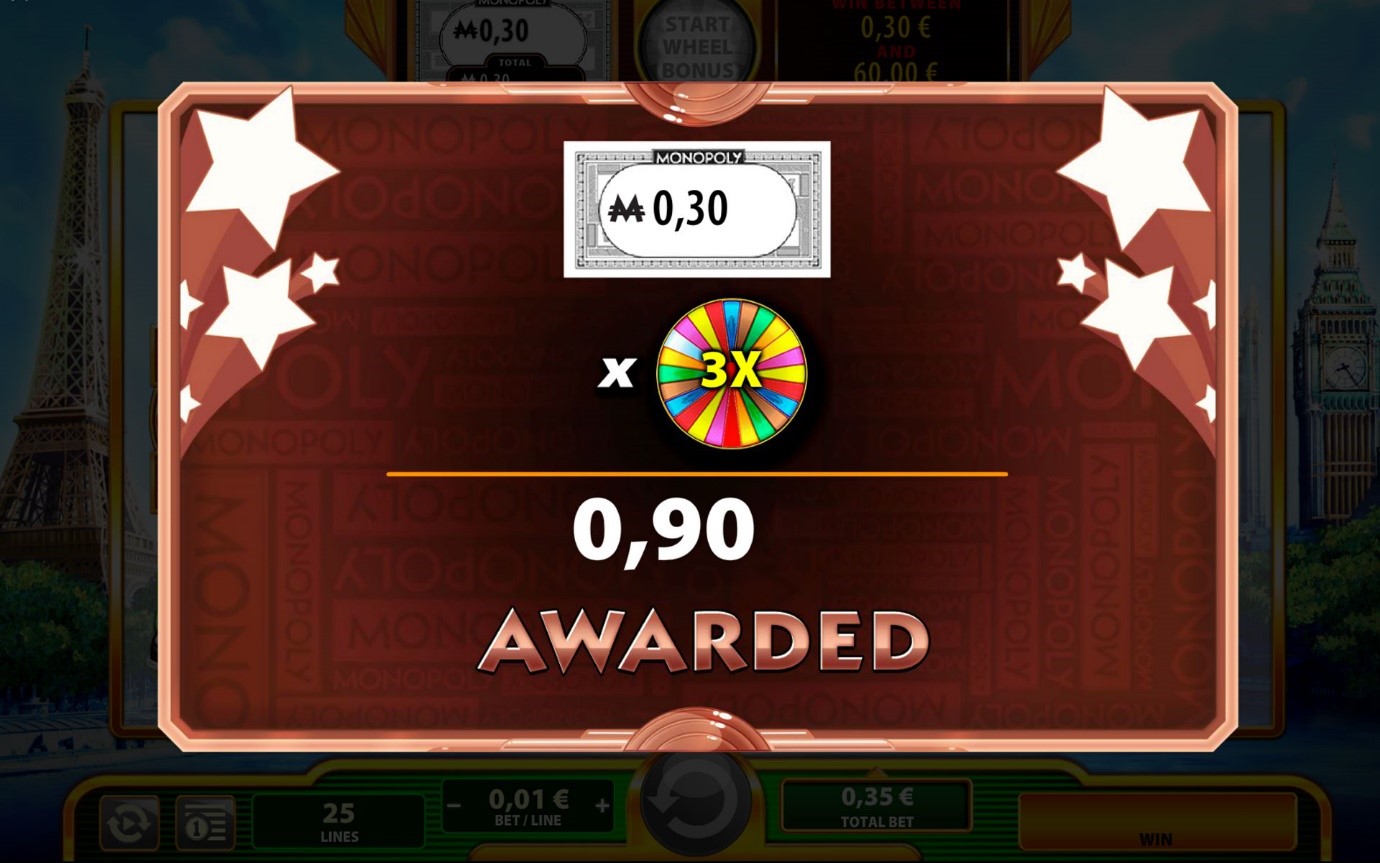 OJO says…
If I had a time machine, the 20s is where I'd go! Folks, there's never a dull moment with Super Monopoly Money. It's all about banking your MM cash for a super spin of the wheel. A pure joy to play!

Like this? Then try….
Monopoly £250000 Another action-packed SG creation, you can bag £250000 on any spin and this time you get the railway stations, utilities and that pesky jail. Hit the best online casino games page and give it a spin, amigo!