Game Review
Reactoonz 2 Slot: Load Up the Quantumeter!

Hey there, OJOers. We're looking at the sequel to a hugely popular online slot today. Reactoonz 2 picks up where the original title left off, bringing you even more out-of-this-world gizmos to mess with weird creatures with. There might not be a Reactoonz 2 Free Spins mode but there are loads of other special features on offer!
As if a super slot sequel wasn't enough, OJO has another treat for his newest pals. Those making their first deposit at PlayOJO can look forward to 50 Free Spins with no wagering!
Reactoonz 2 Slot: How it Looks
The Reactoonz 2 slot game is a wacky looking title that's loaded with pseudo-scientific gizmos. The Fluctometer and Quantumeter might appear confusing at first but once you start playing, it all makes a lot more sense.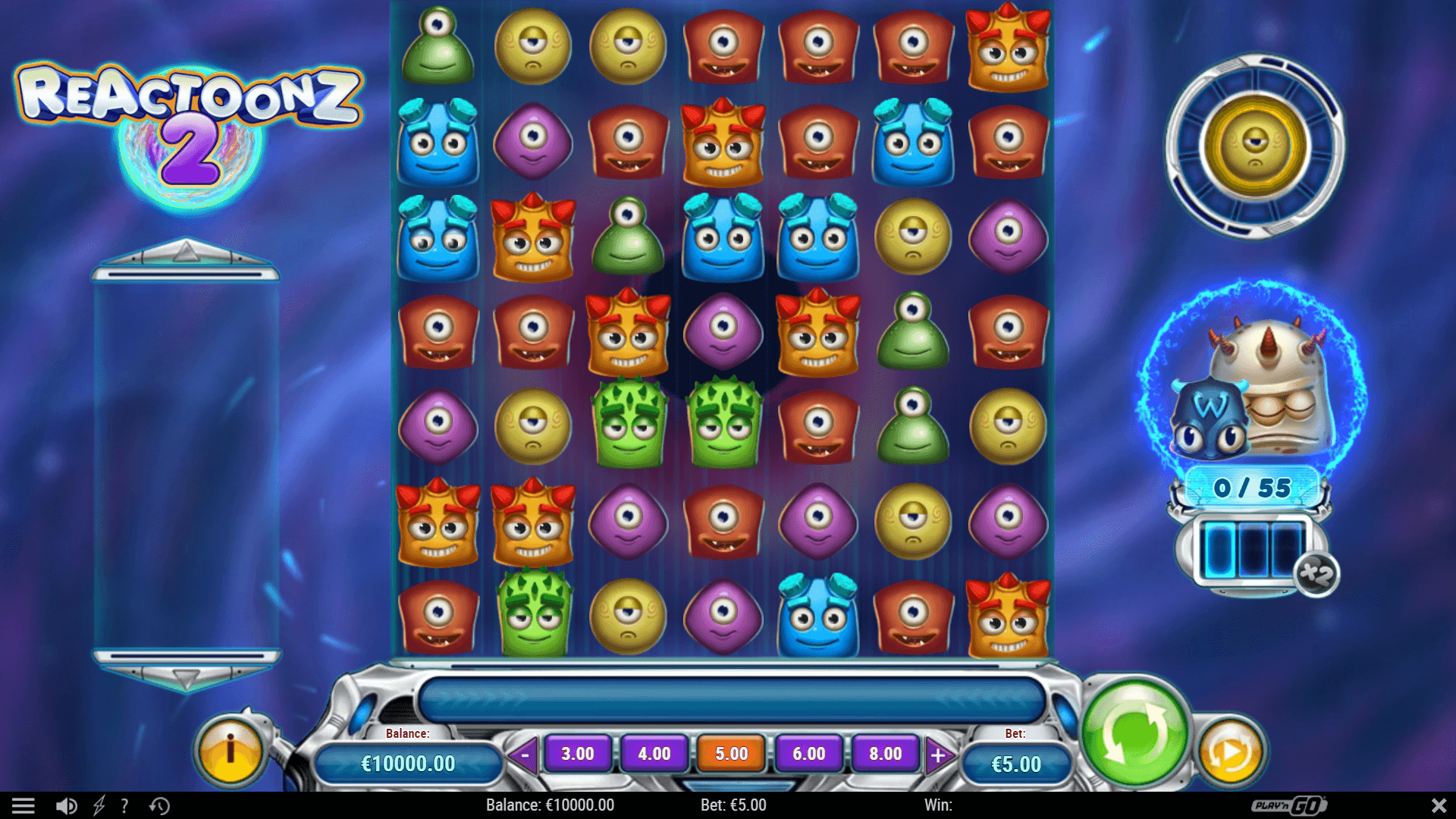 Symbols on the game are represented by the Reactoonz themselves. The more eyes that these bizarre-yet-kind-of-cute creatures have, the more they're worth in terms of cash prizes!
Gameplay Dynamics
The Reactoonz 2 slot features seven reels by seven rows of symbols. However, rather than the win lines typical on many casino slots online, wins are awarded for landing matching symbols in clusters. Five or more of the same symbols landing together awards a cash prize.
When you form a winning combination, those symbols creating it will disappear and new ones will cascade from above. This makes for extra chances to win and is an important dynamic for the game's special features.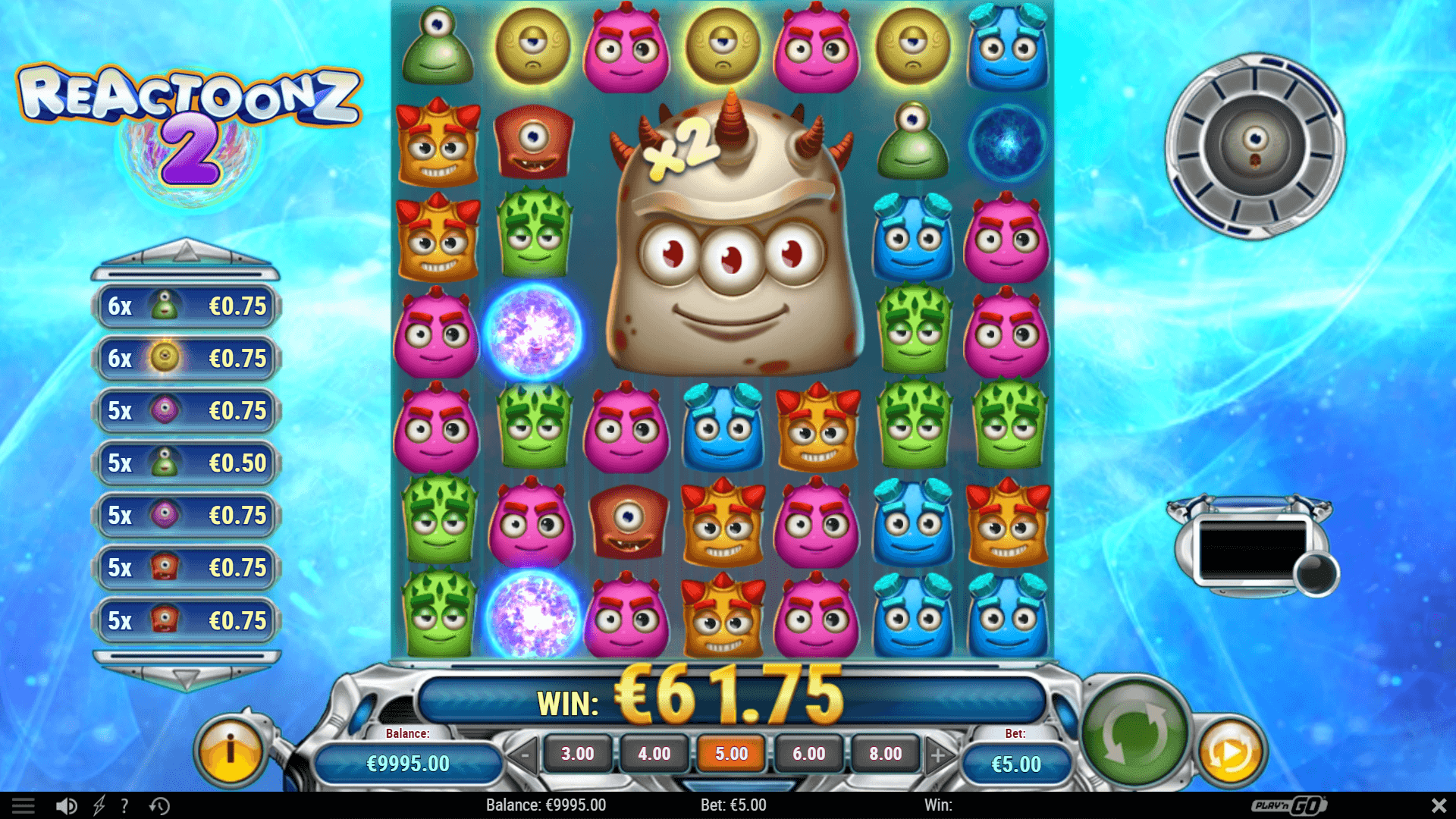 The top single spin prize on the game is an impressive 3,000x the total bet. Meanwhile, Play 'n Go says the Reactoonz 2 slot RTP rating is 96.2% and it's a high volatility title compared with other online casino games.
The game also features an Auto Play function for those embarking on longer sessions. Useful as it may be, it's important to use it with caution. OJO insists that you all play responsibly!
Special Features
Fluctometer
Play 'n Go's Reactoonz 2 slot randomly selects one of the one-eyed creatures on each spin to occupy the Fluctometer to the right of the reels. If the chosen symbol wins, an Electric Wild Symbol appears in one of the winning positions and the winning symbols are collected.
If you manage to fill the Fluctometer with relevant symbols, it creates between one and three extra Electric Wilds and scatters them into random positions on the reels.
Quantumeter
Each regular symbol removed by an Electric Wild Symbol charges the Quantumeter. Filling it releases either the Energoon Symbol or the Gargantoon Symbol.
The Quantumeter has four levels and holds up to 135 charges. If the Quantumeter only reaches levels one or two, it releases the Energoon. Level one releases four 1x1 Energoon Wild Symbols and costs 55 charges. Level two releases one 2x2 Energoon Wild, costing you 30 charges.
If the Quantumeter reaches level three or higher, it releases Gargantoon Wilds. Level three releases a single 3x3 Gargantoon Wild Symbol. At level four, all wins are subject to a 2x multiplier too!
The Gargantoon Wild can really make for some massive winning combinations. After the 3x3 Wild Symbol triggers a cascade, a 2x2 Wild replaces it. When this forms a winning combination, a final 1x1 Wild replaces it. Obviously, with all those Wild Symbols around, the wins can really add up!
Wild Pair Explosion
The Wild Pair Explosion feature activates when all features have been played and there are more than two Electric Wilds left over. If two Electric Wilds are adjacent to one another, all symbols on the board are removed. When the Electric Wilds are not adjacent, any symbols between them and those surrounding them are destroyed. The symbols removed don't award prizes but they all charge the Quantumeter.
Uncharged Wilds
Along with the Electric Wilds on the Reactoonz 2 slot, there are Uncharged Wild Symbols. They can appear on any win cascade.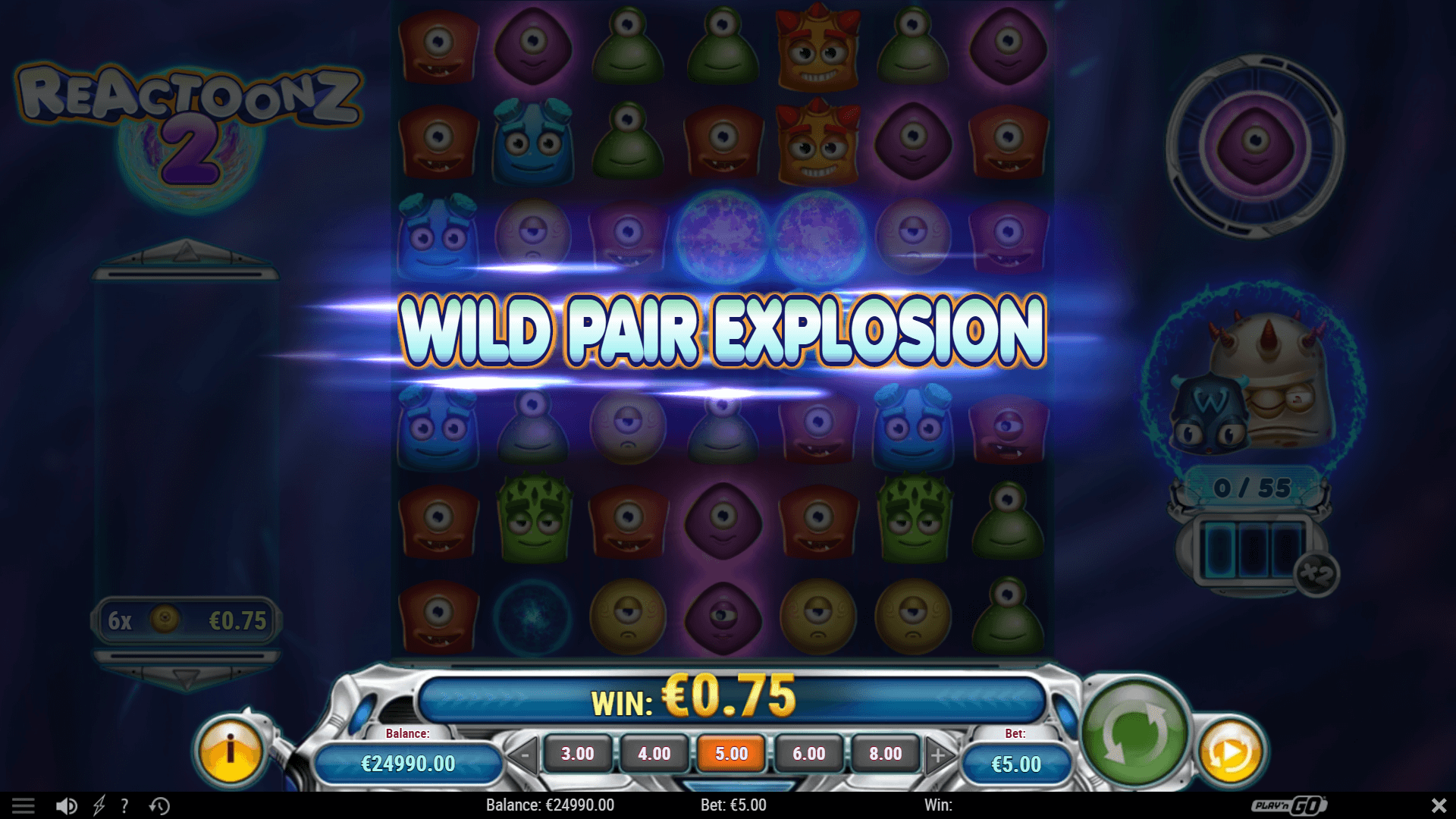 These symbols don't form wins but can become electrified if horizontally or vertically adjacent to winning symbols. Similarly, they'll transform if a Wild Pair Explosion activates.
Betting Limits
You can bet between 20p and £100 on the Reactoonz 2 online slot. Use the Plus and Minus buttons to the bottom of the reels to toggle between the different total bet amounts.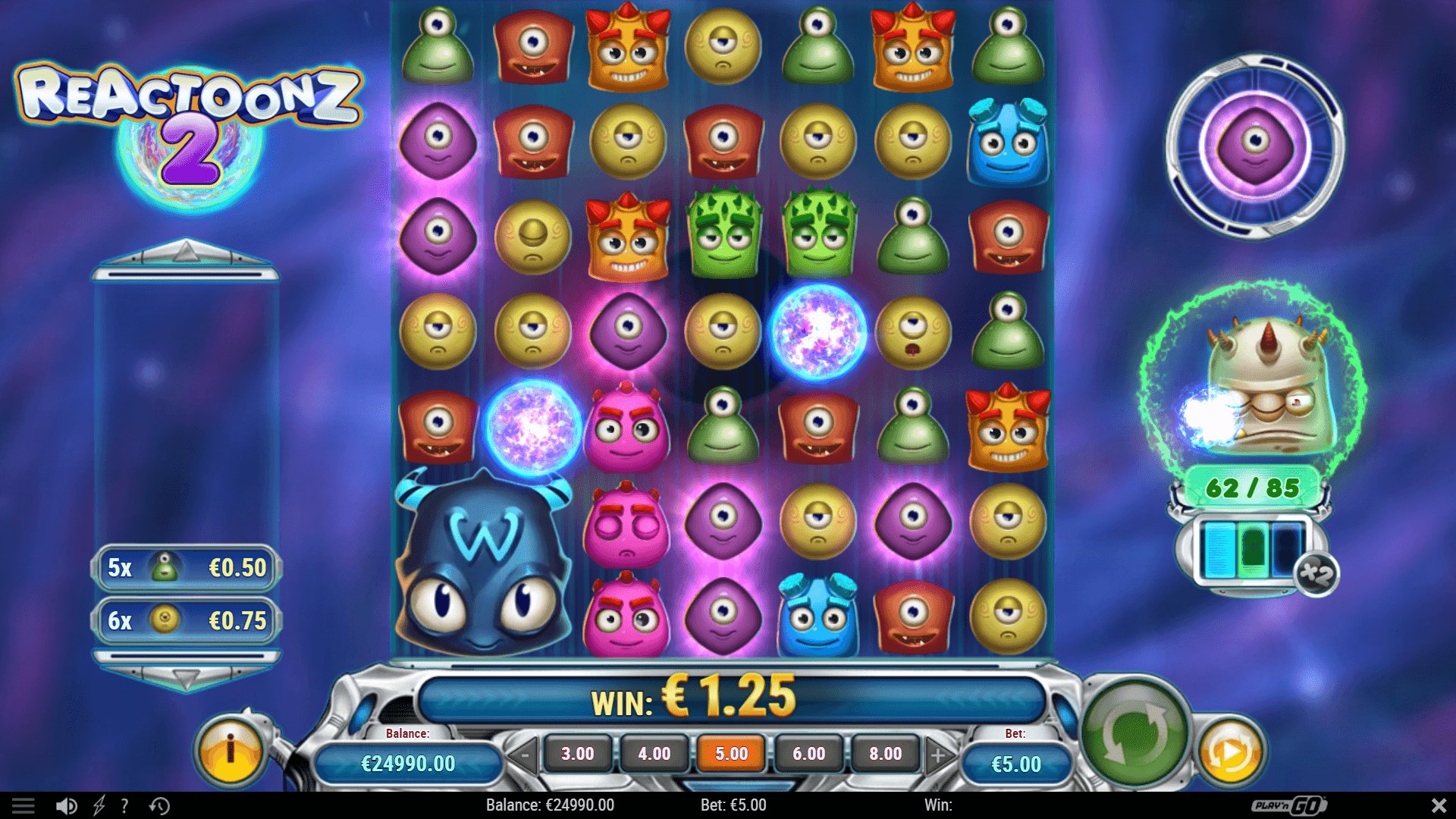 If you're not ready to play for real right away, that's fine too. PlayOJO provides a Reactoonz 2 slot demo so you can try out the action for free first.
OJO says…
The Reactoonz 2 slot really is a wacky one. The bizarre creatures, the crazy machinery prompting special features, and the innovative reel dynamic combine to create a unique slot experience that OJO knows many of you lot will love. See for yourself and play the Reactoonz 2 slot in the UK at PlayOJO today!
Like this? Try…
Yggdrasil's Power Plant. If you loved the wild machinery of the Reactoonz 2 slot machine, we recommend checking out Power Plant as well. The title might be lacking in the strange creature department but it makes up for it with its non-standard reel set and plethora of special features.