Game Review
Golden Ticket slot brings the fun. We bring the fair!

OJO is always looking for something different on his travels through slotland, and this Golden Ticket slot is it!
Behind the Willy Wonka name lies the most original casino game he's seen in years. Makers Play'n GO have come up with a 5x5 Grid slot machine with cascading symbols, showstopping features and a distinctive vintage circus theme. Game on!
The bonus feature, which takes place in a fairground shooting gallery, is a super-mega-funtime combo of Free Spins, multipliers and retriggers that'll have you reaching for your candy floss with pure joy.
With a max win of $40,000, a modest 20p-$40 bet range and some stunning innovations, PlayOJO's Golden Ticket video slot will blow your big top!
Let the show begin….
Golden Ticket slot design
Unique reel format meets faithful recreation of the sights and sounds of a 19th century circus experience. That's your elevator pitch.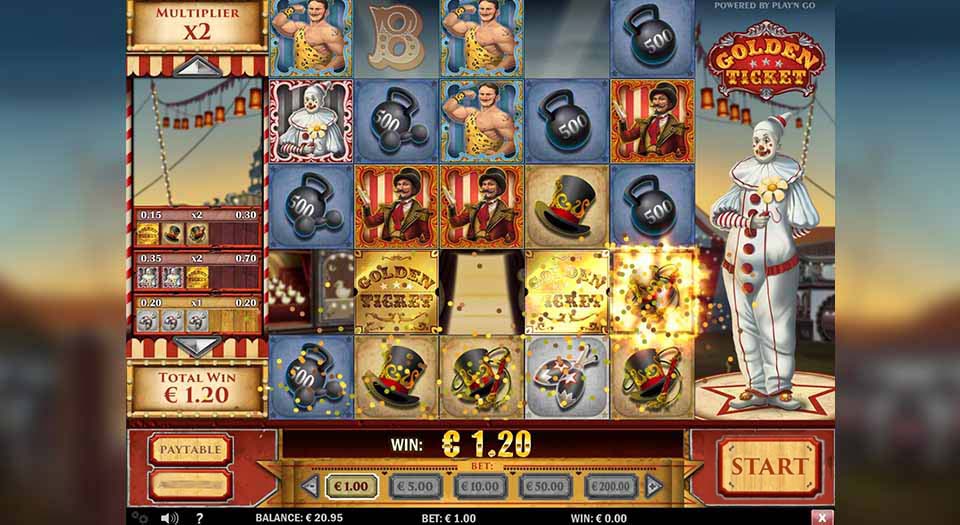 Theme & format
This game is your ticket to a 19th century night at the circus, with some fairground elements throw in. Golden Ticket is classic P.T. Barnum territory, right?
We've got the big top, vintage lighting, red and white striped colour scheme, fairground stalls, the full caboodle! Vintage is on-trend (ugh, what a phrase) which helps, but we reckon it'll be as popular in 20 years as it was 20 years ago, maybe even more so.
To the right of the reels we have a looping cast of characters overseeing the action, including a clown, ringmaster and strongman, each disappearing in a puff of smoke to be replaced by the next.
To the left, the multiplier column in the style of a Punch & Judy stage. The game controls below are also framed in the style of a Victorian theatre stage.
Everything from the colours to the fonts shouts vintage fair, including the symbols….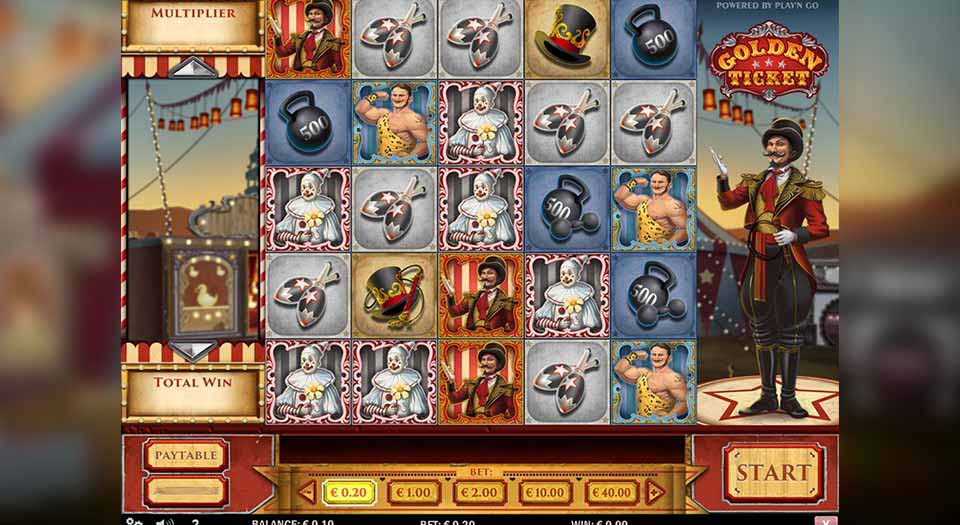 Reel symbols
The symbols come from the circus as you'd expect. They include two types of iron weights, juggling skittles, two different top hats, a clown, the strongman and the ringmaster. The golden ticket from the title is the Wild symbol.
In the Bonus game we've got a circus tent for the Bonus scatter symbol plus a whole collection of shooting gallery-style icons in 2D. Lions, targets, stars, balloons (both kids and hot air variety), you name it.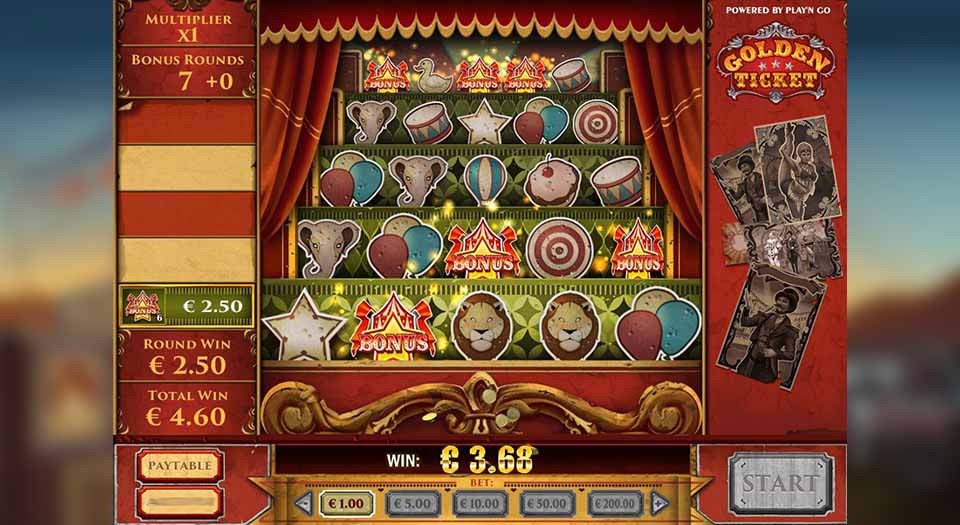 Music
Play the Golden Ticket video slot at PlayOJO and you'll lose yourself in the hustle and bustle of the pre-show crowd, the performers limbering up.
You'll also hear snippets of Oompah Band and barrel organ – cuz nothing says fairground like it! – during the base game's cascading and prize winning moments.
When you trigger the Bonus feature, things get saucier. A bell rings to herald the start of the Bonus round, followed by more animated pipe organ and band music. Even the little thunk as the rows of symbols are reset – it's the little things that tickle us slot nerds!
How to play Golden Ticket slot
The Golden Ticket slot machine is so unlike any of our other best UK slots at PlayOJO that it's worth going into the way the 'reels' are set up to understand how to win.
Golden Ticket is a video slot which uses a 5x5 grid rather than traditional reels. To the left of the grid is a multiplier column which keeps track of consecutive wins during the same 'spin' or game. Stack more than 1 during a game and you'll see ever increasing multipliers added to each combination.
Back to the main reels and each winning combination can also unlock the letters of the word BONUS, which appear behind some symbols. If you unlock the entire word…. Patience, patience, we'll get to that!
Before you click START, you'll need to choose from 5 fixed bet sizes – 20p, £100, £2, £10 and £40. If the right symbols, multipliers and bonuses fall your way, you can win up to 1,000 times your stake in an instant. This game doesn't clown around!
The Golden Ticket slot RTP is 94.74% and as usual, OJO gives you money back on every spin, straight to your OJOplus balance. Golden Ticket is in the top tier of OJOplus slots with 3 yellow plus signs indicating you'll get the maximum 0.60% back in cold hard cashola!

Symbol wins
Play 'n GO have created 2 sets of symbols for this game – one for the base game and one for the Free Spins bonus game.
In the base game, hit 3 or more symbols in a vertical or horizontal row to win a prize. Get 5 Golden Ticket Wilds and you'll score a tidy 500 coins.
Clear the entire grid and you'll win 1,000 coins! But what does clearing the grid mean? Ah, now we're talking! That takes us handily to the first unique feature of PlayOJO's Golden Ticket slot. Cascading reels….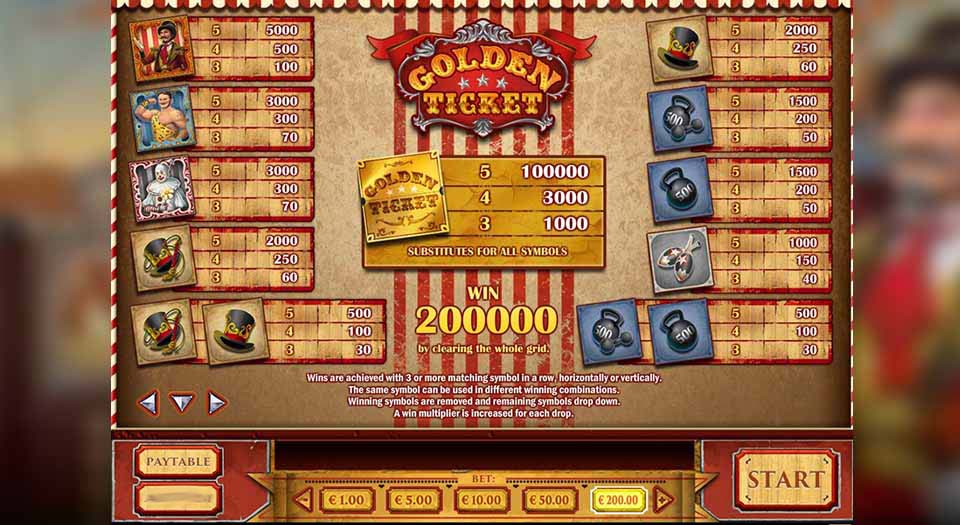 *Numbers are for example purposes and may not match actual gameplay on PlayOJO. See paytable for valid payouts.
Cascading reels
Once you've hit a winning combination, the middle symbol will transform into a Wild and the rest will explode, leaving the symbols above them to cascade downward in the style of Candy Crush.
This rejigging of the grid symbols, plus the presence of a new Wild, can create a string of winning combinations which then have multipliers applied to them. We reckon this cool feature, which gives this slot the feel of a gamified mobile app, is the magic behind Golden Ticket slot machine. And it's without doubt the key to unlocking huge cascading wins!
Multipliers
Every base game win is also stacked in the Multiplier column on the left to create a list of wins. The more you stack up, the bigger the multipliers applied to each one. The rate at which the multipliers increase is random, which adds even more drama.
Sometimes you'll move straight from 1x to 2x to 3x in consecutive wins, sometimes you'll go 1x-2x-2x-2x-3x. OJO's even played his way to a 8x multiplier in the same cascading sequence. How high can it go? Nobody knows!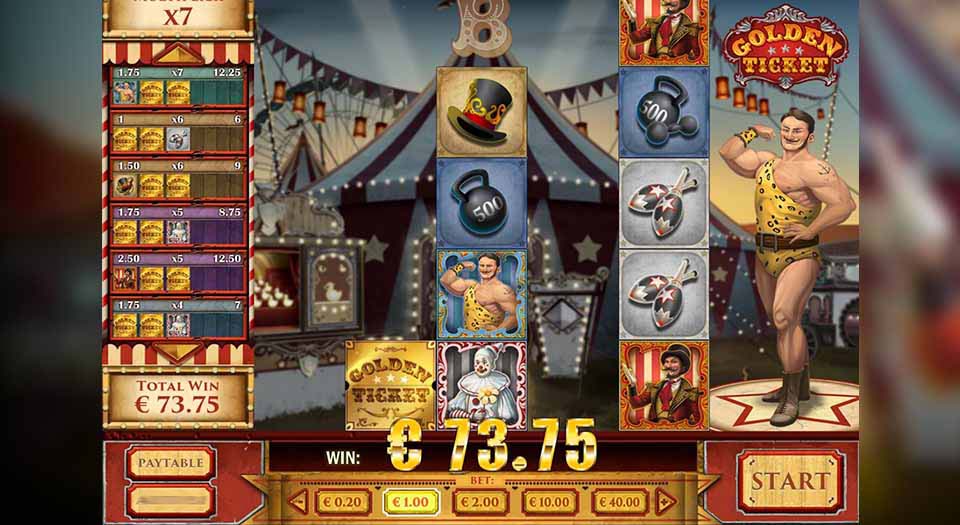 Wilds
The Golden Ticket Wild symbol substitutes for all other symbols to create mega winning combos, but they're also worth up to 1,000 coins as symbols in their own right. It's important to note that because of the grid, Wilds can apply to horizontal and vertical wins, so things can get super interesting once the cascade begins!
Bonus rounds
The main event of the Golden Ticket video slot is the bonus game – a kind of Golden Ticket Free Spins feature - which takes place on a different screen.
Triggering this feature is great on its own even before you get to the Bonus rounds themselves. It's easier to see in practice than to explain, but seeing as this is a Golden Ticket slot review, let's have a stab.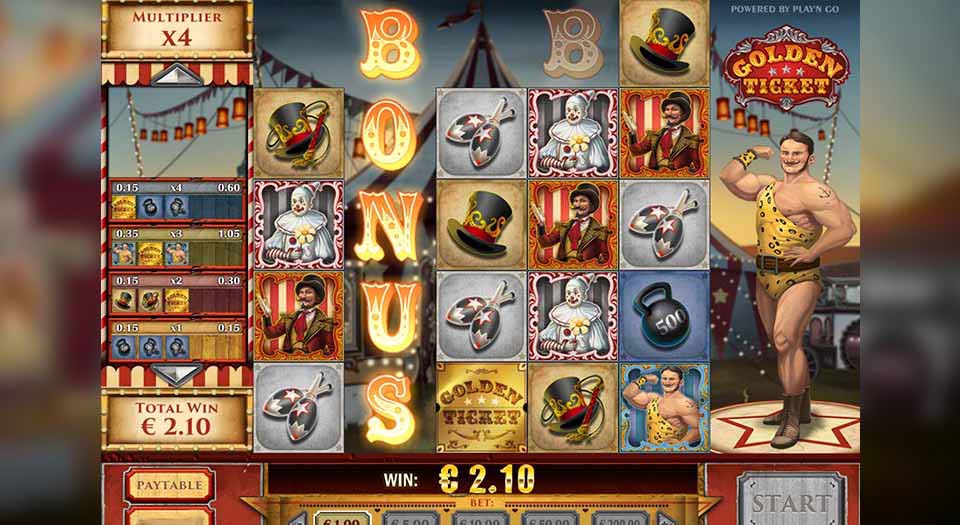 The letters B-O-N-U-S will appear behind at least 1 of the vertical grid columns in every game. You'll catch a brief glimpse of which columns get the BONUS treatment just after you click START, so keep your eyes peeled. Often BONUS will appear behind 2, 3, 4 or if you're lucky, all 5 columns.
Explode all 5 squares in a BONUS column to reveal the letters and you'll trigger the bonus feature. If you reveal more than 1 'BONUS', you'll get a multiplier applied to any wins awarded during the bonus game. Watch this video to see how it works!
Once triggered, the curtain will fall on your base game and rise again to reveal the bonus game screen, which resembles a fairground shooting gallery. Super cool, and nothing like any other slots online.
The bonus game uses a whole new set of symbols that include the lion, elephant, cake, target and duck. Hit 5 or more anywhere on the rows to win a prize.
Winning symbols will be left standing while the others are knocked flat. The game is fast-paced so this definitely helps, as you don't want to miss the thrill of a win.
Land 10 clowns, the highest value symbol in this set, and you'll get 175 coins. Get 5 or more Bonus symbols in the same round and you'll trigger more free bonus rounds (1 per Bonus symbol) up to a maximum of 20.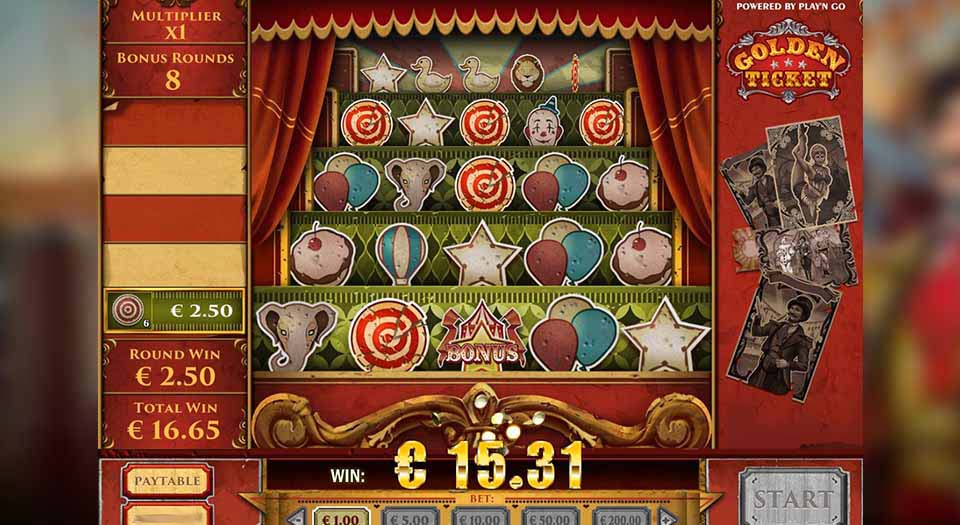 OJO says…
Is it a slot?
Yo, I don't know
But it might just be the greatest show
On PlayOJO!
Copyright © 2019 OJO Records

Like this? Then try….
…Troll Hunters! If you like the format and bonus rounds in Golden Ticket, you'll get more of the same but this time with Viking vibes! Search 'troll' in the Game section and hit the START button to begin your quest for gold!