Game Review
Our official Game of Thrones slots have it all!


If you haven't watched the global hit HBO® series Game of Thrones™, you've heard of it. And if you haven't heard of it, welcome to the internet. It's fun here!
With its deeply layered medieval fantasy theme, Game of Thrones is ready made for gaming. Unsurprisingly it was Microgaming who took the plunge and officially licenced the show for not 1 but 2 Game of Thrones video slots. Just what Jon Snow always dreamed of!
The global gaming powerhouse known for Mega Moolah and Avalon released both Game of Thrones 15 Lines and Game of Thrones 243 Ways simultaneously in 2015. We're going to focus on the 243 Ways version in this Game of Thrones slot review, though we'll touch on the 15 Lines versions at the end.
Game of Thrones 243 Ways is the complete package with 243 paylines, a superb Free Spins feature and of course one of the most zeitgeisty themes around. It's easy to get overwhelmed by the fancy graphics and interesting mechanics but never fear, OJO's here to help! Read on to learn how it works, how to play and how to win!
Graphics, animation and sound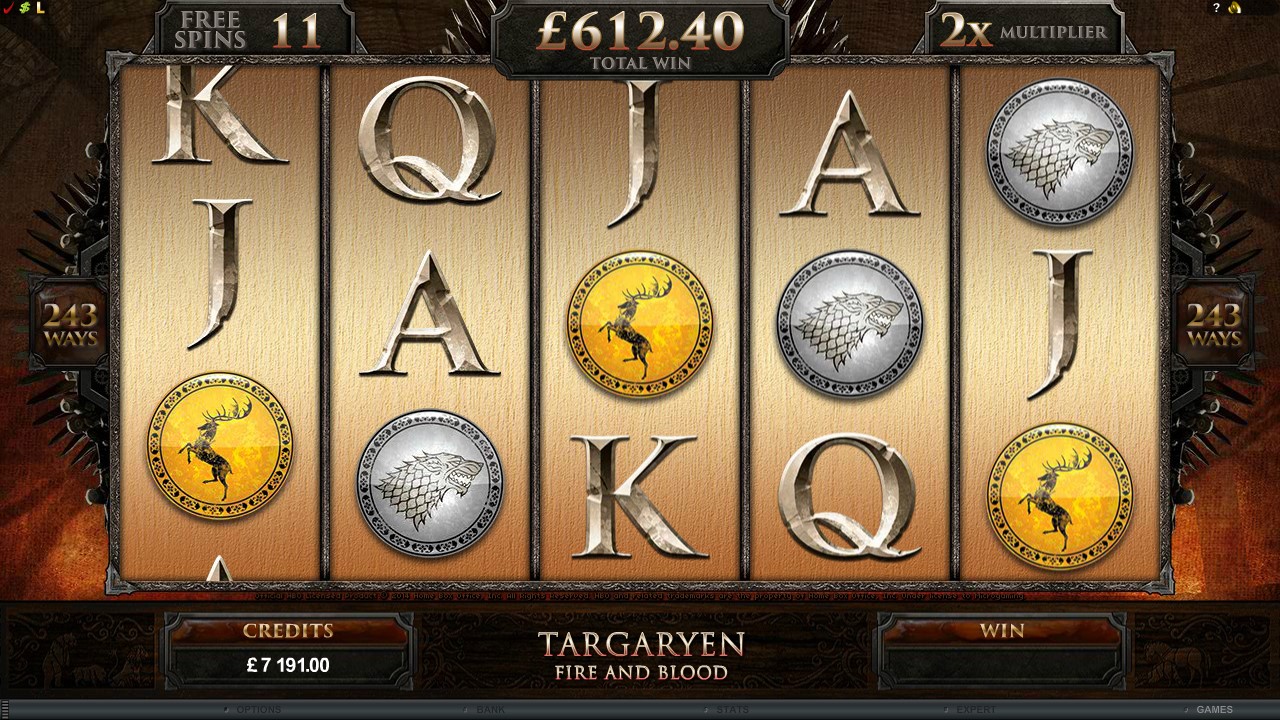 As these Game of Thrones online slots are officially licenced, they include almost every possible design element from show, except the human characters which is perhaps the only downside here.
The game has a dark and moody, theatrical style that befits the epic fantasy on which its based. Microgaming have achieved that mix of regal and rough that Game of Thrones fans will recognise.
Every element, from the colour scheme to fonts, symbols and the background, is not just a faithful reproduction but actually straight out of the show. That's what 'official' gets you and we bet it cost Microgaming a big bag of Braavosi coins too. But they've done it proud and thank god, as we know the firestorm GOT nerds can bring if you get a small detail wrong!
Set in Westeros and Essos, Game of Thrones 243 Ways features some aspects of the show you might never get a close-up view of in the show, like the House crests. So the slot adds to the fan experience instead of just being a copy-paste job onto an existing slot machine template.
The show's background image sets the scene straight away, using dark stone castle walls and aspects from the main logo. The logo also appears above the reels with '243 Ways' appearing either side so you know which version you're playing.
Reel symbols include carved, weathered stone playing cards ranks from Ace to Jack. Higher value symbols include the beautifully rendered circular House Sigils – a 3-headed red dragon (Targaryen), grey Direwolf (Stark), red and gold lion (Lannister) and yellow stag (Baratheon). The Game of Thrones logo is used as the Wild symbol, while the Iron Throne itself gets top billing as the Scatter symbol and most valuable base game payline combination.
Within the Free Spins feature, each House gets its own style in keeping with the Sigil and the narrative of its characters.
The Game of Thrones – 243 Ways slots also include a number of superb reel animations, special effects and actual video clips from the show. We won't spoil them for you, just have a spin and you'll catch some of them fairly quickly.
As well as the imagery, Microgaming was granted the rights to the original score which means you get the iconic theme tune as well as some sound effects. The game's background music is so good we left it running while we wrote this entire Game of Thrones review!
Microgaming's designers played a blinder with the source material they were given, and yet OJO was left with one burning wish…. More dragons! OK, one of them makes appearance in the Gamble feature, and there's a dragon's egg in the Scatter random prize bonus. But given their role in the last couple of seasons (no spoilers, don't worry), we clearly deserve the chance to shout "Dracarys" as Drogon incinerates some of the lower value reel symbols. Have that one for free, Microgaming.
The important stuff
Game of Thrones 243 Ways is a 5-reel 3-row video slot with 243 fixed payline. Your total bet per spin starts at $0.30 and maxxes out at a very accessible $6.
You can win up to $7,200 in just 1 spin and while that may not sound earth-shattering, there are numerous ways you can reach that figure, with base game wins or the multiplier-laden Free Spins.
Game of Thrones 243 Ways is considered to be middle-of-the-road in terms of volatility, which means you shouldn't require the patience of a saint but you also have the chance to parlay the very small stakes per spin into some Hound-sized wins!
This Game of Thrones slot RTP comes in at around 95%. With the extra OJOplus money back every time you play Game of Thrones slots online at PlayOJO, you're getting the best deal this side of Westeros, amigo!
How to play Game of Thrones 243 Ways
Like all Microgaming slots, Game of Thrones 243 Ways is super simple to play, although the features take a bit of time to learn. No Game of Thrones slots demo here but with a min bet of $0.30, jumping into the real thing won't break the Iron Bank! And if you're wondering how to get cash into your favourite online casino PayPal is a sensible place to start.
Once you've loaded the game in your browser (no Game of Thrones slots download needed on desktop or mobile), choose the number of coins you want to bet per spin, and the value of each coin. The game has a standard Autoplay feature which enables you to play up to 100 spins without having to click SPIN (what next, mind-controlled online slots?) and the option to pause if certain win/loss limits are reached.
Now you can click SPIN and begin your journey to the Iron Throne! You've got 243 paylines on each spin, and you only need to hit 3 matching symbols to land your first win, so you're in for a Wild ride. But what is '243 Ways'?
While you only have 5 reels and 3 rows, you're not Iimited to winning combinations which must be connected. In fact you can make payline combinations using symbols in any positionon adjacent reels. Lots of paylines means more chances for a Game of Thrones slots big win.
Now we're up to speed on the basics, it's time to unleash the awesome power of the game's features, and explain how to win at Game of Thrones slots!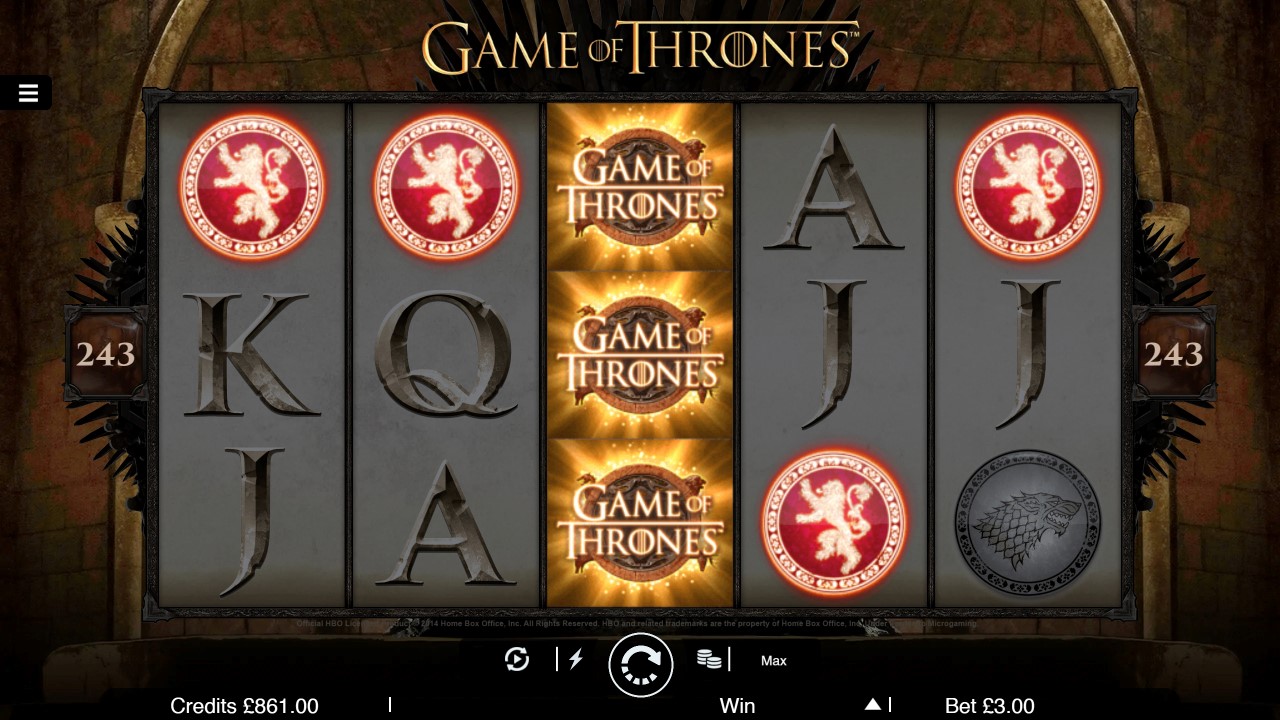 Wilds
Almost all slots have Wilds these days so players expect them to be there, but often they're pretty basic. The Game of Thrones Wild symbol packs an extra punch though. As usual, it substitutes for all other symbols except the Scatter, and it's also a payline win on its own (up to $50 for a $3 bet, for example). But here's the kicker.
Wilds can appear on ANY of the 5 reels, and they can also be stacked, which means you can land 1, 2 or 3 of them on the same reel to create some epic wins. Wild can also appear during the Free Spins feature as well as base game too.
Scatters, Instant Wins & Free Spins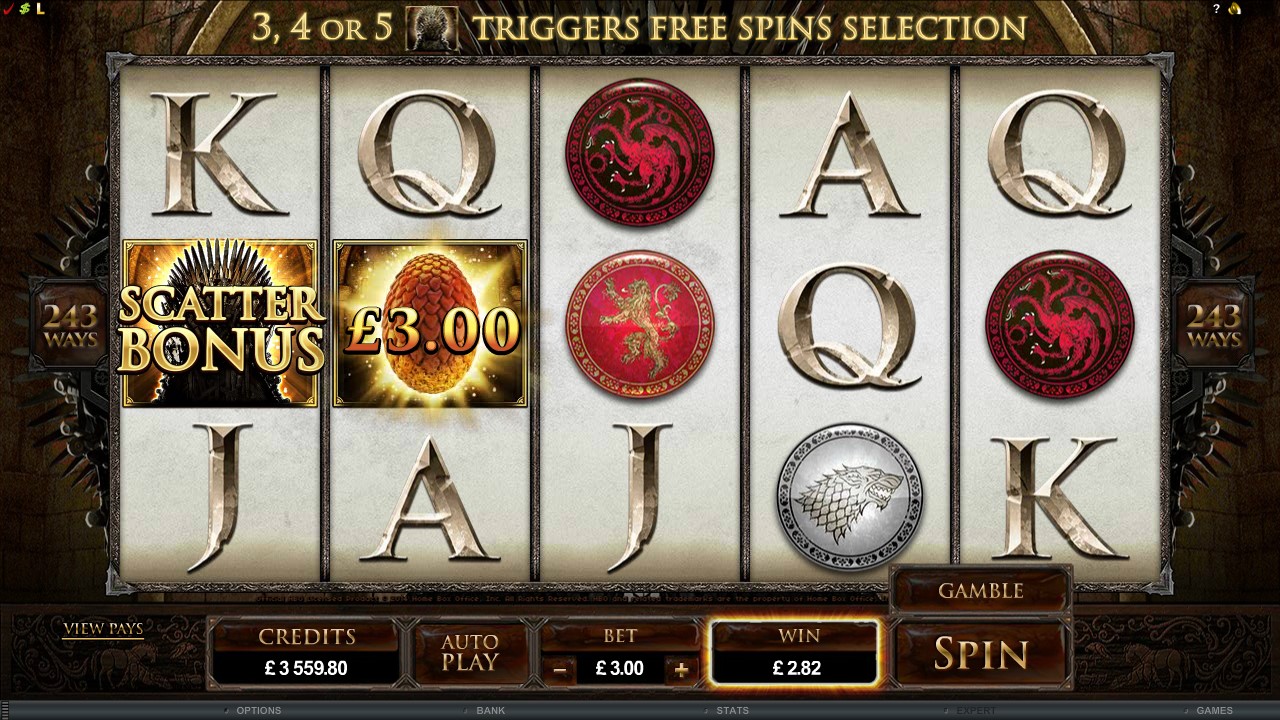 The Iron Throne Scatter symbol plays 2 roles in the Game of Thrones 243 Ways base game. Hit 3, 4 or 5 in any position to trigger the Free Spins feature.
Once you hit 2 Scatters on the reels, you'll also get a bit of tension as the last reel spins for a while longer, with a string-section-horror sound effect that usually accompanies someone getting a sword through the face. Miss the 3rd Scatter and you'll still win a random cash prize Bonus, revealed by a spinning, glowing dragon's egg. These are considered consolation prizes for not triggering the Free Spins game, so don't expect to get rich here. You might well triple your total bet for that spin though.
Now let's see what happens when you trigger the Free Spins feature….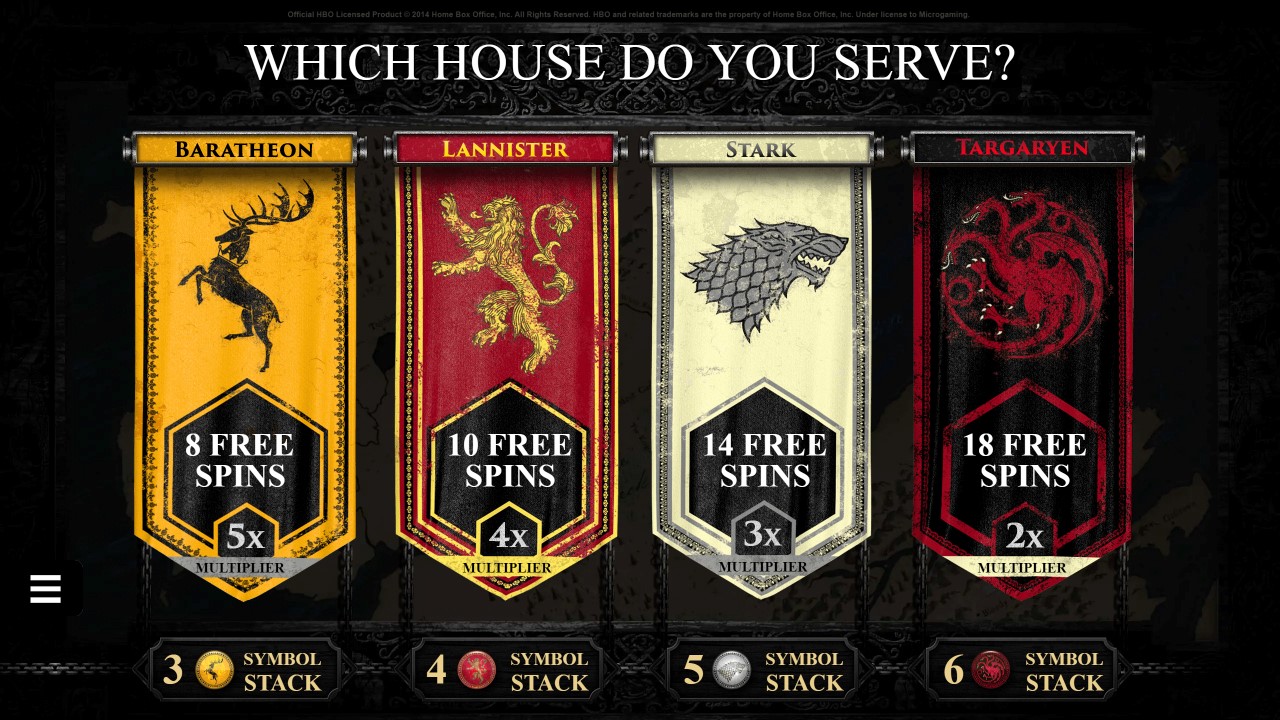 Game of Thrones Free Spins
Once you've hit 3 Scatter symbols in this Game of Thrones slots game, you'll see a brief video clip with some dragon fire & fury to pep you up for the quest ahead!
Next come the 4 Houses which each represent a different Free Spins option. This is your chance to pledge allegiance – albeit fleetingly (aren't they all?) to 1 of the 4 great houses of Westeros. Pick wisely, it may be your last…. (it won't, these features come along at a fairly regular rate!).
As with virtually all online casino games, the value of Free Spins is the same as the base game spin which triggered the feature.
Now you gotta pick one of the 4 Houses. Do you like lots of spins, or big multipliers? There's no right answer here and no perfect Game of Thrones slots strategy. You can either mix it up and choose a different House each time, or stick with the one that suits the type of slot player you are. Let's check out the 4 Houses and see how they differ.
House Baratheon: 8 regal Free Spins with a 5x multiplier. The House Baratheon Sigil symbol will also be stacked 3-high, which means 3-in-a-row vertically (although you may not land all 3 on the reel).
House Lannister: 10 cunning Free Spins with a 4x multiplier. The Lannister Sigil is stacked 4-high on the reels.
House Stark: 14 ice cool Free Spins with a 3x multiplier, and Sigils stacked 5-deep.
House Targaryen: 18 fiery Free Spins with a 2x multiplier. Sigils come 6-in-a-row.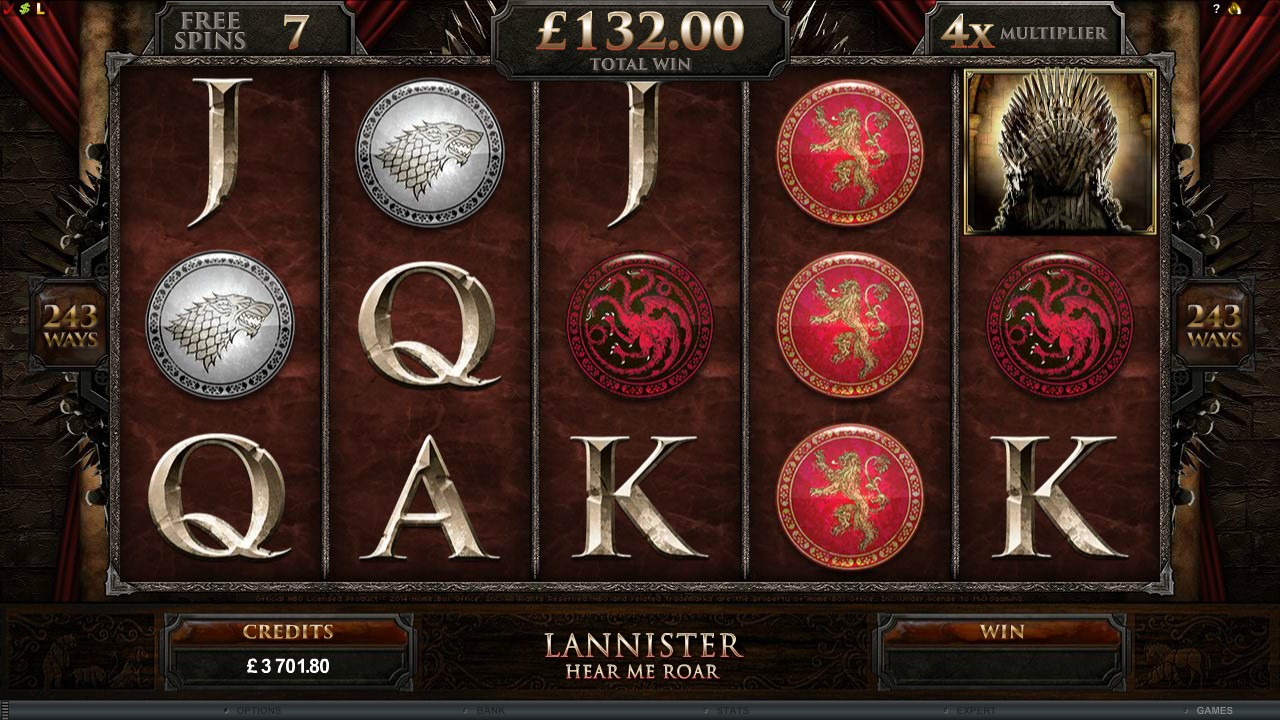 Trail Map Gamble Feature
Finally someone put some effort into the classic double-up gamble!
Rather than a simple choice of black or red on the next turn of a playing card, Microgaming were inspired by the Iron Bank of Braavos to revamp the traditional gamble feature into a mini game using the flip of a Braavosi coin. Sure, you're still just trying to double your money but hey, now it's a moment you might remember!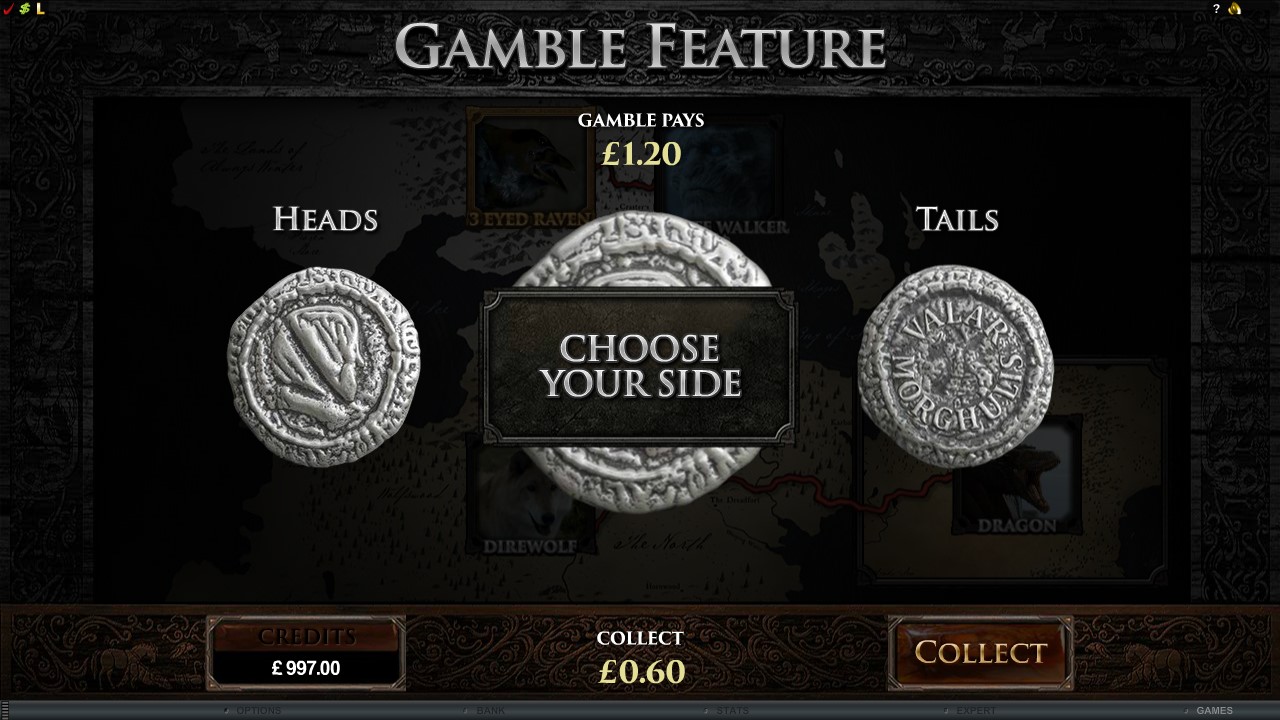 Once you've hit a win in the base game, you get the option to click the GAMBLE button to the bottom right of the reels. This takes you to the screen above which presents you with the Game of Thrones version of heads or tails.
Lose and you'll return to the base game empty handed. Win and you'll complete the first of 4 stages on the Gamble Trail Map. You can collect your prize and return to the base game, or go again! There are 4 opportunities to double-up, each with their own video clip from the show. Starting with a squawking Three Eyed Raven, you then move onto a White Walker, then a Direwolf and finally a shrieking dragon. You can stop and collect at any point, or continue until you've successfully flipped 4 coins and completed the Trail.
Whether you're a fan of the show or not, the attention they've given to a traditionally forgotten feature is simply awe-inspiring. Sadly the Game of Thrones Gamble feature is not available on mobile, so you'll have to give the slot a spin on desktop to see why we love this aspect so much.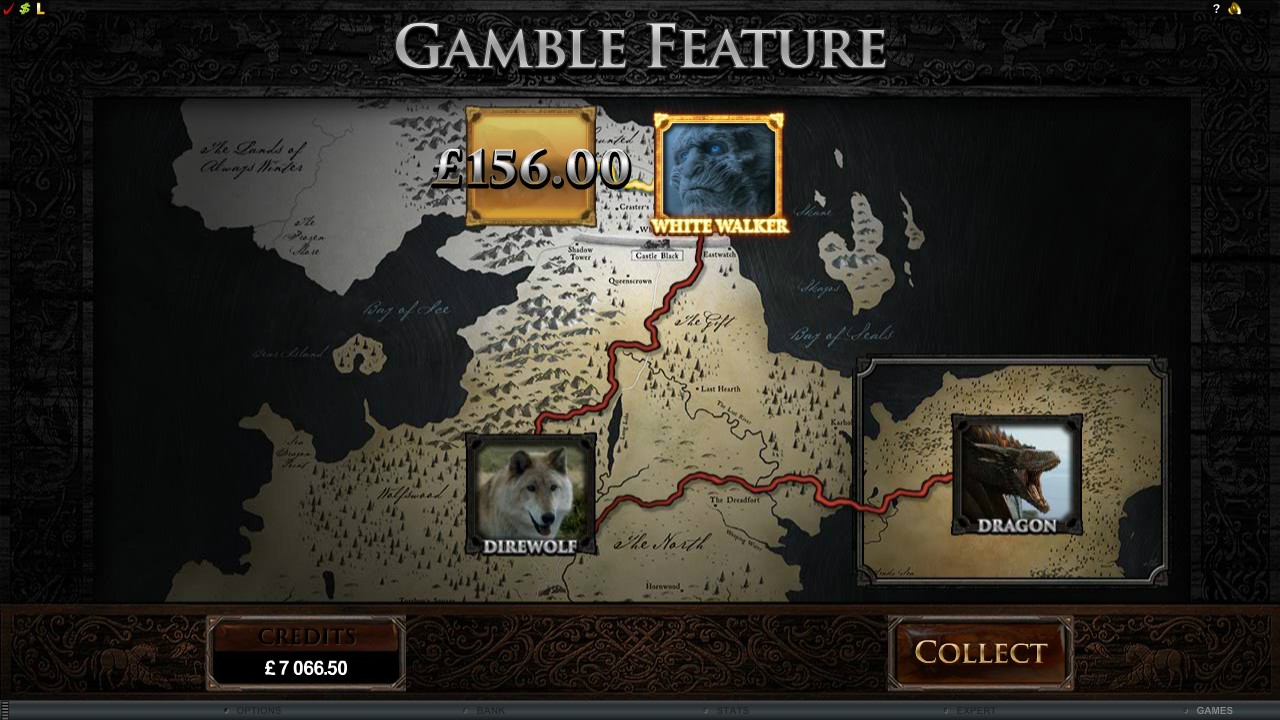 Game of Thrones 243 Ways on mobile
Normally we'd mention the phone and tablet version of a slot in the graphics section but it's worth dedicating a little time to find out if the desktop game's dramatic, cinematic qualities come across in the casino mobile games experience. You wouldn't watch an episode of GOT on your phone, so why play the slot version using one?
Because it kicks more ass than the Unsullied, that's why! Nothing (gamble feature aside) from the desktop version is sacrificed. It's almost as if they started with the Game of Thrones slots mobile version and worked backwards to desktop. In the game of phones, simplicity is king and they've got everything exactly right. Bravo!
Game of Thrones 15 Lines
The other version of this slot, Game of Thrones 15 Lines, has an identical look and feel but uses different underlying mechanics. It has just 15 fixed paylines and the total bets differ slightly with up to $15 per spin. But the maximum win is a mighty $45,000 and the RTP is a slightly better 96.4%. You still get the same awesome Free Spins features and Trail Map Gamble, so it's just about choosing which payout model you prefer.
OJO says…
Great Lord of Light! This is cinematic slottery at its best! The TV show set new standards and Microgaming showed they could do it justice with premium design and a game engine to match. Get your chainmail on and charge right into either of our magical Game of Thrones video slots.
Like this? Then try….
Terminator 2! Another slot inspired by a hit from the screen, Terminator 2 also uses 243 Ways and includes a killer Free Spins feature. Hasta la vista, amigo!