Game Review
OJO's top Danger High Voltage slot features

Lauched by Big Time Gaming in May 2017, OJO's Danger High Voltage slot is based on the 2002 song from American band Electric Six. Aussie game developer Big Time Gaming licenced the track from Sony and they've loaded the game theme and bonus features with references to the band and the song's lyrics.
Underneath the glam-rock exterior you'll find a 6-reel slot with 4,096 Ways to win and an impressive roster of features incuding free spins and multiplers of up to 66x. Once we've rocked our way through the graphics and gameplay in this Danger High Voltage slot review, you'll know if it's worth a spin!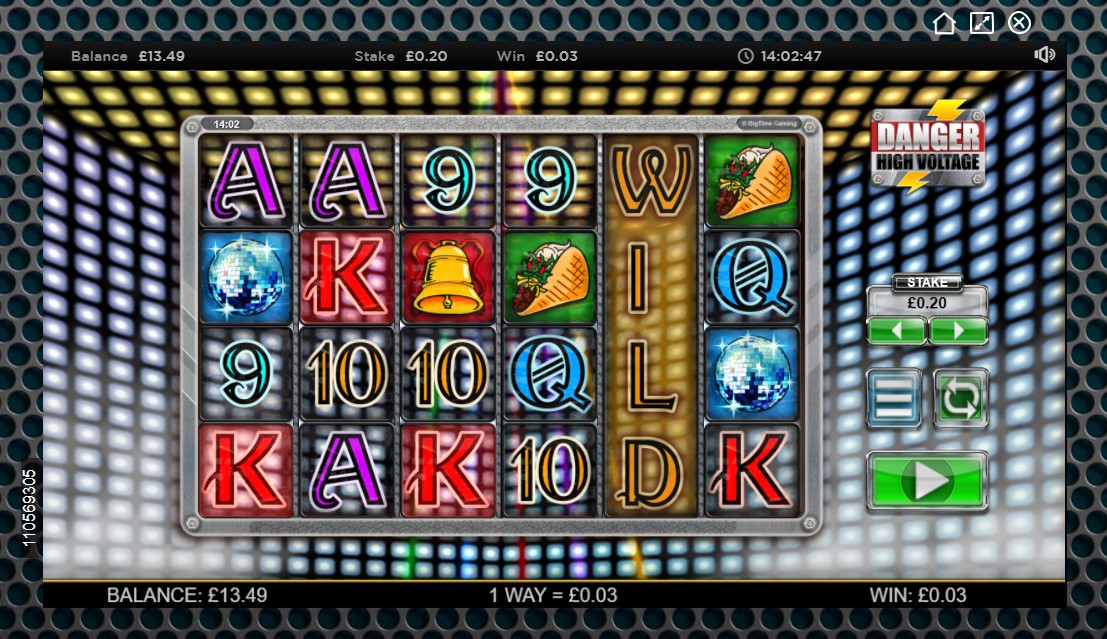 Danger High Voltage slot game design
Although the song was only released in 2002, the Danger High Voltage online slots theme has a real 80s Top of the Pops vibe.
From the neon nightclub walls to the multi-coloured lasers and rising smoke, this slot is a kitsch slice of Saturday night fever. We love the transparent reels, surrounded by a simple metal frame and set against the disco backdrop. Maybe the logo could look less like it's been lifted from the local substation! Fortunately the rest of the game including the funky Wilds more than makes up for it.
Everything in this slot game, from symbols to features, is inspired by the song's lyrics, particularly this section:
Fire in the disco
Fire in the Taco Bell
Fire in the disco
Fire in the gates of hell
Look beyond the usual lower value symbols from 9 to Ace and you'll see glitter balls, tacos, bells (I guess they couldn't use Taco Bell!) and skulls. Look out for the Scatter symbol which triggers one of the 2 Free Spins games. It's a tattoo of a heart topped by a crown with 'My desire' (a line sung by Jack White in the song) written across the front. That's your ticket to the game's biggest wins.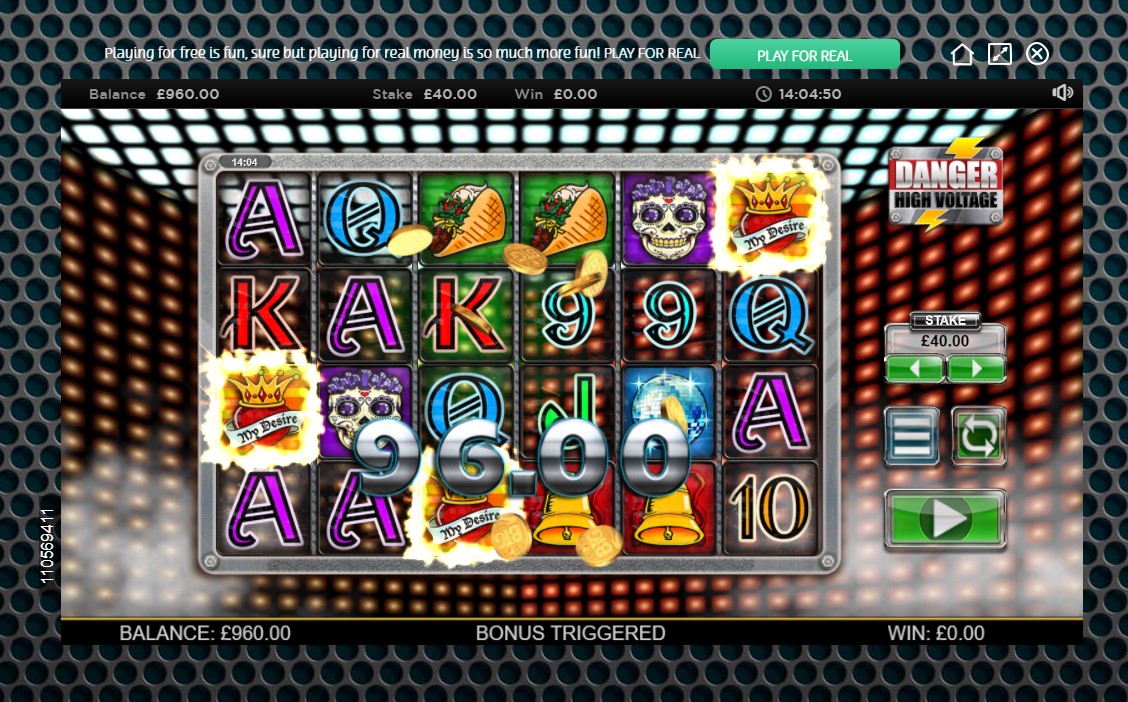 Having forked out for the licence, Big Time Gaming would be mad not to use the song and the audio doesn't disappoint. The base game plays out above low key, throbbing electro beats and crowd noise.
Each click of the spin button activates a beat or a chord, but it's the appearance of 2 or more Scatters that triggers the famous "Fire in the disco, fire in the… Taco Bell" chorus. And once you've in the Free Spins games, the tunes really amp up!
Not familiar with the tune? Go on, crank it up…
The important stuff
Danger High Voltage is a 6-reel, 4-row video slot with 4,096 Ways to win. How does that work? You can create winning combinations by landing matching symbols on adjacent reels, regardless of what row they're on.
You can bet between 20p and £40 per spin, and the amount you bet is multiplied by the paytable win amounts, which are stated in coins, rather than your currency.
As with all slots that have an epic number of paylines and features like multipliers, the common or garden symbol wins are necessarily small. Line up 6 of the most valuable symbol, the Scatter, and you'll only win 100 coins.
But think how easy it is to land several different wins on the same spin and you'll understand why, not to mention the massive win potential once you hit one of the features.
Apparently, you can win over £4 million if everything goes your way, but we'll settle for anywhere close to the £51,522 one player scored on the new Danger High Voltage slot when it first came out.
OJO loves to give his gang the best value UK online casino games, from low house edges to the tastiest rewards. The Danger High Voltage slot RTP comes in at around 96% but that's before you factor in OJOplus. We give you money back on every spin. It's credited to your OJOplus balance instantly, in cash, and you can spend it immediately.
That extra cash effectively makes Danger High Voltage slot RTP even higher too and frankly, you won't play Danger High Voltage slot at a fairer casino!
Want to try Danger High Voltage slots for free? Once you've logged in, hit the TRY FOR FREE button and guess what… you can try it for fee. OJO doesn't mess about with his buttons, chief!
Once you're ready to play for real, you can deposit and play our Danger High Voltage casino game with PayPal, debit or credit card and many more deposits options.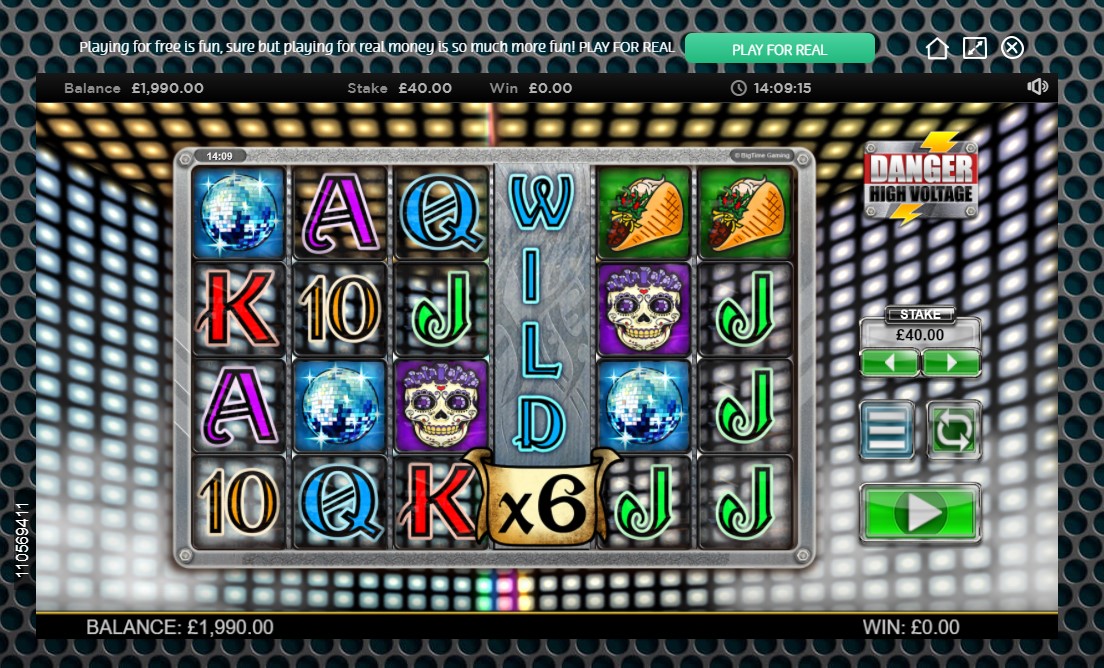 If you're a tablet or phone gamer, you'll be glad to hear Danger High Voltage mobile slot loses none of its zing. Nice big spin button. Reels fit snugly either way you play. Dark n' sparkly theme. Sorted!
Lastly (but definitely not least, coz OJO plays fair), our Danger High Voltage slot machine is as fair, secure and responsible as all of OJO's UK online slots.
How's that? Its creator, Big Time Gaming, is licenced by the likes of the UK Gambling Commission, just like OJO, so the game is regularly tested and certified to make sure it pays out what it says it will. And because it's part of PlayOJO, it's subject to our safeguards which let you choose how to play responsibly and keep it fun.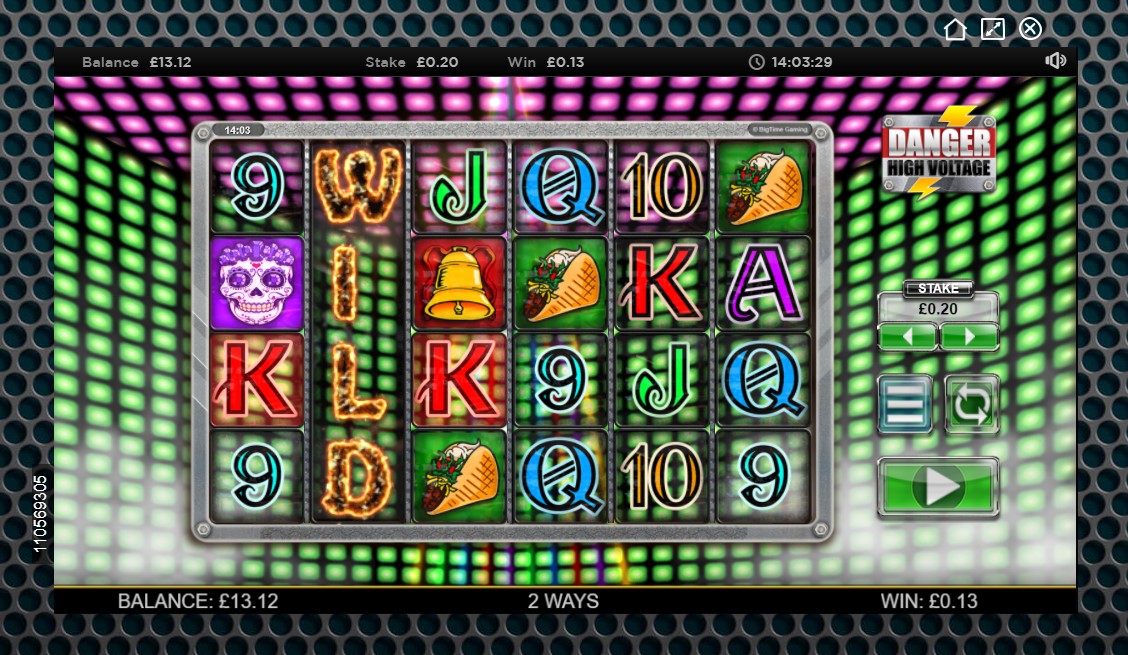 Danger High Voltage slot features
This slot machine uses a killer combo of Wilds, Free Spins and Multipliers to produce Danger High Voltage big wins of over 100,000 coins.
Full Reel Wilds: Regular spins of the Danger High Voltage slot game are usually peppered with Wilds that fill the entire reel and substitute for all symbols except Scatters.
They come in two flavours, Wild Fire and Wild Electricity, and you'll only see them on reels 2, 3, 4 and 5. Wild Fire are your standard variety, while Wild Electricity come with a 6x multiplier. KERPOW!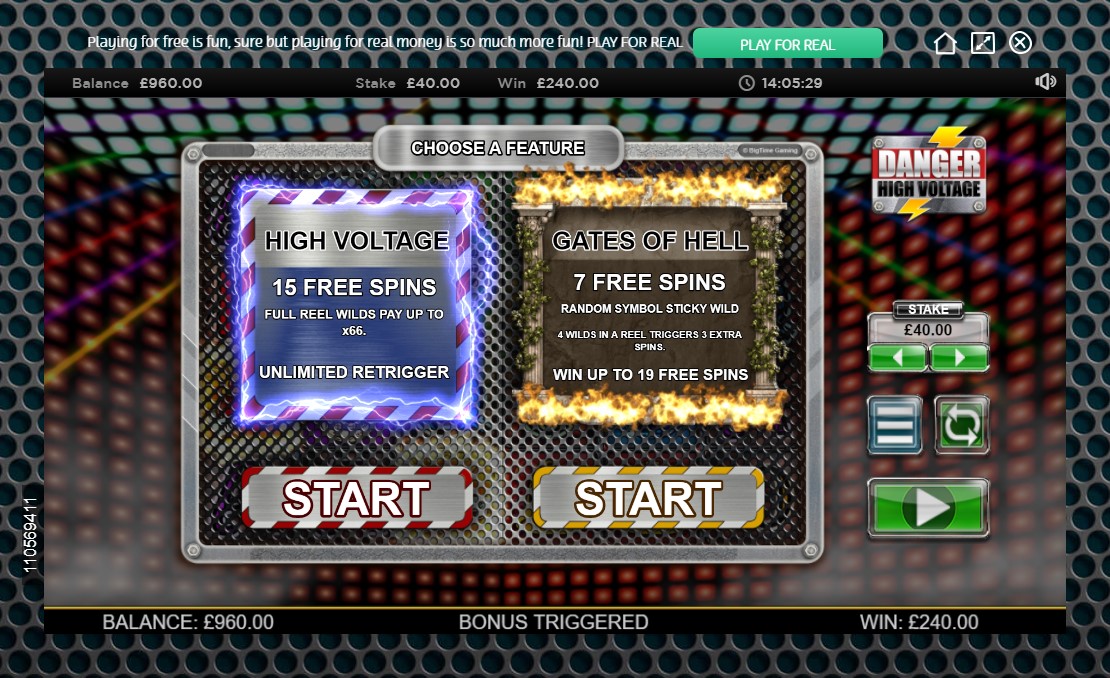 Pick A Feature: Hit 3 or more Scatters and you'll get to choose one of these Danger High Voltage Free Spins games:
• High Voltage Free Spins: This one awards 15 Free Spins and features special High Voltage Wilds that fill the reel and award random multipliers from 11x to 66x. Hit 3 or more Scatters and you'll retrigger more Free Spins!
• Gates of Hell Free Spins: Just 7 Free Spins here but a symbol is chosen at random to become a Sticky Wild which remains for the duration of the Danger High Voltage slot bonus game. Land 4 Sticky Wilds on a reel to trigger 3 more Free Spins up to a maximum of 19 Free Spins! *disco dance*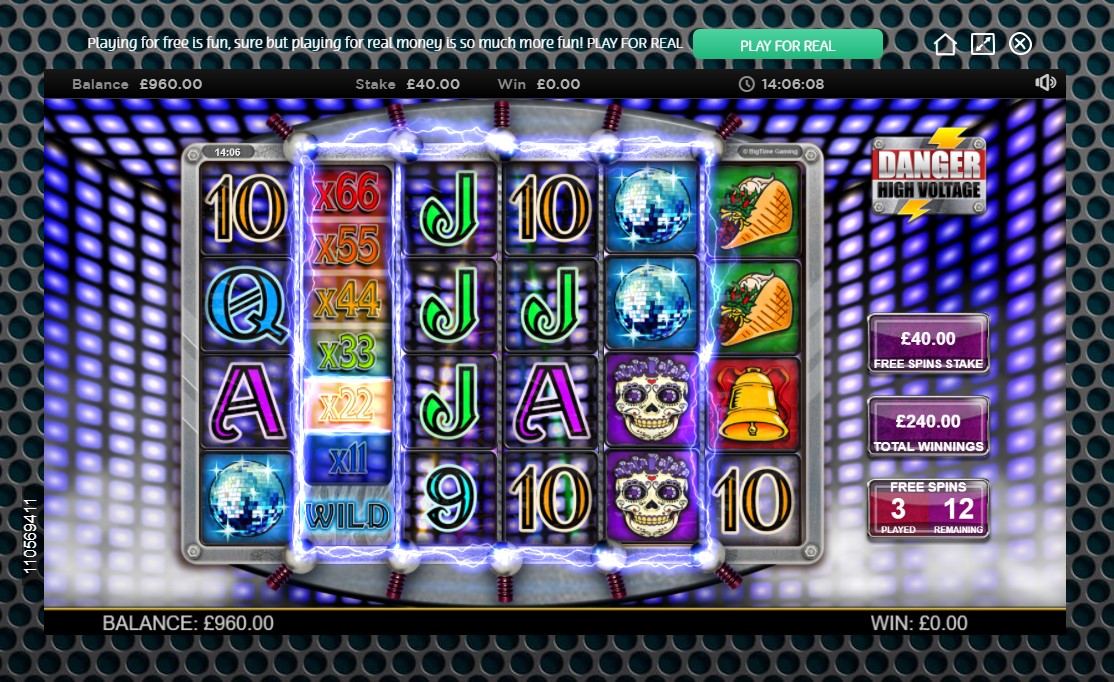 OJO says…
With a gazillion paylines and some monster feature wins, Danger High Voltage slot is a pretty high variance game that lives up to its name! But let's be honest, it's the theme we're here for and both the graphics and the audio rock!
Even though the song may not have made waves far beyond America, this Danger High Voltage slot should be a hit with OJO's UK fans.
It's playtime!

Like this? Then try….
Final Countdown! Look, if you're gonna play slots online, why not line up all the classic anthems? Fortunately, the official Final Countdown video slot has over 500,000 paylines and some monster multipliers to boot. Launch in 3…2….1…..