Game Review


OJO's Cash Stax slot is for every gamer who loves no frills, stripped-back slots action with a fab free spins bonus.
Released in 2015, Cash Stax is a Barcrest game now supplied by SG Interactive, the online arm of Scientific Games.
Like most Barcrest slots, Cash Stax has a very land-based casino vibe and it takes just a few spins to master the Cash Stax slot rules.
Once you're in the groove, it a wild black & white ride full of free spins, variable paylines and variable RTPs. Yep, you read that right, chief! Slip smoothly into our Cash Stax slot review and learn how to play and how to win.

How to play Cash Stax slot
Well first off, if you ain't an OJOer, you best become one! Fill in our nice n' simple registration form, then head to our Games page or fire up the PlayOJO mobile app and search for Cash Stax.
Once you've found the game, choose if you want to plump straight for the real money game or the Cash Stax demo (just hit TRY FOR FREE).
If you haven't yet funded your OJO account, here's some pretty good news. Deposit £10 or more using one of our safe, super-fast deposit methods and we'll whack 50 Free Spins in your account. No sneaky small print. No wagering requirements, just a few fair welcome bonus terms.
If you don't know which deposit method (coz we got 'em all!), give PayPal a go. Doesn't get any safer and easier to use, and you can use it to buy your ol' man some slippers at Xmas too.
The Cash Stax demo game is a nice introduction to this slot's features but it won't take you long to figure 'em all out and become a pro. When it's time to play fo' reelz, you need to make just 1 decision and you're ready to roll.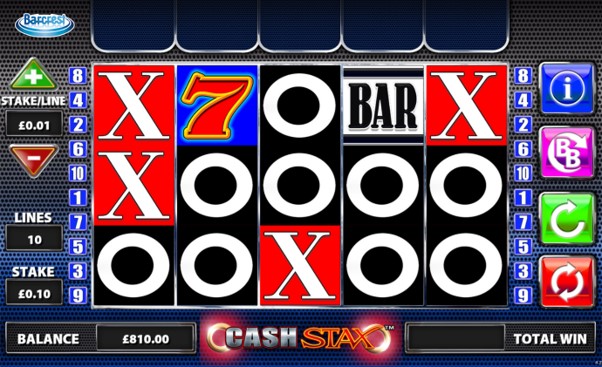 Betting & paylines
Our Cash Stax slot machine has an interesting twist that OJO hasn't seen anywhere else (and he's seen all the slots online).
The number of paylines you play depends on the size of your bet per line. You don't ever need to choose anything except your line bet, but it sure helps to know what your total stake will be and why you sometimes get more paylines.
Under £2 = 10 lines
£2 or more = 20 lines
Big Bet Game = 30 lines
Bet £0.01 per line and you'll qualify for 10 paylines, so your total bet per spin will be £0.10. Once you bet £2 or more, you get double the paylines, and your Cash Stax RTP gets a lot better too.
You can keep increasing your line bet to £20 (for a total of £400) and the game will remain at 20 fixed paylines. If you want promotion to the big leagues, with 30 paylines and the best Cash Stax slot RTP, you'll need to click the pink Big Bet icon.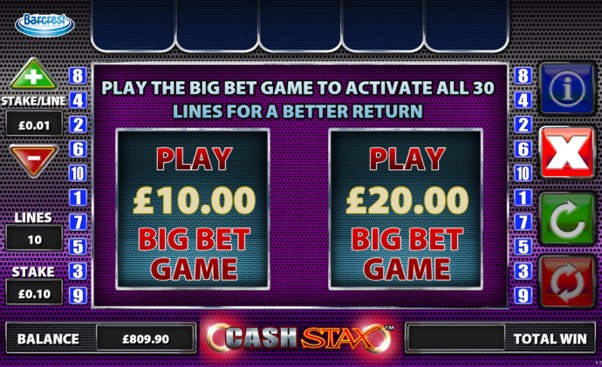 Then you'll be offered a choice – play the Big Bet Game for £10 or £20. We'll go into this feature later on, but in short, your stake buys you 5 linked, autoplayed spins. No stopping to make a tea or catch your breath. Strap in, amigo!

Cash Stax slot rules
OJO's Cash Stax game is a 5-reel 3-row online slot with between 10 and 30 paylines. If it weren't for the unusual changes in win lines and RTP, we could explain how to play our Cash Stax slot in seconds, as it's otherwise a very simple game.
Payouts
Let's get the big number out of the way. You can net up to £250,000 per spin, though most OJOers will be more interested in something a bit more realistic!
As with most slots, the name of the game is matching paytable symbols on an active paylines, starting from reel 1 and going left to right.
How much you can win when you play our Cash Stax online slot depends on your stake and win lines. It's easier to compare all 3 Cash Stax paytables as there are only 3 standard symbols, 7, BAR and X. Remember, you're getting more paylines for the higher stakes games, and in the case of the Big Bet Game, 5 spins for 1 coin, which is why the multipliers get smaller.



Cash Stax RTP
The Return To Player is different for the lower stake, higher stake and Big Bet versions of the game, and this makes a big difference in the long run.
Under £2 = 94.12%
£2 or more = 96.02%
Big Bet = 98.14%
As you can see, you get an amazing Cash Stax RTP by playing the Big Bet Game, and you'll be hard pressed to find many online slots with RTPs higher than 98.14%. This doesn't mean you should always play the Big Bet Game however, and OJO firmly believes in both responsible gaming and sensible slots strategies.
If you need more advice on how to manage your gaming, our Responsible Gaming page should be your first port of call.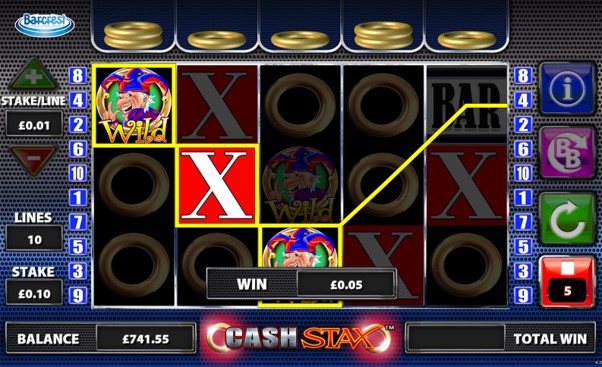 Wild
Let's see if we can explain Cash Stax wilds in less than 1 line. They substitute for all symbols except noughts. Nope, we can't.
Free Spins Bonus
With just 1 bonus feature and a handful of reel symbols, this game may seem simplistic at first glance, but the Cash Stax Free Spins Bonus game has a bit more about it than most classic slots.
Land a gold ring on any reel and it'll be added to the slot above the reel. Your mission here is to collect at least 1 gold ring in each slot so that you trigger the Free Spins Bonus. If you fail to get a ring in all 5 slots on any spin, the slots are cleared and you start afresh on the next spin.
Once you've got at least 1 ring in each slot, the game adds all rings together to determine how many free spins to award. Get 19 or more and all of your wins during free spins will be multiplied by 5x.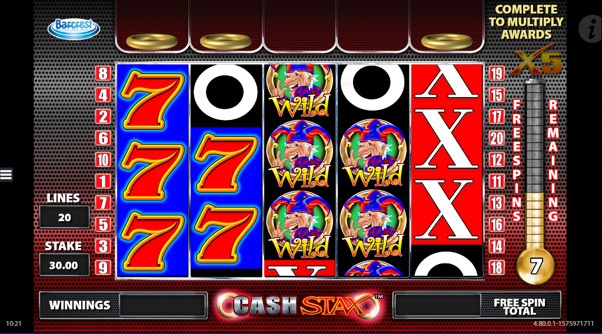 During your free spins games, you can retrigger more free spins in exactly the same way, by collecting at least 1 ring in each slot above the reels.
The number of retriggered free spins depends on how many rings you got, and it's this retrigger feature which gives you an even better chance of topping your free thermometer out at the magic 19 spins, to add the 5x multiplier.
Big Bet Game
As we said earlier, a £10 or £20 Big Bet Game involves 5 spins, all at the best possible Cash Stax RTP and using the maximum 30-win lines.
You're eligible for free spins bonus at any time, and all wins are combined and paid after the final spin.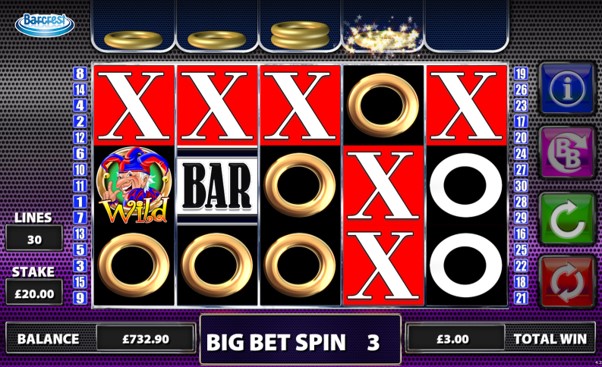 Cash Stax slot design
The monochrome style of our Cash Stax slot machine makes it instantly recognisable and certainly stands out from the rest of our games.
The entire interface, from the carbon fibre background to the black and neon colour scheme, is designed for simplicity but with a slightly industrial, futuristic, and cosmic flavour.
Symbols
That all ends when it comes to the symbols, which hark back to the golden age of noughts & crosses, and to classic land-based slots. Just 4 symbols here, white and gold Os, classic red Xs and red 7s, and the even more classic BAR. To round it off, Barcrest went for a joker as the Wild.
Sound
No intro or background music here, just some vintage slot sounds to accompany the key moments. Spins are paired with that random electronic jingly noise that you associate with Vegas casinos. Reels and rings thud as they come to a stop, and winning lines are indicated with a functional bleep.
OJO says…
Our Cash Stax slot may seem like it's right out of the 70s but it's been carefully crafted for desktop and mobile by the kings of classic slots. Add it to your rotation of favourites and you won't be sorry!

Like this? Then try….
Rainbow Riches Pick n' Mix! The definitive Barcrest slot has kept is place as one of the slots community's favourite games, and you can see why. All of the Cash Stax slot simplicity but this time with a fantastically cheesey Celtic theme and some superb bonuses.