Game Review
Astro Cat Deluxe Slot: Hunt for Jackpots Out East

Hi there, OJOers. Today, we're looking at SG Digital's Astro Cat Deluxe online slot.
Right from the off, we can see that this one's going to be an unconventional title, thanks largely to a massive 16 symbol central reel that actually functions as a single reel!
Don't worry if it sounds a lot to get your head around, OJO will explain all about it below.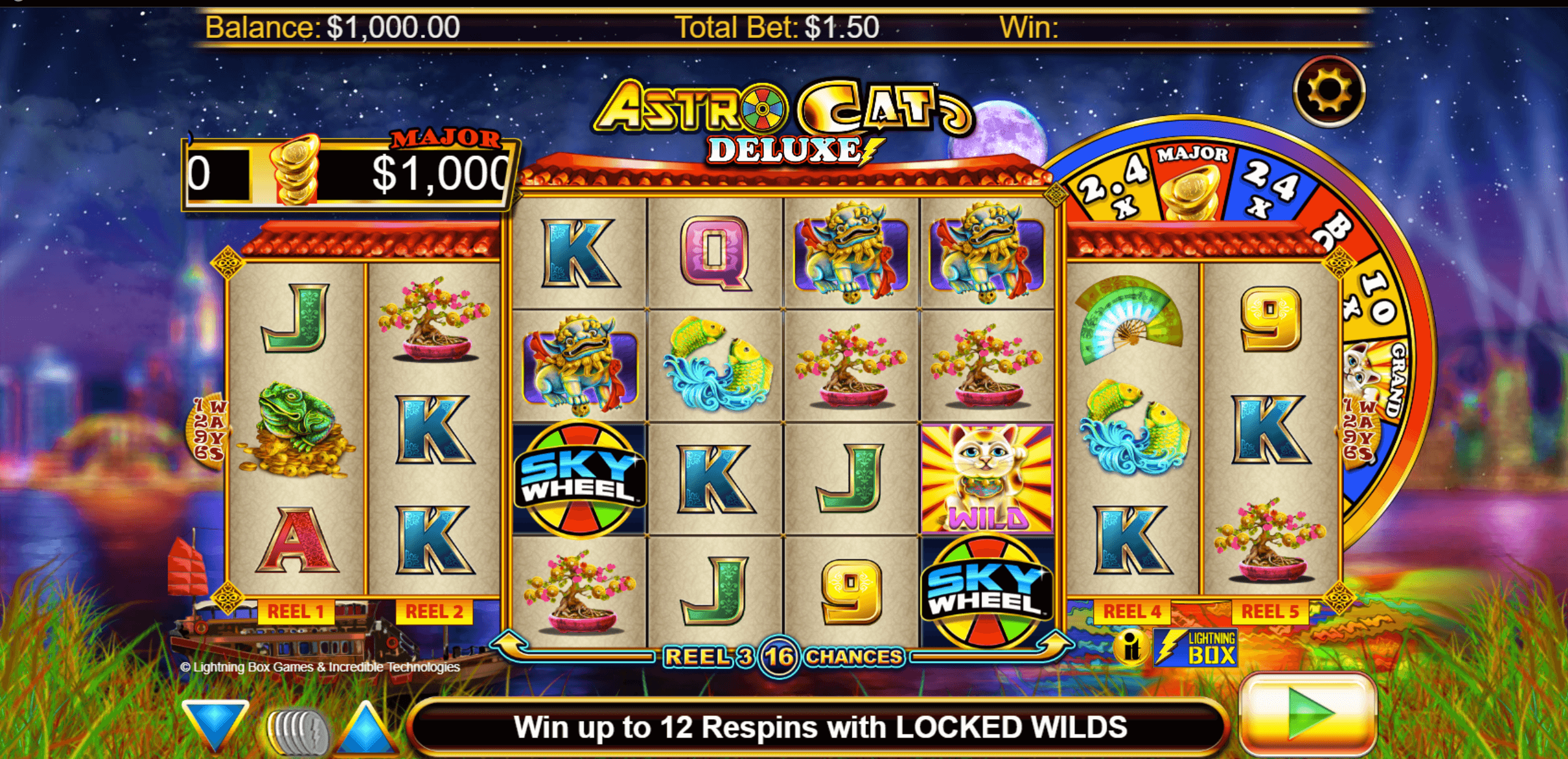 If you're thinking about joining us at PlayOJO, we're offering all new players that make a deposit 50 Free Spins with no wagering requirements – not bad, eh?

How it Looks
The Astro Cat Deluxe slot machine has been unmistakably styled for an Asian market. The game's background is a vibrant city on the coast at sunset.
Its symbols are all associated with the Far East too. There are oriental fans, a dragon, bonsai trees, koi carp, a Japanese toad (symbol of prosperity), and, of course, the cute Astro Cat itself.
How to play Astro Cat Deluxe Slot
The Astro Cat Deluxe slot has a non-conventional reel layout. Reels one, two, four, and five are three rows of symbols tall and function just as they would on most casino slots online.
By contrast, reel three is actually a four symbol by four symbol block – known as the Reelfecta reel. A symbol appearing in any position on this central block of reels can contribute towards a winning combination.
Also, there are no win lines on the Astro Cat Deluxe online slot. Wins are awarded for landing three or more matching symbols in any positions on consecutive reels. This creates a total of 1,296 ways to win.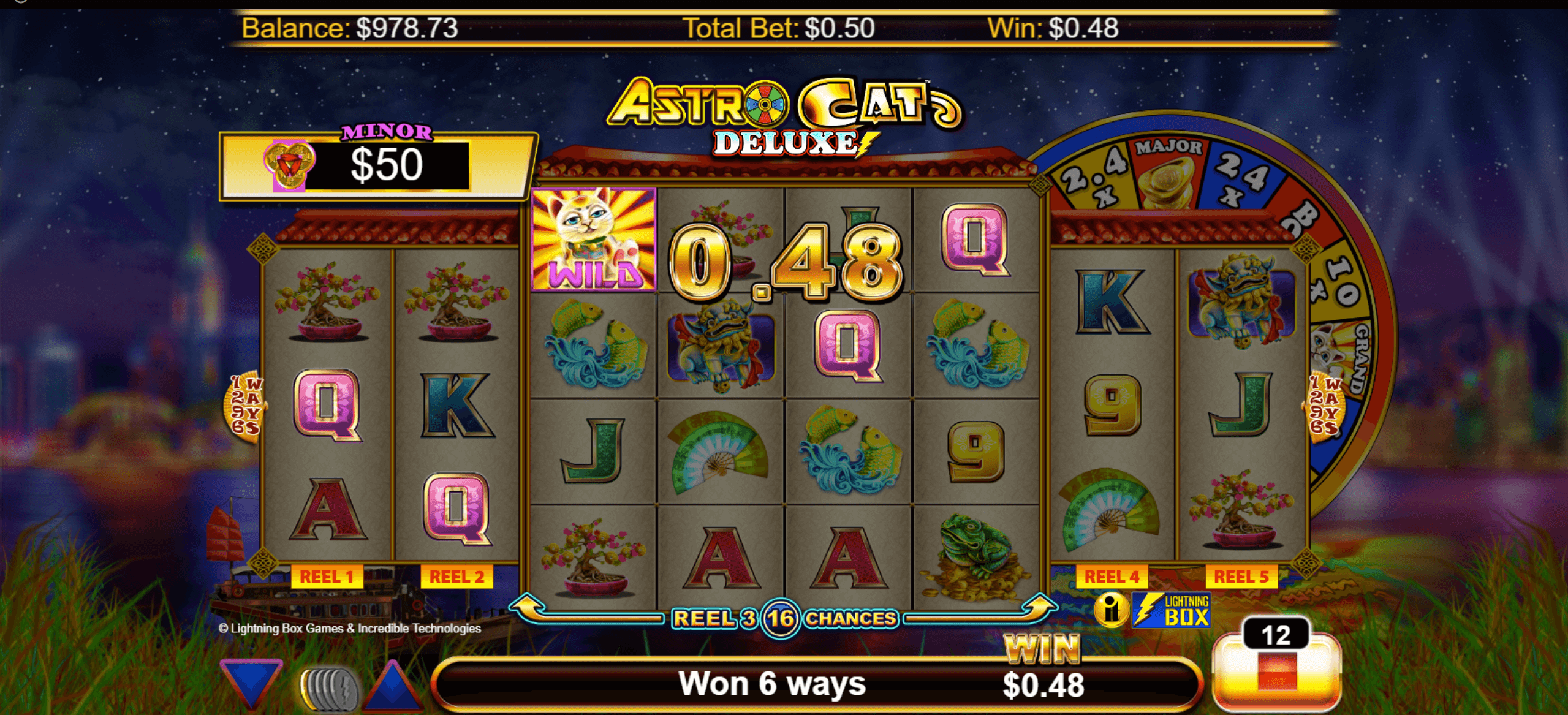 SG Digital says the Astro Cat Deluxe RTP rating is 95.46%. There's also the Astro Cat Deluxe Jackpot up for grabs. There are four in total – a Grand Jackpot, Major Jackpot, Minor Jackpot, and a Mini Jackpot. It's not a progressive jackpot feature but any can award a top prize of 20,000x the total bet!
Astro Cat Deluxe has an Auto Play feature too. This will speed up the action but use it with caution and always remember to always play responsibly.

Special Features
Sky Wheel
If you manage to land five of more Sky Wheel Scatter symbols in any positions on the reels, you'll trigger the Sky Wheel Bonus game. You get the chance to spin the Sky Wheel for an instant prize.
Around the Sky Wheel are various prize amounts. There are bet size multipliers (between 2.4x and 24x the total bet), a Bonus section, and each of the four jackpots.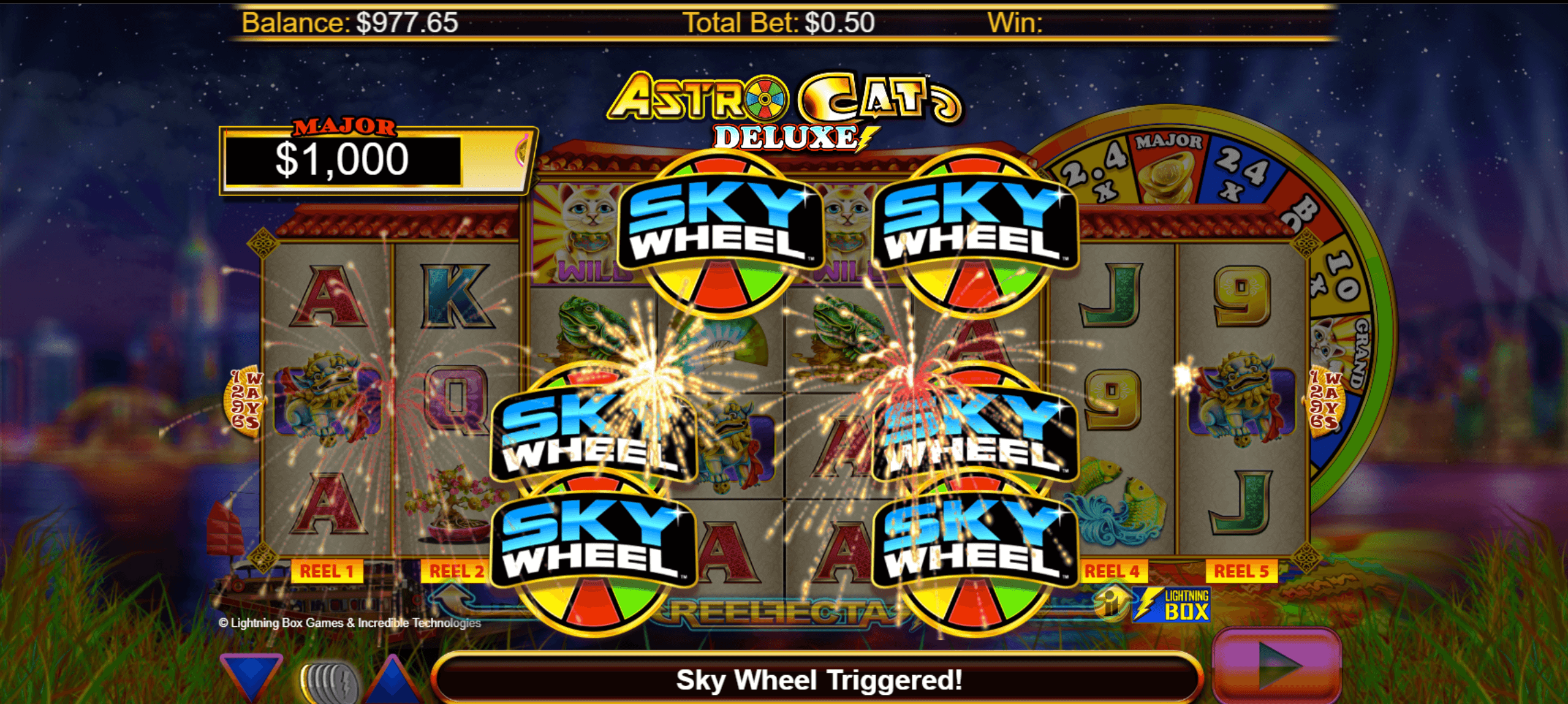 It's worth noting that the probability of triggering the Sky Wheel feature is independent of the bet size. However, the chance of hitting a jackpot increases with larger sized bets!
If you hit one of the Astro Cat Deluxe Jackpots, you'll be awarded with the relevant jackpot immediately. However, if you hit one of the bet amount multipliers, an inner Sky Wheel appears.
Here the prizes on each wedge of the reel are either a multiplier (applied to the prize already won) or a Sky Wheel Respin for another chance to drop one of the jackpots.

Respin Bonus
If you manage to hit the Bonus Symbol on the Sky Wheel, you'll trigger the Respin Bonus feature. Each of the outer symbols on the Reelfecta central reel spins again one by one, starting with the top left symbol.
Either a Respin Wild Cat or Poison symbol will land. If you land a Respin Wild Cat, the next symbol along will spin to show either Poison or a Respin.
This continues until all positions show Locked Wild Cats or a Poison appears. If a Poison symbol does appear, it ends the Respins but does multiply any winnings by two.
Mega Spin
Once all the outer positions of the Reelfecta reel have been filled with Wild Cats, you'll receive a Mega Spin.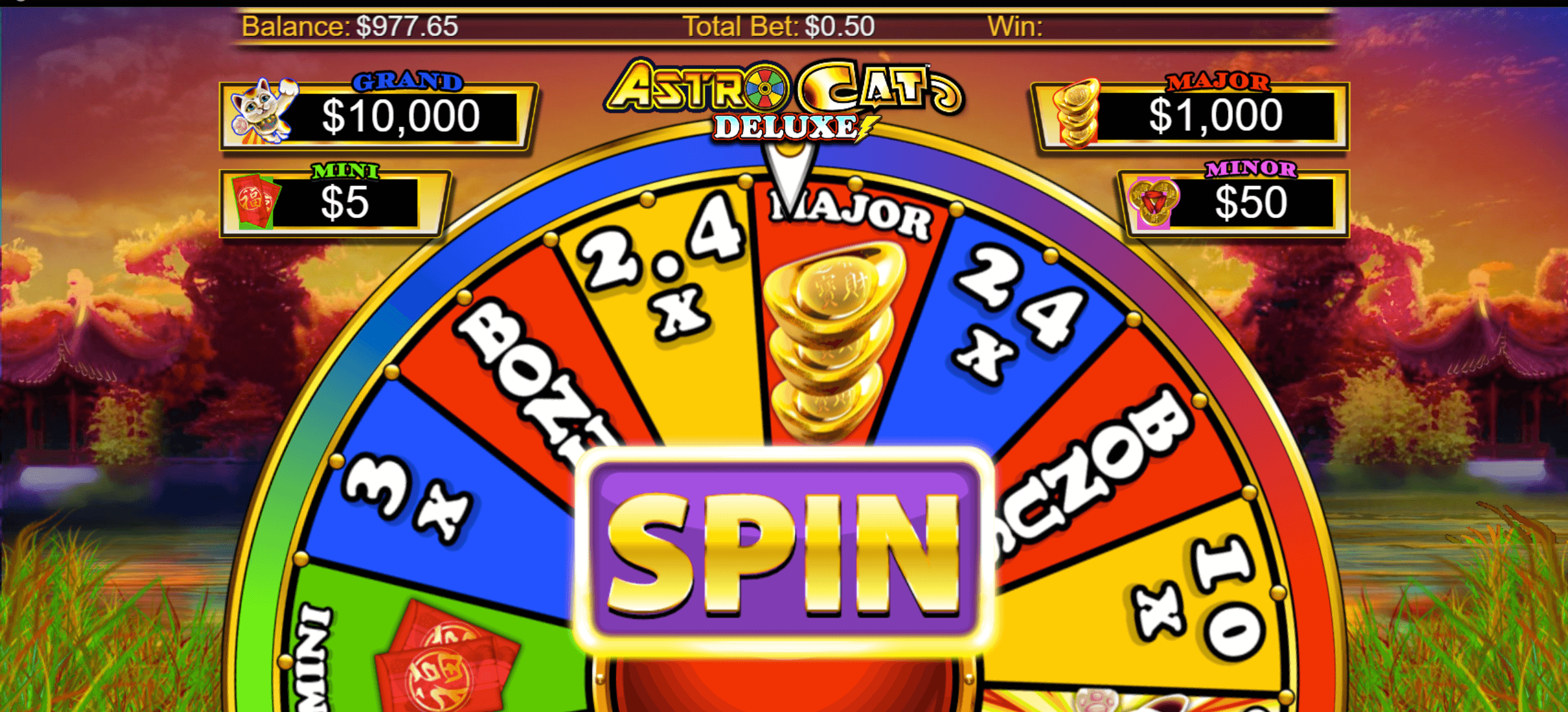 The central four symbols on the Reelfecta reel spin one final time to reveal a giant single symbol. Surrounded by Wild Symbols, this can, of course, create some massive winning combinations!

Astro Cat Deluxe Slot: Betting Limits
It's very easy to adjust the amount you bet on the Astro Cat Deluxe slot machine. Just hit the up and down arrows at the bottom of the reels. The minimum possible bet per spin is 50p and the maximum is £50.
If you fancy trying this title but don't want to risk your own money right away, you can always play the Astro Cat Deluxe slot demo first.
OJO says…
SG Digital have really thought outside the box when designing the Astro Cat Deluxe slot game. From the title's Reelfecta gameplay dynamic to its diverse special features, there's a lot to love about the game.
There's so much going on that you probably won't even notice the omission of an Astro Cat Deluxe Free Spins mode or other bonus features commonly found on other online casino games.
Play the Astro Cat Deluxe slot in the UK at PlayOJO to see for yourself!
Like this? Try…
Super Graphics Lucky Cats by Realistic Games. If you're all about Asian-themed slot machines starring cute kitties, OJO highly recommends this title. Like Astro Cats Deluxe, this one is another jackpot slot too!