Game Review
Rainbow Riches slot is legendary - here's why

One of the first UK slots to feature a 500 coin jackpot, PlayOJO's Rainbow Riches online slot is much loved by slotfans everywhere and we're about to show you why!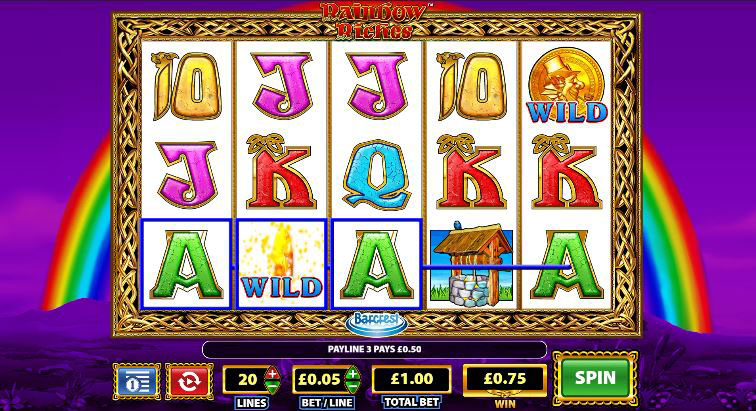 This Rainbow Riches video slot is one of 8 games in Barcrest's Rainbow Riches series, all of which you can play here at PlayOJO. They're all packed with colourful Celtic charm and each has their own take on classic slot bonus features. But this one's the original, the best, the reel deal!
Rainbow Riches carries the branding of Barcrest (yes, that Barcrest of pub fruit machine fame) but the trademark is now owned by slot studio supremos Scientific Games who've respected and cemented the brand's legacy with smash hits like this one.
But still the question remains. Why is the Rainbow Riches slot one of the most popular games of all time? Is it the Celtic retro vibe? The large dose of pub fruity nostalgia? The fun, sticky bonus features? Or all of the above? You decide.
On the face of it, this slot looks like thousands of others that borrow heavily from ancient mysticism and Celtic lore. Leprechaun? Check. Rainbow? Check. Pot of gold? Check.
But look a little closer. Lurid purple sky! Madness. And we haven't even got to the rainbow.
The reels are set into a golden Celtic knot picture frame of the type commonly found in OJO's mansion. He loves the small details here, from the stylised font to the ancient-ruins cracked background of the card symbols.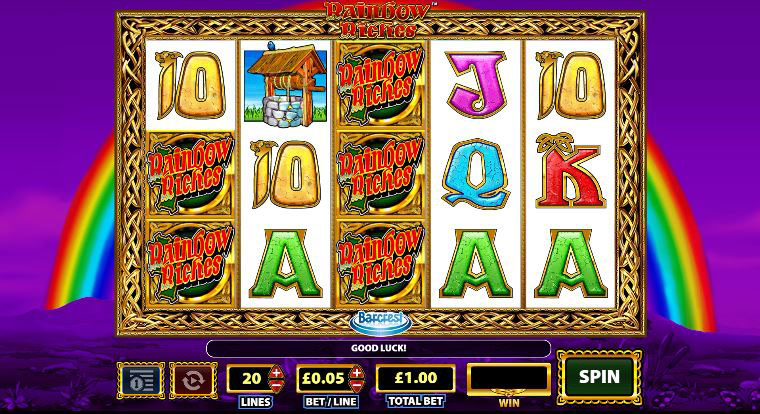 Reel symbols start with 'paint' as poker fans say (10-to-Ace playing card ranks) and increase in value with the Rainbow Riches symbol, 5 of which will net you $250 for a $1 bet. Wilds are represented by gold coins with the profile of the leprechaun's head in relief. A quintet of those is worth 500 coins.
Bonus symbols are easy to spot and clearly represent the features they trigger. The Road To Riches feature symbol takes the form of a gruesome grinning leprechaun surrounded by a gold frame. The Wishing Well feature symbol is… well … a wishing well. And the Pot Of Gold? Yep, you guessed it.
The soundtrack is a perfect fit, limited largely to the bonus games and shouldn't get on your wick. Payline wins are accompanied by the ascending strum of a harp. The Pot Of Gold symbol has its own tinkle whenever it appears, though other feature symbols do not. Bonus features get the best tunes of course, with a variety of jaunty, pipey Irish jigs the order of the day.
Paylines and payouts
Rainbow Riches is a 5-reel, 3-line slot with up to 20 paylines on offer. Bet from just 1p up to $25 per payline and engage autopilot if you're concerned about your carpal tunnel.
The Rainbow Riches RTP comes in at 95%, and it's generally got a nice balance of small, frequent wins and hefty paydays to aim for. Wins up to 500x are possible and there's more than one way to skin that cat, notably the bonus features.
The cherry on top? You get cashback every time you play courtesy of OJOplus, the best rewards club online! No funny business, no sneaky Ts & Cs, just money back on every bet.
Rainbow Riches slot features
Three great little mini games make up the Rainbow Riches feature set. Once you've played them a few times, you'll see why they've become the stuff of slotlore! Let's do them in order of 'awesomeness according to OJO'…
Road To Riches
On every slot there's always one bonus feature we're itching to hit, regardless of the prize up for grabs (though that doesn't hurt!). With the Rainbow Riches online slot, it's the Road To Riches feature that puts a smile on OJO's face (a different one, not the slightly wonky one he's usually got).
Cross your fingers and toes, give your lucky heather a blow and you might spin 3 scattered Leprechaun symbols to trigger the Road To Riches bonus game. Once you're there, you'll see a path (reminiscent of the one found in another of OJO's favourite slots, Lucky Wizard) laden with multipliers which increase with every step up the road, ending with a monster 200x pot of gold.
To advance up the path, click SPIN and the leprechaun turns the wheel of fortune for you to determine how many steps (1 to 6, or Collect) you'll take. Collect is your exit from the feature, so if you can keep dodging the two Collect positions on the wheel, you could be in for a wild ride and maybe some riches!

Pot Of Gold
Another way to multiply your total spin wager, the Pot Of Gold is your ticket to the biggest wins on this game. Hit 3 Pots Of Gold on the 2nd, 3rd and 4th reels to trigger this bonus feature and the chance to win up to 500 times your stake. That qualifies as casino jackpots in OJO's book!
Once this particular Rainbow Riches slot feature begins, you'll see 12 pots encircling the leprechaun. Bronze pot prizes start at 50x, silver at 100x and gold from 100x to 500x. The pots whizz round the leprechaun while he dances, then come to a stop to reveal your prize. Balance-boosting stuff!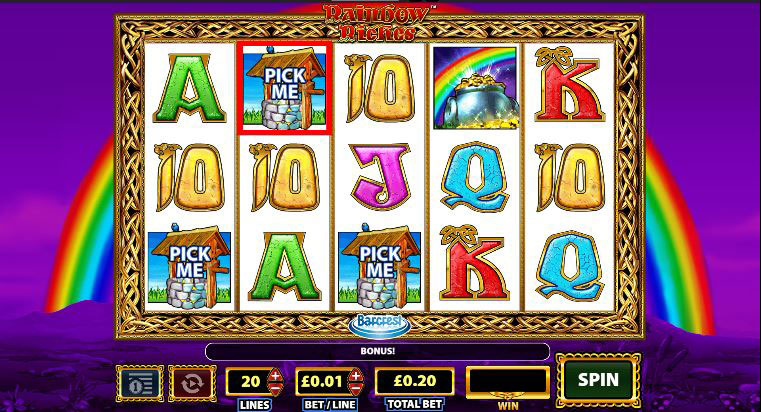 Wishing Well
No smash-hit UK online casino games are complete without a picking game. Spin 3 scattered Wishing Well symbols on the reels and you'll get to pick one of them, revealing a multiplier which will as usual be applied to your total stake for a nice instant win. Just for the LOLZ, the other 2 you didn't pick will be revealed too.
Multipliers are at the more modest end of the spectrum, for example 10x, but you're likely to see the Wishing Well feature more often than the other features. It keeps things ticking along while you're waiting for that outrageously lucky win!
OJO says…
This slot is lazy afternoons in downtown Vegas. It's chai lattes and palm readings in a mystical Glastonbury backstreet. With a trio of fun little features that'll keep you entertained and the prospect of chunky wins, it's no surprise Rainbow Riches is the stuff of online legend.
Does it live up to its reputation? Spin it and see!

Like this? Then try….
Slingo Rainbow Riches! Same look, same feel but this time you get to play bingo too. Go on, you know you want to find out more.
Let the good times roll, amigo!