THE PLAYOJO BINGO CHAMPIONSHIPS
ON YOUR MARKS, GET SET, BINGO!
On your marks, get set, Bingo! Calling all Bingo athletes – it's time for the PlayOJO Bingo Championships.
You're all invited to our special event and if you finish in the Gold, Silver or Bronze position in the daily event, you'll be awarded with Free Bingo Tickets.
But don't worry – it's not all about winning bingo games. There's a different event on each day, with 150 Bingo Tickets up for grabs for our Gold medal winner. Our Silver medal winner will take home 100 Bingo Tickets, with 50 Bingo Tickets on offer for Bronze.
Let the games begin!
Events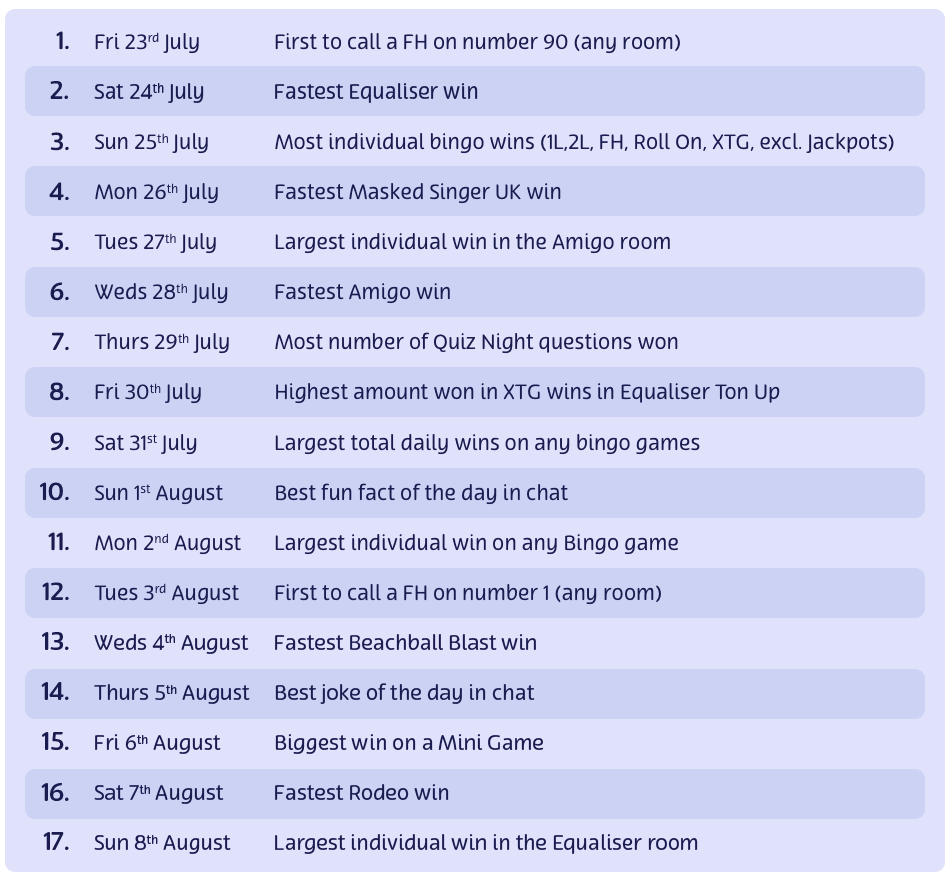 Terms & Conditions
This promotion takes place daily from 23rd July to 8th August 2021. No opt in required.
Players will be awarded Gold, Silver and Bronze based on their placing of 1st, 2nd or 3rd in the daily events of the specified category as per table and below.
1/12 - First player to call Full House on the number 90/1 in any of the PlayOJO bingo rooms.
2/4/6/13/16 - Fastest win - the player who wins a Full house in the least amount of calls.
3/5/9/11/17 - Most/highest individual bingo wins of the day, is based on number of single wins including features, but excludes any progressive or fixed jackpot payout.
7 - Most quiz night questions correctly answered during the Bingo quiz night.
8 - Highest accumulative amount won that day in the 1TG or 2TG games in the Equaliser Ton up session.
12 – Most number of individual bingo mini games played within the day.
10/14 - Best fun fact/joke of the day as determined by CH-ARCHIE, players can type their joke in chat from 8am to midnight.
15 – Biggest win on a mini game on the day.
1st place prize Gold awards 150 bingo tickets, 2nd place prize Silver awards 100 Bingo tickets and 3rd place prize Bronze awards 50 bingo tickets.
Free tickets valid for one of the PlayOJO bingo rooms for games up to £0.10p. Winners will be contacted by email and advised of the number of tickets and value, within 24 hours of winning.
In the event of any malfunction/game void, tickets purchased will be refunded.