Jacks or Better 3H & 10H are Waiting for You
Both 3 Hand and 10 Hand give you a unique taste of online video poker. In laymen's terms, your total stake is going to be 3x more if you play 10 Hand rather than 3 Hand.
Also, your actions will automatically translate to all the hands once you're done with the main one. OJO will replace the unheld cards for you.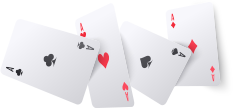 Jacks or Better rules
To master any game in general, you must be familiar with the rules. Jacks or Better is considered to be one of the easiest versions of the game. Your goal is simply to get the strongest hands in the game, just like with poker.
On a Jacks or Better online in Canada, you start by placing your bet. OJO always wants you to play with the greatest number of coins because it ensures the highest RTP. The game will deal 5 cards to you. From there, you can select the cards you want to keep and the ones you want to discard.