HOW MUCH DOES
EACH HAND PAY?
If you're playing Faces & Aces, chances are you're playing for the four of kind bonus payout. It can be 4 aces, or 4 face cards. If you get 4 aces, the payout is going to 80:1. If it's face cards, the payout is 40:1. The regular 4 of a kind hand pays 25:1.
The best hand in any possible poker game is the Royal Flush. For Aces and Faces, the payout is 800:1 if you're playing with all 5 credits (max bet). If not, you still get a 500:1 payout if you get the hand.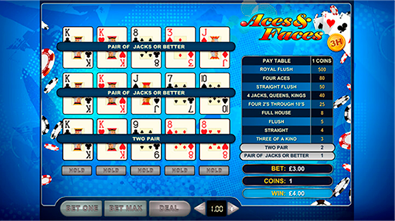 Flush & Straight don't pay very well in Deuces Wild because those are common hands in that game. However, that's not the case with Aces & Faces. You can win 5:1 for a Flush and 4:1 for a Straight in Aces & Faces video poker.
Usual hands such as 3 of a Kind, 2 pairs, or a pair of jacks or better come with 3:1, 2:1, and 1:1 payout respectively. A Full house in this game will give you an 8:1, 7:1, or a 6:1 payout. It depends on what version of the game you're playing.
ACES AND FACES RTP
Another key difference between this video poker game and Deuces Wild is the difference in RTP. It's also known as the Payback percentage. You may be familiar with this term from the online slot games. 8/5 Aces & faces have the highest RTP of 99.26%. 7/6 comes with 99.2%, 7/5 has a 98.1% RTP, and 6/5 Aces & Faces has a 97% RTP.