Game Review
Fortune Fortune Thundershots Slot

Feel like eating Chinese food tonight? Why not accompany it with the Fortune Fortune Thundershots slot?
Fortune Fortune Thundershots slot definitely has a mouthful name. It's a video slot from Playtech. It's a title primarily developed for OJO's oriental friends. Needless to say, it follows a very oriental theme.
If you're looking for a break from the traditional video slots with mind-blowing graphics and complex mechanics, Fortune Fortune Thundershots slot could be a great medium to escape. That's what OJO is going to talk about on this page.
Fortune Fortune Thundershots Slot
Fortune Fortune Thundershots slot is not very different from modern video slots in terms of mechanics. It has 5 reels and 3 rows with 30 paylines. The paylines are all fixed which means you cannot manipulate your maximum winning probability. All you can do is change your bet values.
Speaking of bet values, the game originally allows between C$0.10 and C$100. But OJO has decided that you shouldn't take that kind of risk. So, he only lets you play between C$0.10 and C$10. Even with the restricted bet value, you stand a chance to win a whopping C$243,000!
Fortune Fortune Thundershots slot features all the regular buttons you get on video online slots. An Autoplay button, a turbo mode, and the help button. The turbo mode is basically to pace up the spins. It's helpful if you don't have much time in hand.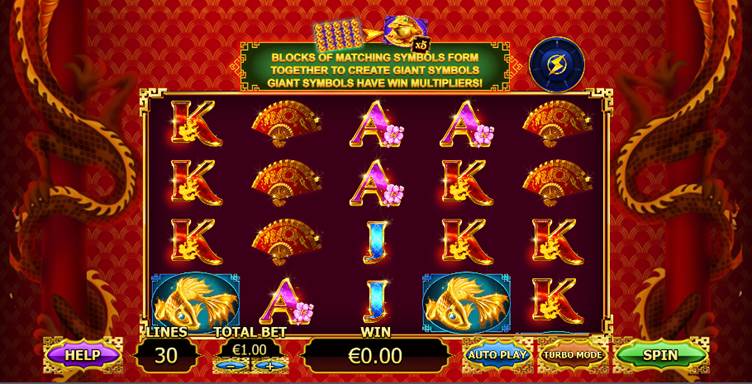 Theme & Sound Design
Well, OJO has some complaints regarding the visuals. There's no denying that it's a very beautiful game but he thinks the visuals could be better. Also, the color pallet is a little harsh on the eyes.
So, if you play Fortune Fortune Thundershots slot for a long time, your eyes may feel sore. At least he feels this way.
Apart from this, there are no other issues with this game. The backdrop is very traditionally designed with Chinese dragons in view. The symbols except for the royals are also inspired by the oriental culture.
All over the game, there's a strong presence of red. It's the kind of red you immediately relate to with the Chinese or oriental culture in general. So, it doesn't feel out of place at all. On top of the grid where all the symbols land, there's a window where the unique features of the game are displayed. It's a really nice feature to get to know the game without clicking on the help page.
The audio is also very much oriental. It's not really soothing but it goes well with the theme.
Symbols
To get to payouts of this game, you have to click or tap on the help button. It's where all the important information regarding the slot is listed. There are 6 main symbols in the Fortune Fortune Thundershots slot accompanied by a tree wild and a giant scatter.
The tree is the highest paying symbol. Well, it's the best you get. The reason we're saying this is because the individual symbols don't pay very well. The tree generates a 5x payout against your bet for 5 on a payline setup. For 4 and 3 on a payline, you get 4x and 3x your bet.
The 2nd highest payout symbol would be the golden frog. It pays 3x your bet for a saturated payline. For 4 and 3 on a payline, you get 1.20x and 0.60x of your bet respectively.
The golden fish pays the 3rd best in the Fortune Fortune Thundershots slot. You get a steady 2.50x, 1x, and 0.50x of your bet for 5, 4, and 3 on a payline respectively.
The fan pays 1.50x, 0.70x, and 30x for the same payline structure. For the golden hat, the payouts are 1.80x, 0.80x, and 0.40x.
The royal symbols are divided into two sets based on their payouts. The A and K are on the same level because they both pay 1x, 0.30x, and 0.10x. The last of the main symbols pay 0.70x, 0.20x, and 0.10x for 5, 4, and 3 on a payline.
The giant scatter is actually not one symbol. It can be the coin with "Scatter" written on it and the golden frog (actually, 5 of them). They can trigger the free games which are essentially free spins.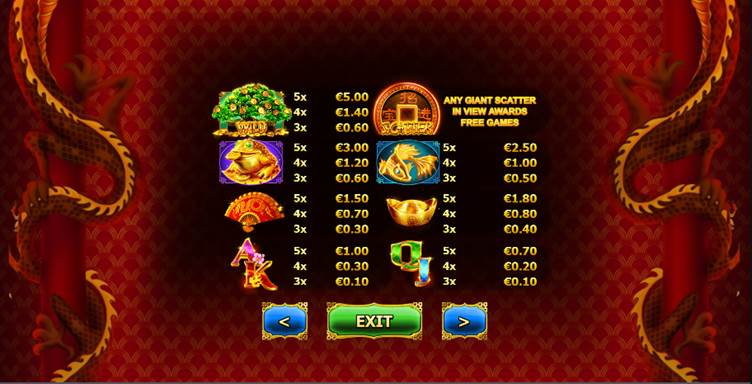 Bonus Features
Are you excited about the bonus features of the Fortune Fortune Thundershots slot? OJO sure is. The giant scatter is a unique bonus that you don't see on any other games. Remember the golden frog? If you get 5 of them, they turn into a giant scatter if you don't get one naturally.
4 of the original giant scatter or the converted ones result in the free spins round. You can win up to 20 free spins.
The most exciting bonus feature of all is the Thundershots features. Did OJO mention that this game has a cascading reels feature? Every time you hit a payline, the winning symbols are destroyed to make room for new ones in a cascading motion.
If you're feeling lucky on one fine day and you hit the cascading feature 7 times in a row, it results in the Thundershots! You get 5 Thundershots from which you can generate instant prizes!
Pros
Very oriental theme
Good 95.52% RTP
The sound design is really nice
30 fixed paylines
Maximum winning potential of C$243,000
Cons
Wrapping Up
Playtech is a very well-known provider in the iGaming industry. Apart from the Fortune Fortune Thundershots slot, you may also try out the Heroes Arrow to get a different taste. Whatever game tickles your fantasy, you'll find them on OJO. So sign up now.