Game Review
Wild Cats Multilines Slot: So Many Ways To Win!

These aren't your average little kittens in Wild Cats Multiline by Red Tiger Gaming. Lions, tigers, and panthers, on my! And with this Multiline slot, there are so many different ways you can win on every spin! With the six reels and anywhere from two to seven rows per spin, that's an impressive 49 paylines possible on any spin.
The graphics are great, and the bonuses will make you go wild! This Multiline online slot will have you on the edge of your seat on every spin, waiting to see how many paylines you'll get. Curiosity isn't killing anyone today, Amigo!
How To Play Wild Cats Multiline Slot
If you've never played a Multilines slot, it's a little different than what you may be used to playing other online slots in Canada. It's pretty similar to a Megaways slot, where every reel can have a different number of symbols on it on each spin. The different between the two is that on a Megaways slot, each reel can have a random amount on it, and vary from reel to reel. With a Multilines slot, the amount varies on each spin, but all the reels will share the same number of symbols, making a grid that's 6x2, 6x3, 6x4, etc.
Despite how much is happening on each spin, Wild Cats Multilines is not complicated, and actually very simple!
The standard symbols are the card suites diamond, heart, spade, and clubs, with a fifth symbol that is just a circular gem. The premium symbols are all different wild cats with a lynx, jaguar, panther, and the biggest symbol of all is a tiger. There is also a Wild lion symbol that can be substituted for all of the symbols above.
Wild Cats Multilines also features a Royal Spins scatter symbol that will trigger the Free Spins Bonus Round if you land three on a single spin.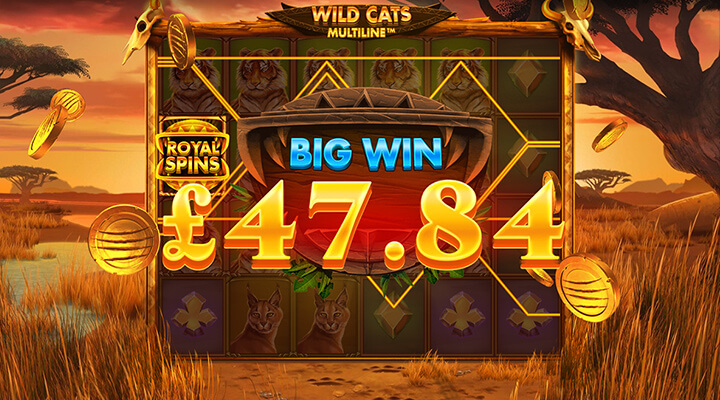 Wild Cats Multiline Slot Graphics and Effects
Wild Cats slot at OJO will definitely make you feel like you're in the wild jungle and you'll be looking over your shoulder to make sure there isn't a giant cat lurking up behind you. The variable slots run smoothly, and you'll be waiting on the edge of your seat to see how many symbols you'll get on each spin!
All of the cats look great and detailed, and the background is very realistic with its swaying grass and rolling river. With the sun setting in the distance you can almost feel its warmth as if you're in the African Savannah rather than at home in Canada.
The sound effect add a great ambiance with birds chirping and cats growling in the distance. It's a job well done by Red Tiger gaming to put you right at the heart of Africa while you're playing Wild Cats Multilines.
Wild Cats Multiline Slot Extra Features
If you connect on a minimum of three Royal Spins scatter symbols on a spin you will trigger the Free Spins Bonus Round, and the more scatter symbols you hit, the more Free Spins you'll get. Speaking of Free Spins, did you know that you get 50 Free Spins when you sign up at OJO and make your first deposit? The best part is that there are no wagering requirements, and tons of online casino games at PlayOJO for you to play!
During the Free Spin Bonus Round, you'll want to see as many lion symbols as possible. Every time you land on one, he will take his paw and swipe away any lower paying symbols and give you another free spin to replace the symbols he swiped away. You can get multiple re-spins from a single lion too which has a great potential for wins!
Wild Cats online slot machine has an autoplay feature which is great news for players. You can set this up between 10 and 100 spins if you just want to sit back and bask in the sunset without clicking for every spin. You'll also have the ability to set loss limits and single win limits, which is a good addition for players that want to gamble safely.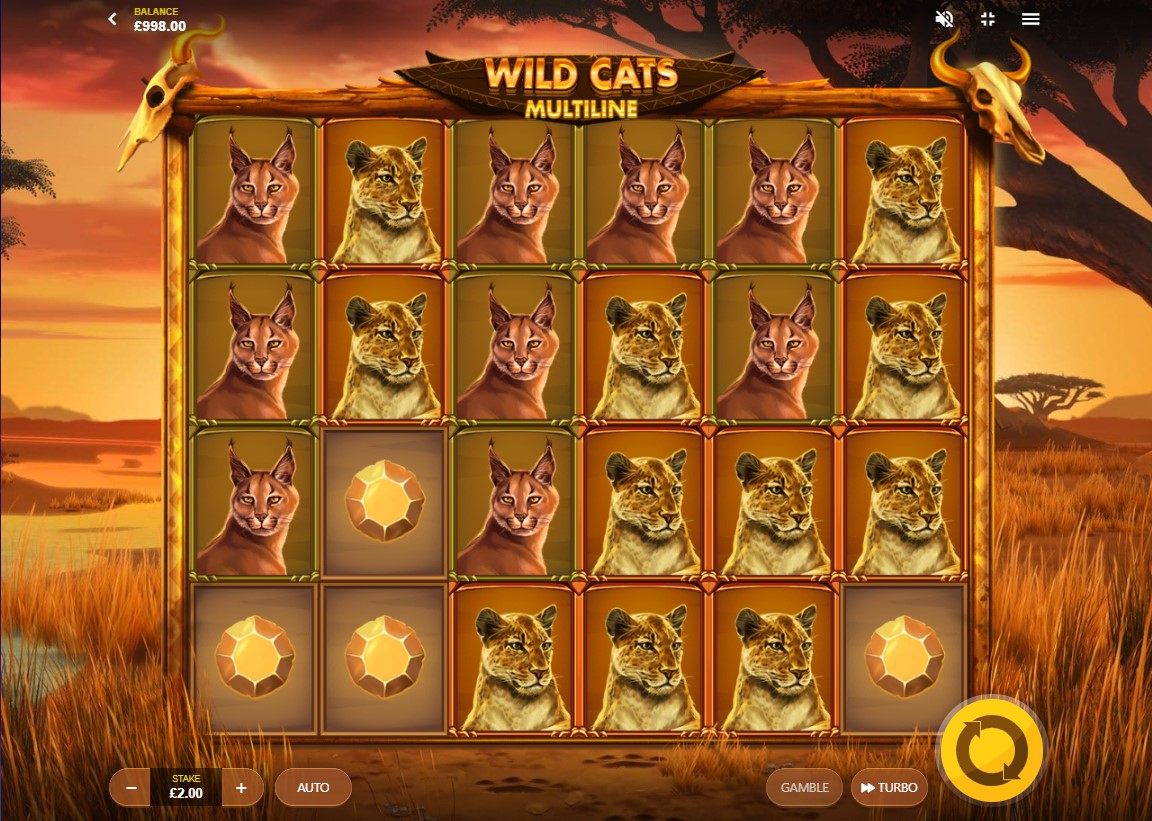 Wild Cats Multiline Online Slot Verdict
So, what do we think of this wild adventure, Amigo? If you love excitement, then you will love this online slot from Red Tiger Gaming. Every spin is a rollercoaster where you never know how many paylines you'll get. And with great graphics and sound effects, you'll truly feel like you're in the African Savannah, even at home in Canada!
Add in some fantastic bonus features and you'll want to be playing this online slot day and night. Plus, don't forget you get 50 Free Spins when you sign up at PlayOJO and make your first deposit, and there are no wagering requirements. So, what are you waiting for Amigo? Let's sign on and play on!