Game Review

This little piggy went home with major winnings! Are you ready to try your hand at the Smash the Pig slot game? With a Pig Smashing Bonus, a Pick-a-Pig Bonus and much more, this online slot just might be one of International Gaming Technology (IGT)'s best one's yet!
You'll quickly see that the Smash the Pig slot revolves around a little piggy bank that's about to get smashed. While it's cute and cuddly appearance might be enough to get you excited, what's really going to get your blood pumping is the fantastic rewards.
And while you're playing Smash the Pig at OJO, you'll notice they also have a plethora of fun online casino games like online blackjack, online roulette, and online baccarat. So many ways for you to win real money in real time!
Ready to dive in Amigo?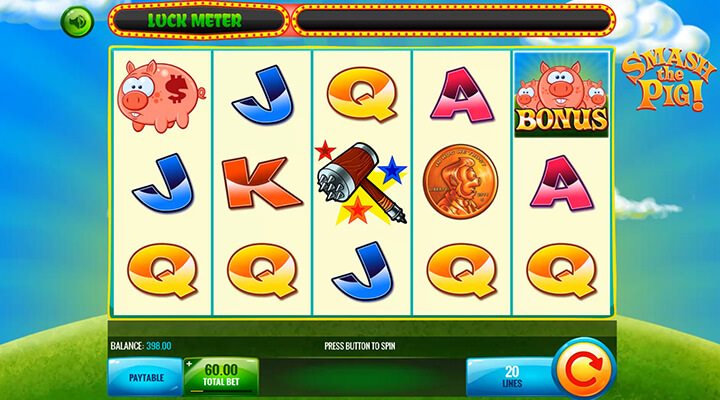 Smash the Pig Slot Graphics and Effects
IGT kept their graphics clean and simple with their cartoon approach. You'll see an innocent looking little pink pig alongside a spiky hammer that is used to, well, Smash the Pig. While it all sounds a big wacky, we think you'll appreciate just how adorable and funny it all really is!
The cartoon pig and graphics are accompanied by a hip-hop sounding background tune that matches the quirky theme of the game. It's more than likely that it will bring a smile to your face, especially as you play on and win!
How to Play Smash the Pig Slot
Like we said, IGT has kept it simple with the Smash the Pig slot. You can play with the demo and play Smash the Pig with free spins, or you can buckle up and play for real money. The smallest amount you can bet is 20 cents while the largest amount is a whopping $400!
This fun and playful slot boasts eight regular symbols and two that you can get as a bonus.
Here's the skinny on Smash the Pig's regular symbols:
Hammer
Bronze Coin
Stack of Cash
Smash the Pig Logo
These four cheeky symbols are the lower paying ones. You can see them with playing cards labelled Jack through Ace. Get five Jacks across and you'll get a sweet return 25x your line bet.
On the flip side, get five Smash the Pig logo symbols and you'll be paid at 10,000x your line bet. Cha-ching!
Your special symbols in this game are definitely something you will want to take note of Amigos. Let us give you the run down: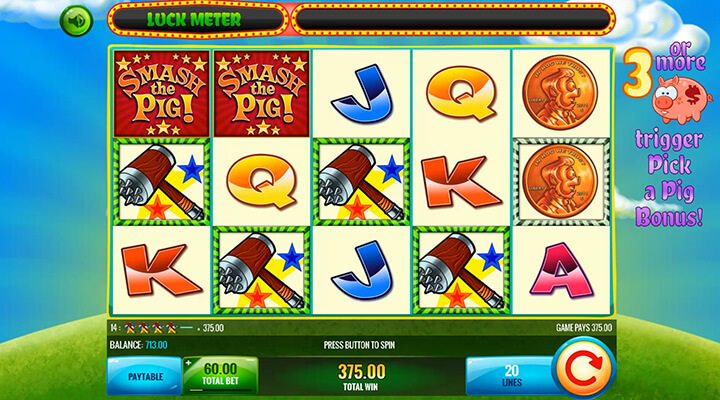 Pig Scatter Symbol
Here is where the single pigs count most! Get three or more single pigs with a dollar sign and you'll trigger the pick a pig bonus.
Smashing Bonus Scatter Symbol
For this one you'll see the word 'bonus' pop up under three pigs in a row. When three or more appear in a row you'll trigger the pig smashing bonus. Oink!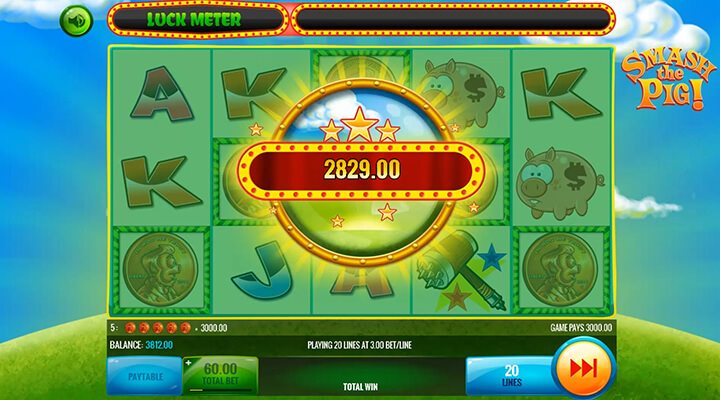 Exciting Bonus Features
Now Smash the Pig wouldn't be complete with a few bonus features to really get you going. Here are the two you can look forward to:
Pig Smashing Bonus
The Pig Smashing Bonus will be triggered by one of two ways:
Picking a pig bonus
Having three or more bonus symbols land on the reels instantaneously in the base game
This bonus relies on luck because the meter will fill up either half way, or all the way depending on just how many bonus symbols pop up on your spin.
It's your lucky day as you get to take your pick of pigs to smash! With each smash you'll win a new prize while keeping as much luck in your luck meter as possible. Smash up to 5 pigs and see just how many incredible bonuses you can reveal!
Pick a Pig Bonus
This bonus just so happens to be a nice perk! When you trigger it, you will be prompted to pick a pig which will provide you with a nice little prize. You'll receive one of these:
Your bet x1-20
Your bet x1-15 PLUS another shot at picking another pig
The pig smashing bonus (which is what you just learned about up top)
All of the above. What could be better!?
The Hoedown Lowdown from OJO
At the end of the day, IGT's Smash the Pig slot is one you're going to want to try, especially if you're someone who likes simple online slots. While the Smash the Pig slot doesn't include all the bells and whistles of flashy designs and detailed animations, it keeps things as easy as possible.
Sometimes OJO likes to think simple is just better, especially when the name of the game tells you exactly what you're about to be partaking in! If you're one of my Canadian Amigos looking to try out the Smash the Pig slot for yourself, we've got a free demo just for you. And you get 50 Free Spins when you sign up for PlayOJO, plus there are no wagering requirements! Ready, steady, play!