Game Review
Kingdom of gold Mystic Ways slot: A Mysterious Journey

It's only obvious that a kingdom of gold will be filled with riches! And it's only normal that OJO will jump in with all his Canadian amigos to extract as much of the gold as possible. When the gold is from the Aztec era, you know you're in for a treat.
We're teasing none other than the Kingdom of Gold: Mystic Ways slot in this Canadian online casino. This is a very fresh title from High 5 Games. OJO would like you to explore the features of this unique slot game with him.
Kingdom of Gold: Mystic Ways slot
Let's address the elephant in the room first. What does even Mystic Ways mean? Right? That's what you've been thinking. Well, it's a unique game mechanic that High 5 Games have come up with. It's very much inspired by the iconic Megaways mechanics for online slots. Mystic ways can give you up to 1,000,000 paylines! That's just outrageous!
This is a 96% RTP title which is surprising for a game with this many paylines. As it's inspired by Megaways, this game has 6 reels. You can win up to C$250,000 with OJO and lady luck on your side from Kingdom of Gold: Mystic Ways slot.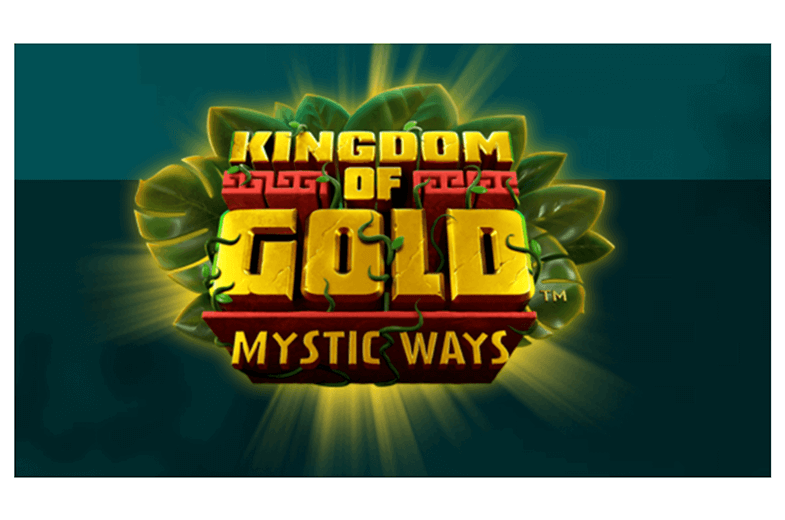 Theme & Sound Design
The game itself is set in an Aztec temple. The reels and the rows are covered with wild vegetation and ancient stones. You already know that there are 6 reels. The madness starts with the rows.
In the beginning of Kingdom of Gold: Mystic Ways slot, you'll have only 4 rows open. Over the under those 4 rows, you'll see "reel blockers". There are 3 on top and 3 underneath. In total, you get 10 rows!
So, how do they unlock? Well, for that you'll need the purple arrow symbol with 1, 2, or 3 on it. If the arrow is pointing outwards and has 1 written on it, it means the symbol will expand the reel by 1 block on the upper side. The same goes for downward arrow symbols. The more rows you unlock, the more paylines open up and the more you win!
On both sides of the grid, you'll see ancient Aztec towers. There's an ancient vibe going on all over the game. The sound design is just as mysterious as the Aztec mythology itself.
Symbols
Keeping track of the symbols on Kingdom of Gold: Mystic Ways slot is a daunting task at the very least. The base game has 9 different symbols alone! These are mostly gold ingots with different Aztec designs on them. They pay between 8 and 80 coins based on how many of them you have on active reels.
The wild symbol is an open book with "Wild" written on top of it in red ink. It appears only on reels 2, 3, 4, and 5 and replaces all symbols except for the scatter. Speaking of the scatter, it's a bonus blue gem.
The blue gem and the text "Bonus" combine to replace the wilds and to trigger the bonus rounds. Let's take a look at what that's all about.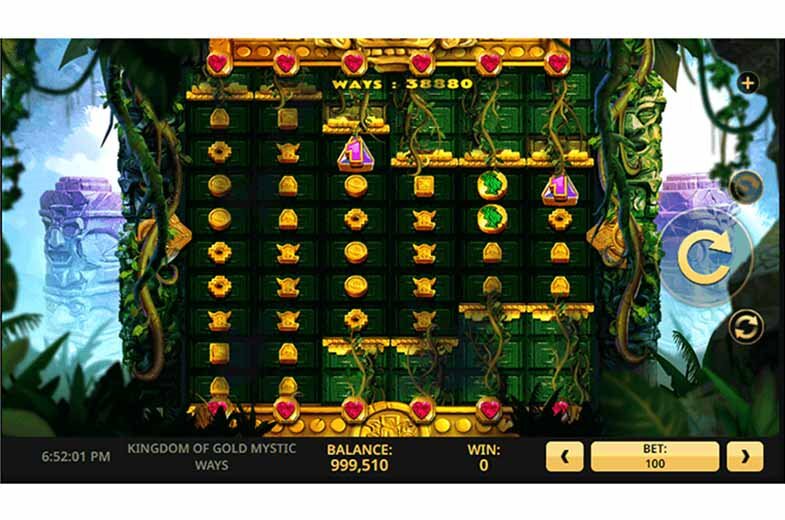 Kingdom of Gold Mystic Ways slot Bonus Features
The bonus features are triggered with the blue gem scatter on Kingdom of Gold: Mystic Ways slot. Landing 3 of them will result in 18 free spins while 4 of them will give you 25 spins. The scatter symbols appear on reels 2, 3, 4, and 5 only.
If you land even more scatters during the bonus round in Kingdom of Gold: Mystic Ways slot, you get additional free spins. As you run out of spins, these bonus rounds will stop. With a total winning potential of 10,250 times your stake, this is a spectacular game to play at OJO.
Pros
✔ Unique Mystic Ways mechanic

✔ Up to 1,000,000 paylines on a 10x6 grid

✔ Up to 10,250x winning potential

✔ Symbols pay relatively well
Cons
✔ A little intimidating for new players
Wrapping Up
Considering the massive number of paylines and unique bonus features, Kingdom of Gold: Mystic Ways slot has a world of its own for Canadian casino players. As the forefather of the industry, OJO would like to take you with him right now. So, go register.