Game Review
Jungle Jim Slot: Ancient Treasure Awaits You!

Hope you brought your hiking boots, Amigo, because we've got another adventure on our hands! Treasures await us on this adventure to the Lost City of Gold, El Dorado. There are mysteries that we will find along the way, and hopefully rubies and gold as well!
Jungle Jim El Dorado features Rolling Reels which makes it a slightly different than traditional online slots, but so much more fun! Your wins will be multiplied, and there are some nice bonuses to help you win real money in real time too! Bright shiny jewels, and chests full of treasure will have you feeling like a real explorer running through ancient tombs. This is an exnihilating adventure you do not want to miss, so let's get going with Jingle Jim online slot!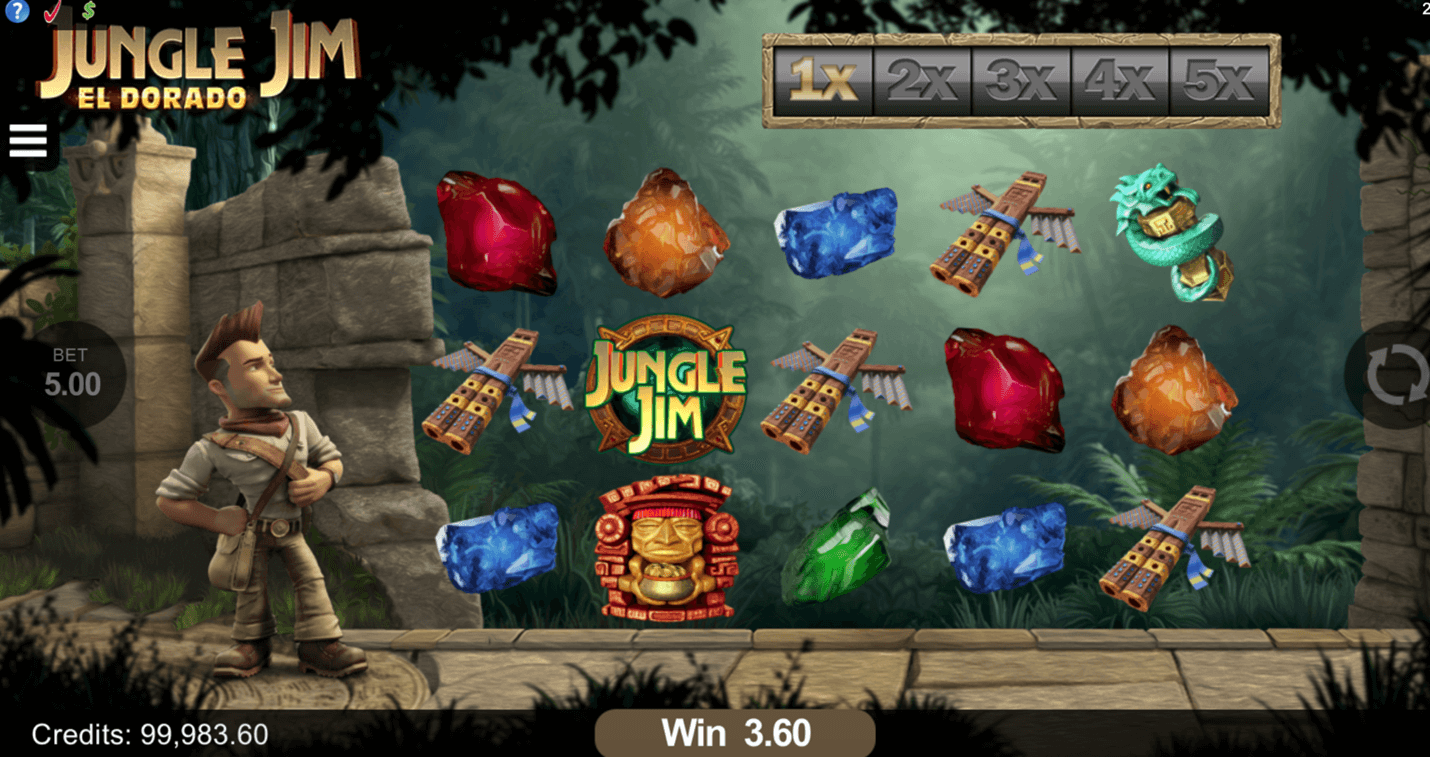 How To Play Jungle Jim Online Slot
Jungle Jim El Dorado online slot at OJO may look like a normal modern-day slot, with five reels and three rows, but once you start spinning the reels and cashing on combos, you will see what makes it different. Jungle Jim features Rolling Reels (also known as Cascading Reels or Avalanche Reels) that spin to land in place when you hit the button. But if you connect on a combo, the symbols that you hit will explode, and new symbols will fall down in their place, much like an avalanche. This means that you can connect multiple times on any spin and hit some big combos!
This game also features a Multiplier Trail that works hand in hand with the Rolling Reels. The first win will be 1x, then your second will have a 2x multiplier, all the way up to 5x your original stake after 5 wins on a single spin! This means thrilling potential wins on any spin, at any time.
Jungle Jim El Dorado features a somewhat low limit, with a minimum of $0.25 per spin and a maximum of $25, so this may be more geared for beginner to intermediate slots players, and the high rollers may want to look elsewhere for fun slots online.
The small symbols are different coloured rubies, blue, green, orange and red. Then your premium symbols are a tribal flute, a snake statue, an Aztec statue, and the biggest symbol of all is an open treasure chest full of shiny gold. There is also a Wild symbol that can substitute for any other to help you make combos.
Jungle Jim has an Aztec Calendar scatter symbol which can help you get to the Free Spin bonus round if you happen to land on three in one spin. They only appear on reels 1, 2, and 3. This is a pretty common bonus feature for online slots in Canada. And if you love free spins, you'll love the offer that OJO has. You can get 50 Free Spins when you sign up at PlayOJO and make your first deposit, and there are no wagering requirements! OJO also has great online casino games like online roulette, blackjack and baccarat so you'll never run out of games to play.
Jungle Jim El Dorado Slot Graphics and Effects
Jungle Jim is a hunky little number that's always doing silly things on the side of the board, whether it's taking a selfie or swatting a fly that lands on his face. The graphics are great and some of the most modern that you'll see playing an online slot at OJO. From the shiny rubies, to the statues, to the jungle background, everything looks phenomenal. It's also nice that th game didn't resort to card symbols like a lot of other slots, so all of the reels are sharp and gleaming with colour.
The animations look fantastic as well, whether it's the smoothness of the Rolling Reels, or how they look when they explode into a cloud of dust when you connect on a combo.
There isn't any music in Jungle Jim El Dorado online slot, but the sound effects are good. You'll hear a nice little gong every time you spin, and the symbols cascade down in a nice raindrop-like pattern. The one thing that would be a nice addition is if there were jungle sounds like birds and insects in the background to help it really feel like you're on a jungle adventure, even when you're in Canada.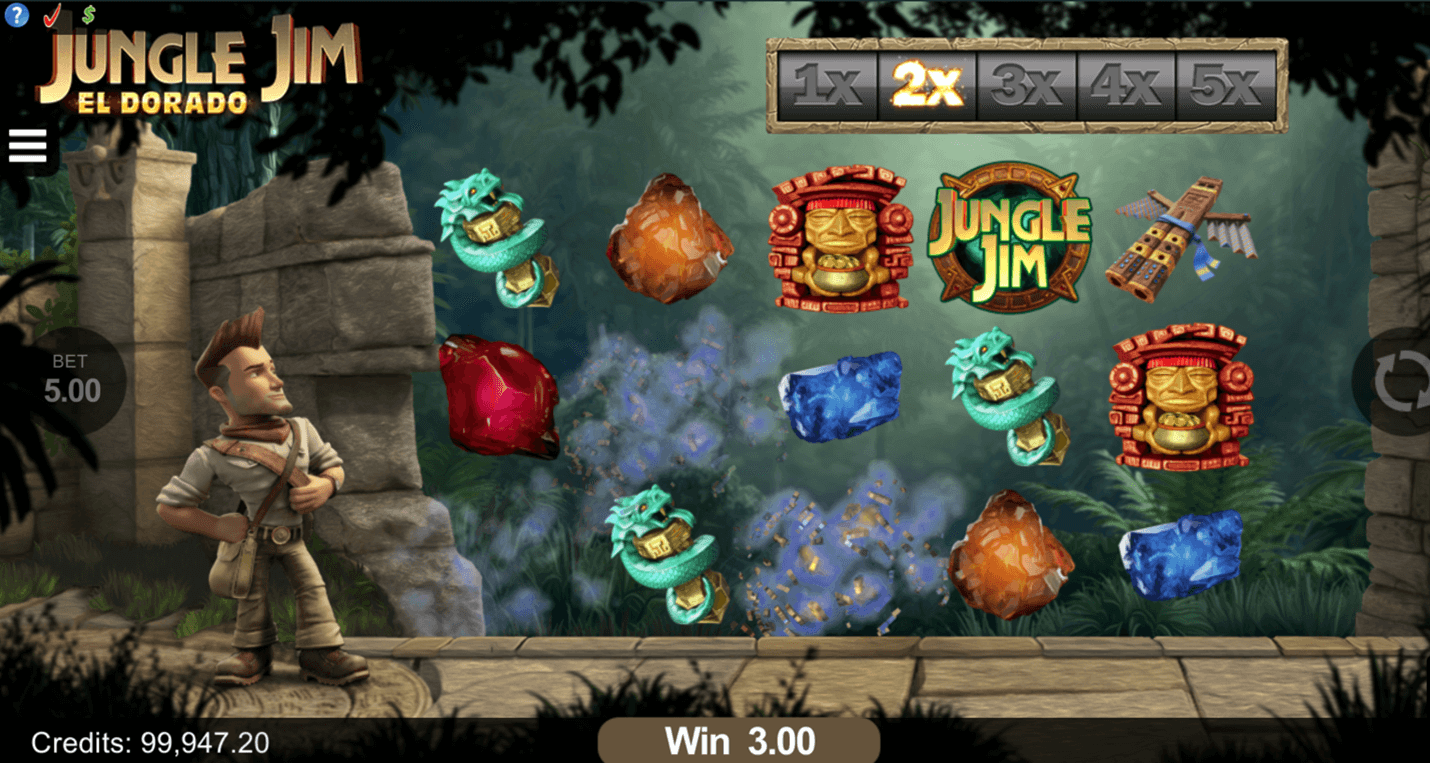 Jungle Jim Extra Features
As we mentioned before, whenever you land an Aztec scatter symbol on reels 1, 2, and 3, you will trigger the Free Spin Bonus Round, and you will also be given a 5x multiplier for that spin, which players will love to see.
You will begin the Free Spin Bonus Round with a different board, this time inside a tomb. You'll start with 10 free spins, and you'll also notice at the top of the board there is a change to the Multiplier Trail. Now instead of 1, 2, 3, 4 and 5 multipliers, you will see 3, 6, 9, 12, and 15 times multipliers! That's right, all the multipliers are tripled in this round, so there is some real treasure to be had here.
You can also win more free spins in the Free Spin Bonus Round if you get three scatter symbols again, so there are some exciting potential wins in this bonus. Speaking of bonuses, don't forget that OJO offers you 50 Free Spins when you sign up and make your first deposit!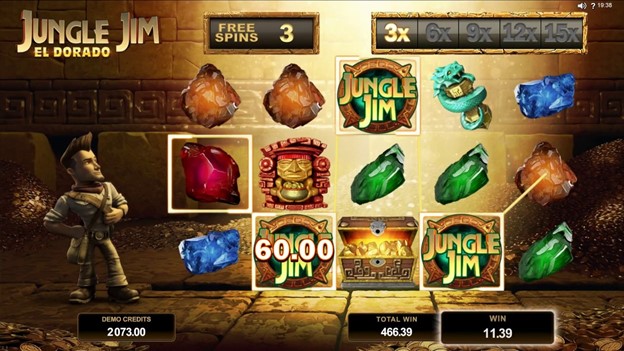 Jungle Jim El Dorado Slot Verdict
So, after travelling through the jungle and risking our lives in dangerous tombs, what do we think of this one Amigo? The answer is that this is an extremely well-made online slot, with top of the line graphics. The Rolling Reels will make playing this game a ton of fun, and you never know what is going to happen!
With Free Spin Bonuses, and extra multipliers, this game is a lot of fun and will have you on your toes. Exploring the Lost City of Gold, El Dorado has never been so exciting! This one definitely gets the OJO stamp of approval. So, let's get on our way, Amigo, ancient treasure awaits us!